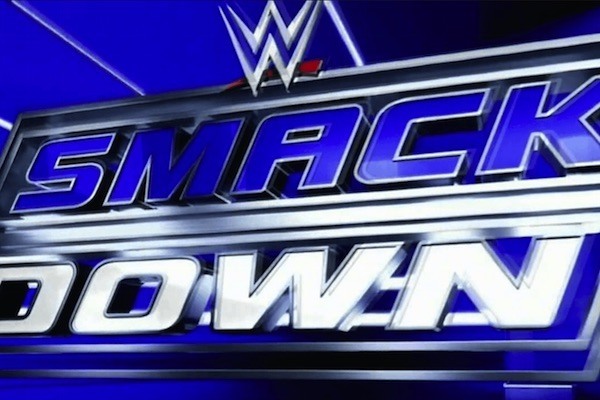 ---
SPOTLIGHTED PODCAST ALERT (YOUR ARTICLE BEGINS A FEW INCHES DOWN)...
---
Smackdown features a rematch to determine the #1 Contender for the Divas Championship when Sasha Banks faces Becky Lynch. Also, A.J. Styles takes on Kofi Kingston in singles action.
WWE Smackdown review
March 3, 2016
Taped 3/1/16 in Atlanta, Ga.
Aired on USA Network
By Greg Parks, PWTorch Columnist (Twitter: @gregmparks)
– WWE Open.
– Last Monday on Raw, Triple H gloated about his beat-down of Roman Reigns the previous week. We got a video recap of Dean Ambrose challenging that very authority.
– In the arena in Atlanta, Dean Ambrose came out with what has become almost a permanent limp. Mauro Ranallo, Jerry "The King" Lawler, and Byron Saxton were situated at ringside. Ambrose took a chair and sat down in mid-ring for the promo. Ambrose talked about his recent interactions with Triple H and noted that he'll get a shot at the WWE World Championship at the upcoming WWE Network special in Toronto. Ambrose talked about his winning putting a wrench in the Wrestlemania plans (advertising has already gone out for Triple H vs. Roman Reigns!). Ambrose contemplated taking his title to Mania and facing either Reigns or, if it were his preference, Brock Lesnar. Or maybe he'd have to fight Triple H again. He brought up the possibility, in the middle of a rant, of the four of them being locked in a cage and fighting it out. Ambrose said that wouldn't be for a while though. Kevin Owens' music interrupted.
Owens walked out with the Intercontinental Title over his shoulder. He cut a promo on the way to the ring, asking Ambrose why he's out there "spewing this crap." Owens said all Ambrose has done lately is get beat up. He said Ambrose gets a shot at Triple H at Roadblock while he doesn't even have a credible contender to his title for Wrestlemania. Ambrose advised Owens that if he ever challenges Lesnar, wear a helmet. Owens finally entered the ring and said Ambrose makes him sick. He said Ambrose is everything that is wrong with WWE. Owens shoved the still-seated Ambrose, knowing he had a sitting duck in front of him. Owens tried to blindside Ambrose while talking to Lawler, but Ambrose got up and delivered a chair-shot to the back of KO. Owens sold the shot at ringside while Ambrose took the mic. He reminded Owens that he could see the attack coming because he was facing the giant screen. Ambrose wanted to fight Owens right then. Owens seemed to decline the offer.
– Sasha Banks vs. Becky Lynch in a Divas Championship #1 Contender's Match is still to come.
– Next, The Usos face Rusev and Sheamus of the League of Nations.
[Commercial Break]
– WWE has passed 10,000,000 subscribers on YouTube. Just in case you were scoring at home.
1 – THE USOS vs. SHEAMUS & RUSEV
The rest of the League of Nations stood ringside for this one. After some early Uso offense, Rusev took over. Jey Uso was knocked off the apron via dropkick by Rusev from in the ring. Sheamus tossed him into the barricade, leading to a celebration by the entire League. They cut to break at 2:06 of the match.
[Commercial Break]
Back at 5:49 with Sheamus suplexing Jey. Jey's shirt was opened up, leading to Sheamus pounding on his chest with forearms. Rusev added some firepower of his own. Jey backed out of a suplex attempt but couldn't make the tag. He DDT'd Rusev, however, buying him some time. Tag made to Jimmy at 8:15. Samoan drop from Jimmy. Running butt splash and a lateral press for two, broken up by Rusev. He was low-bridged out of the ring. Jey dove onto the idle members of the League outside the ring. Rusev was taken out, as was Sheamus. King Barrett got back up and was superkicked off the apron. Big splash off the top, but Sheamus got his knees up. Brogue Kick to Jimmy for the win.
WINNERS: Rusev and Sheamus, at 9:55. You'd think with the roster as thin as it is, some of the bigger names in the League would have a direction heading into Wrestlemania. Instead, somehow, most of them are less over (and certainly less interesting) than when the group was created.
Replays were shown, then the Dudley Boyz came out with a table. The League of Nations parted in the aisle to allow them to hit the ring unabated. Jey was thrown shoulder-first into the ring-post as the League looked on, applauding from ringside. D-Von held Jimmy while Bubba delivered a big boot. Bubba yelled to Jimmy that they lied when they said the Usos shouldn't take this personally. D-Von knocked over the table they had set up in the ring, opting not to use it.
– The announcers plugged the Shane McMahon Legacy, now available on the WWE Network. Ranallo threw it to Stephanie McMahon finally accepting her Vincent J. McMahon Legacy of Excellence Award.
– Shane McMahon will be on Raw this week, live from Chicago.
– Dolph Ziggler came out. He faces The Miz, next.
[Commercial Break]
– Cricket Wireless and Dolph Ziggler gave some fans tickets to this episode of Smackdown.
2 – DOLPH ZIGGLER vs. THE MIZ
Miz hit Ziggler as soon as the bell rang to start the match. Boot to the face for a near-fall :14 in. Miz kicked Ziggler in the corner, but Ziggler grabbed him in a backslide on a corner clothesline attempt and got the victory.
WINNER: Ziggler, at :48. Unlike Raw, where Ziggler got all the offense and Miz picked up the win, this time it was the opposite. Hey, remember when Miz needed Neville to help him become the new James Bond?
A replay of the pin was shown as Miz argued with the official and Ziggler celebrated with the WWE Universe.
– R-Truth was backstage in catering with a few extras. He turned around and saw poor Goldust sitting and eating alone at a table. Truth came up to him and apologized for being harsh to him on Monday. Goldust seemed really downtrodden. Goldust said he doesn't need Truth's pity, as he's not a joke. Truth saw his vision and said they should be tag partners. Goldust was angry and rubbed his lunch in his own face, a callback to the cake in the face incident with Truth, as Goldust wanted to prevent Truth from doing it to him. He walked off still hot at Truth.
– Becky Lynch was out next for her match with Sasha Banks after the break.
[Commercial Break]
3 – BECKY LYNCH vs. SASHA BANKS – WWE DIVAS CHAMPIONSHIP #1 CONTENDER'S MATCH
There was a feeling-out process to begin the match. Early victory roll by Banks for two, as she then kept Lynch on the mat with a face-lock. Lynch responded with arm-drags once she reached a vertical base. The women traded covers and both went for a dropkick at the same time. It was a stalemate three minutes into the match when Charlotte's music hit and she came out, accompanied by her father, Ric. They went to break with the women watching Charlotte's entrance at 3:32 of the match.
[Commercial Break]
Back at 7:10 of the match with both Flairs taking their seats at ringside (though once again, not on commentary). Banks was on offense against Lynch. Lynch upped the temp with lariats and a kick. Running forearms in the corner. Banks rolled Lynch up for two. Lynch caught Banks with an exploder suplex. Double knees to the side of the head of Lynch by Banks, into a pinning combination for a near-fall. This time it was Lynch with a roll-up. Banks countered it into a Bank Statement. Lynch reached the ropes. Double knees in the corner twice by Banks. Banks began to get emotional on the close near-falls. Lynch caught Banks with an unexpected European uppercut, and that was cause for a two-count. Lynch dropkicked Banks, with the momentum taking her out of the ring. Lynch gave chase, but they hit each other with clotheslines. Ric got out of his seat and started strutting and yelling "Whoo!" in the faces of both women. They got to their feet and began to advance on Ric, so Charlotte attacked them both from behind.
WINNER: No contest (double disqualification), at 12:19. I really enjoyed that match. Banks and Lynch may not be doing work on par with their NXT stuff yet, but it's still light years ahead of most if not all main roster Divas matches we've seen.
Charlotte continued the assault post-match. She laid out both women as her music played to close the segment.
– It's official: Dean Ambrose vs. Kevin Owens is tonight's main event.
– Next, The Undertaker returned to Raw with a chilling message for Mr. McMahon.
[Commercial Break]
– Moments ago, Crazy Ric Flair showed up at ringside to distract Becky Lynch and Sasha Banks, allowing Charlotte to attack them and get the match thrown out.
– Charlotte and Ric were backstage, overjoyed with their actions. Renee Young came up to them and pointed out how Charlotte seemed to set up Lynch and Banks for the attacks. Charlotte talked about how neither Banks nor Lynch were worthy of a title shot against her. Renee said she was told during the break that Charlotte would defend her title in a Triple-Threat Match against both Banks and Lynch at Wrestlemania. All of a sudden, both Charlotte and Ric went silent, moping their way off camera.
– The announcers reacted to the latest Wrestlemania match announcement. Ranallo then sent it to a video of The Undertaker's return to Raw this past Monday night.
– New Day came out. Kofi Kingston faces A.J. Styles next.
[Commercial Break]
– This Monday night, New Day defends their tag team titles against Y2AJ. I felt dirty just typing that.
– Xavier Woods was on the mic. He talked about a miracle, and it wasn't that League of Nations won a match tonight (or Mike Bennett and Maria, but he didn't mention them); rather, it was that Chris Jericho and A.J. Styles getting a title shot against them on Monday night. Kofi Kingston said miracles happen every single day, like the moon, gravity, or Jell-O. Big E. tried to explain Jell-O but Kofi didn't want to hear it. Woods said the low, low cost of the WWE Network was a miracle as well. Big E. said it was a miracle that Woods reached the heights he has hailing from Atlanta. He said "Hot-lanta" is short for "Hot garbage-lanta." I'm not sure if that hyphenation is correct – I'm missing that page in my AP Stylebook. Anyway, the segment ended the usual way, New Day Rocks, A.J. interrupts, you get the idea.
4 – KOFI KINGSTON vs. A.J. STYLES
Saxton noted Chris Jericho wasn't there as he was on a promotional tour. Styles rolled up Kingston immediately for two. Back-breaker followed, only for one. Woods was already on his game shouting at ringside, trying to get in the head of Styles. Dropkick by Styles, followed by some trombone playing from Woods. That was enough to distract A.J. Pescado onto Woods wiped him out, but Kingston dove at Styles with a dropkick through the ropes. They went to break at 1:16.
[Commercial Break]
Back at 5:08 with Kofi working the neck and shoulder of Styles. One-man Unicorn Stampeded by Kingston, who actually imitated tagging another guy in and doing the move. Styles made a comeback with elbows and a lariat. Fireman's carry into a neck-breaker by Styles for a two-count. SOS by Kingston for two, as it looked like not only was there a kick-out, but Kofi's foot might have been under the bottom rope. He set up for Trouble in Paradise, but missed. Pele kick by Styles. A.J. was back-dropped to the floor on a charge. Big E. tried to distract the ref, but the ref saw Woods on the other side of the ring try to use the trombone as a weapon. The ref ejected Big E. and Woods from ringside. Finally. Springboard flying elbow for the win by Styles.
WINNER: Styles, at 10:15. It seems like that's the booking of ringside ejections lately, in which the finish comes before they can even make it to the back. Match was a good TV bout.
The New Day tried to corner Styles and attack him after the match, but Styles escaped before any damage could be done.
– Brock Lesnar vs. Bray Wyatt will take place at WWE Roadblock on the WWE Network on Saturday, March 12.
– Bray Wyatt cut a promo backstage. He addressed Lesnar, saying Lesnar has really done some damage in WWE. He said Lesnar strikes fear into every man, but Wyatt is more than a man. He said where he comes from, beasts bow to him. And soon, so will Lesnar.
– After the commercial, Kevin Owens faces Dean Ambrose.
[Commercial Break]
– The exterior of the arena in Atlanta was shown.
– Rolling Stone broke the news earlier in the week of the latest 2016 WWE Hall-of-Famers: The Fabulous Freebirds.
5 – KEVIN OWENS vs. DEAN AMBROSE
Ambrose took Owens down but even in doing so, was selling residual pain. He had his ribs taped and his biceps taped. Owens slowly worked over Ambrose with shots to the mid-section. Ambrose avoided an Owens charge in the corner and almost cinched in Dirty Deeds, but Owens escaped to ringside. The match rolls on after the break, taken at 2:37 of the match.
[Commercial Break]
Back with Owens continuing to work over all parts of Ambrose. Lawler said he wants to feel sorry for Ambrose but he can't because Ambrose is so dumb for putting himself in these positions. Ambrose got a running start at Owens, but Owens sent him over the top rope. Ambrose made it in before the ten-count, so Owens sent him back out and tossed him into the barricade. Owens then yelled at Ranallo at the announce desk. Ambrose fired back with a clothesline. This time it was Owens who had to find his way into the ring before ten. He did so. Owens was taken shoulder-first into the ring-post, leading to an Ambrose roll-up for two. Again, Owens was sent out of the ring. Ambrose put it all on the line by taking out Owens with a suicide dive. Ambrose was knocked off the top rope and Owens hit a cannonball in the corner. Ambrose kicked out at 11:43 of the match. Owens placed Ambrose on the top rope. Ambrose fought away and hit an elbowdrop for two. Back outside went Owens, who this time caught an Ambrose suicide dive attempt and drove him back-first into the apron. Owens ripped the cover off the broadcast table and took out the new monitors. Ambrose somehow made it back in the ring by this point and went for Dirty Deeds. Owens countered into a pop-up powerbomb but Ambrose hit a frankensteiner. Superkick by Owens. Ambrose blocked a senton with his knees. Dirty Deeds, hook of the leg, and the pin. Ranallo sold it huge on commentary.
WINNER: Ambrose, at 14:28.
A few replays of the match were shown. Ambrose and Owens were still both selling the match, but Ambrose had enough wherewithal to use the ropes to get himself to his feet and stare at the Wrestlemania sign as the show faded out.
Did you watch Thursday's Smackdown episode? Send your 0-10 score & Reax to pwtorch@gmail.com for our TV Reax feature.
Greg Parks has been covering WWE Smackdown for PWTorch.com since January of 2007. He is the host of "Moonlighting with Greg Parks," a PWTorch VIP-exclusive audio show posted each weekend. Follow him on Twitter @gregmparks for live Tweeting during Raw, Impact, and PPVs, as well as other bits of wisdom. Comments, questions and feedback are welcome, and can be sent to g_man9784@yahoo.com.