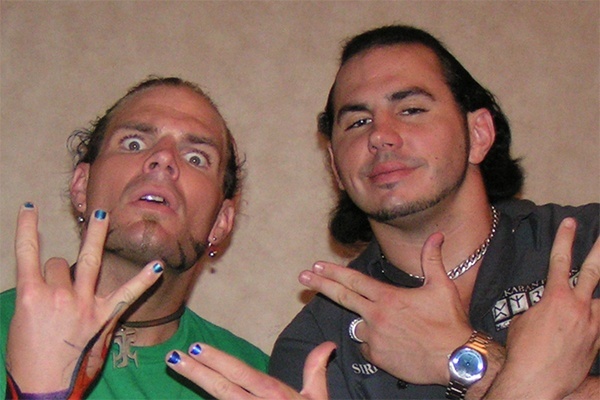 ---
SPOTLIGHTED PODCAST ALERT (YOUR ARTICLE BEGINS A FEW INCHES DOWN)...
---
WrestleCon Day 1 Report
Queens of Combat Results
April 1, 2016
Dallas, Tex.
Report by Dot Net reader Jonny "Mad Dog"
I had already bought a ticket to WrestleMania on Sunday and saw that there were other events in the area, so I bought a ticket to the WrestleCon and Ring of Honor's Supercard of Honor show. I did not regret my decision at all, despite being without food, water, bathroom breaks, resting of my voice, or much sitting down for roughly twelve hours straight.
It was my first time attending a convention, let alone a WrestleCon. There were roughly at least a couple thousand in total wandering around the aisles and seated at the live show from all over the country and the world, of all age groups, despite it being a school-day (I can only imagine what the weekend shows will be like in the area). I navigated my way well enough through the visual overload I received early on.
I first picked up a t-shirt people could sign as I made the rookie mistake of not bringing any items to be signed (something I'd recommend readers who consider going to such things to do, as there is an extra charge for getting an 8×10 at the tables), as well as a map of the different booths and the list of scheduled vendors and personalities slated to sign and pose with attendees, which came in handy.
Several people listed were not able to make it to Friday's event, and some will probably not be able to make it to Saturday's event either. For example, Fenix was listed as "canceled due to injury" for Saturday's show, and I could not find others such as Chyna or Kelly Kelly. But, for the most part, those listed on the sheet were there signing and posing. My first booth was Good Ol' J.R.'s and he was very nice. I was able to snag a signing and picture (with a "Hook'em" hand gesture at the last moment) before moving on to other vendors and had a goal of getting Texas-based personalities to sign the shirt I had bought that had the state of Texas on it with "WrestleCon 2016" written inside of it. But, I couldn't quite accomplish that because of rookie mistakes of not bringing enough money, not pre-ordering signing spots (such as with Shawn Michaels, who was not there for long and I was already late due to traffic and a late start), and dilly-dallying, but I will accomplish it eventually, as the remaining personalities should appear at more of these events in the future. On the topic of HBK, the lines for the Hardy Boys, the Dallas Cowboys cheerleaders, JR, DDP, Shane Helms, and RVD were the longest ones of Friday's show. Some in the Hardy's line waited around for an hour or more, which was one reason I avoided that. As much as I'd like to meet them, I'll have that opportunity again soon, when I'm more prepared.
There were some mini-events in the event itself that took place every hour or so. The first was a Scott Steiner Q&A, but I believe something didn't work out (although I did see what looked like the Steiners nearby still) and Jimmy Hart stepped in to do it, and sung the praises of Jerry Lawler. There was a Hardy Brothers Q&A after that, followed by a Lucha Underground Roundtable, both of the preceding I enjoyed listening to, as well as a Road Warrior Q&A, and live Colt Cabana podcast special, which was an absolute riot. Colt was a busy man Friday, yet a talented and hilarious one, doing a live podcast, an inter-gender tag match for Queens of Combat to end the convention's first day, and appearance after the ROH World Title match cutting a riveting, passionate promo on Jay Lethal. Then, the Queens of Combat 10 show to cap off the first day of the convention.
I must say the girls put on a nice show, with the card being…
Queens of Combat Results
(1) Mandy Leon beat Brittany Blake.
(2) The Caramel Girls (Ariel Monroe & Devyn Nicole & Savannah Evans) beat Amanda Rodriguez & Angel Blue & Miss Dis Lexia in a six-woman tag match.
(3) Rebel beat Thea Trinidad/Rosita.
(4) Su Yung & "Crazy" Mary Dobson beat Leva Bates & Blue Pants.
(5) Candice LeRae & Joey Ryan beat Heidi Lovelace & Colt Cabana.
(6) Mickie James beat vs. LuFisto.
(7) Taeler Hendrix beat Jessicka Havok and Tessa Blanchard in a three-way match for the Queens of Combat championship.
Mandy Leon, Leva Bates, Joey Ryan, Colt Cabana, Candice LeRae, Mickie James, LuFisto, Taeler Hendrix, Tessa Blanchard, and Jessicka Havok were some of the stand-outs of the QOC show.
The show had moved a little differently than most expected it to, with some things running longer more so than things running shorter, so there was essentially no break between leaving the convention and attending the ROH: Supercard of Honor X (Night One) event, so I limped to my seat famished, yet still excited right after the QOC show ended.