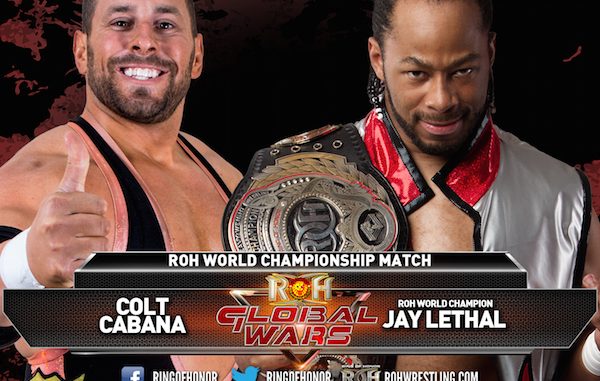 ---
SPOTLIGHTED PODCAST ALERT (YOUR ARTICLE BEGINS A FEW INCHES DOWN)...
---
Ring of Honor "Global Wars" PPV Results
May 8, 2016
Chicago Ridge, Ill.
Report by James Caldwell, PWTorch assistant editor (@JCTorch)
App Users: Press HERE to read real-time results. VIP members, Press HERE.
The PPV opened with a video package highlighting the two-year history of ROH and New Japan working together. Specifically, Shinsuke Nakamura vs. Kevin Steen (Kevin Owens) happening in ROH before it might happen in WWE. Tonight, worlds collide again. But, tonight is also about Colt Cabana returning to ROH seeking the one major prize that has eluded him his entire career – the ROH World Title.
From the Frontier Fieldhouse in Chicago, Kevin Kelly and Steve Corino (as Mr. Wrestling III) introduced the show from ringside. Corino previewed a major Superkick Party and Kelly broke down all three ROH titles on the line.
1 — A.C.H. vs. ADAM PAGE vs. RODERICK STRONG vs. DALTON CASTLE — fatal four-way #1 contender match to the ROH TV Title
Roderick Strong was out first for this non-advertised match putting together the last remaining advertised wrestlers for the PPV. Adam Page was out second, followed by A.C.H. and Dalton Castle (with the boys). Corino slipped and called Adam Page as Adam Cole.
The match rules were somewhat random for a four-way with tags having to be made and two guys legal at one time. How long until this breaks down like a typical ROH tag match with all four guys in the ring? Instead of breaking down in the ring, things broke down on the floor with Page wiping out Roddy and Castle on the outside. A.C.H. then delivered a huge flip dive onto everyone, including The Boys, on the floor.
A.C.H. dragged Castle back into the ring looking to pin him, but Strong hopped back into the ring and went nuts on both men. Strong delivered a superplex into double knees on A.C.H. But, Castle grabbed Strong and smashed him onto Page with the Bang-a-rang. Castle discarded Strong, then pinned Page for the win.
Post-match, Castle had a wild celebration in the ring. The announcers sold Strong doing all the work, but getting no reward. Strong grabbed a headset at the commentary table to yell about being screwed out of the title shot before throwing down the headset.
WINNER: Castle at 8:26 to become #1 contender to the ROH TV Title. The match felt thrown-together, but was fine as an opener. (**1/2)
In-ring: The Addiction was introduced first for the next match. Cheeseburger came out with a mask on, then Jushin Liger was introduced to a big reaction. "Liger, Liger" chant from the crowd. The appropriate hashtag for this match is #LigerBurger.
2 — THE ADDICTION (CHRISTOPHER DANIELS & KAZARIAN) vs. JUSHIN "THUNDER" LIGER & CHEESEBURGER
Cheeseburger removed his mask before the match started and got into a shouting match with Daniels. Daniels pushed him, Cheeseburger pushed back, and the bell sounded to officially begin the match. Cheeseburger eventually tagged out to Liger to a big reaction. Liger and Cheese double-teamed Kaz, cleared Daniels, and double-dropkicked Kaz. Cheseburger quickly lost the advantage, setting up Addiction to work over Cheeseburger for a few minutes.
Hot tag to Liger, who delivered a sit-out powerbomb to Daniels, but Kaz broke it up. Addiction then hit a double-team Celebrity Rehab combo on Liger, dropping Liger right on his head. Cheeseburger saved Liger from certain pinfall, then legally tagged in. But, he took an STO from Daniels, who called for the end. Suddenly, Cheeseburger victory-rolled Daniels for a three count to get the surprise win.
Post-match: Cheeseburger celebrated his first major ROH PPV victory, but Daniels and Kaz jumped Cheese and Liger from behind. The bell sounded over and over to bring out someone to make the save, but no one helped. Instead, Daniels and Kaz combined for a Best Moonsault Ever into a spike Tombstone piledriver. Cheeseburger sold a neck injury, drawing out trainers to help Cheese.
WINNERS: LigerBurger at 6:57. A fine undercard match giving Cheeseburger a milestone win and getting Liger on U.S. PPV. The Addiction's heel persona was enhanced by the post-match, especially since that's uncommon for ROH, so everyone seemed to benefit. (**)
Video Package: War Machine vs. Briscoes tag feud. Interestingly, the ROH Tag Title match is anchoring the first hour.
3 — ROH tag champions WAR MACHINE (HANSON & RAY ROWE) vs. THE BRISCOES (JAY & MARK BRISCOE) — ROH Tag Title match
The match was set up as a big battle between the powerhouse tag champs and the tag team synonymous with ROH's tag division for over a decade. And, War Machine has not beaten The Briscoes in ROH, giving them extra incentive to want to retain. Respect was shown by both teams before the match.
Very intense start with War Machine blasting Mark in and out of the ring, including Rowe smashing Mark repeatedly into the guardrail. Back in the ring, Mark continued to take a beating from the tag champs. Mark came back with a clothesline on Hanson to bring in Jay. Mark tagged back in and Hanson launched Mark clear over the top rope to the floor.
The action broke down on the outside with Rowe battling both Briscoes, then Hanson came flying through the ropes with a suicide dive to both Briscoe brothers. Off-camera, there was some activity involving Jay and Hanson, who ended up going through a ringside table.
Back in the ring, the Briscoes isolated Rowe as Hanson sold on the floor. Rowe and Jay then had a no-sell exchange popping up from uranages. The crowd cheered, then Jay and Rowe collided mid-ring. This brought in Mark and a recovered Hanson for a mid-ring exchange that led to a double knock-down.
At 8:00, all four men slowly came back to their feet for a mid-ring exchange. Referee Todd Sinclair just let them go without trying to reinforce tag rules. Rowe and Jay traded boxing shots, then Mark and Jay double-clotheslined Rowe to the floor. Mark dumped Hanson to the floor, then Jay took out Rowe on the floor with a suicide dive. Mark followed with a running Blockbuster to Hanson on the outside, knocking down the tag champs.
Back in the ring, Jay smashed Rowe with a lariat for a two count. He wanted the Jaydriller, but Rowe blocked. So, Jay nailed another lariat for a nearfall. Rowe blocked the driller again, then forearmed Mark and kicked Jay to the mat for a two count. War Machine wanted to finish Jay with Fall-out, but Mark broke it up and slammed Hanson to the mat. Frogsplash from Jay, froggy bow from Mark, and Hanson kicked out just before three. "Ohhhh!" from the crowd.
Reset at 12:30. Hanson brioke up a Briscoe Party and combined with Rowe to deliver a backbreaker into gutwrench suplex. From the second rope, Hanson looked to finish off Briscoe before pausing. Hanson took one more step to the top rope and went for a moonsault, but Mark rolled out of the way. Jay went right to the Jaydriller on Hanson and everyone thought it was over, but Hanson rolled his shoulder at the very last second. Super shock in the building.
The Briscoes wanted the Doomsday Device, but Rowe broke it up from behind. Mark got wiped out in the process, then Jay took a backbreaker from Rowe into spinkick from Hanson. Mark tried to wake up and charge Rowe, who caught him in mid-air to set up Hanson for Fall-out. Hanson covered Mark, Rowe wiped out Jay with a charging knee, and a three count was rendered.
Post-match, all four men sold on the mat for a while to sell the effects of the war. Additional referees came out to check on all four men to continue selling the impact of the match. Once the teams recovered, the crowd came to their feet to applaud the efforts of all four men. The Briscoes were left standing in the ring to shake their heads over not getting the job done.
WINNERS: War Machine at 15:15 to retain the ROH Tag Titles. That was a heck of an undercard title match. The two super-close nearfalls for The Briscoes were really good building to the conclusion giving War Machine a solid title defense. (***1/2)
In-ring: It was time for the IWGP World Hvt. champion Naito's match. Odd to see New Japan's top champ in the fourth match of this PPV, but Naito is playing the role of an undeserving champion, so it fits. Kyle O'Reilly was out first as Corino and Kelly talked about O'Reilly's former tag partner Adam Cole being M.I.A. for a while. Naito's music then produced the leader of L.I.J., by himself on American soil. Naito emerged wearing a bright white suit and black & white mask. Naito dropped the IWGP World Title belt on the stage, continuing to disrespect the title. He tossed his mask toward the ROH announcers, then took his time entering the ring to face off with O'Reilly. Naito teased striking referee Paul Turner before slowly removing his suit to prepare to face O'Reilly. Turner asked for the Code of Honor, but Naito shook Turner's hand instead. Great mastery of his pre-match routine.
4 — IWGP World Hvt. champion NAITO vs. KYLE O'REILLY — non-title match
Naito did Okada's routine of teasing a hard chop in the ropes, then backing off and raising his arms in the air. O'Reilly answered with a knee to the gut, then repeated strikes to the face. Naito came back with a hard dropkick into his signature cocky pose, popping the crowd. Naito followed with a basement dropkick as the announcers talked about Naito blowing off everyone in the New Japan office and in the locker room.
O'Reilly and Naito continued to trade control until O'Reilly exploded on Naito with a running Tornado DDT. O'Reilly was too fatigued to follow up, though, allowing Naito to nail a top-rope huracanrana. Naito and O'Reilly then had a standing exchange into O'Reilly nailing a rebound lariat putting both men on the mat.
At 10:00, they went into another standing exchange that resulted in O'Reilly nailing a Regalplex for a very close two count. Naito shook it off and went for Destino, but O'Reilly blocked, only to take an elevated spinebuster. Naito followed with a second Destino attempt, and it was good for the pin and the win.
Post-match, the announcers put over O'Reilly being a worthy title challenger in the future. Kelly said there is no shame in losing to the IWGP World champion. Afterward, Naito extended his hand to O'Reilly to help him to his feet, but instead dropped him to the mat and kicked him in the groin. Naito then chucked the title belt into the air and left the ring as O'Reilly sold the insult.
WINNER: Naito at 12:03. ROH has to find a selling point for the roster losing to New Japan's roster, so they're playing the "earning respect" card a lot these days. Tough spot for O'Reilly losing to Naito in an ROH ring without Naito's faction there to help him, even if Naito is New Japan's top champion. Naito was very good in his role. (**3/4)
In-ring: Tanahashi's rock-star theme music played to bring out Tanahashi and "Big Mike" Michael Elgin for tag team action. Tanahashi worked the air guitar down at ringside before they posed in the ring as streamers filled the ring. Moose's music then brought out Moose in his football gear, cheerleaders, and Stokely Hathaway. After a pause, the money dropped to bring out former IWGP World champion Kazuchika Okada and Gedo. The cheerleaders threw Okada's signature money in the air as Okada posed on the stage. Lots of energy here. Great set-up. It's Okada, it's Big Mike, it's Tanahashi, it's an improved Moose. Cue the bell.
5 — TANAHASHI & MICHAEL ELGIN vs. KAZUCHIKA OKADA (w/Gedo) & MOOSE (w/Stokely Hathaway)
The crowd went nuts for Okada and Tanahashi stepping out to start the match for their teams. Big lock-up and early Rainmaker tease. They eventually came to a stalemate, drawing a "New Japan" chant. The fans wanted more of Okada-Tanahashi, but Moose tagged in.
Elgin also tagged in to square off with Moose, leading to two big bulls meeting in the middle of the ring. Elgin delivered his trademark delayed vertical suplex, but Moose popped right up and smiled at Elgin. Big Mike dropped him again, then tagged in Tanahashi to battle Moose. Tanahashi playfully did Moose's hand-pump, causing Moose to turn the tables on Tanahashi.
All four men in the ring, leading to Moose and Okada hitting simultaneous dropkicks on Tanahashi and Elgin, clearing Big Mike's team to the floor. Okada sold being impressed by Moose's dropkick. Moose then flew off the top rope with a big splash to both Elgin and Tanahashi on the floor.
Back in the ring, Okada stretched Tanahashi with a standing submission. Okada turned it into a neckbreaker for a two count. Moose tagged in and emphatically slammed Tanahashi off the top rope. Elgin got a tag, though, and rocked Moose with powerhouse offense. Elgin then powerslammed Okada off the ring apron into the ring.
Chaos at 9:00, then Elgin wanted a powerbomb on Moose, but Moose back-dropped him to the mat. The two big bulls collided mid-ring again. Suddenly, Elgin smashed Moose with a left-arm lariat. Tanahashi and Okada both wanted tags from the ring apron and both entered the ring.
Big mid-ring exchange between two of the biggest stars in the world. Dragonscrew leg whip from Tanahashi. Tanahashi followed with a somersault splash to Okada for a close two count. Tanahashi worked the air guitar, but Okada caught him with a DDT. Okada kipped up to his feet, then uppercut Tanahashi to the mat for a two count.
Okada wanted a Tombstone on Tanahashi, but Tanahashi blocked and teased Okada's Rainmaker. No dice. Okada tried his own Rainmaker, but Tanahashi switched into the Slingblade. Both men sold on the mat, then Mike entered the ring to double-team Okada. Big powerslam from Elgin, then Elgin slammed Tanahashi onto Okada for a two count when Moose broke up the pin.
All four men in the ring at 13:00. Tanahashi then knocked Moose to the floor and delivered a plancha to the floor. Elgin and Okada were legal in the ring. Elgin delivered a Bucklebomb, then wanted the Elginbomb, but Okada came back with a neckbreaker across his knee. Textbook dropkick followed.
Okada wanted the Rainmaker, but Elgin avoided. Moose then speared Elgin out of nowhere. With Tanahashi out of the picture, Okada scooped up Elgin to deliver the Rainmaker, popping the crowd. Okada covered Elgin for the pin and the win.
WINNERS: Okada & Moose at 14:47. It was interesting to see who would take the fall between Elgin or Moose. And, Elgin ended up taking the loss after having a nice showing. The Okada-Tanahashi exchanges were a treat for U.S. PPV viewers. The overall ROH-New Japan deal still feels like an exhibition, but it's just nice to see Okada and Tanahashi share the same ring. (***1/4)
Video Package: ROH TV Title feud involving Roderick Strong and Bobby Fish. Now, it's Fish challenging new TV champion Tomohiro Ishii. Once both men entered the ring, formal ring introductions led to Corino trying to give Fish a fighting chance.
6 — ROH TV champion TOMOHIRO ISHII vs. BOBBY FISH — ROH TV Title match
Fish tried to play mind-games early on by ducking out of the ring after angering Ishii. Back in the ring, Fish expended a lot of energy delivering kick after kick trying to rock Ishii, who simply backed away to the corner to let Fish wear himself out. Ishii then grabbed Fish and tossed him into the corner to chop and punch the crap out of Fish. Hard chop to the chest. And another.
Ishii and Fish came together in the middle of the ring, where Fish finally knocked down the champion with a big spinwheel kick to the head. But, Ishii responded with a vertical brainbuster. Ishii toyed with Fish a bit, slapping him around to see if Fish had any life in him. Giant headbutt knocked down Fish, who sold being KO'ed in the corner.
Ishii put Fish on the top turnbuckle, then tried a superplex, but Fish blocked. Fish delivered repeated forearms, but Ishii shook him off. Still battling on the top turnbuckle. Fish finally knocked down Ishii, then went for an ill-advised diving headbutt, but missed. Ishii tried to charge Fish, but Fish responded with a leaping huracanrana. Fish followed with a kick strike to the chest for a two count.
Fish continued to punish Ishii, until Ishii stopped him dead in the middle of the ring and headbutted him in the chest. Fish sold being knocked out as he slumped to the mat. Ishii then took Fish to the top turnbuckle and delivered a delayed brainbuster for a close two count.
Ishii tried to finish off Fish with a sliding lariat, but Fish ducked just in time. Ishii regrouped and nailed a Saito suplex. He followed with a sit-out powerbomb for a two count. Ishii called for the end, but Fish caught him with a sleeper. Ishii shook it off and delivered a release German suplex.
The fight moved to the ring apron, where Fish tried to man-up by telling Ishii to bring it. So, Ishii did with forearms and hard chops. One chop came close to the throat, drawing ref Sinclair's ire. Fish then leg-swept Ishii to the floor to put both men on the mat. Both men barely made it back into the ring before a 20-count.
The match continued with a standing exchange in the middle of the ring. Fish tried to build momentum bouncing off the ropes, but he ran right into a big lariat resulting in a nearfall. Fish came back with a sleeperhold, then released and pounded Ishii in the throat with elbow strikes. Fish followed with a rear-naked choke in the middle of the ring. Ishii started foaming and sold losing consciousness locked in the hold. Ref Todd Sinclair checked on Ishii and called for the bell, saying the match is over. Fish is the new TV champion.
Post-match, Sinclair tried to explain to Ishii what happened as Fish celebrated in the ring. Fish fell to the mat celebrating his accomplishment, then took a victory lap around the ring. The announcers stressed that Ishii did not tap, just the ref stopped the match.
WINNER: Fish via ref stoppage at 15:33 to capture the ROH TV Title. That was a heck of a singles battle. Ishii forced Fish to step up his game and prove he could match up with a tough b.a. like Ishii. This was Fish's break-out singles match capturing the TV Title. It's Fish vs. Dalton Castle up next in the TV Title division. (***1/2)
Up Next: Superkick Party. The Young Bucks have vowed (a) superkicks and (b) a new Bullet Club member.
In-ring: IWGP Jr. Hvt. champion KUSHIDA was introduced first for the non-Bullet Club four-man unit. IWGP Jr. Hvt. tag champion Matt Sydal was out next. Motor City Machineguns were out next, reuniting the Timesplitters of Alex Shelley and KUSHIDA. The Bullet Club's theme music played to bring out the Young Bucks and Guerillas of Destiny. It's the Machineguns, Timesplitters, Bullet Club, and Bullet Club's Elite in the same match. Before the bell sounded, Corino debuted his Official Superkick Counter.
7 — BULLET CLUB (IWGP World tag champions TAMA TONGA & TANGA LOA & NEVER Openweight Six-man Tag champions YOUNG BUCKS – NICK & MATT JACKSON) vs. MATT SYDAL & TIME SPLITTIN' MOTOR CITY MACHINEGUNS (CHRIS SABIN & ALEX SHELLEY & IWGP Jr. Hvt. champion KUSHIDA) — eight-man tag match
The Time Splittin' Machineguns worked well together early on with Shelley and KUSHIDA clearing Bullet Club from the ring, then Sabin and Sydal flew through the ropes to take out the Club on the floor. Back in the ring, the Young Bucks cleared the ring before posing together. But, Sabin and Shelley stormed the ring to thrust-kick the Bucks out of the ring. The tag champs then kicked MCMG out of the ring. Young Bucks followed with a flip dive to the floor taking out Team MCMG.
After a big reset, Nick Jackson wanted the first superkick of the night to Shelley, but Shelley blocked. Tama Tonga entered to a big reaction and cleared the ring before tagging in Tanga Loa to deliver a running powerslam to Shelley. The Bullet Club continued to tag in and out wearing down Shelley until he finally broke free.
Tag made to KUSHIDA, who double-clotheslined the Young Bucks. Corino kept calling for the Superkick Counter, but still no superkicks. KUSHIDA then double German-suplexed the Young Bucks for a close two count. Big pop for KUSHIDA's impressive move. KUSHIDA then tagged in Sydal, who kneed Nick in the face. Tag to Tonga, who took double knees to the chest from Sydal.
At 10:00, Sydal spun underneath Tonga into a slam leading to a standing moonsault for a two count. Chaos in the ring with four men battling. The Bucks tried to enter with superkicks, but they missed again. Still no superkicks on the counter. Nick Jackson took a combination of kicks, then a double knee smash from the top rope.
Matt Jackson found himself isolated in the MCMG corner, then KUSHIDA wiped out the Guerrillas on the floor. Shelley followed with a big splash to Matt, but Nick broke up a pin just before three. The Young Bucks regrouped wanting to nail a flurry of superkicks, but Nick accidentally kicked Matt. Shelley tried Sliced Bread, but Matt blocked, caught Shelley in mid-air, and Nick sprung onto Shelley with a giant spike Piledriver. Matt covered for the win.
Post-match, Corino immediately lamented spending $6,000 on the Superkick Counter, yet there were no superkicks and no Bullet Club addition. Heels lie (unless the addition and superkicks come in a main event angle, in which case heels mislead). Bullet Club celebrated in the ring, then left the ring as Corino confronted them about costing him six grand.
WINNERS: Bullet Club at 13:19. Some good exhibition action, especially when KUSHIDA was in the ring. But, without anything on the line, it will be easily forgotten as the pre-main event match. The failed Superkick Counter was one-part humorous and one-part a distraction when it became apparent it was part of the story of the Bucks not doing their signature superkicks. (***)
Before the main event, a masked B.J. Whitmer came down to ringside to confront Kevin Kelly and Steve Corino (as masked Mr. Wrestling III). Whitmer ripped off the mask and said he's tired of Corino's shenanigans. He pulled out a flash drive and told Corino to look at the footage when he gets back to his hotel tonight. "USB" chant from ringside. Corino held the disk and sold concern through his mask as Whitmer stormed off.
Video Package: Jay Lethal vs. Colt Cabana feud.
Back at ringside, ROH matchmaker Nigel McGuinness joined Kevin Kelly and Steve Corino for commentary on the ROH World Title main event. Colt Cabana's music then played to bring out the hometown star looking to win the ROH Title for the first time in his career. Cabana sold being emotional as he made his ring entrance. Jay Lethal then made his ring entrance with Taeler Hendrix.
Formal ring introductions for both wrestlers as the crowd chanted Cabana's name throughout Lethal's intro. The crowd definitely wanted a C.M. Punk moment from MITB 2011 in Chicago. Lethal sold concern realizing he was in enemy territory before the bell sounded. The opening bell stopped the "Colt Cabana" chants after a sustained 2-3 minutes.
8 — ROH World champion JAY LETHAL (w/Taeler Hendrix) vs. COLT CABANA — ROH World Title match
Cabana and Lethal exchanged control early on. Cabana then knocked Lethal to the floor and avoided Taeler's trap on the floor. Taeler tried to get involved a second time, and for a second time, Cabana avoided the trap. A third time, Taeler just grabbed Cabana around the waist, allowing Lethal to kick Cabana off the ring apron to the floor. Nigel had enough and worked with ref Todd Sinclair to eject Taeler from ringside. Nigel dragged Taeler away from ringside as Corino brought up Truth Martini still having a strategy even if he's away recovering from neck surgery.
The match continued with Lethal whipped Cabana hard into the guardrail trying to get a count-out. Cabana made it back at 17, then Lethal kicked Cabana in the gut to start wearing him down in the ring. Cabana came back with a boot to the head, then a hard knock-down clothesline. Both men sold on the mat as the crowd tried to rally behind Cabana.
Cabana delivered a flying butt splash to Lethal for a two count, which might not be as effective with Cabana dropping some weight. Lethal absorbed the contact, then came off the top with a flying double axehandle smash for a two count. Lethal then took his time taking Cabana to the top turnbuckle, allowing Cabana to block and drop Lethal chest-first across the top rope.
Cabana got That Look wanting to finish off Lethal, but they blocked each other going for Tombstones, finishing with Lethal spiking Cabana head-first into the mat for a two count. Lethal called for the Lethal Injection, but Cabana grabbed him by the tights to block. And again. Cabana then dropped Lethal to the mat and put him in Billy Goat's Curse. "Tap, tap, tap!" the crowd chanted. Lethal teased it, but Taeler came back down to ringside and pulled ref Todd Sinclair out of the ring.
Suddenly, the Young Bucks came down to ringside and superkicked ref Sinclair, then Taeler Hendrix. And here's the main event angle. In the ring, the Bucks pulled out two Bullet Club t-shirts and handed them to Cabana and Lethal. However, the lights went down. When the lights came back on, Adam Cole was in the ring sporting a Bullet Club t-shirt. The Young Bucks superkicked Lethal and Cabana, re-forming the original Mt. Rushmore from PWG on ROH TV. Apparently Nigel was subdued backstage prior to this?
Adam Cole took the mic and declared that they are Bullet Club. A superkick party broke out on Lethal and Cabana as Corino freaked out, asking for his Bullet Club superkick counter to come on the screen. Tama Tonga and Tanga Loa then joined the Bullet Club party to take out security, Lethal, and Cabana. Tonga powerbombed an ROH student through a ringside table, then spraypainted the ROH barricade with "BC" letters. The Bucks superkicked Kevin Kelly, then superkicked a celebratory Steve Corino, making him #32 on the counter.
The Bucks took over commentary, doing mock wrestler announcer voices. Meanwhile, Loa cuffed Lethal to the top rope. Adam Cole superkicked Lethal three times, advancing the counter to #35. Cole then picked up the ROH Title belt and displayed it to the crowd. More superkicks to Lethal. Cabana took superkicks on the floor. The Bucks's dad, who was identified in the crowd in the previous match, then entered the ring. The Bucks held off Cole from superkicking their dad, then all three of them superkicked their dad, who kind of flinched before taking it.
They approached a cameraman, who carefully dropped the camera in the ring, then a ringside assistant hit the ring to yell at the Bucks. He got superkicked for his troubles as the counter hit 51 superkicks. The Bucks, Cole, and IWGP tag champs then posed on the mat looking into the camera placed on the floor. They waved good-bye to the camera as the PPV signed off at 10:55 p.m.
WINNER: No Decision at 15:30 when Cole took the mic or 22:30 when the PPV signed off. "Eh" close to the PPV with a smaller-scale NWO angle to avoid a finish to the main event. (n/a)
***
PWTorch Tweets: Follow live tweets tonight during the PPV at Twitter.com/PWTorch/lists/torch-staff.
PPV Reax: After the show, we're looking for your 0-10 Score, Best/Worst Match, and Overall Reax to pwtorch@gmail.com.