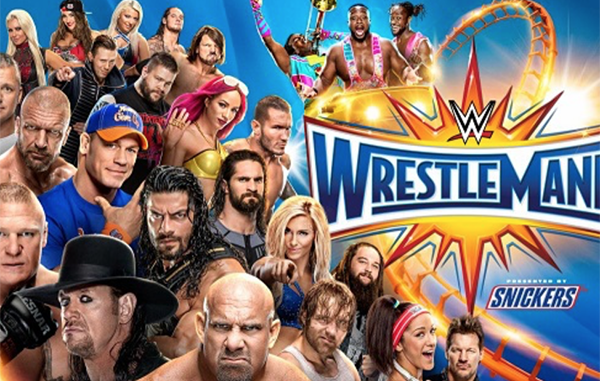 ---
SPOTLIGHTED PODCAST ALERT (YOUR ARTICLE BEGINS A FEW INCHES DOWN)...
---
By Pat McNeill, PWTorch columnist
Wake the pets & call the neighbors, it's time for our exclusive WWE Network pseudo-pay-per-view projections!
DISCLAIMER: Projections are based on what the columnist would do if he were booking this event, instead of Paul "NXT Fanservice" Levesque, Runjin Singh, Edward Koskey, "Road Dogg" Brian James and WWE President Charles Foster Kane. Projections are not predictions, because this is the column where everything's made up and the points don't matter. This preview has been sealed in a mayonnaise jar on Funk & Wagnall's porch since noon today. Some of our departing contestants will receive a supply of Turtle Wax Liquid Paste. Turtle Wax Liquid Paste gives you the durability of a paste and the ease of use of a liquid wax. Closed captioning for this column is provided by America Online. And if your bid comes within $100 of the actual retail price of your showcase, you win both showcases. Pat McNeill's wardrobe provided by Warren Sewell Clothing Company. Remember, this is only an exhibition. This is not a competition. Please, please, no wagering. This lineup is based on the best available information as of this writing. These predictions are based on what the columnist would do if he had creative control over WWE, except for where he sends Roderick Strong & Drew Galloway directly to the main roster, bypassing this silliness of "learning the WWE style". Oh, well.
Based on what I've seen in NXT, whenever Triple H mentions "learning the WWE style", he means slowing down and learning to sell your opponent's moves. It also implies that the wrestler in question needs a cooler ring entrance. Now you know. And knowing is half the battle!
Before we preview tonight's show, let's get to this month's edition of the Wrestling History Lesson, because that's why many of you clicked here in the first place. Twenty years ago, on April 12, 1997, the World Wrestling Federation presented WWF Shotgun Saturday Night (pretaped) from Muncie, Indiana. The main event saw Freddie Joe Floyd take on Billy Gunn. Jim Ross and the late Brian Pillman had the call.
What was happening in World Wrestling Entertainment fifteen years ago? I'm glad you asked! On April 7, 2002 the World Wrestling Federation aired an episode of "WWF Sunday Night Heat" (pretaped) from Albany, New York. In the opening match, we saw Scott Hall take on the late Crash Holly. Jonathan Coachman & Raven had the call. (Good luck finding this on WWE Network. Or…anywhere else.)
Did you catch the featured match on WWE Main Event this week? Watch it now (sort of). It's Gran Metalik, Mustafa Ali & Lince Dorado vs. Tony Nese, Ariya Daivari & Drew Gulak. Tom Phillips & Byron Saxton have the call.
Michael Cole, Byron Saxton, Corey Graves, Tom Phillips, David Otunga, John Bradshaw Layfield, Jim Ross & Jerry Lawler will be announcing the show, with several other announcers on standby. If you're called on as a contestant, Byron Saxton is the Secret Square. It doesn't matter who's actually on air on the time, so long as two announcers are making fun of a third one. Renee Young, Booker T, Lawler & Shawn Michaels will be doing the preshow, with some combination of Charly Caruso, Dasha Fuentes & Mike Rome in the Social Media Lounge. On with the program!
The 4th Annual Andre The Giant Memorial Battle Royal (Preshow Pandemonium): If WWE is serious about getting everybody on the card, this is where it happens. Your participants are Mojo Rawley, Apollo Crews, Curt Hawkins, Big Show, Bo Dallas, Braun Strowman, Goldust, R-Truth, Curtis Axel, Primo Colon, Epico Colon, Jinder Mahal, Sami Zayn, Tian Bing, Dolph Ziggler, Jimmy Uso, Jey Uso, Chad Gable, Jason Jordan, Rhyno, Heath Slater, Tyler Breeze, Fandango, Mark Henry and Killian Dain. I'd also like to see Sin Cara, Titus O'Neil, Kalisto, The Vaudevillains, TJ Perkins, Tony Nese & Rich Swann there to give us a 33-Man Battle Royal for WrestleMania 33, but nobody asked me. Projection? Seriously, have you not watched Raw? Braun Strowman wins.
Adrian Neville vs. Austin Aries (WWE Cruiserweight Title – Preshow Pandemonium): Will they get the fourteen or fifteen minutes this bout deserves? Probably not tonight. But they will for next week's rematch on "205 Live". Projection? There have been too many cruiserweight title changes in the past several months. But if WWE doesn't care about that, I don't see why I have to care. Aries makes Neville submit to the Last Chancery, and we get our first title change of the night.
Alexa Bless vs. Becky Lynch vs. Carmella Van Dale vs. Mickie James vs. Naomi Uso vs. Natalya Neidhart-Kidd vs. Person(s) Unknown (WWE Smackdown Women's Title – Clustermess Of Doom Match): We are likely to see the returning Tamina Snuka, and there's a chance of Kelly Kelly, Eve Torres and/or Maria Kanellis dropping by. Projection? Naomi regains the title by pinning Carmella after James Ellsworth's interference backfires. Alexa Bliss loses her damn mind and goes on a tirade after the match.
Luke Gallows & Karl Anderson vs. Enzo Amore & Colin Cassady vs. Sheamus & Cesaro (WWE World Tag Team Titles – Ladder Match): My advice for these six men would be to watch last night's Hardy Boys – Young Bucks match in Ring of Honor, and then not attempt most of the spots from that match. Projection? Cesaro and Enzo scramble for the belts at the top of the ladder, but Gallows tips the ladder over, and Karl Anderson makes the climb. The Bulletheads keep the tag team titles.
But what about the Broken Hardys? Well, they're booked for two House of Hardcore shows later this month, and nobody's called Tommy Dreamer to tell him the Hardys aren't coming. I wouldn't expect to hear from them for a month or so. Or at the end of the second quarter, right when WWE is making that last-minute push for Network subscribers.
Dean Ambrose vs. Baron Corbin (WWE Intercontinental Title): Dean Ambrose did a yeoman's job this season, anchoring the Smackdown brand during John Cena's frequent absences. Dean deserves to be rewarded for that. But seriously, have you seen how tall Baron Corbin is? He's really tall. Projection? Corbin hits Ambrose with the intercontinental object (the title belt) and becomes the new champion.
John Cena & Nikki Bella vs. The Miz & Maryse (Mixed Tag Team Match): Nia Jax has beaten Bayley, and Nia Jax has beaten Sasha, and it's time for the pendulum to swing back in the other direction, before we forget why The Boss is part of this feud. Projection? Nikki pins Maryse following a Rack Attack. Then John Cena gets the engagement ring from the timekeeper, gets down on one knee and proposes. Does Nikki say yes? Tune in to "Total Bellas" to find out!
Shane McMahon vs. AJ Styles: We're only halfway through the lineup? (Fornicate) me. Let's get this overwith. Projection? Shane tries to jump off the giant wrestling ring on top of the set onto AJ Styles. Styles stands there patiently. Then when Shane jumps, The Phenomenal One moves two steps to the left, and Shane misses. AJ rolls Shane back into the ring and covers Shane. Shane kicks out. AJ hits the Styles Clash and wins anyway. I hope Shane remembers not to tuck his chin.
Chris Jericho vs. Kevin Owens (WWE United States Title): This could have been the main event, and probably is in some parallel world where Owens is a clean-cut babyface with a mullet. Projection? We get our long match. Jericho has the upper hand when Samoa Joe stops by to say hello to Y2J. Owens wins with the package piledriver. Sometimes the obvious finish is the right finish.
Seth Rollins vs. Triple H (Non-Sanctioned Match): In the old days, a non-sanctioned match was called a "lights out" match, and the promoter would turn the lights off and on, to symbolize the show was over and the next match was unauthorized. Of course, if WWE did that tonight, everyone would be in their cars by the time the stadium lights came back on. Where was I? Projection? Stephanie McMahon tries to interfere and gets run off by Ronda Rousey (Or Dana Brooke, if Ms. Rousey isn't available). Rollins wins clean with a Pedigree.
Bayley Martinez vs. Charlotte Flair vs. Nia Jax vs. Sasha Banks (WWE Women's Title – Fatal 4 Way Elimination Match):Due to WWE's erratic booking of this division, Bayley's first reign with the Women's Title hasn't exactly been the epic event her fans were hoping for. In fact, it ends tonight. Projection? Bayley hits the belly-to-Bayley suplex on Charlotte. Sasha Banks rams Bayley headfirst into Nia Jax and steals the pin. Yes, we're going to go with Bayley chasing Sasha for the title. I'm a sucker for the classics.
Now for the $64,000 question. Which match goes on last? It's a tough choice, but I'm taking the Universal Title. Nobody's going to walk out of the show during Goldberg vs. Lesnar. For one thing, there won't be enough time.
The Undertaker vs. Roman Reigns : My first thought was that Undertaker should win, because this is WrestleMania. Then I heard the rumors tonight might be Undertaker's last match. So… Projection?…Undertaker should DEFINITELY win in his final match. If the fans actually loved Roman Reigns, that'd be one thing. But they don't. Guys, show you learned something from ending the Streak at WrestleMania 30. The Dead Man kicks out of the superman punch, and the spear, and wins with the gogoplata.
After the match, Reigns snaps and beats up Taker. Half of the undercard comes out to make the save. Reigns sneers at them. Maybe that will get him cheered. (Doubt it).
Bray Wyatt vs. Randall K. Orton (WWE World Title): Yes, you always need a match to cool down a hot crowd before the main event. Our keyword for this contest is "deliberate". Projection? Luke Harper runs in, beats up both wrestlers and leaves. Orton eventually recovers, counters Sister Abigail and wins the championship with the RKO. Erick Rowan and the repackaged Ascension guys debut Tuesday as Bray's new Wyatt Family.
Bill Goldberg vs. Brock Lesnar (WWE Raw Universal Title): I don't know if this match is the main event the Orlando fans paid for, but it is certainly the main event WWE shareholders paid for. Let's run with it. Projection? Goldberg hits the spear, hits the jackhammer. Lesnar kicks out. Goldberg tries for a second jackhammer, and gets taken to Suplex City. Brock hits an F5. Kickout. Second F5. Kickout. Lesnar hits a third F5 for the victory and the title. We go off the air with Paul Heyman cackling like a madman.
Aftermath: Payback is in four weeks. I'd expect to see Finn Balor vs. Roman Reigns for the right to face Lesnar at Extreme Rules, plus Chris Jericho & Seth Rollins vs. Kevin Owens & Samoa Joe and Sasha Banks vs. Bayley.
***
Pat McNeill of Greenville, South Carolina has been a PWTorch Columnist since 2001. He'd take the St. Louis Cardinals to beat the Chicago Cubs in tonight's big baseball game. You know, if gambling were legal.