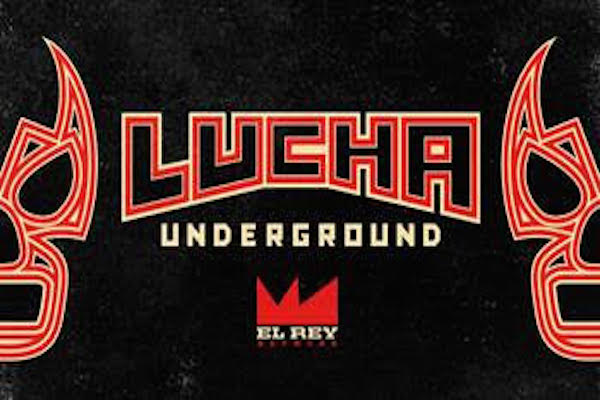 ---
SPOTLIGHTED PODCAST ALERT (YOUR ARTICLE BEGINS A FEW INCHES DOWN)...
---
LUCHA UNDERGROUND REPORT (Season 3, Ep. #21)
JUNE 7, 2017
TAPED IN LOS ANGELES, CALIF.
AIRED ON EL REY NETWORK
REPORT BY JOEL DEHNEL (@DehnelTorch), PWTORCH CONTRIBUTOR
Title: "Sudden Death"
The show opened with a recap of Prince Puma training, Drago and Kobra Moon, and Mundo-Mack.
Backstage: Prince Puma had flashbacks to Mil muertes. Rey Mysterious tried to calm him down. Puma made it clear to Rey that he was no longer his master. Puma walked off and Vampiro appeared behind Rey who told him to stay away from him.
-Title Card
Announcers: Vampiro welcomed the audience to the show. He recapped the match between Mack and Mundo from last week. Striker said they will have a rematch this week which will go as long as it needs to. He said if it doesn't take all night their will be two other matches including one for the trios championship and Prince Puma vs. Mil Muertes in a Boyle Heights street fight.
In ring: Santos introduced The Mack and Johnny Mundo, both of which were already in the ring. Dario came out before the match and said that the match is a sudden death with one fall to the finish. He also said the match is now falls count anywhere.
(1) Lucha Underground Champion JOHNNY MUNDO vs. THE MACK – Sudden Death Falls Count Anywhere Match for the Lucha Underground Championship
Mack came out on the attack right away. Johnny came back and hit several blows until he fell into a stunner. Mack attempted a pin on the outside. They brawled on the outside. Mack pulled out several chairs from under the ring. Mack then slammed Mundo onto the stack of chairs.
Mundo escaped from Mack into the crowd. Ricky Mandel attacked Mack from behind which allowed Mundo to leap onto Mack. Sexy Star came out to attack Mandel. Mundo continued to beat Mack with a trash can. Mack fought back and slammed Mundo through a trash can. Mack pulled out a table from the ring until he was attacked by PJ Black from under the ring. Black set up the table. Mack hit a stunner on Black but Mundo took advantage and kicked Mack in the ring. Mack countered End of the World then hit a sit down power bomb for a two count.
Mack attempted a suplex to the outside which Mundo countered. Taya came out to interfere, her distraction lead to Mundo being able to power bomb Mack onto the pile of chairs outside the ring for the pin.
WINNER: Mundo retains at 9:46.
Post match: As Mundo celebrated in the ring, Striker said Dario will come out to the ring next to make an announcement that will effect Ultima Lucha Tres.
[Break]
In ring: Dario stood in the ring. He talked about all the concepts LU has used to keep LU new and violent. He bragged about his own genius. He announced a new concept called the Cueto Cup. Santos help up a trophy in the ring. Dario grabbed it from her and said luchadors will face each other in an elimination tournament with the winner earning a championship match at Ultima Lucha Tres. He said Mundo will have to defend his title the night the champion is crowned against Rey Mysterio. He said the Trios champions will defend their title right now.
[Break]
(2) Trios Champions AEROSTAR & DRAGO & FENIX vs. KOBRA MOON & PINDAR & VIBORA – Trios Tag Championship match
Pindar started the match with AeroStar. AeroStar hit several moves which led to Pindar falling to the outside. Vibora came in to continue the attack on AeroStar. AeroStar finally escaped and tagged in Fenix who unloaded on Vibora. Vibora hit a pile driver on Fenix on the outsid, AeroStar went to tango Drago but he spit mist into AeroStar's face. Drago attacked AeroStar and pinned him to help Kobra Moon, Pindar and Vibora win.
WINNER: Kobra Moon & Pindar & Vibora win the Trios Championship at 5:45. Since when can teammates pin each other?
[Break]
Backstage: Mundo met with Mandel backstage and said we should be celebrating. Taya told Johnny that she has bad news. She said he is defending his title against Rey Mysterio. Mundo told Taya he needs to train harder than her ever has.
In ring: Santos introduced Mil Muertes to the ring. Puma came out after the break.
[Break]
3 – MIL MUERTES (w/Catrina) vs. PRINCE PUMA – Boyle Heights Street Fight
Puma attacked Mil from behind. Puma took Mil to the outside. Mil speared Puma through a table. Mil threw Puma into a row of chairs and continued his beat down. Puma fought back and hit Mil with a street sign. Puma flipped onto Mil. Mil hit Puma with a sign. They fought back and forth in the crowd. Mil carried Puma back towards the ring. Puma fought back with a kick. He threw a trash can at Mil. Mil pushed Puma off of a barricade. They brawled inside of Dario's office. Mil came face to face with Vampiro then tossed Puma back into the ring. Mil beat down Puma in the corner then slammed him mid ring. Puma fought back and leaped across the ring kicked a trash can into Mil. Puma landed a splash on Mil then was attacked by Catrina. Vampiro handed Puma a brick. He hit Muertes over the head for the win.
WINNER: Prince Puma at 11:42.
FINAL THOUGHTS: This week LU got back into the groove of things with he standard three match format and backstage segment. Mundo and Mack was a very condensed version of the match they had last week with all the interference. The trios tag match was a bit awkward with Drago turning on AeroStar. The Puma-Vampiro storyline is one that I am looking forward to. I like the dynamic of Puma being the face of the promotion now being influence by the darker Vampiro.
---
NOW CHECK OUT LAST WEEK'S REPORT: 5/31 Lucha Underground TV Report (Season 3, Ep. 20): "All Night Long" Iron Man match between Johnny Mundo and The Mack