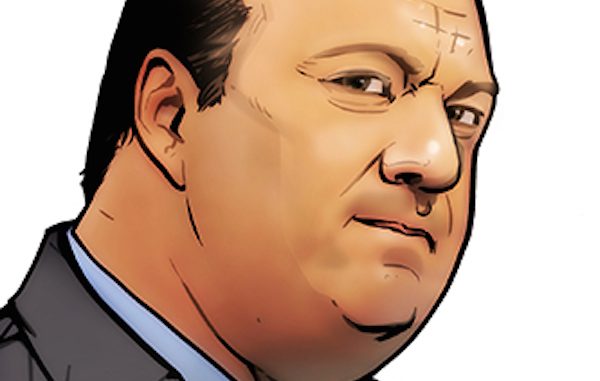 ---
SPOTLIGHTED PODCAST ALERT (YOUR ARTICLE BEGINS A FEW INCHES DOWN)...
---
RAW HITS
Reigns – Lesnar – Heyman: The theme of this week's Raw was whether or not Brock Lesnar would actually make an appearance in the arena during the show. WWE smartly showed that Lesnar was in the building at the start of the show. The opening segment worked with a pretty good performance by Roman Reigns and a strong response by Paul Heyman. They set up the idea that Lesnar might just collect his check and not actually come out to the arena. Heyman was great throughout the show. Lesnar was good in actually doing way more talking than he typically does for his appearances. It shows that he could do a lot more talking than he does. I got a kick out of the fact that he was reading a magazine and not watching the show. For once, there was a storyline reason why a wrestler in the locker room wouldn't know what was going on during the show. Reigns was much better than usual and actually came across as likable and respectable towards Kurt Angle when he was arrested. Everything was well scripted to make the fans hate Lesnar and cheer Reigns. It worked pretty well in front of this crowd. Will it work in Brooklyn? I have my doubts. But on this show, the tease of firing Heyman, Lesnar finally coming out at the end and beating up Angle, and then physically threatening Heyman, plus all the strong performances throughout the show, all added up to one big Hit.
Ronda Rousey: Ronda Rousey continues to shine on Raw. She is getting great reactions from the crowd. WWE did a nice job with the build towards Rousey's SummerSlam challenge of Alexa Bliss for the Raw Women's Title. Mickie James got hurt which is unfortunate as she has been a good part of this storyline and Bliss' act, but Alicia Fox did a decent job of filling in for her. They did the best they could with that unforeseen situation. Fox vs. Natalya was ok. The ending worked well to have Bliss help Fox get a cheap win to anger Rousey. Rousey got to show some of her physicality at that point, but Fox was able to take advantage of the numbers game to hurt Rousey some. This was a set up for Kurt Angle's announcement that Rousey would have her first ever Raw match next week against Fox. WWE has a fine line to walk with Rousey. They call her a full time Superstar, but she isn't likely to wrestle on tv every week unlike wrestlers like Bayley or Sasha Banks. But, she should have an occasional match on Raw unlike Lesnar. They can't have the fans frustrated at not seeing her. So it makes sense to give her a Raw match before SummerSlam. Fans should want to see it. It isn't a future PPV opponent, so they aren't giving away a top match up for her. I suspect it will be quick with a dominant win for Rousey over Fox, and that's ok. We can see her having longer matches at the PPVs.
Strowman – Owens: This is a minor Hit. I hate it when WWE ignores what many fans are thinking by not having any wrestler or announcer point out the obvious. Every fan was thinking about the fact that Braun Strowman might cash in his Money in the Bank briefcase since Lesnar was in the building. So, I appreciated the fact that Kevin Owens actually brought it up to Constable Corbin to try to get him to put a hold on possible cash ins until after their match at SummerSlam. They did a decent job of selling the idea that Strowman's temper might cost him a count out loss against Owens at the PPV which would cause him to lose his MITB briefcase. But, it also left a lot of fans wondering why Strowman didn't cash in while he had the chance. Corbin didn't stop him. He knows he might lose that briefcase at the PPV. And he is supremely confident in himself. There was no reason for him not to cash in at the end of the show.
Rawley: This was short, but worked well to help continue to develop Mojo Rawley's character away from the old Stay Hyped guy from NXT. He is much more interesting right now than he ever has been. It was interesting to see him dress down the jobbers in the locker room. I loved his line to Bobby Roode "are you going to catch phrase me into submission?" Hopefully this will help Roode get on track as a character. Something needs to happen with him, and if it isn't a heel turn, perhaps a feud against Rawley where he can move away from the Glorious catch phrase to being a more well rounded character can help.
Rollins vs. McIntyre: This match was very good while it lasted with great performances in the ring from both Seth Rollins and Drew McIntyre. It fit in well with the ongoing feud over the Intercontinental Championship between Rollins and Dolph Ziggler. My only complaint is that it was so short at only 8 minutes. I wish WWE had taken away at least 5 minutes from the Balor vs. Corbin match (more later), and given it to this match.
RAW MISSES
Balor vs. Corbin: This was not a good match and it lasted at least 5 minutes too long. It was far too one sided with Constable Corbin getting way too much offense in. I figured with WWE's typical match booking that meant that Finn Balor would get the win in the end. Instead, Corbin won clean basically backing up all the mean things he's said about Balor over the past several weeks. He dominated the match and he won. I don't like that booking at all. There were some sloppy spots in the match. It was not well executed. It dragged with two commercial breaks with Corbin having Balor in some type of chin lock coming out of both commercials. I guess the length was supposed to sell the fact that Balor is tough in hanging in with Corbin for so long, but to me it was just more time for Corbin to beat him down.
Elias – Lashley: I am fine with moving Bobby Lashley into a feud with Elias, but the signing Rockin' Robin bit was terrible. It didn't make Lashley look good at all. Both of them seem to be miscast at this point. The fans want to cheer for Elias, but he always does the same bit trolling them into chanting for him and then turning on them. But, why not run with a babyface Elias and let the fans actually walk with him? Lashley isn't getting over as a babyface, even when facing Reigns. So, this feud might be better if their roles were reversed.
Crews vs. Akam: I have no doubt that the Authors of Pain will ultimately get the better of Titus Worldwide when their feud eventually comes to an end. However, how much damage will have been done by segments like last week or this match when Apollo Crews got the win over Akam in a singles match. They shouldn't be losing in any way to any part of what has been so well defined down as a joke team.
Tag Team Division: The tag team division on Raw continues to be poor. It seems like they are moving past The Deleters of Worlds to have The Revival set up as the next challenger for The B-Team's Tag Team Titles. That has potential, but the process of getting there has been poor. The teams are not well defined in terms of the babyface vs. heel dynamic. The live crowd certainly wasn't invested in the Deleters vs. Revival. The match itself was poorly choreographed. There were times when someone like Bray Wyatt would turn around in an awkward way before hitting a move, because an opponent was supposed to break up the move from that side, even though there was no logical reason to turn around before executing the move. The timing was off at times too. The Shatter Machine was very sloppy. It looked bad. The fans need to see better matches and promos if they are going to actually want to see a Revival vs. B-Team match.
For another view from the original Hitlist author, compare Jason Powell's views to mine by visiting ProWrestling.net's "Hitlist" section HERE.
---
Jon Mezzera is PWTorch.com's WWE Hits & Misses Specialist, providing his point of view for Raw and Smackdown each week. Email him at jmezz_torch@yahoo.com. Follow him on Twitter @JonMezzera.
---
NOW CHECK OUT THIS RELATED COLUMN: TOP 3 DEVELOPMENTS – RAW 7/30: The Worst Universal Champion of all Time, Ronda Rousey Returns, AOP Looks Weak