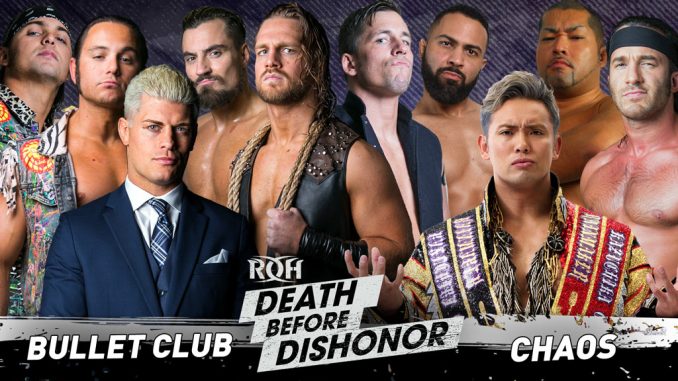 ---
SPOTLIGHTED PODCAST ALERT (YOUR ARTICLE BEGINS A FEW INCHES DOWN)...
---
RADICAN'S ROH "DEATH BEFORE DISHONOR 2018" PPV REPORT
SEPT. 28, 2018
LAS VEGAS, NEV
AIRED LIVE ON HONOR CLUB, PPV, AND FITE TV
Commentators: Ian Riccaboni and Caprice Coleman
(1) Jushin Liger vs. Kenny King. Good opener. Liger sold his back during the match and hit a big splash late for a near fall. He went to follow up, but collapsed selling his back. King teased showing respect with a handshake , but then hit a big spine buster for the win. The crowd booed King after he hit the move after being split for most of the match. King thanked Aries after the match for showing him the way.
Winner: Kenny King at 12:06
Star rating: (***)
S.C.U. cut a promo after making their entrance. A video package showed The Briscoes talking about how Daniels and Kazarian were running out of time according to Joe Koff, but Jay said now they were on the Briscoes time. The story here is if S.C.U. aren't holding any titles after "Final Battle," their contracts won't be renewed. Jay held an hour glass up as he cut a promo. Mark then ended up blasting the hourglass with a big gun. Jay said Kazarian and Daniels's Time was up.
(2) ROH World Tag Team Champions The Briscoes (Mark & Jay Briscoe) vs. S.C.U. (Christopher Daniels & Frankie Kazarian w/Scorpio Sky). The announcers discussed how Daniels and Kazarian could be out of a job come the end of the year. The Briscoes took control and Mark hit a blockbuster on Daniels off the apron. The crowd booed as Daniels took a sustained beating from Jay and Mark in and out of the ring. Daniels finally hit a Blue Thunder Bomb on Mark and went to Tag our, but Jay cut him off. Daniels got around Jay and tagged in Kazarian, who ran wild. Kazarian got an inside out slingshot hurricanrana on Mark, but Jay was right there to wipe him out.
The action broke down on the floor and Daniels avoided a chairshot from Mark and wiped him out. Daniels and Kazarian then hit a Blue Thunder Neckbreaker on Jay for a 2 count. The action broke down and Mark sent Kazarian through a chair with a uranagi. Sky went to check on Kazarian, who was favoring his head. Daniels was left alone in the ring and The Briscoes began working him over. Several officials came out to check on Kazarian. Daniels kicked out of Redneck Boogie and the fans popped and chanted SCU. Daniels hit a double clothesline and looked for a tag but Kazarian was down. Daniels countered a Doomesday Device and tossed Mark to the floor. He hit the BME on Jay, but Mark made the save at the last second!
Jay tossed Daniels to the floor and hit a Jay-driller. He tossed him back into the ring, but Daniels kicked out. Jay went for another Jay-driller and it was good for the win.
Winners: Mark & Jay Briscoes at 17:41 to retain the ROH World Tag Team Titles
Star rating: (***1/2) – good storytelling here with Daniels going at it on his own with Kazarian unable to continue on the outside. These two teams should meet again at Final Battle.
(3) WOH Champion Sumie Sakai vs. Tenille Dashwood. Sakai went for Smash Mouth early, but Dashwood tossed her off. The announcers mentioned that Sakai had beaten Dashwood in the semi-finals of the WOH Title Tournament. Sakai hit a splash off the top to the floor and the fans have fired up. Sakai went after Dashwood's arm a short time later inside the ring. She went for Smash Mouth again, but Dashwood countered it into a pinning combination. Sakai vegan favoring her shoulder and Dashwood went on the attack. Dashwood hit a double undertook superplex a short time later and both women were down on the mat.
Dashwood got a combination bridging arm and leg submission, but Sakai wouldn't tap. She followed up with a running kick to Sakai's head for a near fall. They battled up top again. Dashwood slid under Sakai and went for a powerbomb, but Sakai hit a rana for a near fall. She hit Smash Mouth a short time later, but Dashwood kicked out! The announcers said Dashwood has blocked it and hurt her arm in the process. Sakai went for an arm bar and Dashwood tried to block it. She eventually managed to get to the ropes. Dashwood hit a pair of kicks out of the corner and hit a double undertook suplex on Sakai into the turnbuckles.
Dashwood got a tarantula and a short time later she slid under the ropes and powerbombed Sakai off the apron to the floor. She tossed Sakai back into the ring for a 2 count. They went to a big forearm exchange and the fans fired up. Sakai got the crossarm breaker a short time later. Dashwood ended up passing out in the hold. The fans booed the finish.
Winner: Sumie Sakai at 12:34 to retain the WOH Championship
Star rating: (***) – Good match. They told a good story with both women targeting each other's arms. The crowd didn't like the finish, but this was good.
(4) ROH World TV Champion Punishment Martinez vs. Chris Sabin. Sabin got a long and hilarious introduction from Bobby Cruise. Martinez almost hit South of Heaven right off the bat, but Sabin rolled him up for a near fall. Sabin went after Martinez's leg a short time later. He hit a big inside out springboard splash off the turnbuckles to the floor a short time later, but Martinez was quick to get to his feet. Savin went for a dive, but got caught and slammed onto the apron. They battled up top and Sabin eventually hit a super rana and the fans applauded. Sabin Low bridged Martinez and hit a slingshot splash to the floor. He followed up with a big dive through the ropes and connected. Sabin then hit a big splash that wiped out Martinez.
Both men almost ran into the red multiple times. Marines eventually rang aaa in's bell and then kicked him into the ref. Martinez then hit a big spinning kick and the fans booed. Martinez got a chair, but Sabin fired back and hit a tornado DDT onto the chair for a near fall. Sabin segued with the ref and Martinez hit a psycho driver and The Silencer. He then hit South of Heaven for the win.
Winner: Punishment Martinez at 8:00 to retain the ROH World TV Title
Star rating: (**) – The stuff with the ref was ridiculous and made Martinez look really bad given that he needed to use the ref as a distraction to beat Sabin, who he dominated for most of the match.
After he match, Martinez was going to curb stomp Sabin into a chair, but Jeff Cobb made his way back to the ring. Cobb went face to face with Martinez. Martinez grabbed his belt and left and the fans booed. Cobb posed for the fans and Martinez came back and hit him with a chair. Cobb no-sold the chair shot and hit Tour of the Islands on Martinez and the fans fired up. Cobb grabbed the title and stood over Martinez with it before dropping it down on top of Cobb. This was a great follow up to the disappointing layout of the match that preceded it.
(5) Bully Ray & Silas Young vs. Colt Cabana & Flip Gordon in a Tables Elimination match. Gordon jumped Ray from behind while his entrance music was playing. Cabana and Flip ended up clearing the ring. They followed Bully and Young to the floor and the braw continued. Bully ended up hitting a big running avalanche on Cabana. He went for what's up, but Cabana turned it over. Flip kicked Young off the top and hit what's up on Bully. The fans fired up big time with the faces in control. Cabana and Gordon set up and table. They went for a double suplex on Young, but Bully moved the table. Young and Bully tried to backdrop Flip through the table, but Cabana moved it at the last second. He then wiped out Bully and Young with a springboard moonsault. Flip themselves wiped Young out with a big step up twisting dive go the floor. Cabana then missed a slingshot splash on Bully. Bully hit Cabana with a chair and yelled at Riccaboni.
Riccaboni then ran down to ringside to check on Colt. Coleman shouted for Riccaboni to get out of there. Suddenly, Gordon wiped out Bully and then Young. Riccaboni got the chair and gave it to Cabana, who nailed Bully with it as Riccaboni cheered. He tried to powerbomb Bully through a table, but he backdropped him and took out Riccaboni. He then powerbombed Colt through the table to eliminate him. The fans chanted for the table in the ring to be moved so they could see.
Flip was down in the ring. Coleman yelled at Ian for going down to the ring. Ray and Young took turns holding Flip and chopping him. The fans booed Bully doing the Hogan ear motion. Young accidentally wiped out Bully with a clothesline. Flip tried to whip Young into the table in the corner, but Bully shoulder tackled him for the save. Bully and Young argued and then traded blows. Gordon tried to wipe them out with a dropkick, but they got out of the way. Silas and Bully kept arguing, but then appeared to get on the same page. They whipped Flip into the table, but he sprung off it. Bully charged at him and Flip got out of the way while sending Bully through the table for the Elimination.
It came down to Gordon and Young. Young hit an inside out clothesline to the apron that sent Flip to the floor. He sent Gordon back into the ring. Bully was still down inside the ring. Young went for misery and Flip's legs connected with the ref. Flip put Young on the table and hit a 450, but the ref was down. There's two straight matches with ref bumps. Bully moved Young and put Gordon in the broken table. The ref called for the bell. That was terrible.
Winners: Silas Young & Bully Ray at 13:35
Star rating: (-*) – One of the most poorly laid out matches I've ever seen in terms of telling a story that satisfies the fans. They went wrong at every turn here down the stretch.
Bully beat up Flip with his chain and a piece of the table after the match and the fans booed.
They cut to the back and Tenille Dashwood was down holding her shoulder. The announcers wondered if she had been attacked.
(6) Bullet Club (NWA World Hvt. Champion and ROH World Sox Man Yag Team Champion Cody & ROH World Sox Man Tag Team Champions and IWGP Hvt. Tag Team Champions Matt Jackson & Nick Jackson & Hangman Page & Marty Scurll w/Brandi Rhodes) vs. CHAOS (Kazuchika Okada & Chuckie T & Barreta & Tomohiro Ishii & Rocky Romero). Nick Aldis was in on commentary. The fans fired up for a face off between Okada and Scurll during the early going. Okada ended up sucking a lockup and tagging in Romero. The action picked up with Romero, Trent, and Chuckie All hitting dives to the floor. Okada then tagged back in and Matt tagged in Cody. Okada hit a flapjack and tagged in Trent, who tried to continue to work over Cody. Cody fired back and clotheslined Trent inside the ropes. Cody missed his signature dive and Trent wiped him out with a flip dive and then Page wipes him out with his SSP. Everyone then hit dives. Chuckie hit a big dive off the stage to wipe out everyone. The fans wanted Ishii to do a dive and he went up top and hit a cannonball! The ref got distracted and Cody hit a low blow on Trent.
Romero got the hot tag from Trent and ran wild. He continued to run wild and wiped out the Young Bucks and the fans fired up. Romero realized he was alone in the ring with Bullet Club and took a five way superkick. Okada tagged in and hit a double DDT on The Young Bucks. The action continued at a rapid pace with both teams going back and forth. Ishii no sold a disaster kick from Cody. He then wiped out Cody and Page with a double clothesline. Nick countered a Rainmaker and fed Okada to Matt for the Meltzer Driver but it got broken up! Cody cut off Okada going for a Rainmaker on Matt and hit Cross-Rhodes on Okada. Matt tagged him in legally and the fans booed. Okada countered Cody and hit a huge Rainmaker! Both men were down.
Aldis announced on commentary that he will face Cody at NWA 70 in a 2/3 Falls match. Page got a Buckshot Lariat on Ishii and went for the Rite of Passage, but Ishii blocked it and hit a big lariat. Scurll went for the Chicken Wing on Romero, but he countered it and Matt accidentally hit him won a superkick. Scurll got Romero in the Chicken Wing a short time later and he tapped out.
Winners: Matt Jackson & Nick Jackson & Cody Rhodes & Hangman Page & Marty Scurll at 21:17
Star rating: (***1/4) – This was all actions and once again there were ref shenanigans at one point. There was so much going on it was hard to really gets into the match. The big takeaway here was miscommunication between the members of Bullet Club throughout the match. I'm not quite sure what to make of that. Also, I don't know what to make of how Cody is presented at this point. He hit a blatant low blow during the match to get the upper hand for his team and on All In he was presented as a sympathetic old school face.
Cody came to the commentary booth and said he accepted Aldis's challenge.
They showed a video of Will Ospreay accepting Lethal's open challenge. They also showed Lethal beating Ospreay on ROH TV earlier this year. Lethal cut a promo saying Ospreay has been consumed by his loss all year. They showed Ospreay saying he wants to take ROH on his back. Lethal said this was Ospreay vs. Lethal II. Lethal promised not to leave the show without the ROH World Championship.
(7) ROH World Champion Jay Lethal vs. Will Ospreay. Ospreay has gained 20 pounds since June according to Riccaboni. Ospreay backed away from following the Code of Honor.The announcers pointed out that Lethal no longer had a strength advantage, but he did manage to back Ospreay into the ropes. He told Ospreay, "This is my house." Ospreay hit a shoulder tackle and Lethal didn't move. Ospreay suddenly slapped Lethal and then hit a shoulder tackle. Lethal looked pissed and he avoided a leap frog and hit a huge chop. Ospreay ducked a Lethal Injection attempt and Lethal blocked the Os-Cutter a short time later and they came to a stalemate. Ospreay went up top, but Lethal chopped him to the floor. Lethal hit a big suicide dive. He signaled for another and the fans fired up. Lethal connected with a second suicide dive. The fans chanted for another suicide dive. Lethal hit a third suicide dive that sent Ospreay over the barrier and into the crowd. Lethal tossed Ospreay back into the ring and hit a back breaker. Ospreay fired back and hit a handspring kick. He then nailed Lethal with a series of big kicks. Ospreay hit some big chops on Lethal and the thud really came through the TV. Lethal fired back with a giant chop of his own that Ospreay volunteered to take in the corner. Ospreay put his arms behind his back and offered to take another chop. Lethal BLISTERED him with a chop and Ospreay went down to a knee before getting back up. He TAGGED Lethal with a big chop and then told Lethal to bring it. Ospreay then sucker punched Lethal, kicked him through the ropes, and hit a quick suicide dive that saw Lethal go flying into the guardrail. WOW!
Lethal fired back with some big chops on the floor and he ended up wiping Ospreay out with a HUGE chop. Ospreay dragged a ladder out from under the ring, but Lethal cut him off and tossed him back into the ring. Ospreay hit a 619 variation where he spun around Lethal's back as he tried to get back into the ring and he kicked him in the back. He then hit a springboard flying forearm. Lethal suddenly countered Ospreay and hit the Lethal combination and both men were down as the fans chanted for both men! They got to their knees and began trading blows. They got to their feet and continued to trade blows. Ospreay staggered after a kick from Lethal, but he managed to gather himself and he hit a rana that sent Lethal over the top to the floor. Lethal ducked a Space Flying Tiger Driver, but Ospreay landed on his feet. They went back and forth near the timekeepers table. Ospreay ducked a superkcik and Lethal kicked Bobby Cruise. Cruise dropped the ROH World CHampionship. Ospreay caught the ROH World Title in mid-air. Lethal asked him if that's how he's going to beat him. Ospreay teased hitting Lethal with the title, but he dropped it and nailed Lethal with a huge punch. They brawled around ringside and Ospreay got the upper hand. He charged at Lethal, but Lethal caught him and drove him into the guardrail! WOW! Lethal pulled the guardrail out and set the ladder up against it. The ref decided to check on Bobby Cruise instead of reffing the match. Both men ended up in the ring and the ref finally came back in to ref the match. Bobby Cruise was helped back to his feet. Lethal went for Hail to the King. Ospreay got his foot up, but Lethal caught it. He went for a figure 4, but Ospreay blocked it. They went back and forth off the ropes and Ospreay flipped around a Lethal clothesline attempt and hit a sit-out powerbomb for a near fall! WOW!.
Ospreay went for a sunset bomb over the top and into the ladder on the floor with Lethal on the apron. Lethal held on at first, but Ospreay ended up powerbombing him off the apron and into the ladder! WOW! Ospreay thought about taking a count out win, but he went to the floor and tossed Lethal back into the ring. Why would he struggle with that decision? That's just illogical. Ospreay hit a wraparound kick to Lethal's head. He then got a double underhook, but Lethal slipped out. Ospreay went for the Os-Cutter, but Lethal caught him with a cutter! Lethal went for the Lethal Injection, but Ospreay nailed him with a wraparound kick and both men were down. Ospreay grabbed the ROH World Title and teased hitting Lethal with it. Ospreay stopped himself and nailed Lethal with a flurry of kicks. He then hit the Os-Cutter, but Lethal kicked out and the fans went nuts! WOW! Ospreay grabbed Lethal's arms and stomped down on him. He went for the stormbreaker, but Lethal slipped out of it. They battled up top and Ospreay went for a super hurricanrana, but Lethal turned it into a powerbomb. Lethal then hit the Lethal injection and it was good for the win.
Winner: Jay Lethal at 22:46 to retain the ROH World Championship
Star rating: (***¾) – There were some major plot holes in this one that made me lower my rating of the match. The first was the ref checking on Bobby Cruise for a long period of time after he accidentally got superkicked by Lethal instead of paying attention to the action. The second thing about the booking of the match was Ospreay struggling with the decision to bring Lethal back into the ring or take a countout win. Why would that be an internal struggle? Other than that, the action between these two was great, but the story the match told at times was baffling.
Both men shook hands after the match. Red Balloons then went up and Vinny Marseglia and T.K. O'Ryan attacked Lethal and Ospreay. Jonathan Gresham ran down to the ring to make the save for Lethal. Gresham got cut off and wiped out. Lethal tried to fight back against both men, but Taven entered the ring and nailed Lethal with an object in a bag. He took the title a purple title out of the bag. Taven held up the ROH World Title and his purple version of the ROH World Title. He tossed the ROH World Title down and said he's the real ROH World Champion. Taven also had a newly shaved head from getting it shaved in CMLL earlier this month after losing a stipulation match.
Overall thoughts: (6.0) – The in-ring action was good at times, but the booking of the show really hurt the quality overall. The first three matches had some really good wrestling that was logical, but the last four matches involved some sort of shenanigans with the ref. There's so much talent in ROH and booker Delirious needs to do better than this when it comes to laying out the big matches on PPVs.He should get out of the way and let the wrestlers tell satisfying stories instead of crippling match after match with ref incompetence or ref bumps.
There was a lot of good action on this show and minus a couple of storyline elements, the main event was tremendous. This show would have been better if the booking had gotten out of the way and let the wrestlers tell good stories in the ring. The Taven reveal at the end of the show as Lethal's next challengers was well-done. It's about time an ROH World Champion has a true rival lined up, as Taven and Lethal feuded a few years ago over the ROH World TV Championship. They blew their feud off with a great Steel Cage match at "Field of Honor 2018," so I'm looking forward to seeing what they do in 2018 with Taven leading his own stable in ROH and building his profile internationally.
Contact Sean at radicansean@pwtorch.com. Follow him on twitter @sr_torch.