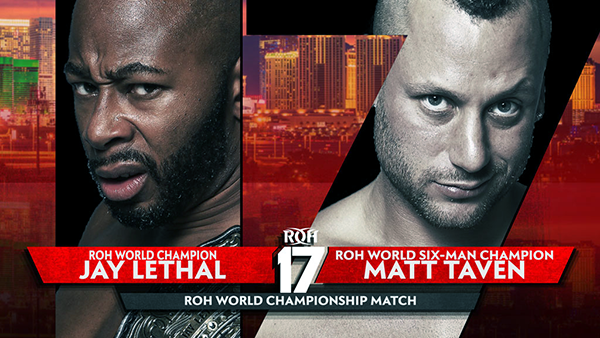 ---
SPOTLIGHTED PODCAST ALERT (YOUR ARTICLE BEGINS A FEW INCHES DOWN)...
---
ROH 17th ANNIVERSARY PPV
MARCH 15, 2019
LAS VEGAS, NV AT SAM'S TOWN
AIRED ON ROH HONOR CLUB
REPORT BY HARLEY R. PAGEOT, PWTORCH CONTRIBUTOR
Commentary: Ian Riccaboni, Caprice Coleman, Nick Aldis
Ian Riccaboni welcomed us to the show.  Colt Cabana is in Japan for the New Japan Cup so he was instead joined by Caprice Coleman and the NWA World's Heavyweight Champion Nick Aldis.  Aldis had his valet Kamille standing by.
-Hometown heel Kenny King entered first.  He had a guy in a white Villain outfit enter with him, flapping his arms.  Scurll had a new red and black coat with spikes.
(1) "THE VILLAIN" MARTY SCURLL vs. KENNY KING
Scurll sent King to the floor and took him out.  He then followed with a superkick off the apron to King's sidekick.  King hit a blockbuster off the top rope for the first two-count of the night at 1:30.  King remained in control, slowing things down.  He knocked Scurll off the top rope and to the floor with a jumping enziguiri.  Scurll avoided a corkscrew plancha and took King out with a tornado DDT off the apron.  King with a spinebuster at 9:00.  Superplex from Scurll.  Royal Flush from King but Scurll rolled under the rope and to the floor before King could cover.  King grabbed a steel chair and brought it into the ring.  Referee Paul Turner grabbed it and pulled it away.  As he disposed of the chair Scurll jabbed King with his umbrella and covered.
WINNER: Marty Scurll in 12:42.
(Pageot's Perspective: That felt longer than 12 minutes.  King's period of offense at the beginning was really slow and took the hot start to the show down to a cruise right away.  Scurll getting the win by giving King a taste of his own medicine from their last encounter is fine poetry but it didn't exactly make Scurll look like a big-time next world champion.)
(2) JEFF COBB vs. SHANE TAYLOR – ROH WORLD TELEVISION CHAMPIONSHIP
They traded blows.  Cobb caught him with a suplex.  They rammed into each other like bulls.  Cobb leapt over Taylor and caught him with a dropkick.  Taylor responded with a pounce that sent Cobb flying.  Cobb sent Taylor to the floor.  Taylor tripped Cobb off the apron and speared him at ringside.  Cobb avoided a cannonball in the corner.  Delayed pumphandle suplex from Cobb.  Taylor went bug-eyed at being held in the air like a baby.  Taylor with a high knee.  Superkick from Cobb, knockout punch from Taylor, lariat from Cobb.  Cobb continued right through Taylor and the ropes to the floor.  Both men were down.  They traded right hands in the ring at 8:00.  Jumping uppercut from Cobb.  Cobb threw Taylor off the second rope.  Standing moonsault.  "This is awesome" chant.  Headbutt from Taylor and a throw.  Second rope splash for another near-fall.  German suplex from Cobb with a bridge for a two-count.  Inside out clothesline from Taylor.  Canadian destroyer from Taylor for a close near-fall.  The fans and commentators lost their minds.  "Holy shit" chant.  Taylor pulled down his right knee pad.  Tour Of The Islands from Cobb but Taylor shrugged it off and refused to stay down.  A second Tour was enough.
WINNER: Jeff Cobb in 13:28 to retain the TV title.
(Pageot's Perspective:  Fantastic match.  Both guys looked great and should continue from here onto bigger things.  This match was exactly one second shorter than Cobb-Page at Final Battle, not quite as long Cobb's recent defenses against Silas Young and Rocky Romero.)
(3) MAYU IWATANI (w/Sumie Sakai) vs. "THE GATEKEEPER" KELLY KLEIN (w/Camp Klein) – WOH WORLD CHAMPIONSHIP
Klein clubbed her to the mat immediately.  Iwatani rolled to the floor.  Klein with a cravat and a succession of knees to the face.  She ran Iwatani into the turnbuckles.  Back elbow from Klein.  Slingblade from Iwatani.  Northern lights suplex.  Second rope double-stomp.  They traded strikes.  Klein tossed Iwatani to the floor.  German suplex from Iwatani.  Klein responded with one of her own that dropped Iwatani on the back of her head.  Top rope moonsault from Iwatani.  She sort of missed the second one/Klein sort of got her knees up.  K-Power from Klein but Iwatani kicked out to a flat reaction.  Klein talked trash and got caught with an inside cradle.
WINNER: Mayu Iwatani in 8:52 to retain the WOH title.
(Pageot's Perspective:  Hm.  The match was good, on the track to greatness but too short for that.  I'm baffled that neither Camp Klein nor Sakai got involved and the finish was dull.  It protects Klein obviously but it doesn't set up anything going forward or for Iwatani defending in Madison Square Garden.  I'm very happy that Iwatani is still champion but outside of that there's little excitement around the future of Women Of Honor.)
-The Kingdom's music hit for a tag match but Matt Taven power-walked to the ring alone instead.  He said he couldn't sit backstage one more minute.  "You suck" chant.  He called Jay Lethal out and said he wants their match on the spot.  Lethal answered the call.  Bobby Cruise handled ring introductions.  They threw punches and Todd Sinclair called for the bell.
(4) JAY LETHAL vs. ROH WORLD SIX-MAN TAG TEAM CHAMPION MATT TAVEN – ROH WORLD CHAMPIONSHIP
Lethal chopped down Taven.  Taven with a suplex.  Lethal with a clothesline.  Hiptoss, cartwheel, dropkick from Lethal.  Dragonscrew leg whip from Lethal at 6:30.  They blocked each other's finishing moves and Taven caught him with a spinning heel kick.  Lethal with a dropkick at 10:00.  Backbreaker.  More chops.  Taven with a dropkick.  Powerslam from Lethal.  Cloverleaf into a surfboard.  Taven leapfrogged Lethal and tweaked his knee.  Lethal backdropped him to the floor and Taven went down hard.  Suicide dive.  He dragged Taven around the ring and hit a second.  Lethal finally hit his third suicide dive to complete the sequence.  Taven was down on the floor for a while but Sinclair made no effort to count him out.  Lethal continued to target Taven's knee at 20:00.  Taven with an eye rake, which Sinclair missed.  DDT.  Taven went after Lethal's shoulder.  Crossface.  They talked trash.  Taven remained in control at 25:00.  Lethal avoided a frog-splash attempt and hit his Lethal Combination.
Lethal called for Hail To The King.  Taven cut him off.  Lethal fought out of a superplex attempt.  The red balloons appeared.  Vinny Marseglia jumped in the ring and hit Lethal with his ax while an oblivious Sinclair chatted casually with TK O'Ryan on the apron.  Jonathan Gresham showed up and battled the goons but got overpowered.  Marseglia sat Gresham on the guardrail and O'Ryan hit his knee with a steel chair.  The cameramen completely ignored the active wrestlers in the match and stayed on the ringside nonsense at 30:00.  The henchmen set up a table on the floor.  Sinclair continued to watch the ringside proceedings rather than the wrestlers in the world title match.  Mark Haskins and Tracy Williams ran out with chairs to chase off the goons.
ROH senior referee Todd Sinclair continued to watch the shenanigans and ignore the two wrestlers in the actual match.  Taven low blowed Lethal and hit The Climax.  Lethal mercifully kicked out.  Taven looked for a second.  Lethal blocked.  Taven hit a rolling neckbreaker.  Top rope frog-splash but Lethal kicked out again.  Taven with another frog-splash but Lethal got his knees up.  Cutter from Lethal.  Torture rack.  Running death valley driver.  Hail To The King countered into a crucifix pin.  Lethal kicked out and transitioned into a figure four.  Despite Lethal having previously targeted his knee for 36 minutes, Taven was able to stay in one of the most painful submission moves in wrestling for five minutes without tapping.  He eventually made a rope break.  Lethal stomped on the knee.  Lethal tried to suplex Taven from the apron into the ring but Taven countered into a falcon arrow that sent Lethal through the table at ringside at 40:00.
Sinclair counted Lethal out as he lay amidst the wreckage.  Taven dragged Lethal back into the ring.  Lethal kicked out.  Taven sat Lethal on the top rope and hit five kicks to the head.  Backpack stunner but Lethal rolled out of a pin.  Back body drop from Taven.  Lethal hit Taven with a Climax.  Taven kicked out of his own finishing move.  Taven gave him the finger.  Just The Tip (of Lethal's knee).  Lethal Injection!  Taven kicked out for the loudest reaction of the night.  Anguish?  Relief?  Exhaustion?
Dueling chants from the crowd.  Lethal with a cutter on the apron.  Another cutter on the floor.  Lethal grabbed a table from under the ring and set it up on the floor.  He chopped Taven onto the table.  Lethal started climbing to the top rope but Taven stopped him.  DDT to Lethal on the apron.  Taven found a ladder under the ring at 50:00.  He lay the ladder as a bridge between the apron and the table.  Lethal dropkicked Taven into a position lying across the ladder.  Lethal looked for Hail To The King but Taven moved and Lethal crashed onto the ladder.
Sinclair checked on Lethal for a couple minutes instead of counting him out.  Medics came to help Lethal to the back.  Taven jumped over the top rope onto all three men.  Cutter.  Just The Tip.  Lethal kicked out.  A second knee from Taven.  A third.  A fourth.  Lethal was unconscious.  Taven spat in his face.  A fifth knee.  Lethal kicked out again.  Taven frog-splashed into a cutter.  Taven kicked out.  "This is awesome" chant.  They threw hands from a kneeling position.  Enziguiri from Lethal.  Three superkicks.  Lethal Injection!!  Taven kicked out again in a very, very believable near-fall.  Whew.  The bell rang at the 60:00 mark.
WINNER: Time limit draw in 60:00.  Jay Lethal retains the world title.
-Bobby Cruise ran over for Sinclair's decision.  They confirmed the draw.  "Five more minutes" chant from the crowd.  Aldis pondered what this means for Madison Square Garden.  Marty Scurll walked out in street clothes.  He held up the ROH world title with Lethal and Taven down on the mat.  Scurll threw the belt over his shoulder and left.  Taven and Lethal tried to stop him but couldn't get off the mat.  Once Scurll left the two finally reached their feet and faced off.  Taven threw a streamer in Lethal's face and left.
(Pageot's Perspective:  Where to start?  This match going on so early raised many red flags.  A non-finish was one that came to mind but I assumed something straightforward like The Kingdom causing the match to be thrown out.  Nobody predicted a sixty-minute contest.  Some of this was just okay, some was very groan-inducing like the continued story of Todd Sinclair being the worst referee in wrestling, and some was genuinely terrific.  The last twenty minutes had the crowd in the palms of their hands.  They of course never mentioned any time limit ahead of time and haven't had a time limit draw outside of a proving ground match in (years?) so the arbitrary ending raises a lot of issues.  Sinclair's okay with interference, tables, and ladders but 60 minutes is just too long!  Why?  We've still got an hour left on the pay-per-view feed.  The mid-match shenanigans at least explain why Gresham-Young and Kingdom-Lifeblood will no longer occur as scheduled.  Overall this was a bold, unexpected approach.  We're obviously headed to a triple threat at MSG now.)
-Riccaboni introduced musician Mega Ran who's composed an original song called "Going To The Garden" in honor of the G1 Supercard.  He and his entourage handed out merch to the fans.  He hit the ring, encouraged the fans to clap along, and performed his song.  Bully Ray walked out partway through and hurled a chair into the ring.  He demanded they shut the music off.  He thinks rap music sucks and they suck.  Ray cut a really cheesy promo on them, making fun of his name and video games.  He chased them out of the ring.  He heeled on the crowd for a while and brought up Flip Gordon, again insisting that he never said "I quit" in their match at Final Battle.  Ray issued an open challenge for a New York City street fight to anyone in wrestling at Madison Square Garden.
-Dalton Castle joined commentary in place of Nick Aldis.  The Boys stood behind him.
(5) BANDIDO vs. RUSH
They were evenly matched in the opening minutes.  Bandido sent Rush to the floor with a headscissors.  He looked for a second off the apron but Rush powered him up and powerbombed him through the timekeeper's table at 2:30.  This was apparently not worthy of a disqualification.  Rush hit a dropkick in the ring and did the tranquilo pose to mixed boos.  He went after Bandido's mask and tossed him across the ring.  He looked for a dropkick on Bandido seated in the corner but Bandido moved.  Rush continued to cockily work over Bandido.  Canadian Destroyer.  Rush with a deadlift to Bandido off the apron into a suplex from the second turnbuckle.  Rush sat on the middle rope and hung onto the top rope for a ridiculously long time so that Bandido could run around the ring, jump to the top rope, and then finally hit a 450 on him.  Bandido springboarded into a dropkick.  Rush flipped over the ropes onto him on the floor.  Bandido with a hurricanra off the apron.  Bandido with a Go To Sleep variant.  Rush with a suplex into the corner.  Rush stomped him down in the corner and hit a running dropkick for the win.
WINNER: Rush in 15:04.
-Castle seemed to imply on commentary that Rush's heel mannerisms were inspiring to him.  Castle entered the ring and looked at Rush.  He called him a mountain of meat and put over Rush as being undefeated (though this was only his third singles match).  Castle challenged him to a match at Madison Square Garden.  Rush asked who he was and said he didn't care.  He seemed to accept.
(Pageot's Perspective:  Others might feel differently but I'm still so exhausted from the world title match that it was hard to get too into this one, even with the musical buffer segment.  This should have gone on second or third when the night was young and everyone was full of vigor.  They both showed off their signature styles but Rush's tweener act in ROH is making things messy.  Fans weren't sure whether to cheer the guy who's been feuding with The Kingdom or boo him for being arrogant.  The ending felt flat too coming out of the last match.  We just saw Lethal and Taven kick out of a zillion huge moves so Bandido taking the pin after one dropkick felt weak.  Speaking of weak, Rush vs. Castle?  This would have been a really exciting announcement had ROH not just spent two months burying Castle and having him pinned by everyone and anyone.)
-Riccaboni confirmed that Gresham-Young won't happen due to Gresham's knee and Kingdom-Lifeblood is off due to The Kingdom leaving the building after the time limit draw.  Silas Young joined commentary in place of Castle.
(6) THE BRISCOES (Jay Briscoe & Mark Briscoe) vs. VILLAIN ENTERPRISES (PCO & Brody King) – STREET FIGHT FOR THE ROH WORLD TAG TEAM CHAMPIONSHIP
Both teams went to the floor and hurled a number of steel chairs into the ring.  They fenced with the chairs, the Briscoes coming out on top.  The clock struck midnight EST.  Mark held a chair up for Jay to kick into PCO's face.  Mark ran PCO into the ring post.  King's broken left hand was in a cast.  Jay struck a chair over his back.  King with a step-up crossbody to Jay.  Mark bit PCO's nose.  PCO hit a sit-out piledriver that put him and Mark through a table on the floor.  King chopped PCO and whipped him into a splash on Jay in the corner.  King followed with a cannonball.  King hit a chair into a second chair wedged between Jay's legs.  Mark with a kendo stick to PCO's back.  Mark dropped him throat-first across the guardrail.  Mark with a chair to King's midsection.  Mark brought a table into the ring and lay it in one corner.  King ran Jay head-first into a chair and gave Mark a running death valley driver through the table.  King with some chair shots to the brothers.  Jay was bleeding from the forehead.  PCO found a piece of broken table and clubbed Jay across the head.  Jay unloaded on the villains with the kendo stick.  Jay hit Mark with the kendo stick by accident.  King took a turn using the stick.  The Briscoes backdropped PCO onto the edge of the apron.  He took another onto the entrance ramp.  Jay was bleeding like a broken lawn sprinkler.  Two more tables were set up next to each other at ringside.  Mark hit a blockbuster off the top rope to King on the apron that put them both through the tables.  Jay Driller to King.  King kicked out of what was once the most protected move in all of ROH.
The Briscoes teamed up with kendo shots to King.  He asked for more.  PCO took some stick shots directly to his head and no-sold them.  He broke the sticks over his knee and clotheslined them both.  PCO was bleeding from the forehead now too.  The Briscoes stabbed PCO with pieces of the broken kendo sticks.  PCO appeared to be coughing up blood.  Mark found yet another table.  King chokeslammed Jay onto the apron.  He hurled Mark off the top rope and over the table onto a pile of chairs on the floor.  Jay with a low blow to King.  He looked for a Jay Driller off the apron and through the table.  King countered into a piledriver of his own but they just hit the table and fell off without it breaking.  King with a chair shot to Jay's back.  He lay a chair across Jay's chest for PCO to hit a top rope moonsault onto.
WINNERS: Villain Enterprises in 19:42 to capture the tag titles.
-The show signed off after 3 hours and 20 minutes.
(Pageot's Perspective: Sure.  If you like people hitting each other with things and crashing through tables with zero story then this was the match for you.  Maybe if we hadn't had some big weapon spots earlier in the show and a three-team ladder war with the Briscoes in the main event of our last pay-per-view this would have stood out to me more.  Both teams did the best they could under the circumstances but even by street fight standards this felt pretty ordinary: steel chairs, folding tables, kendo sticks.  Nothing particularly memorable or new.
The take away from the show was meant to be the rise of Villain Enterprises with the win here and Scurll's win and theft of the world title.  I'm just not sure what an undefeated Villain Enterprises holding the tag titles does for the division as a whole.  Also unclear what this means for the announced Briscoes vs. G.O.D. titles vs. titles match in Madison Square Garden.  With G1 Supercard three weeks away I thought we'd come away from this with a lot more answers as to what that card would look like.  I can't say Bully Ray vs. someone in a street fight and Dalton Castle vs. Rush was what I had in mind, though Cobb-Ospreay should be great.  Lots to digest here.  We'll talk on Wednesday.)
---
Find Harley on Twitter @talkinghonor and listen to he and Emily Fear talk all things ROH every Wednesday on the PWTorch Dailycast "Talking Honor."