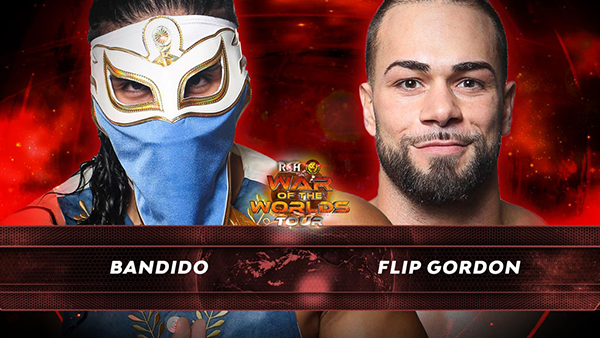 ---
SPOTLIGHTED PODCAST ALERT (YOUR ARTICLE BEGINS A FEW INCHES DOWN)...
---
ROH WAR OF THE WORLDS
MAY 8, 2019
BUFFALO, NY AT BUFFALO RIVERWORKS
AIRED ON ROH HONOR CLUB
REPORT BY HARLEY R. PAGEOT, PWTORCH CONTRIBUTOR
Commentary: Ian Riccaboni, Colt Cabana
Riccaboni and the NWA National Champion ran down the card and announced that Bandido vs. Gordon is now the main event instead of the tag title match.
-Out first was one of the young lions from the L.A. New Japan dojo.
(1) "DAREWOLF" PJ BLACK vs. ALEX COUGHLIN
The rookie held his own against the veteran in the opening minutes.  They traded chops at 2:40.  Cabana referenced Davey Richards when discussing Coughlin (the exact comparison I made when Coughlin and Karl Fredericks first showed up in late January).  Coughlin looked for a Boston crab but Black slipped through.  Springboard crossbody but Coughlin rolled through for a two count.  Black's new top rope moonsault double-stomp ended it.
WINNER: PJ Black in 7:24.
(Pageot's Perspective:  Another very strong showing for the young lion and a nice follow-up to Black's first ROH victory on this past week's television.  As a big fan of his work in Lucha Underground it's nice to see Black picking up some wins and possibly being used as more than just enhancement talent.)
-Our second match was an impromptu change.  Kaitlin Diemond was unable to compete so she was instead replaced by a Buffalo local.
(2) "THE GATEKEEPER" KELLY KLEIN vs. KATE CARNEY – WOH WORLD CHAMPIONSHIP
The second the bell rang the lights dimmed and The Allure walked out on stage and bent over, showing their rear ends to the camera.  Their entrance video and music played and the camera fixated on them as they walked to the commentary booth.  Klein and Carney stood in the ring and watched.  The married Riccaboni was uncomfortable with the women flirting with him so he left Cabana to call the match with Angelina Love and Velvet Sky as Mandy Leon looked on.  Carney took advantage of the distraction and worked over Klein.  She charged at ringside, though, and Klein moved.  Carney crashed into the ring post.  "Buffalo" chant for the hometown girl.  Klein hit a fallaway slam.  K-Power ended things.
WINNER: Kelly Klein in 7:15 to retain the WOH title.
-Klein asked if "you three bitches" wanted to fight.  She called them down to the ring.  They stood on the apron as she held up her championship.  They called her pathetic and left to boos.
(Pageot's Perspective: It was near impossible to pay attention to the match with the bickering on commentary.  On top of that the women were very wooden and struggled to keep up with Cabana's natural charisma and relaxed banter.  Is it a bad sign for Klein that the fans were cheering for the local enhancement talent over her in her first match as a babyface?)
-Riccaboni rejoined Cabana for the rest of the show.  Rhett Titus made his entrance and also joined them.
(3) THE KINGDOM (Vinny Marseglia & TK O'Ryan) vs. NJPW YOUNG LIONS (Clark Connors & Karl Fredericks)
O'Ryan and Connors started.  Connors no-sold some chops whereas his chops rattled the sassy wild horse.  Tags out to Marseglia and Fredericks.  Cabana told the story of the young lions not having flashy moves but instead relying on crisp, hard-hitting basic offense.  The rookies dominated nearly the entire first five minutes but The Kingdom came back with a double flapjack.  Power slam from O'Ryan into a diving headbutt from Marseglia.  Marseglia talked trash to Connors.  He escaped and hit the hot tag to Fredericks.  Dropkick and stinger splashes.  Spinebuster.  Boston crab to O'Ryan.  Marseglia tried to break the hold but he no-sold Marseglia's strikes and held on.  Marseglia eventually broke it and both lions took House Of A Thousand Horses.  They symbolically pinned both rookies simultaneously.
WINNERS: The Kingdom in 10:30.
(Pageot's Perspective:  Another strong showing for the lions and The Kingdom looked pretty good too.  That's the first win for the duo of O'Ryan & Marseglia this year.  I spent a long portion of last year running down The Kingdom but Matt Taven turned things around huge over the winter and… I can't believe I'm saying this but… TK and Vinny might be slowly winning me over too.  A bit more in-ring credibility and a change of scenery in the traditional tag division instead of the six-man division could be a big difference maker for the duo.  Cabana was great on commentary here, pointing out mistakes the rookies made which allowed The Kingdom to take control.  His presence on weekly TV has been missed.)
(4) SHANE TAYLOR vs. HIKULEO
Hikuleo is the younger brother of Guerrillas Of Destiny and one of Haku's sons.  The Bullet Club member offered the code of honor but Taylor spit in his outstretched hand instead.  Hikuleo used his height advantage to take control to start.  Taylor came back with frying pan slaps to his chest.  Hikuleo with a Samoan drop as Taylor came off the ropes.  Lariat.  Taylor hit Greetings From 216 out of nowhere.
WINNER: Shane Taylor in 3:34.
(Pageot's Perspective:  I looked away for a moment, assuming we were just getting started, and then I heard the commentators call the ending.  A decisive win for Taylor over a larger opponent at least.  Guess that's a good sign for his immediate future.)
(5) LIFEBLOOD (Mark Haskins & Tracy Williams) vs. LOS INGOBERNABLES DE JAPÓN (Evil & Sanada)
The crowd chanted for L.I.J., who shrugged off the code of honor.  Evil and Williams started.  Sanada put both opponents in the paradise lock at 3:45.  Williams was isolated for a long stretch in the middle.  Hot tag to Haskins at 11:00.  Armbar to Sanada but Evil broke it.  Suicide dives to Evil on one side of the ring and Sanada on the other.  Tag to Williams and a frog-splash for two on Sanada.  Springboard split-leg dropkick from Sanada to Lifeblood.  Sanada and Williams threw strikes at 15:15.  Williams with the impaler DDT to Sanada on the top turnbuckle.  Double-stomp from Haskins for two.  Haskins took out Evil on the floor.  Williams with a death valley driver to Sanada for two.  Ankle lock.  Evil threw Haskins into the guardrail.  Sanada grabbed referee Todd Sinclair by the head.  Evil hit Williams with a chair.  Sinclair chose not to disqualify Sanada for grabbing him and instead counted a pin on Williams, which Haskins narrowly broke up.  Magic Killers to both Lifeblood members.
WINNERS: L.I.J. in 18:31.
(Pageot's Perspective:  This would have been a good one to end in a time limit draw if ROH still did things like that.  Credit to all four men that I bought into a couple of those Lifeblood near-falls near the end while simultaneously telling myself there was no way L.I.J. were losing.  The story of Todd Sinclair being the worst referee in ROH continues.)
-Dalton Castle's music hit.  He walked out in street clothes with a riding crop under his arm and took a seat at the timekeeper's table.
(6) RUSH vs. "THE LAST REAL TECHNICIAN" SILAS YOUNG
It was a rare heel vs. heel match with a third heel watching on from ringside.  Rush ended up thrust into the babyface slot due to fan support.  Young sent him into the guardrail and targeted his left knee.  Young grabbed two steel chairs and slid them into the ring.  As referee Paul Turner disposed of them, he wrapped a third one around Rush's head and ran him throat-first into the ring post.  Young rolled back in and awaited a count-out victory.  Rush came back in and powered up.  He threw Young into the guardrails repeatedly, no-selling in a PCO-esque manner as Cabana pointed out.  Rush hit him with a garbage can but was not disqualified.  Castle appeared to be taking notes at ringside.  Rush hit The Bull's Horns for the win.
WINNER: Rush in 7:03.
(Pageot's Perspective:  Alright, I have no idea what they're doing with Rush.  He debuted as a face against The Kingdom, was the clear heel in his matches against Castle, Bandido, Haskins, and Williams, and then was back to being put in a babyface position here.  They even gave him the full Hogan, no-selling a steel chair to the throat.  All to set up a Castle-Rush rematch?)
-ROH World Champion Matt Taven joined commentary to scout PCO, his challenger on tomorrow night's event.
(7) VILLAIN ENTERPRISES (Marty Scurll & NWA World Tag Team Champions PCO & Brody King) vs. ROH WORLD TELEVISION CHAMPION JEFF COBB, YUJI NAGATA, & SATOSHI KOJIMA – ROH WORLD SIX-MAN TAG TEAM CHAMPIONSHIP
Nagata asked to start against Scurll.  Cobb and King tagged in and leapt and flew around the ring.  PCO and Kojima were next.  The legends traded shoulder blocks.  Cannonball through the ropes took out Kojima.  Superplex from Kojima to PCO.  The NJPW team isolated PCO and worked him over.  Chokeslam to Cobb and tag to Scurll at 8:30.  King flipped over the ropes onto all three opponents.  Scurll backdropped PCO over the ropes onto all of them as well.  619 from Scurll + cannonball from King to Cobb in the ropes.  Belly to back suplexes from Cobb to all three VE members.  Tag to Nagata.  Exploder suplex to Scurll for two.  Tags to PCO and Kojima at 16:20.  Kojima chopped him a couple dozen times, seemingly unaware that that only charges PCO up.  PCO chopped him back repeatedly.  Koji Cutter.  Falcon arrow from PCO.  Suplex from Kojima.  Everyone hit the ring.  VE took out Kojima.  PCO with the top rope moonsault on Kojima for the pin.
WINNER: Villain Enterprises in 19:50 to retain the six-man titles.
-O'Ryan and Marseglia attacked VE from behind.  They tossed King and Scurll to the floor and went after PCO but he shoved them over the top rope.  Taven clubbed PCO twice with the world title and stood over him.  PCO sat up and Taven ran scared.
(Pageot's Perspective:  As usual the highlights were any time Cobb was in the ring.  The man is too special to be used as infrequently as he has been.  Don't get me wrong, he gets put in big matches and is always positioned to shine.  He just doesn't get to have real feuds or story support of any kind.  He had a one-month feud with Hangman Page in December and a pencil sketch of a rivalry with Shane Taylor this winter but that's it in the past five months.  Time to make us invest in Jeff Cobb the person in addition to enjoying his in-ring action.  The other five men were fine.  The push is on PCO challenging for the world title tomorrow night in Toronto but they're already building to Taven vs. Flip Gordon on TV for the world title so that pretty much erases any mystery of who leaves Canada with the gold.)
-Kenny King's music hit and he walked out with a cane and dark sunglasses, still selling being blinded by The Great Muta's mist at G1 Supercard.  Timekeeper Amy Rose helped guide him to the commentary booth.  He was supposed to have surgery today but the Uber strike prevented him from making his appointment.  (Funny.)
(8) GUERRILLAS OF DESTINY (Tama Tonga & Tanga Loa) vs. JAY LETHAL & JONATHAN GRESHAM – ROH WORLD TAG TEAM CHAMPIONSHIP
Riccaboni stated that the TV tapings on Sunday will see G.O.D. vs. The Briscoes regardless of this outcome, meaning it will be a tag title match if the champions retain here and non-title if they lose. (So now we're just waiting for The Briscoes to show up and cost Lethal & Gresham the match, right?)  G.O.D. attacked during the in-ring introductions.  Loa dropped Lethal across the guardrail.  The faces came back and ran Bullet Club into the guardrail.  High crossbody from Gresham to Tonga.  Enziguiri + dragonscrew leg whip combo from the faces.  Gresham went full Sonic on G.O.D. at 8:20 but the heels quickly took control again.  Tag to Lethal at 11:15.  House of fire on the champs.  Lethal Combination to Tonga.  Hail To The King.  CrossRhodes from Tonga to Gresham at 13:40.  Loa grabbed the tag belts.  Referee Paul Turner fought with him over the one belt while Tonga clubbed Lethal in the back of the head with the other one.  Tonga pinned Gresham.
WINNERS: Guerrillas Of Destiny in 14:36 to retain the tag titles.
-The Briscoes walked out with microphones.  Jay asked if we realized what we just witnessed.  It was the first and only successful title defense for G.O.D. because Sunday the Briscoes are going to beat the shit out of them.  The four brothers started brawling as security and the rookie squad tried to separate them.  "Let them fight" chant.  G.O.D. left as Jay said over the house mic, "Y'all motherfuckers might think you're bad but we'll find out in Chicago.  We will run circles around y'all motherfuckers."
(Pageot's Perspective: Wow.  Literally the exact same finish as the Lifeblood-L.I.J. match.  No wonder this got bumped from the main event slot.  Luckily the post-match angle was very hot.  They've managed to make it feel as if there's legitimate heat between the two teams, although I highly doubt there is.  Will The Briscoes turn face again for that match or will it be another heel vs. heel encounter?  There's a very strong chance the Briscoes become 11-time tag champions on Sunday, though that would admittedly be quite anticlimactic as this is the only time we've seen G.O.D. in ROH since winning the titles.)
(9) FLIP GORDON vs. BANDIDO (w/Tracy Williams & Mark Haskins)
Code of honor and a hug.  Gordon danced to boos.  (Bless you, Buffalo.)  Slow going to start.  Lots of mirroring, followed by pauses where they stopped to pose and look at each other.  Blockbuster from the second rope gave Gordon the first two-count at 6:20.  Inverted cannonball in the corner.  Kinder surprise sent Bandido to the floor.  Gordon whipped him into the guardrail.  Corkscrew crossbody from Bandido.  Shining wizard and flip over the ropes onto Gordon on the floor.  Both men were down at 12:15.  European uppercut from Bandido.  He wrapped Gordon's surgically-repaired knee around the ring post twice.  (Not very honorable, Lifeblood.)  Bandido continued to target Gordon's knee.  Dropkick to the leg wrapped around the middle rope.  Standing shooting star press.  Gordon tried to springboard in off the apron but Bandido dropkicked him into the guardrail.  Bandido looked for a plancha but Gordon side-stepped and guided him through the air and right into the guardrail.  Poisonrana from Bandido to Gordon on the floor.  Referee Todd Sinclair counted both men out.  They both slid in at 19.
Both men staggered to their feet at 19:20 and traded blows.  Bandido caught Gordon with a Spanish fly as he ran the ropes.  They traded slaps to the chest.  Superkick from Bandido.  Sleeperhold from Gordon.  Bandido made it to a rope break but Gordon refused, slapping his arm away and hanging on.  Bandido climbed to the second rope with Gordon on his back and threw him forward and over, crotching Gordon in the corner.  Moonsault slam from Bandido.  Gordon kicked out at two.  Star-Spangled Stunner from Gordon for two.  Flip-5 for the win.
WINNER: Flip Gordon in 25:21.
-Haskins took a mic and said that was one hell of a match.  He put over Gordon and said Lifeblood is about restoring honor but also about being a group of hard-working, up and coming wrestlers.  When he gets back from Japan, there's a spot for him in Lifeblood if he wants it.  They left, giving Gordon the next month to decide.
(Pageot's Perspective:   Very good match, maybe not as fast-paced as you might have expected but they also went long so that was the trade-off.  With Gordon challenging for the world title on TV in a week and a half it was doubtful he was going to lose here.  Expect Bandido to get his win back in NJPW's Best Of Super Juniors tournament later this month, setting up a rubber match sometime over the summer.  With Tenille Dashwood quitting ROH, David Finlay being out injured for a significant period of time, and Juice Robinson only being available to ROH sporadically I suppose it makes sense to add Gordon to Lifeblood.  I mean he's obviously going to say yes.  He spent years desperately wanting to be a part of Bullet Club and The Elite and continually being shut out.  Now there's a group who actually wants him.  The downside?  Lifeblood just started feuding with Bully Ray.  Oh no, it's Flip vs. Bully round four.
Thanks for reading.  I won't have live coverage of tomorrow's War Of The Worlds: Toronto as I'll be sitting front row instead but I should have some in-person perspective up on the site Friday and I'll be back here Saturday night for live coverage of War Of The Worlds: Grand Rapids.)
---
Find Harley on Twitter @talkinghonor and listen to discussions of all things ROH every Wednesday on the PWTorch Dailycast "Talking Honor."