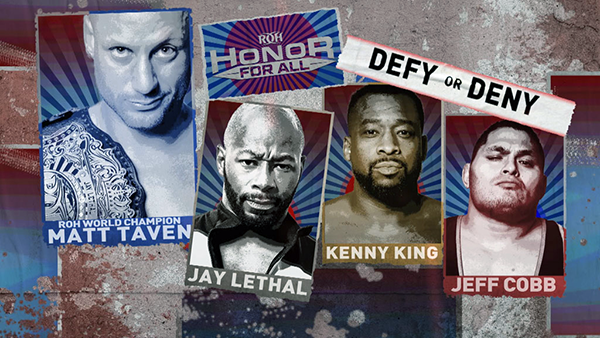 ---
SPOTLIGHTED PODCAST ALERT (YOUR ARTICLE BEGINS A FEW INCHES DOWN)...
---
ROH HONOR FOR ALL
AUGUST 25, 2019
NASHVILLE, TN AT NASHVILLE FAIRGROUNDS
AIRED ON ROH HONOR CLUB
REPORT BY HARLEY R. PAGEOT, PWTORCH CONTRIBUTOR
Commentary: Ian Riccaboni, Caprice Coleman
The commentators checked in.  Riccaboni informed us that PCO has not been cleared to compete after taking 14 stitches in the forehead following last night's show.  As such the six-man titles will not be on the line.  Instead Scurll & King will take on Bandido & Haskins with the winners earning a tag title match at the Death Before Dishonor pay-per-view.
(1) TEAM CMLL (Okumura & Felino) vs. COAST 2 COAST (Shaheem Ali & LSG) vs. THE BOUNCERS (Beer City Bruiser & Brawler Milonas)
Okumura and LSG started.  Bruiser tagged in and bit Okumura (except it's not biting because he ain't got no teeth).  Felino and Milonas locked up.  Ali made a blind tag to Milonas.  Sunset bomb from Felino to Ali but the Bouncers broke up the pin.  Felino tried a split-leg dropkick against them but ricocheted off.  They charged and he low bridged them to the floor.  High crossbody caught.  Milonas body slammed him to the floor.  LSG worked over Felino.  He knocked Okumura off the apron to prevent a tag.  Felino tagged Milonas instead.  The big man went to town on C2C. The Tate Twins (Dalton Castle's former Boys) were watching the match from the shadows of the stage.  The Bouncers hit Closing Time on Ali.
WINNERS: The Bouncers in 9:30.
-Toast of honor shared between the Bouncers and the luchadors.
(Pageot's Perspective:  Fine opening match.  The Bouncers and Shane Taylor are the biggest homegrown talents to really get over and climb the ranks in ROH this year.)
-PCO staggered out on stage and down to ringside.  He tossed some steel chairs into the ring and pulled the timekeeper's table aside.  He asked for a microphone while security surrounded the ring.  Clotheslines and kicks to six security guards.  He tossed them one by one.  PCO laid one security guard on the table and went to the top rope, hitting a cannonball off the top rope and through the guard and the table.  Flip Gordon ran out to calm him down.  PCO shoved him down in a rage before recognizing him.  Gordon was able to talk him into leaving, no violin necessary.
(Pageot's Perspective:  So the six-man title match is back on, right?  If he's fit enough to hit a cannonball through a table, he can definitely wrestle a tag match tonight.)
-Riccaboni provided an update on the long-delayed 2019 Top Prospect tournament.  He said the opening four matches will be released on YouTube and the semi-finals will take place during the Survival Of The Fittest tour.
-Eli Isom (with Cheeseburger) and Dalton Castle made their entrances for a singles match.  Castle told Isom to hang on and called out Joe Hendry.  Castle said he respects Hendry challenging him to a match last night and invited him to sit ringside to watch Castle kick the crap out of Isom.  Hendry said he gets it, Castle needs him out there because Castle isn't entertaining enough on his own.  Hendry wasn't happy sitting out and suggested he replace Castle in the next match instead.  They bickered some more until Isom heard enough.  He had a pitch of his own: him and Cheeseburger kick the crap out of both of them!
(2) SHINOBI SHADOW SQUAD (Eli Isom & Cheeseburger) vs. DALTON CASTLE & "THE PRESTIGIOUS ONE" JOE HENDRY
Hendry and Burger started.  Hendry with a high knee.  He scooped up Burger but Castle patted him on the head to constitute a tag.  Castle requested Isom in the ring.  Isom outwrestled him a little and lured Castle into a bulldog from Burger.  Castle put Burger back down and willingly tagged Hendry.  Delayed vertical suplex to Burger.  Castle back in.  He tried for one of his own but got caught with an inside cradle instead.  Castle and Hendry tagged in and out in their game of "anything you can do, I can do better."  They bickered some more at 8:00, failing to notice Burger crawling to the tag.  Isom with a high crossbody to both opponents.  Overhead toss to Hendry.  Castle to the floor.  The egomaniacs argued some more so Isom took them out with a springboard moonsault.  In the ring Castle wanted a Bang-a-rang on Isom but Hendry pulled him off, pushed Castle aside, and hit a codebreaker on Isom instead for the pin.
WINNERS: Hendry & Castle in 9:58.
(Pageot's Perspective:  Isom looked good here and came across as a smart, hungry, level-headed rookie.  If Hendry is meant to be a top babyface this isn't a great position for him as he and Castle both looked petty and self-absorbed.  I think I know what they're going for with Hendry and it could work if done right.  I just don't trust ROH to nail the nuances and subtlety necessary to make his arrogance charming in a Tony Stark way.)
-Women Of Honor World Champion Kelly Klein was back on commentary again for the token women's match of the night.
The Allure, debuting rookie Damaris Dawkins, Jenny Rose, and Sumie Sakai each made their entrance for a scheduled match.  Angelina Love said there's a problem and it's not just with how her three opponents look.  She said she already pinned Klein at Best In The World (in a tag match) and beat Sakai last night so she has no reason to participate here.  She and Mandy Leon started to leave.  Rose and Dawkins chased after them and threw them back into the ring.  They rolled through one side and out the other.  The bell rang.
(3) SUMIE SAKAI vs. JENNY ROSE vs. DAMARIS DAWKINS vs. ANGELINA LOVE (w/Mandy Leon)
Rather than leave again Love suddenly decided to wrestle after all for some reason.  Sakai hit a missile dropkick to Dawkins early on.  Rose broke up the pin.  Love jumped in to get the best of a four-person leglock chain.  Sakai started on offense against her so Leon pulled Love to the floor.  Smash Mouth from Sakai to Rose but Dawkins broke it up.  Klein said she's never seen anyone kick out of Smash Mouth before (even though Love did last night in a match Klein was on commentary for.)  Leon sprayed Sakai with hairspray again. Botox Injection from Love to Dawkins for the pin.
WINNER: Angelina Love in 4:59.
-The lights went out.  Maria Manic appeared in the ring.  Love shoved Dawkins at Manic.  Manic slammed Dawkins.  Rose went at Manic with forearms but took a clothesline.  Klein headed to the ring.  She and Manic went face to face.  Love clubbed the champ in the back of the head with her title belt and bailed before Manic could do anything.
(Pageot's Perspective: Sure, let's position the popular Maria Manic as a heel too.  Because that's working so well for Castle, Flip Gordon, and Jonathan Gresham.  All the fans want to see is Manic destroy The Allure or face Klein in a big singles match.  Instead she hasn't wrestled once since debuting two months ago and beats up innocent rookies and scrappy babyfaces like Rose.  Five minutes for a four-person match is a joke.  The hairspray shtick is already old.  The only positive I take away from this is that Dawkins has a good look with big hair and basketball jersey-styled gear.  With the brevity of the match she didn't get to show off much but maybe that will come at a later date.  It's hard to say.  It's never clear whether anyone competing in Women Of Honor is here for a one-off or sticking around for regular appearances.)
(4) "DAREWOLF" PJ BLACK vs. "THE LAST REAL MAN" SILAS YOUNG (w/Josh Woods)
Young gave Woods two instances to help him cheat by setting up Black and distracting the ref but Woods did nothing.  Young grew impatient.  On the third try Woods thought about punching Black but chose not to.  Black dumped to the floor at 8:00.  Woods hovered but did nothing.  Young asked if him he forgot the game plan.  Woods encouraged his teacher, saying "You got him!"  Young re-entered the ring and got rolled up by Black.
WINNER: PJ Black in 8:56.
-Black offered the code of honor to Young.  Young refused so Black shook Woods' hand.  This set off Young.  "Be a heel!  You know pro wrestling?" Young yelled at him.
(Pageot's Perspective:  The match was just a means to an end but we gratefully got some story forwarding with Young and Woods.  Until now it had seemed like Woods suddenly, inexplicably agreed to be tutored by Young.  This was our first indication that he's playing Young with a long con.  Young telling Woods to "be a heel" after the match was hilarious.  Cornette's followers are probably losing their minds right now.)
-The Bouncers joined commentary with one of their Kingdom rivals in action next.  Riccaboni said Vinny Marseglia wants to be known as Vincent now but the on-screen graphic and ring announcer both still called him Vinny Marseglia.
(5) "EL TORO BLANCO" RUSH vs. "THE HORROR KING" VINCENT MARSEGLIA
Rush controlled at first but Marseglia gained control and worked him over at ringside, including hurling Rush into the guardrail.  Back in the ring they traded chops.  Rush ran Marseglia into multiple guardrails at ringside.  Coleman predicted the end was in sight.  Rush powerbombed Marseglia through the timekeeper's table.  Referee Todd Sinclair did not call for a disqualification.  Facewash to Marseglia in the corner.  Tilt-a-whirl side Russian leg sweep to Rush.  Superplex to Marseglia.  Top rope back senton missed by Rush.  Marseglia connected with Redrum (his swanton) but Rush kicked out.  The Bull's Horns for the win.
WINNER: Rush in 11:41.
(Pageot's Perspective:  Rush is now 14-0 in 2019, by far the best record in ROH this year.  Marseglia had a very good showing here.  He has a strong visual aesthetic and distinct character.  With his performance in this match I could buy him as a credible TV title contender.)
(6) SHANE TAYLOR vs. "THE CROWN JEWEL" CHASE OWENS – ROH WORLD TELEVISION CHAMPIONSHIP
Taylor gave a frying pan chop to Owens.  The fans chanted "one more time."  He shushed them à la Big Show but then poked Owens in the eye instead.  (Solid heel work there.)  Draping stunner to Owens.  Owens hit some forearms and an enziguiri but couldn't take down the champ.  A clothesline finally did it at 7:15.  Owens looked for his package piledriver but of course couldn't pick up the big man.  Jewel Heist connected but Taylor kicked out.  He looked for the package piledriver again but only hurt his back.  Owens went up to but Taylor hit the ropes, knocking him off.  They threw hands.  Owens took Taylor down with a lariat.  High knee to the chin.  Basement clothesline.  Headbutt from Taylor.  High knee of his own.  Greetings From 216.
WINNER: Shane Taylor in 12:03 to retain the TV title.
(Pageot's Perspective:  Fine match.  Taylor's coming in to his own and has earned a high profile match at the next pay-per-view.  I'd like to see him face some seasoned veterans now to really see what his ceiling is.)
(7) THE BRISCOES (Jay Briscoe & Mark Briscoe) vs. THE ROCK 'N' ROLL EXPRESS (Ricky Morton & Robert Gibson) – ROH WORLD TAG TEAM CHAMPIONSHIP
The 62 year-old Morton hit a suicide dive on both Briscoes.  The champs came back and isolated Morton.  Hot tag to Gibson at 5:50.  Jay cleared the timekeeper's table and the Briscoes pulled it closer to the ring.  Morton laid across the table.  Mark went up top.  Mark looked for a cannonball but Morton moved and Mark crashed through the table.  RNR suplexed Jay into the ring.  Double dropkick!  Jay kicked out.  Gibson into the ring post.  Froggy-bow elbow from Mark to Morton.
WINNERS: The Briscoes in 8:47 to retain the tag titles.
-Code of honor adhered to.
(Pageot's Perspective:  Coleman made this one on commentary.  His enthusiasm was infectious.  Do you think The Briscoes will be still be wrestling in 2046?)
(8) ROH WORLD SIX-MAN TAG TEAM CHAMPIONS VILLAIN ENTERPRISES (Marty Scurll & Brody King) vs. LIFEBLOOD (Mark Haskins & Bandido) – #1 CONTENDERS TO THE ROH WORLD TAG TEAM CHAMPIONSHIP
Scurll refused to shake Bandido's hand, despite doing so last night.  King started instead.  Scurll cracked Haskins' fingers at 6:50.  He took half an hour calling for the chicken-wing so Haskins of course avoided it.  Falcon arrow from Haskins.  Frog-splash from Bandido.  Everything broke down at 11:00.  King to the floor.  Double-stomp from Haskins to Scurll for two.  Chicken-wing to Haskins.  Death valley driver to Scurll.  King back in.  Bandido saved Haskins from a gonzo bomb.  King clotheslined back to the floor.  21plex to Scurll.  Sharpshooter from Haskins.  Suicide dive from Bandido to King.  Scurll tapped.
WINNERS: Lifeblood in 14:10.
(Pageot's Perspective:  I tuned out a little because we've seen VE vs. Lifeblood so many times in the past month.  This was more of the same.  I'm surprised we didn't see Flip Gordon or Tracy Williams involved in any way.  I guess the tag title shot at Death Before Dishonor is a consolation prize to Lifeblood who have twice been scheduled for a match for the six-man titles only to have both cancelled at the last minute due to injuries to King and now PCO.  I assumed Rush & Dragon Lee beating The Briscoes on July 28 TV was setting them up for a shot at the belts but there's no suggestion since that we'll see that rematch any time soon.)
-Rhett Titus joined commentary for the main event.  He was wearing a shirt, shifting away from his fitness idol gimmick into the role of the humble family man.
(9) MATT TAVEN vs. JEFF COBB vs. JAY LETHAL vs. KENNY KING (w/Amy Rose) – DEFY OR DENY
Defy Or Deny is an elimination match. If a challenger wins, they earn a future world title match. If Taven wins, the person he defeats to end the match can never challenge again so long as he's champion.
Taven boasted about beating all three of them already.  They triple-teamed him but Lethal spun King around and clocked him in the face.  After some disarray Lethal and Cobb faced off.  They knocked the heels off the apron and kept fighting.  King pulled Lethal to the floor.  Cobb with a delayed vertical suplex to Taven.  Taven and King somewhat stumbled into a working alliance in order to eliminate Lethal from the match.  King went for a schoolboy on Taven at 10:00 to end their partnership.  Taven with a figure four to Lethal.  King went up top.  Cobb caught him and hit a Razor's Edge onto Taven.  Cobb put down all three.  Standing moonsault to Lethal.  Helicopter slam to Taven.  Blockbuster from King to Cobb.  King looked for the Royal Flush on Cobb but Taven went after King, stopping it.  Lethal Injection blocked by Taven.  Climax blocked by Lethal.  Cutter to Taven.  DDT to Cobb from Taven.  Everyone was down at 14:30.  Corkscrew kick from King to Taven.  Lethal Injection avoided by King.  Lethal Combination connected.  Amy Rose grabbed the world title belt.  Lethal ordered her backstage.  Taven hit Cobb with the belt.  Referee Todd Sinclair saw it and the bell rang.
Matt Taven was eliminated via disqualification at 16:12.
Taven hit Lethal with the belt too.  King with the Royal Flush to Lethal.
Jay Lethal was eliminated at 16:44.
As the ring announcer tried to clarify to the live crowd what just happened King picked up Cobb for the Royal Flush but Cobb avoided it.  Roll-up with the feet on the ropes but Cobb kicked out.  Tour Of The Islands.
WINNER: Jeff Cobb in 18:33 to become #1 contender to the world title.
(Pageot's Perspective:  The match had potential and started to pick up once they passed the ten minute mark but that ending was far too rushed.  In just over two minutes Rose got involved for the first time and all three men were eliminated.  So Cobb gets another title shot but it's not clear when.  Taven defends against Volador Jr. at Global Wars: Chicago on September 7.  He'll of course retain and then the next big show is the Death Before Dishonor pay-per-view on September 28.  Will it be Cobb challenging again there or Rush?  Or do we get a three-way in order to help kill time until Taven-Rush can happen in a singles match for the first time at Final Battle in December?)
---
Find Harley on Twitter @yrechoheart and listen to he and Emily Fear talk all things ROH every Wednesday on the PWTorch Dailycast "Talking Honor."