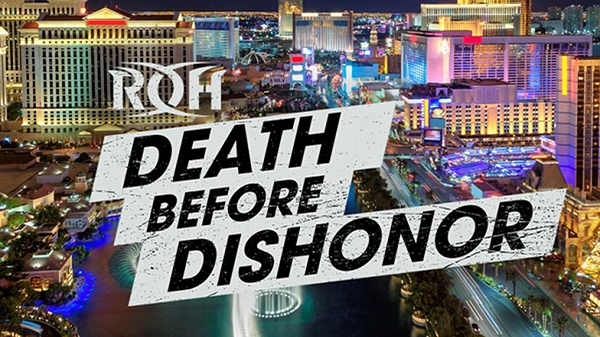 ---
SPOTLIGHTED PODCAST ALERT (YOUR ARTICLE BEGINS A FEW INCHES DOWN)...
---
ROH DEATH BEFORE DISHONOR
SEPTEMBER 27, 2019
LAS VEGAS, NV AT SAM'S TOWN LIVE
AIRED ON ROH HONOR CLUB
REPORT BY HARLEY R. PAGEOT, PWTORCH CONTRIBUTOR
Commentary: Ian Riccaboni, Caprice Coleman
PRE-SHOW
The pre-show was scheduled to begin at 8:30 EST.  In classic ROH fashion the live stream link on their YouTube page sat dead well past the scheduled start date but the show was streaming on their Facebook page.
(1) ROH WORLD SIX-MAN TAG TEAM CHAMPION BRODY KING vs. "THE HAWAIIAN JUGGERNAUT" JEFF COBB
King got a three-count off a piledriver but Sinclair changed his call to two and a half after Cobb threw his shoulder up on three.  They traded German suplexes but Cobb hit a Tour Of The Islands for the win.
WINNER: Jeff Cobb in 12:51.
-Code of honor exchanged.
(Pageot's Perspective:  Lagging issues affected the bulk of the match and the live comments field underneath the video tells me that I was not alone in that.  What I saw was good, as expected.  Peak viewership appeared to be about 530 people.  The live crowd is stunningly tiny.  They can't be more than four rows deep on any side of the ring.  If this were an Honor Club house show I'd be a little surprised by how few people are there; for their first pay-per-view in three months I'm astonished.)
-Brian Zane from Wrestling With Wregret was backstage with The Bouncers.  Brawler Milonas said their strategy tonight is revenge.  Beer City Bruiser said Marseglia wants to disfigure him but both them and their opponents would spend tonight in the E.R.
-Quinn McKay was in the ring and called out Dalton Castle.  Four men in Boy costumes escorted him to the ring.  Castle said people don't come to ROH to see him beat up people.  They come for entertainment.  He threw fistfuls of glitter at them until Joe Hendry interrupted.  Castle had a mystery box on a pedestal for the entire segment.  Hendry insisted he reveal what was inside but it was just a mai tai.  Castle took a sip.  Hendry threw to a karaoke video on the big screen for a song he wrote about their tag team.  It of course insulted Castle and the fans failed to sing along.  Castle threw his drink at Hendry and left.  Hendry beat up two of the fake Boys.
MAIN CARD
-A video package aired around the theme of choosing death… before dishonor.
(2) ROH WORLD SIX-MAN TAG TEAM CHAMPION "THE VILLAIN" MARTY SCURLL vs. COLT CABANA – ROH WORLD CHAMPIONSHIP #1 CONTENDER TOURNAMENT: OPENING ROUND
Some comedy work early on with Cabana countering Scurll's joint manipulation.  Scurll with some back rakes.  Surfboard yanking on Cabana's nose.  Dueling chants from the crowd.  Cabana came to life at 7:00.  Flying Apple.  Scurll ran the apron and hit Cabana with a superkick at ringside.  Cabana pulled him off the apron into a backbreaker.  Snapdragon from Scurll in the ring.  Powerbomb.  Both men were down at 10:00.  Cabana looked for a springboard moonsault but ate a kick.  Piledriver.  Scurll looked for the chicken-wing, Cabana tried to counter into Cubs Win!, but Scurll back into the chicken-wing.  Cabana fought off and hit a moonsault.  Cubs Win!  Rope break.  Chicago Skyline into a Superman pin but Scurll kicked out.  Running European uppercut from Scurll.  Black Plague.
WINNER: Marty Scurll in 14:02 to advance to the semifinals.
(Pageot's Perspective:  Scurll faces the winner of Jay Lethal vs. Bandido.  This was okay, nothing spectacular.  The crowd is very engaged and excited, which makes sense as there can't be more than 200 people there.  Obviously if they cared enough to attend they must be serious fans.)
-The third match was another Villain Enterprises affair.  At Kenny King's request the match was made to be "no disqualification."  King entered carrying cinder blocks with Amy Rose at his side.  King had a whole squad of indie wrestlers accompany him.  They immediately hustled around ringside setting up tables and ladders and scattering steel chairs.  PCO staggered out in a Frankenstein-esque blazer.  His new Jim Johnston-composed music played for the first time.
(3) ROH WORLD SIX-MAN TAG TEAM CHAMPION PCO vs. KENNY KING (w/Amy Rose) – NO DISQUALIFICATION MATCH IN THE ROH WORLD CHAMPIONSHIP #1 CONTENDER TOURNAMENT: OPENING ROUND
King bailed to ringside immediately and consulted with Rose.  PCO hit a pop-up powerbomb and pulled off the blazer.  He ran King into the guardrail and bounced his head off a cinderblock.  PCO suplexed King onto the entrance ramp.  Back senton onto King on the ramp.  Top rope cannonball in the ring.  He hit another to King who was draped across the apron.  PCO laid King across the seats of four chairs at ringside.  PCO suddenly malfunctioned and it caused him to hit a suicide dive on the wrong side of the ring, crashing to the floor.  Referee Todd Sinclair and the medics checked on PCO as Riccaboni reminded us PCO took 17 stitches the last time this happened.
King broke up the huddle and suplexed PCO onto the floor.  He put a ladder around PCO's head as the front row fans ducked and ran PCO into the ring post.  King hit PCO with the ladder and stacked two flat on the floor.  Powerbomb to PCO onto the ladders.  King with a tornado splash over the top rope onto PCO on the ladders.  PCO gained control so Rose slapped him.  The distraction helped King escape and hit a running sunset bomb over the top rope that took PCO off the apron and sent them both crashing to the floor.  King poured a bottle of water on PCO.  Rose entered with a cattle prod and stabbed PCO but it only served to power him up.  He chokeslammed King while being electrocuted and kept choking him through the pin.
WINNER: PCO in 11:48 to advance to the semifinals.
(Pageot's Perspective:  PCO faces the winner of Mark Haskins vs. Dalton Castle.  Fun match that played off their respective characters.  They didn't go crazy over the top with the weapons, which is fine since this was never advertised in advance as being no DQ and we still have a barroom brawl coming up.  Also glad to see that King's indie friends didn't get involved.  King has been working hard to earn his push.)
(4) "THE GATEKEEPER" KELLY KLEIN vs. ANGELINA LOVE (w/Mandy Leon) – WOH WORLD CHAMPIONSHIP
Velvet Sky was still missing in action.  She hasn't been seen since August 18 TV and her boyfriend Bully Ray hasn't been around since June 30 TV.  Klein took out both Allure members with a crossbody off the apron.  Love whipped Klein into the guardrail.  Klein returned the favor.  Back body drop for a two-count.  Flatliner from Love into a Koji clutch.  Love went up top but got cut off with a fallaway slam.  Love with a cutter that pulled Klein off the second turnbuckle.  K-Power but Love kicked out.  Leon jumped onto the apron.  Love with the hairspray to the eyes.  Botox Injection.  Love kicked out.  More hairspray from Leon in front of the referee.  Leon jumped in the ring and took a spear from Klein.  Still no disqualification.  Another Botox Injection for the pin.
WINNER: Angelina Love in 9:06 to capture the Women Of Honor title.
-The lights went out and Maria Manic was in the ring.  Torture rack to Love.  She beat up more security guards.
(Pageot's Perspective:  The match was the same old bullshit from The Allure and Women Of Honor.  Klein tries her best with the material given to her but how is she supposed to present hairspray, hairspray, outside interference as anything decent?  Why wasn't Love disqualified for the second hairspray that the referee clearly saw?  Or for Leon making contact with Klein?  I should be happy that Manic isn't aligned with The Allure like I feared and instead is apparently opposed to them but at this point I just don't care.  Oh, and why do security guards keep swarming her?  I know she's never wrestled a match for ROH but she is under contract.  I don't remember seeing any security guards when Vincent Marseglia stabbed a cigar out on Bruiser or choked him with a wrench.)
(5) JAY LETHAL vs. "THE OCTOPUS" JONATHAN GRESHAM
Slow moving back and forth through the opening minutes.  Lethal commended Gresham on wrestling clean thus far.  Standing switches resulted in Gresham being hip-tossed over the top rope.  Springboard dropkick from Lethal.  Suicide dive.  Lethal seemed to hurt his ribs and spoke to referee Todd Sinclair.  Cartwheel dropkick but Lethal began to favor his ribs.  Figure four but Gresham was next to the ropes for the break.  Springboard moonsault from Gresham.  Gresham with a step-over submission that targeted Lethal's midsection.  Into an anklelock.  Body slam from Lethal but Gresham held on and rolled through into a wristlock at 10:00.
Chops from Lethal.  Powerslam.  Gresham tried to block another figure four attempt but Lethal got it locked in.  They rolled out of the ring and the move broke when they hit the floor.  Lethal looked for a drop toehold that would have sent Gresham into a chair but Gresham stopped short.  He grabbed the chair until Sinclair intervened.  Lethal goaded him, "That's the only way you can beat me?"  Gresham called him out on his current losing streak and they threw hands, brawling around ringside and into the ring.  Lethal Injection blocked by a penalty kick.  Figure four into an inside cradle for two.  Cutter from Lethal.  Back into the figure four.  Gresham struggled in the center of the ring at 15:00.
Rope break.  Lethal Injection countered into a backslide for two.  Lethal Combination.  "Let's go Lethal" chant.  He went for a Lethal Injection again but his arm gave out and he collapsed.  Pinfall attempts reversed.  Octopus from Gresham.  Lethal tapped!
WINNER: Jonathan Gresham in 17:20.
-After some heated words and a "hug it out" chant from the crowd the men shook hands and shared a brief hug.
(Pageot's Perspective:  If this isn't match of the night by the time the show ends I'll be very impressed with whichever one is still to come that tops this stellar outing.  Gresham wins clean?  So Lethal proved his point.  Gresham never needed to cheat to win.  Wait… did Lethal throw the match?  Did he lose on purpose in order to "prove his point" and get his friend back?)
(6) THE BOUNCERS (Beer City Bruiser & Brawler Milonas) vs. "THE LAST REAL MAN" SILAS YOUNG & "THE HORROR KING" VINCENT MARSEGLIA – BARROOM BRAWL
Josh Woods joined commentary.  Yes, the match took place in the ring, not in a barroom.  The Bouncers wrestled in tank tops and jeans.  Marseglia bled less than two minutes into the match after taking a beer bottle to the head.  No tags in this one as all four men were legal at the same time.  Bruiser found a pool cue under the ring but broke it on the ring post after Marseglia ducked.  Milonas pulled out some zip-ties but was double-teamed by the heels.  They tied Milonas to the ropes in one corner.  Bruiser fought back with right hands.  Marseglia gouged at Bruiser's mouth.  Codebreaker from Young into a side effect by Marseglia onto shards of glass.  Milonas struggled to free himself from the ties.  He succeeded and took out both men with a clothesline.  Milonas back body dropped Marseglia onto Young.  Bruiser went to ringside and fetched a wrench.  He hoped to do to Marseglia what Marseglia did to him but the horror king got hold of the wrench and clubbed Milonas in the head.  Milonas came up bleeding.
Woods headed to ringside and tried to talk some sense into Young.  Marseglia jabbed the sharp end of the broken pool cue into Milonas' open forehead wound.  Rolling elbows to Bruiser.  Marseglia pulled out some darts.  He threw one and it stuck in Bruiser's back.  The crowd gasped.  Milonas with a steel chair to Marseglia.  He sat Young on the chair in one corner and hit a running back splash.  Milonas wanted to powerbomb Marseglia but Young stopped him with chair shots to the back.  Redrum from Marseglia through Milonas laying on a table at ringside.  Bruiser with a death valley driver to Young on the apron.  All four men were down at 12:40.  Woods helped Young to the back in search of medical aid.  Bruiser with a superplex to Marseglia onto a series of opened chairs.  Bruiser was bleeding from the forehead now too.  Bruiser called him a b-movie bitch and hit the Beer City DDT for the win.
WINNERS: The Bouncers in 13:59.
(Pageot's Perspective:  Let the record show that a barroom brawl is just a street fight with a beer bottle, a pool cue, and darts.  But hell yes I'll take that over the standard tables, ladders, and chairs that we usually see.  There was some creative stuff here.  It still felt at times like Young was only inserted into this due to TK O'Ryan being injured so his role was notably limited but the other three worked hard.  They've all maximized their screen time over the past few months and seem eager to raise their stature.  I really dug this.)
-Shane Taylor entered first for his title defense.  Williams was out next, then Gordon.  Ring announcer Bobby Cruise then announced a surprise late addition to the match… Dragon Lee.
(7) SHANE TAYLOR vs. DRAGON LEE vs. "THE MERCENARY" FLIP GORDON vs. "HOT SAUCE" TRACY WILLIAMS – ROH WORLD TELEVISION CHAMPIONSHIP
PJ Black was on commentary.  Williams and Gordon fought to the floor.  Lee dispatched of Taylor, then Gordon, and did the tranquilo pose.  Williams and Gordon fought again until Taylor broke it up.  Lee got a flurry in on Williams.  Taylor took out all three opponents with a cannonball off the apron.  Williams with an impaler DDT to Gordon onto the top turnbuckle.  Brainbuster from Lee to Williams.  High knee from Taylor to Lee.  Gordon grabbed a chair.  He and Williams fought over it.  Williams handed it to the ref to dispose of.  Welcome To The Land from Taylor to Gordon for the clean win.
WINNER: Shane Taylor in 8:26 to retain the TV title.
(Pageot's Perspective:  Hmm.  I'm all in on Taylor and glad to see him continue his reign but this was all sorts of weird booking.  Lee making the surprise appearance and then not factoring into the finish?  Taylor pinning the other heel in the match clean?  Shane Taylor Promotions owning the ROH TV title now will at least be interesting to follow even if this math was just a spotfest with nothing of real substance at the core.)
(8) THE BRISCOES (Jay Briscoe & Mark Briscoe) vs. LIFEBLOOD (Bandido & Mark Haskins) – ROH WORLD TAG TEAM CHAMPIONSHIP
The Marks started.  Bandido took out Jay ringside with a big flip  at 5:20.  Jay tossed a chair into the ring and his brother leapt off into a cannonball over the ropes.  Bandido laid across a table at ringside.  He climbed off and wound up suplexed into the ring by Mark Briscoe.  Everyone was apparently legal by 13:00.  At 16:00 they all no-sold the previous sixteen minutes and reset.
Brainbuster from Mark Briscoe to Bandido.  Sharpshooter from Haskins to Jay.  21plex from Bandido to Mark Briscoe.  Jay managed to kick Haskins off and into the other two.  Superplex from Bandido to Mark Briscoe.  Top rope double-stomp from Haskins but Jay broke up the pin.  "This is awesome" chant.  Jay Driller to Haskins.  He of course kicked out because why wouldn't he?  Doomsday Device avoided.  Death valley driver from Jay to Bandido.  Froggy-bow to Bandido.  A second Jay Driller to Haskins.
WINNERS: The Briscoes in 20:16 to retain the tag titles.
(Pageot's Perspective:  I was wondering when it would happen and match #8 was when my attention started to wane.  We're crossing the three-hour mark, this was a thrown-together match with no story between the two teams, the Briscoes have gone back and forth from heel to face so many times over the past three months that I don't know what I'm supposed to feel about them anymore, and this was the kind of ROH match I hate where guys just jump in and out whenever they want and hit spot after spot and nothing has any consequences and nobody sells anything.  The reunited Lethal & Gresham seem like the only possible candidates left on the roster to challenge for the tag titles at Final Battle.  Nobody else has any credibility.)
-Oh lord, Bully Ray was back.  He powerbombed Bandido.  Vicky Haskins freaked out at ringside.  "That's my husband!"  Powerbomb to her husband.  Tracy Williams made the save but got laid out from behind by Flip Gordon and his evil kendo stick.  Ray looked at his old rival, Gordon, as he left.  Ray whipped Williams into the guardrail.  Vicky continued to freak out in the crowd.  She slapped Ray so he powerbombed Mark through a table.  She checked on her husband so security grabbed her and carried her off.  Haskins coughed up blood.
(Pageot's Perspective:  Oh, so ROH security are just misogynists?  Now it makes sense.  Licensed roster member Maria Manic can't enter the ring without being accosted.  Noted wife and valet of Mark Haskins, Vicky, can't check to see if her husband is hurt.  But Bully Ray can jump some dudes from behind and put one through a table and they don't care.)
(9) MATT TAVEN vs. "EL TORO BLANCO" RUSH – ROH WORLD CHAMPIONSHIP
Rush tried for The Bull's Horns 35 seconds in but Taven avoided.  He threw Rush into the guardrail.  Rush's brother, Dragon Lee, and their father were in the front row.  Someone call security!  Taven back dropped onto the entrance ramp.  They continued to fight around ringside.  Taven suplexed Rush from inside the ring to the floor.  Suicide dive from Taven.  Flight Of The Conqueror.  Top rope frog-splash.  Taven worked over Rush.  Snap German suplex from Rush.  He tore apart a guardrail and suplexed Taven onto the floor.  Rush picked up a guardrail and hurled it at Taven but wasn't disqualified.  He choked Taven with a TV cable.  Still no DQ.  Taven suplexed onto the announce table.  Still no DQ.  Also no count-out after being at ringside for well over 20 seconds.
He could have went for The Bull's Horns in the ring but chose not to, kicking Taven instead and doing his tranquilo pose.  Missile dropkick.  The camera got a shot of Rush's son clapping for him in the crowd.  Shotgun dropkick off the apron to Taven.  Top rope back senton missed.  Jay Driller.  Taven got right back up and hit Just The Tip of the knee to Rush.  Climax.  Kick out from Rush.  They traded slaps.  Ura nage from Rush.  Spear from Taven.  Two running knees.  Rush sat up and spat on Taven.  A third knee.  Climax avoided.  Taven climbed the ropes but Rush slapped his ass, knocking him off balance.  The Bull's Horns to Taven hung upside down in the corner.  A second for the pin.
WINNER: Rush in 16:03 to capture the world title.
-His family came into the ring to celebrate with him.  Security!!  Wait, it's okay, they're all men.  His son did the tranquilo pose.  Such a heartwarming scene for the dude who just choked someone with a cable and spit on him.  Taven barged into the group, shook Rush's hand, and left.
(Pageot's Perspective:  I actually like Taven so I hope this means he's done with ROH and heading to NXT or AEW.  Both promotions could benefit from the addition of a heel who likely won't get cheered and going forward I'll be rooting for all the wrestlers I like to flee this sinking ship.)
---
Find Harley on Twitter @yrechoheart and listen to he and Emily Fear talk the week in women's wrestling every Wednesday on the PWTorch Dailycast "Grit & Glitter."