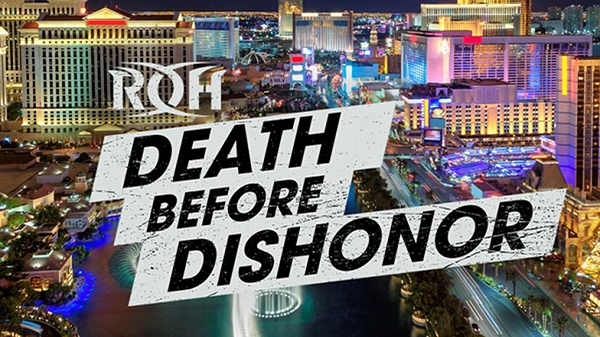 ---
SPOTLIGHTED PODCAST ALERT (YOUR ARTICLE BEGINS A FEW INCHES DOWN)...
---
It's been three months since ROH ran a traditional pay-per-view event and a lot has changed. NJPW talent are appearing very sporadically in ROH these days whereas CMLL talent have never been more prolific. The weekly ROH television show has been reformatted into a weird infomercial for Honor Club with nothing but cut-up video highlights for 40 minutes followed by one match. And the ROH World Champion is wrestling on a contract that expires in less than a week.
The talent on the ROH roster is very strong but creative continues to hold them back and the reliance on street fights, low blows, and hairspray is becoming a serious problem. Someone like Joe Hendry will sign and debut with little fanfare as if viewers are expected to already be well-acquainted with his work. Someone like Maria Manic will sign and go three months without wrestling a single match. Acts like Soldiers Of Savagery will attack Lifeblood multiple times, tease an alliance with Shane Taylor, and then disappear off the face of the earth. Consistency is rare and it's hard to build up any steam. If creative does get one good idea they proceed to hammer it into the ground over and over until you grow sick of it in the span of two months. What's the solution? Maybe a new world champion to try to drum up some excitement?
At Death Before Dishonor 2018 Jay Lethal retained the world title against Will Ospreay in the main event, The Briscoes retained the tag titles against SCU, and The Elite beat Chaos in a ten-man tag. Besides Lethal and The Briscoes the only other names on that card who are signed for tonight are Silas Young, Flip Gordon, Colt Cabana, and Kenny King. It's a whole new ROH roster filled with tons of talent. Again, the talent is not the problem here.
---
1. Jeff Cobb vs. Brody King (pre-show)
This isn't your WWE "not good enough to be on the main card" pre-show. This year ROH has made it a point to include exciting matches on their pre-shows that might actually draw viewers in and get them to stick around for the rest of the show. This match definitely fits that bill. Cobb just won Defy Or Deny on August 25 at Honor For All and will be challenging the winner of tonight's main event on October 27 when ROH heads to England for Honor United: Bolton. Brody King is one-third of your six-man tag team champions.
Prediction: The two big men are sure to tear it up but one is principally a tag wrestler these days and the other is challenging for the world title in a month. Cobb wins with a Tour Of The Islands.
2. Jay Lethal vs. Jonathan Gresham
Jay Lethal and Jonathan Gresham had a memorable trio of matches last year between February and July, culminating in a 30-minute iron man match. Lethal won all three encounters but the series created a friendship between them, which led into a series of tag matches against teams like The Young Bucks, Jushin Thunder Liger & Kushida, and Juice Robinson & David Finlay. By the spring of this year they had their eyes set on tag team gold but simultaneously found themselves sidetracked, Lethal by Kenny King and Gresham by Silas Young. Thanks to some help from his new valet, Amy Rose, King was able to get a win over Lethal at Best In The World on June 28. Gresham faced Young on the same card in a pure rules match and was able to win his match but only after resorting to a low blow. One month later, on July 21 TV, Gresham faced off against King, Cobb, and Dalton Castle in a four-way match and again used underhanded tactics to secure the victory, hitting King with Rose's shoe. A disappointed Lethal confronted Gresham in the parking lot afterwards and berated him for lowering himself to their opponents' level by cheating. As far as Gresham is concerned, though, a win is a win and, unlike Lethal, he actually beat King.
Trying to set aside their ethics dilemma the two men continued to team, squaring off with Lifeblood at Summer Supercard on August 9. When Gresham attempted to bring a steel chair into play he and Lethal fought over it and the latter was knocked to the ground. They would go on to lose the match. Then, on September 8 at Global Wars Espectacular: Milwaukee, they faced off against Young and his new protégé, Josh Woods. Gresham low blowed Young early on in the match but when he introduced a steel chair into the ring again his attempt at shenanigans backfired and it was Young who would pin Lethal after delivering Misery onto the chair. Tensions became too high and Lethal and Gresham's bickering boiled over as they came to blows.
Prediction: Lethal's been losing a lot this year. In the past three months alone he's been pinned by Young, King, Shane Taylor, and Matt Taven and tapped to Mark Haskins. Gresham's been cheating to win and has never beaten Lethal in a one-on-one match. If Gresham can cheat to win here, does he prove himself right that the ends justify the means? Gresham steals the win with a handful of tights and Lethal is left wondering if maybe the octopus is right after all. Maybe sometimes doing the right thing just means being a doormat.
3. The Bouncers vs. Silas Young & Vincent Marseglia (barroom brawl)
Silas Young brought Beer City Bruiser and Brawler Milonas into ROH and paired them together so that the three of them could go after the six-man titles. For a while everything was good. Then came Bully Ray. He saw signs of Young going soft and becoming too nice, even considering exchanging the code of honor with his opponents. Ray got in Young's ear and it was one year ago this weekend that Young walked out on The Bouncers, destroying their friendship. The Bouncers struggled through the winter with Bruiser in a funk, heartbroken over his friend abandoning him, until Milonas had enough. He and Young were never that close in the first place and he said that Young had just finally showed his true colors. He rallied Bruiser and The Bouncers set off on a winning streak that carried them through the spring.
On July 7 TV the Bouncers suffered a surprise loss to The Kingdom goons, Vincent Marseglia & TK O'Ryan. One week later on July 14 TV they got their win back, teaming with Lethal to defeat the full Kingdom trio. Marseglia became obsessed. July 20 at Manhattan Mayhem he and O'Ryan attacked the Bouncers with steel chairs and Marseglia put out a lit cigar on Bruiser's chest. August 9 at Summer Supercard the two duos brawled until security separated them. And then, unexpectedly, The Bouncers crossed paths with an old friend/foe.
Silas Young met 2017 Top Prospect Winner Josh Woods in singles action on July 27 TV and beat him with a low blow. Young insisted Woods had potential but said he had done nothing since winning the tournament two years ago and needed someone to smarten him up. In a four-way match, exclusive to YouTube, Woods gave Young a low blow in return but it was Tracy Williams who would pin Young to win the match. Young congratulated Woods on not being so stupid after all but pointed out that he still didn't win. Woods seemingly realized the truth to this because a mentorship was born. By August 18 TV Woods was bringing Young cigarettes and on August 24 at Saturday Night At Center Stage he low blowed Young's CMLL tag partners post-match as they shared a laugh.
On September 6 at Global Wars Espectacular: Dearborn Woods & Young wrestled their first tag match against Young's former protégés, The Bouncers. The new tandem picked up the win off a distraction by Marseglia but the Bouncers still extended a toast of honor to the victors. Woods accepted while Young blew them off. The next night at Global Wars Espectacular: Chicago Young & Woods earned their second victory as a team, defeating PJ Black & Okumura clean. When Young shook the hands of Black and Okumura afterward the Bouncers were stunned. They headed to the ring with another toast of honor. Young again refused to share a drink with them but accepted a beer to drink alone in the locker room. Later that night Marseglia would again go after the Bouncers with a steel chair and, to the shock of many, both Woods and Young made the save.
Everything culminated at Global Wars Espectacular: Milwaukee on September 8. Marseglia again cost the Bouncers their match with a distraction that gave Villain Enterprises a win but Young & Woods picked up their third victory in three nights after problems between Gresham & Lethal became too much. On Young's birthday he called his former friends, The Bouncers, to the ring. He admitted that he was happy to have them in the same promotion as him and it appeared that bridges were being mended for the first time in nearly a year. Then Marseglia appeared, Young betrayed them again, and a horrified Woods could only watch as Marseglia inserted a wrench in Bruiser's mouth and pulled him back in a camel clutch that caused blood to flow from Bruiser's mouth.
Prediction: TK O'Ryan has been missing in action during the latter stages of this feud and an injury is rumored to be the cause. Instead it's Young teaming with Marseglia here. They have little history and no experience working together but they both hate The Bouncers and that might be enough to bond them for one night. Bruiser and Milonas are coming off two deep betrayals by Young and should be more fired up than we've ever seen them. So what is a barroom brawl? I suspect this won't be taking place in an actual barroom but instead in a wrestling ring. If it turns out to just be a street fight with kegs and beer bottles, don't be surprised. Will Woods get involved? He'll have to be around. Would he help Young? Would he risk going against his teacher, incurring his wrath? Let's go with Woods helping Young to the best that his conscience will allow but wanting nothing to do with Marseglia. Marseglia takes the pin as a result and we've got the makings of a three-way tag feud once O'Ryan returns.
4. Marty Scurll vs. Colt Cabana (opening round match in the ROH world title #1 contender tournament)
With Matt Taven's contract finishing at the end of this month and Marty Scurll's ending in November the world title picture is a blank slate. If we don't know who will be champion come Final Battle how can we know who he'll be defending against? Solution: a #1 contender tournament. Eight of the top names in ROH will compete in a single-elimination tournament and the winner will challenge for the top title in the main event of the final pay-per-view of the year. On one side of the bracket is Scurll vs. Colt Cabana. Scurll's been mostly a tag wrestler this year with Villain Enterprises and his star has really diminished as a result. While a lot of fans were crying for him to be made world champion and the top name in the promotion he instead was relegated to defending inconsequential trios titles against Lifeblood over and over all summer.
Cabana debuted for ROH in late 2002. He's held the tag titles twice but no singles gold in the promotion. He's been booked stronger in 2019 than in most recent years and even held the NWA national title this summer. On September 7 at Global Wars Espectacular: Chicago both these men participated in a four-way match with Kenny King and Dalton Castle and it was Cabana who pinned Castle to win.
Prediction: The winner of this one faces the winner of Jay Lethal vs. Bandido in the semi-finals. I fully expect Scurll to be finished with ROH as of November and go to NXT. (Sorry, AEW fans, but the girlfriend and the dog take precedence over the buddies.) Until then they need to get everything they can out of him and Villain Enterprises vs. Lifeblood has been the biggest feud in ROH for months. Scurll wins with Black Plague and faces Bandido in the next round.
5. PCO vs. Kenny King (opening round match in the ROH world title #1 contender tournament)
This is an unusual match on paper but I think it will be surprisingly compelling. The fans love PCO and King has delivered some very good big matches this year. Amy Rose will get involved and King will try for various shenanigans but the Canadian Frankenstein will power through it all. The winner here faces either Dalton Castle or Mark Haskins in the next round.
Prediction: Like I said, the Villain Enterprises vs. Lifeblood feud has been the focal point of so much of ROH this summer and it will continue. PCO wins with a PCOsault and faces Haskins in the next round.
6. Kelly Klein vs. Angelina Love (WOH World Championship)
The Beautiful People Allure debuted in ROH back at the beginning of April and have been tormenting ROH viewers the Women Of Honor division with their incessant whining and use of hairspray ever since. At Best In The World Angelina Love & Mandy Leon defeated Kelly Klein & Jenny Rose in tag action due to Klein getting hit with a shoe. Love's pinfall over the champ unofficially earned her a title match and she spent the rest of the summer complaining about not getting that match while simultaneously rejecting any offer from Klein to actually have the match. Love has also picked up pinfalls over former WOH champion Sumie Sakai (at Saturday Night At Center Stage on August 24) and rookie Damaris Dawkins (at Honor For All on August 25) thanks to Leon spraying them in the eyes with hairspray. At Global Wars Espectacular: Chicago on September 7 Klein got a measure of revenge by pinning Love in a tag team match.
Meanwhile the maneater Maria Manic arrived in ROH back on June 28 at Best In The World. She's spent the three months since beating up security guards and having stare-downs with Klein, Love, Sakai, Karissa Rivera, and "Number One" Brian Johnson. Apparently whoever's kayfabe in charge of booking ROH has decided that's enough to earn a paycheck as she hasn't actually wrestled a single match since debuting.
Prediction: ROH management wants to believe that the heat The Allure is getting isn't go-away heat. It is. Every viewer I've spoken to is as bored by the group as I am and finds their one-note, overplayed, out-of-date, stereotype mean girls gimmick to be tiresome. ROH in 2019 seems to aspire to be somewhere between ECW-lite and TNA 2010, though, so let's go with the TNA finish here. Manic costs Klein the title and aligns with The Allure as their new bodyguard.
7. Shane Taylor vs. Tracy Williams vs. Flip Gordon (ROH World Television Championship)
Shane Taylor has had maybe the best year of anyone in ROH. He steadily climbed the ladder, captured his first gold, and has really begun to establish himself as a dominant heel in the upper midcard. Along with this success his ego has also grown. Tired of being left off posters and not being advertised as much as other stars Taylor has started a war with ROH management. On September 16 ROH announced through their website that they had agreed to a buy-out of the remainder of Taylor's contract and that this would be his final match as an ROH star. A week later Taylor announced his own company, Shane Taylor Promotions, and has promised their first press conference tomorrow night, win or lose here.
At Best In The World Flip Gordon rejected Lifeblood's offer to join their stable and instead aligned with Villain Enterprises. Since then he's been on a vendetta to injure Tracy Williams… for some reason. His motivations and hatred for the Lifer has not been explained or justified. Gordon attacked Williams with a kendo stick at Summer Supercard on August 9 and this may have factored into Williams losing to Taylor in a TV title match later in the night. As such both men have been inserted into this defense.
Prediction: Taylor's not actually going anywhere. He's just being re-branded as a rebel, holding the TV title hostage while not "officially" working for ROH. Because there's nothing more heelish than leaving ROH to start your own promotion. *cough* Taylor pins Williams to retain.
8. The Briscoes vs. Lifeblood (ROH World Tag Team Championship)
Juice Robinson formed Lifeblood back at the start of this year and then promptly went back to Japan with David Finlay, never to return. Tenille Dashwood saw the writing on the wall of Women Of Honor and also took off to Impact Wrestling. When the dust cleared it was just Williams, Mark Haskins, and Bandido left. The Lifeblood trio have been feuding with Villain Enterprises all summer. VE won in a six-man title match at Best In The World on June 28. Lifeblood won in an eight-man tag at Manhattan Mayhem on July 20. Lifeblood won again in a trios street fight on July 21 TV. VE won in a traditional tag at Mass Hysteria on July 21 and again at Saturday Night At Center Stage on August 24. Lifeblood won in a #1 contenders tag title match at Honor For All on August 25 (earning them this match). Then VE won again in a trios street fight at Global Wars Espectacular: Chicago on September 7.
The Briscoes defeated Guerrillas Of Destiny in a street fight at Manhattan Mayhem to become 11-time ROH tag team champions. 11 is a lot and I don't know what else there is to do with them as champions at this point. At Global Wars Espectacular: Milwaukee Lifeblood beat The Briscoes & Bárbaro Cavernario in a trios tag when Haskins pinned Mark Briscoe. That's the extent of the history between these two teams.
Prediction: The Briscoes retain. Both Haskins and Bandido are in the world title #1 contender tournament so they have bigger fish to fry at the moment.
9. Matt Taven vs. Rush (ROH World Championship)
Just over a year ago at the CMLL 85th Anniversary Show Rush & Cavernario teamed to take on Matt Taven & Volador Jr. in the main event, a two-out-of-three falls hair vs. hair match. Taven & Volador lost and were shaved bald as a result. The humiliation would prove bountiful, though, as it brought out a more sadistic side in Taven, one that would lead him to capturing the ROH world title this past April. Since winning the title Taven has secured pinfalls over Flip Gordon, PCO, Mark Haskins, Tracy Williams, Jay Lethal, Alex Shelley, and Volador Jr. as well as ending Jeff Cobb's undefeated streak at Best In The World on June 28.
Rush debuted for ROH back in February and has also been undefeated since then. He made his interest in the ROH title known at Summer Supercard on August 9 staring down Taven. They would share a ring at Saturday Night At Center Stage on August 24 in an eight-man elimination match with Taven getting disqualified for hitting Rush with a chair. Taven also laid out Rush at Global Wars Espectacular: Milwaukee on September 8. Oh, and his ROH contract expires sometime this week. Whether he will re-sign or elect to try his hand in a different promotion is the biggest question mark over this match for some viewers.
Prediction: Regardless of whether or not Taven chooses to re-sign with ROH (I believe he will) Rush wins the belt here. Fan apathy toward Taven as champ has been strong and ROH needs to put the title on someone new and exciting that will possibly stir up some interest in their sagging product. Jeff Cobb faces the winner in England at the end of October and ROH has already started building toward Cobb vs. Rush. They were the last two men left standing in that elimination tag at Center Stage and also came out victorious in a tag match against Taven & Marseglia at Global Wars Espectacular: Milwaukee on September 8. Both times Rush refused to share the code of honor with Cobb post-match. Rush wins here, defeats Cobb in Brighton, and defends against Bandido at Final Battle. The ROH-NJPW relationship has been placed on the back burner. It's all about the ROH-CMLL relationship in 2020.
Up next it's Glory By Honor on October 12 in New Orleans, Louisiana. Let's go with PCO vs. Mark Haskins and Marty Scurll vs. Bandido in the semi-finals of the #1 contender's tournament and PCO vs. Bandido in the finals.
---
Find Harley on Twitter @yrechoheart and listen to he and Emily Fear discuss the best in women's wrestling every Wednesday on the PWTorch DailyCast "Grit & Glitter."