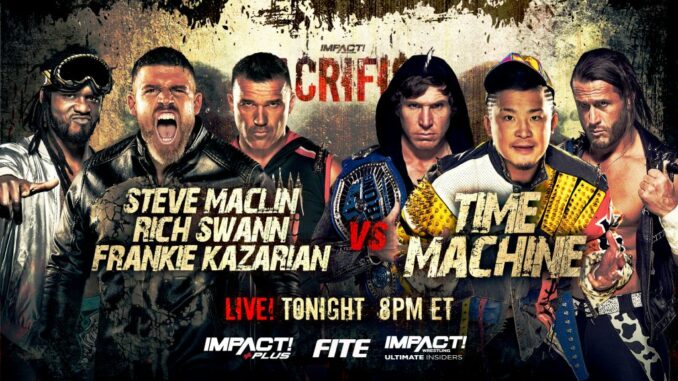 ---
SPOTLIGHTED PODCAST ALERT (YOUR ARTICLE BEGINS A FEW INCHES DOWN)...
---
EDDIE EDWARDS vs. BHUPINDER GUJJAR- MINOR HIT
A decent match, and Bhupinder Gujjar showed that he has what it takes to be higher on the card. He only lost to Eddie Edwards
BACKSTAGE SEGMENT-HIT
Gia Miller spoke with Frankie Kazarian and Rich Swann about Josh Alexander's injury and that Steve Maclin would replace Alexander.
ROSEMARY (with Jessicka) vs. KILYNN KING (with Taylor Wilde)- MINOR HIT
This match was about establishing KiLynn King. She's now put on two great matches – one against Taya Valkyrie (Impact 3/23/23) and now one against Rosemary. It really looked like KiLynn could have won it, until the distraction of Jessicka and Taylor Wilde brawling on the outside allowed Rosemary to get a spear on KiLynn.
MIKE BAILEY vs. JONATHAN GRESHAM- HIT
Banger to open the show? Why, yes, I'll take it. I'd pay money to watch these two wrestlers chain wrestle. Speedball Mike Bailey had the hometown pop here. This match was filled with interesting holds and stretches, Jonathan Gresham really lived up to his Octopus nickname, he kept Bailey tied up for a good portion of the match. It suddenly kicked up a gear after Gresham didn't release Bailey on a rope break. It went from a technical classic, to a high intensity, fast strikes, and tense emotions. Bailey earned his win in this one. I'm going to keep saying it until someone listens, but I want a 60 minute iron match between these two.
JOE HENDRY vs, BRIAN MEYERS- MISS
Started out with Joe Hendry addressing the audience with some comments about the Royal Family. While I get the contractual rematch, I feel this was a bit of a come down after the last match. It was fine, and it is showing Brian Meyers as a real threat to Joe Hendry.
DEONNA PURRAZZO vs. GISELLE SHAW (with Jai Vidal & Savannah Evans)- HIT
Giselle Shaw continued to show that she deserves her place at the top of the card, and Deonna Purrazzo continued to show that she doesn't need the Knockouts World Title to be one of the most dominant forces in the women's division. Being from Canada, Shaw got a bit of the hometown pop. This was a well paced match that hit all the right spots. On a night without a Gresham vs. Bailey match, this would have been the match of the night.
PCO vs. KENNY KING (with Eddie Edwards)- HIT
I love that the screen turns Black and White for PCO's entrance, it's like an old Universal Horror Flick. King really got to shine with his high flying in this match. I am constantly amazed at how much damage PCO will take through a match, and this one was so much more than normal. How he isn't in traction is a testament to the absolute insanity that the human body can endure.
TREY MIGUEL vs. LINCE DORADO- IMPACT X-DIVISION TITLE MATCH- HIT
Trey Miguel looks really good, and his current cocky persona is great. Lince Dorado went move for move on Trey Miguel, a pair of high flyers at the top of their game. Dorado had a tendency to add extra spirals and twists to his maneuvers, which is always appropriate for X-Division matches. I hope Dorado sticks around for a while
BULLET CLUB (Ace Austin & Chris Bey) vs. TMDK (Bad Dude Tito & Shane Haste)- IMPACT WORLD TAG TEAM TITLE MATCH- MISS
TMDK really played up their size advantage, which contrasted nicely with Bullet Club's flexibility. However, what soured me on this was the final sequence of Bullet Club's finisher. It was out of nowhere, executed too quickly, and didn't look as good as it has in the past. It was almost like they were told to hurry up and get to the finish. TMDK looked good throughout the match, but came off looking bad after that finish.
BULLY RAY vs. TOMMY DREAMER- MISS
This should have been on the pre-show, if anywhere. Old School ECW, first blood match. They mention the first time they fought was in 1998. If these guys were facing off against others, I might be more interested, but I feel a large amount of Deja Vu for this match. I want these two to mentor, and guide, not grapple and gig. The interesting part was how the Good Hands (John Skyler & Tyler Hotch) aided Bully Ray.
POST MATCH SCRAMBLE- HIT
After Bully won by cheating is when all the fun stuff happened. Yuya Uemura came to aid Dreamer. Then the NHL great Darren McCarty came in after being messed with by Bully Ray early in the match. McCarty got put through the table, leading to Scott D'Amore to come back with most of the faces on the roster. Top pop of the night was probably for D'Amore using a Canadian Destroyer on Hotch. I really dug this because while it was instigated by Dreamer and Bully Ray, it was about everyone else.
TIME MACHINE (Kushida & Alex Shelley & Chris Sabin) vs FRANKIE KAZARIAN & RICH SWANN & STEVE MACLIN- HIT
First, love the matching gear of Time Machine. It makes them look like a unit. There was a lot in this match that wasn't in the match, lots of history, lots of future, and lots of talent. Half these wrestlers have had the world title, the other half have been in the running in the last year. A great match over all.
FINAL THOUGHTS- HIT
The arena was sold out, and it really looked it. Unlike a lot of other Impact events lately, it had the feel of a big venue, not a filled small venue. There were a few signs in the audience, which is something I always like to see. I really dug that before each match, Tom Hannifan would go over some of the stats and history of the match on a quick graphic. Great way to quickly remind someone of the particulars. This was a great card and set up a few things going forward.
---
CATCH-UP: 3/24 IMPACT WRESTLING SACRIFICE PPV REPORT: Time Machine vs. Swann & Maclin & Kazarian, Purrazzo vs. Shaw, and more