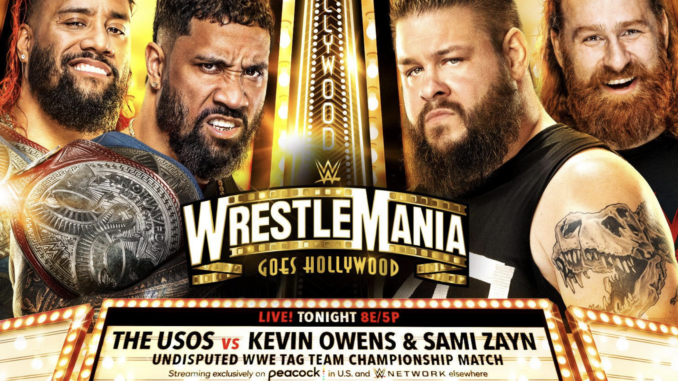 ---
SPOTLIGHTED PODCAST ALERT (YOUR ARTICLE BEGINS A FEW INCHES DOWN)...
---
LECLAIR'S WWE WRESTLEMANIA 39 NIGHT 1 REPORT
APRIL 1, 2023
LOS ANGELES, CA AT SOFI STADIUM
AIRED LIVE ON PEACOCK (U.S.), WWE NETWORK (Int.)
Announcers: Michael Cole & Corey Graves
-Roman Reigns' signature "Acknowledge Me" line was added to the "Then, Now, Forever" intro.
-Over a wide shot of SoFi Stadium, Mike Rome introduced Becky G to sing "America the Beautiful."
-The opening video package kicked off with an introduction of Kevin Hart to narrate the story of WrestleMania. Clips of the spoof movie trailers were interspersed with footage hyping night one's major matches.
-"It is the greatest event in all of entertainment," Michael Cole proclaimed over an impressive shot of SoFi stadium from the upper balcony.
-The Miz's music hit almost immediately. He was already standing in the ring, flanked by Snoop Dogg. Mike Rome introduced Snoop as the "Doggfather of WrestleMania." Miz said he and Snoop have a lot in common. He said while Snoop has been in over eighty movies, he starred in The Marine 3, 4, 5, and 6. Snoop said that means they're the same. He said tonight isn't about them, but rather, it's about the "champions out there", pointing to the audience.
Miz asked the crowd if they're ready for night one. He hyped the Smackdown Women's title match and the Undisputed Tag Team Championship match before leading us into the opening match.
-Austin Theory's music hit and he was revealed behind a slowly rising door in the elaborate entrance stage. Theory made the long descent down the massive ramp as the crowd peppered him with boos. Michael Cole said it's the biggest match in Austin Theory's young career.
The camera cut to ringside as Cole welcomed his partner, Corey Graves. Corey congratulated Michael on calling his 22nd WrestleMania. Cole introduced the Spanish announce team, positioned adjacent to he and Graves at ringside. Cole threw to a video package covering WWE's relationship with the Make-A-Wish foundation. This led to a moment on stage with a number of Wish Kids who opted for a trip to WrestleMania.
John Cena entered and joined the kids. He gave out high fives to all of them. Cena flashes his signature "Never Give Up" towel to the camera and sprinted down the ramp to a massive ovation. Cole noted that it's Cena's 16th WrestleMania match. He said he also opened his first WrestleMania in 2004, winning the U.S. Championship. Cole said he'll now try to do it again, and for the sixth time overall.
(1) AUSTIN THEORY (c) vs. JOHN CENA – WWE United States Championship match
Austin Theory and John Cena stepped around each other in the ring. Theory motioned toward the crowd and told Cena they're here to see him. The two men locked up. Theory sent Cena toward the ropes, but John dropped his opponent with a big shoulder tackle. They locked up again. Theory tried to wrestle Cena to the mat, but the veteran bested him. A dueling "Let's Go Cena/Cena Sucks" chant built. Cena smiled. He let go of a side headlock and dropped Theory with another shoulder.
Cena worked Theory into a corner tie-up. The referee counted to four, necessitating a break. Cena stepped back with a smirk. Theory backed Cena into the same corner and bit his ear. Cena shoved him off. Theory leapt from the ring. Cena complained to the official, grabbing at his ear. Theory used the distraction to drop Cena from behind and cover him for a quick two count. The champion gave Cena a snap Suplex and covered for another two count. He looked around, jawing at the crowd. "You think he's still got it?" They booed Theory loudly.
Theory went for another Suplex, but Cena bent his knees and blocked the attempt. He snapped back with a Suplex of his own. Theory rose quickly, but Cena hit him with quick rights. He whipped Theory to the corner, but Austin caught him with an elbow. Theory rolled into a standing, leaping Blockbuster. He covered Cena for another two count. Theory climbed to the top rope and posed. Boos rained down on him. He rolled through the middle rope and popped up to deliver a nice looking missile dropkick to Cena for another cover and another two count.
The champion went for the rolling missile dropkick a second time. Cena side-stepped it, causing Theory to crash and burn. Cena immediately pounced, locking in the STF. Theory struggled for a few moments, but bit Cena's hand to free himself. He dropped Cena with a big elbow on the rebound. Theory waved his hand in front of his face as the match approached 6:30. He hit Cena with a trio of quick strikes, dropping him. Theory covered Cena with a single boot. John kicked out with ease.
Austin circled the ring as Cena writhed on the mat in the center. Theory hit a quick Snapmare and leaping stomp to the head. He continued to talk trash to the crowd. He shimmied his shoulders in mocking fashion. Theory went for another leaping boot, but Cena caught is foot. He pulled himself to his feet and scooped him up into position for the Attitude Adjustment. Theory fought out of it. Cena dropped him and covered for a quick two count.
"It's all day!" Theory yelled after regaining control with a clothesline in the corner. Cena fought out with a number of punches. Theory whipped him off the ropes and caught him in a Sleeper hold. Cena began to fade at 9:00. He began to fall to a knee, but held himself up. Theory, sensing the comeback, leapt onto Cena's back. John dropped to a knee, now carrying all of Theory's weight. He managed to return to a vertical base and back Theory into the turnbuckle. Cena hit the ropes and hit a pair of leaping shoulder tackles. Austin walked right into the spin-out slam. Cena threw up the hand, hit the ropes, and delivered a Five Knuckle Shuffle. Theory stumbled to his feet. Cena looked for the Attitude Adjustment. Theory grabbed the top rope to prevent the move. Cena ripped him away. Cena stumbled backward. Theory's feet kicked referee' Chad Patton, dropping him.
Cena immediately applied the STF. Theory tapped within seconds. Cena broke the hold, assuming he'd won. He quickly realized that there was no referee. Cena went to check on Patton. Theory recovered and gave Cena a low blow. He scooped him up and hit the A-Town Down for a cover and three count.
WINNER: Austin Theory in 11:19 to retain the WWE United States Championship
(LeClair's Analysis: I thought this was a decent enough opener, but it absolutely felt like an undercard match. Reminiscent, in a way, of Cena's opening bout with Baron Corbin at SummerSlam years ago. Neither man ever really got going. Cena seemed timid to try anything significant, and Theory's moveset seemed considerably tamed in comparison to what we generally see out of him. It just felt a bit phoned in. I didn't get the sense that Cena was particularly motivated to put Theory over in any significant way, and the finish felt like a punt on any real commitment to him as anything more than he is right now going forward. Theory won, but he did so by cheating immediately after a visual tap out. Michael Cole did his best to sell this like a big deal, especially comparing it to Cena's first U.S. title win against Big Show at WrestleMania 20. Ultimately, though, it just didn't feel very meaningful. Cena felt most invested when he was greeting Make-A-Wish kids during his entrance.)
-Corey Graves thanked The Weeknd for the official WrestleMania theme song. Michael Cole talked over an outdoor shot of SoFi Stadium and threw to the Xfinity "Highlight of the Night", a recap of last night's 4-way match previewing the men's tag team showcase.
-Titus O'Neil was introduced as a guest commentator for the men's tag team showcase match.
-Braun Strowman & Ricochet headed to the ring first, followed by the Viking Raiders. Cole and Graves asked O'Neil questions about potential strategies for the teams involved in the match. Alpha Academy entered next. The Street Profits came out last, receiving a significantly larger reaction than all the other teams. Graves said Angelo Dawkins is looking to "exercise some demons for his hometown Cincinnati Bengals" in SoFi Stadium.
(2) BRAUN STROWMAN & RICOCHET vs. THE VIKING RAIDERS (w/ Valhalla) vs. ALPHA ACADEMY vs. THE STREET PROFITS – Men's Tag Team Showcase match
Ricochet began the match with Chad Gable. He flipped toward Gable, who picked the ankle and immediately tried to lock in a submission. Ricochet used the ropes to climb up and free himself. Cole noted that there's no rope breaks and no disqualifications. Gable and Ricochet chain wrestled briefly. Gable leapfrogged out of his own corner. Otis tagged himself in and flattened Ricochet. The crowd liked it. Otis tagged Gable back in and fed Ricochet into a big shoulder tackle. Gable taunted Braun Strowman.
Before long, all eight men in the match leapt int the ring to stare each other down. A punch was thrown and the action broke down. Erik gave Strowman a spinning heel kick. Ivar flattened Angelo Dawkins. The Raiders gave Ricochet a German Suplex/springboard Clothesline combo. The dropped Montez Ford with the Ragnarok, then posed for the camera with Valhalla. They held the pose for several moments as Braun Strowman stood huffing behind them. He dropped both Vikings with ease and tossed them from the ring.
Chad Gable approached Strowman from behind. He backed him into a turnbuckle and executed a roll-through, bridging German Suplex for a massive pop. Strowman kicked out at one, but the crowd came to life. Gable climbed to the top rope, but Montez Ford tagged himself in. Ford climbed to the top rope. Ivar tagged him and shoved him to the mat. Ivar climbed the turnbuckle himself. He went for a massive Moonsault, but Ford moved. Strowman climbed the turnbuckle next. He nearly fell, but managed to hit a massive splash on Ivar for a cover and near fall. It was broken up by virtually every other man in the match.
The match crossed 5:00. Otis gave Strowman a massive Powerslam. He ripped off his shirt and danced. Otis climbed the turnbuckle, but ate a kick to the face from Montez Ford. Gable speared Ford on the top turnbuckle. He leapt up for a Superplex. Ivar joined, then Otis, then Erik. They backed into a big Tower of Doom, but Ricochet dove off the top for a Cross Body to complete the move. Bodies were strewn about the ring. Dawkins tagged himself in. Strowman knocked him off the apron. Braun leapt from the ring and began circling it, tackling wrestlers along his path. He made two complete trips around the ring before getting dropped by Angelo Dawkins.
Dawkins barely had time to celebrate. Ricochet came diving off the ropes with a Shooting Star Press. He tossed Dawkins back in the ring and went for another. Dawkins got his knees up. He held Ricochet in place long enough for Montez Ford to hit a massive frog splash from the adjacent turnbuckle. Dawkins rolled Ricochet over for a cover and three count.
WINNERS: The Street Profits in 8:27
(LeClair's Analysis: This felt a lot like something you'd get out of AEW's tag team division. Fast and furious from the opening bell with minimal attention paid to tag rules. Chad Gable looked like an absolute star, landing a huge German Suplex on Strowman for a huge pop. The crowd was into he and Otis, but were most invested in the Street Profits. The attention seemed to be more on Dawkins than Ford, a significant departure from their usual booking. Dawkins' getting to cut off Strowman's freight train and drop him was an impressive sight. This didn't overstay it's welcome, and the right team win. All eight guys looked incredibly motivated. Thumbs up all around.)
-After a break, Michael Cole announced Seth Rollins vs. Logan Paul would be next. First, though, he tossed to Xavier Woods backstage. Woods stood around a monitor with Liv Morgan, Tyler Breeze, Ridge Holland, and Butch. They simulated the Rollins vs. Paul match in WWE 2K23. Woods found that Rollins won 58% of the time. He tossed to a video package hyping the real life match.
-The camera cut to a close-up of Logan Paul's face. "City of Angels, did you miss me?" he asked. He was hoisted into the air. Paul, still mic'ed up, said he got a zip line for his birthday. He rode it to the bottom of the ramp, still shouting. A Prime Energy drink mascot emerged from the stage and accompanied Paul to the ring. The crowd booed him heavily.
An orchestral conductor was introduced to lead the crowd in a massive rendition of Seth Rollins' theme song. Seth's recorded theme eventually hit, and Rollins emerged wearing a flowing, oversized red coat with a massive chase. He removed the layers as he danced down the ramp, egging the crowd on to continue their singing. Logan Paul yawned as Rollins posed in the ring. Seth closed his eyes and soaked it in.
(3) SETH ROLLINS vs. LOGAN PAUL
Logan Paul bounced in the corner, smirking at Seth Rollins. The two met in the center and locked up. Rollins wrestled Paul into a disadvantage, then backed away. The crowd serenaded Rollins again. Logan grabbed a quick side headlock. Rollins used the ropes to break out. He dropped down over Paul, leapfrogged him, then caught him with a quick kick to the midsection. Rollins went for the Stomp early. Paul moved in a hurry, selling the close call with his eyes.
The two traded quick drop downs. Paul tossed Rollins over the top rope to the floor. Cole noted that it's reminiscent of Paul eliminating Rollins at the Royal Rumble. Seth slid back in the ring and pounced on Paul, getting a few punches in before Logan rolled to the apron. Seth held onto Paul's hair. Logan guillotined him over the top rope. Logan hit a Buckshot Lariat and shrugged. He let Rollins pull himself to his feet. Paul cocked his fist. Seth covered up his head, so Paul went low to the ribs. Cole and Graves noted that Paul's hand has a titanium screw in it, and he's already knocked Rollins out with it.
Paul kicked at Rollins' ribs. He scooped him, but Rollins elbowed free. Paul leapt to the middle rope and hit a quick cross body for a cover and two count. Paul turned Rollins into another cover. Seth kicked again. Paul twisted Rollins' arm and delivered a side Russian Leg Sweep. Paul held on and applied a seated Octopus Stretch. The match crossed 5:30 as the crowd tried to will Rollins back to life. Seth managed to remove Paul's leg from the back of his head and break the hold. The two began slapping and elbowing each other in the chest from the mat. They fought to their feet. Seth missed wildly with an open hand strike. Paul turned it into a Gutwrench Suplex for a two count.
"I am shocked," Graves said, "Seth Rollins has been overwhelmed so far." Cole noted that Paul has mounted significant offense in all of his in-ring appearances. Paul leapt straight to the top rope and went for a Moonsault. Rollins moved. Logan retreated to a corner. Seth went after him. He fired off quick punches, then delivered two clotheslines in quick succession. Rollins tossed Paul over the top rope to the floor. He looked around at the stadium crowd. They began serenading him again. Seth got a full-ring running start and dove on Paul through the middle rope. He leapt back in the ring and did it a second time, then a third. The crowd came to life. Rollins looked to them for energy.
Rollins stalked Paul. Logan was slumped over the ring steps. Rollins stomped Paul's foot. Logan tried to create separation, sliding into the ring. Seth followed and set his opponent up for the Pedigree. Paul dead-lifted Rollins out of the move and the two began a series of chain roll-ups for alternating two counts. Paul eventually broke the stalemate and caught Seth with the right hand to the face. Rollins dropped. Paul covered for a very near fall at 10:07.
Paul crouched in the corner as Seth rose slowly. Logan charged, appearing to attempt Seth's Stomp. Rollins popped him up into the air and delivered a sit-out Powerbomb for a near fall. Rollins retreated to the corner, sizing Logan up. The Prime Energy mascot pulled Logan Paul to safety on the outside. The mascot pulled its face covering away, revealing himself to be KSI, Paul's business partner. Rollins rolled out of the ring and grabbed him. Paul attacked Seth from behind. He cleared the Spanish announcers desk. KSI filmed the downed Rollins as Paul climbed the top turnbuckle, drinking one of his own energy drinks.
At the last moment, Rollins exploded to life and pulled KSI into his spot. Paul had already leapt from the top. Logan hit his buddy with a massive Frog Splash off the turnbuckle, through the Spanish announce desk. Rollins quickly tossed Paul in the ring and delivered a Pedigree for a very near fall. The crowd began singing again. Rollins hit Paul with a rolling elbow, then a Ripcord elbow to drop him. He stumbled into the corner and went for the Stomp again. Logan picked Rollins out of the air and hit him with a Go-to-Sleep. Paul was momentarily stunned. He eventually climbed to the top rope and hit Rollins with a huge Five-Star Frog Splash. He covered for another very close near fall.
"This is WrestleMania, this is Seth Rollins' world!" Graves exclaimed. Paul stomped at Rollins as the match crossed 15:30. Seth clutched his ribs in the corner. Paul climbed the adjacent turnbuckle. He dove coast-to-coast, but Rollins popped to his feet and caught Paul with a Superkick in mid-air. He immediately followed up with the Stomp for a cover and three count.
WINNER: Seth Rollins in 16:15
(LeClair's Analysis: Every time, Paul delivers. He'd already more or less cemented himself among the best non-wrestler wrestlers of all time. This match continued to cement that legacy. I don't know what Paul's longevity in the wrestling business will be, but he's naturally gifted at all the things that make a wrestling star a star. Paul's not an easy guy to like, but he's certainly easy to appreciate in the ring. Rollins was a great opponent for him, and their meshing of styles was evident as soon as the match got underway. The hot crowd helped propel this to even greater heights. Paul got all his major spots in, delivering signature moves from a handful of wrestlers and doing each one a fair bit of justice. It was Rollins' connection with the crowd, though, that really held this one together and carried it from one big moment to the other. Seth's multiple attempts at the Stomp built into a great climax at the end, where the crowd knew it was finally coming and that it would put Paul away. A fitting and very entertaining attraction style WrestleMania match that showcased both men appropriately.)
-Cole tossed to a commercial break for regular Peacock users, and a video package hyping the 6-women tag match for Premium users.
-Damage CTRL headed to the ring first, Bayley flanked by Dakota Kai and Io Sky. Cole noted that it's been three years since Bayley's last match at WrestleMania. Just as Damage CTRL posed on the apron, the broadcast faded out to show a comic-styled intro for Lita, Trish Stratus, and Becky Lynch. The live broadcast returned, void of color, with AR rain drops filling the screen. Lita entered first. She stopped atop the ramp to welcome Trish Stratus, who posed on each side of the massive stage. Becky Lynch entered last, holding up her Women's Tag Team title. Lita and Trish returned to frame at her sides, and color returned to the screen. The trio headed to the ring as Mike Rome introduced them.
The six women came face-to-face in the ring, almost immediately coming to blows. The heels were tossed haphazardly from, the ring. Becky gave Dakota Kai a quick baseball side, then went outside to toss her in the ring. The referee then rang the bell.
(4) DAMAGE CTRL (Bayley & Dakota Kai & Io Sky) vs. BECKY LYNCH & LITA & TRISH STRATUS – 6-Women Tag Team match
Becky Lynch and Dakota Kai threw a flurry of quick strikes before backing into the heel corner of the ring. Kai tagged Io Sky in quickly. Sky immediately went to work cutting Lynch off from her corner. Lynch tried to break free of a leg hold with an Enziguri, but Io had her telegraphed. She dropped Lynch, then headed to the apron to hit a springboard splash. Sky tagged in Kai. Bayley joined them for a triple team Neckbreaker. Kai covered Lynch for a two count.
Kai mocked Lita and Trish Stratus as Lynch reached to them for a tag. She tossed Becky back to the heel corner and caught her with a running boot. Kai covered for another two count, then tagged in Bayley. Bayley mocked the Team Xtreme thrust taunt and stuck her tongue out at Lita. Bayley tagged in Kai. Lynch tossed Bayley from the ring. Kai tripped up Lynch. Becky crawled to her corner for a tag. She leapt toward Trish, but Bayley pulled her from the apron at the last moment.
Dakota and Io continued to work Lynch over. Kai wound up on the apron, charging. Lita caught her with a clothesline, buying Lynch some time. Becky tagged her in. Lita gave Io a clothesline, then a quick 'rana. She tripped her into the turnbuckle and got a running start for a knee to the back of the head. Lita and Sky traded standing switches as the match crossed 4:45. Lita hit Vertigo and covered Sky for a near fall. Sky countered an Irish Whip into the corner. The two got tangled in the ropes. Lita used her legs to slam Sky to the mat. Dakota Kai kicked Lita in the head and off the turnbuckle while Sky tied up the referee's attention.
Bayley tagged in and Damage CTRL hit three simultaneous kicks to the head. Bayley covered for a near fall. She tossed Lita toward the corner and she and her partners posed to a chorus of boos. Sky tagged in and cranked Lita's head against the middle rope. Dakota tagged in and dragged Lita into a cover for two. Cole and Graves noted that Trish has yet to be involved in the match, which had now crossed 7:20. Bayley and Sky went for a double Suplex on Lita, but she rolled through it and planted the duo with a double DDT. Lita crawled and made a tag to Trish Stratus.
Stratus dropped Io Sky, then gave Dakota a Thez-Press. She chopped at Kai in the corner. She licked her hand, gave Bayley a double thumbs-down, then gave Kai a big chop to the chest. She used Bayley's body on the apron to climb up into a Bulldog on Kai, covering for a two count. Trish and Kai worked to the corner, and up to the turnbuckle. Bayley and Sky returned to pull Trish off the turnbuckle and apron. Bayley and Lita got involved, setting up a Tower of Doom of sorts on the apron to the heels on the outside. Stratus and Kai returned to the ring. Trish tagged in Lita and served as the base for Poetry in Motion. They tagged in Becky, who hit a Leg Drop from the middle rope. Lynch covered for a near fall.
Beckly immediately applied the Disarm-Her on Kai. Bayley and Sky broke it up before too long. They pulled Trish and Lita to the mat, leaving Lynch by herself. Bayley dragged Kai to her own corner to tag herself in. Becky and Bayley traded blows. Lynch begged her to bring it. Bayley went for the Rose Plant, but Lynch blocked it and hit the B-Exploder. Bayley recovered and shoved Lynch toward the ropes. Sky caught her with a cheap shot. Bayley hit the Rose Plant and covered Becky. Lita broke up the pin.
Kai entered the ring. Trish jumped in and gave her Stratusfaction. Lynch rolled up Bayley for a near fall, then tossed her to the outside. Five of the six women wound up strugging to their feet on the camera side of the floor. Io Sky emerged, climbing to the top turnbuckle and diving into a crowd below. The referee counted the women, but all six reached the mat at eight. Graves noted that Lynch and Bayley are still the legal competitors.
Each team retreated to their respective corner as the match crossed 13:30. All six women entered the ring and came to blows in the center. "To hell with the rule book, let them fight!" Graves exclaimed. Lita hit Sky with a Twist of Fate. Trish caught Kai with the Chick Kick. Lita gave Kai and Sky her signature Moonsault. Meanwhile, in the opposite corner, Bayley set Lynch up for an avalanche Bayley-to-Belly. Lynch blocked it and hit the Man-Handle Slam from the top rope for a cover and three count.
WINNERS: Becky Lynch & Lita & Trish Stratus in 14:38
Cole said "we're back to the future at WrestleMania" as the three women posed on turnbuckles and celebrated with the crowd.
(LeClair's Analysis: I thought this worked quite well. The early going felt a little bit slow, but I thought they did a nice job saving Lita and Trish's appearances and hot tags for deeper in the match, allowing Becky to work the meat of the opening minutes and get worked over the heels who should logically have far better tag team strategy. Dakota Kai and Io Sky carried the thread of this match and did so with impressive precision. Lita and Trish both hit their spots well, and though the crowd felt more subdued here than at any other point tonight thus far, they did come alive for the bigger moments and the more heavy-hitting showdowns between Lynch and Bayley. The cliche breakdown of action at the end felt a little calculated, but I liked that it lead right into a more natural finish with the two legends hitting their finisher before the star, Becky Lynch, countered Bayley in the midst of an exchange for a big finisher from the top rope. This was exactly what it needed to be – the overwhelming theme of the night.)
-After a break, Cole turned focus to Rey vs. Dominick. He said we'll see a father vs. son match for only the second time in WWE history. He called it the "disintegration of an all-American family" before tossing to a lengthy video package recounting their story all the way back to Dominick's debut.
-Samantha Irvin introduced Bad Bunny, who joined the Spanish announce team for the upcoming match.
-A vignette aired showing Dominick Mysterio, in full wrestling gear, being released from a jail cell and led into a prison van by a number of guards. The van drove out of frame, and the shot faded back to the arena. The correctional fan backed into SoFi Stadium. Officers spilled out of the sliding door and the camera peeled in to reveal Dominick Mysterio, wearing his father's mask, handcuffed and hunched over. He emerged from the van and walked through the crowd, surrounding by guards.
Cole railed against Dominick while Graves went to bat for him. Dominick posed on the turnbuckle in front of his mother and sister. The camera cut to the back, where Rey Mysterio was seated in the passenger seat of a low rider, driven by Snoop Dogg. Snoop drove it through the same entrance Dom had just come through. Eddie Guerrero's music played to a massive pop from the crowd. Rey used the regaled steps of the stage to climb to the ramp as the speakers crossed to his music. Snoop held up his gold WWE title as Rey pointed to him.
Mysterio circled the ring and gave a quick handshake to Bad Bunny at ringside. The ringside LED boards turned into an advertisement for Cinnamoji Toast Crunch.
(5) DOMINICK MYSTERIO vs. REY MYSTERIO
Dominick Mysterio shoved his father, Rey Mysterio as the bell rang. Rey and Dominick locked up and jockeyed for position. Dom got the advantage over his father, dropping him to the mat. Dominick climbed the ropes and posed toward the crowd, who pelted him with boos. Dom wrestled Rey to the mat out of a waist-lock. Rey returned to his feet quickly and spilled Dom the floor. Rey challenged him to return to the ring. Dom slid in quickly, but Rey remained in control, sending Dom to the ropes and catching him with a Hurricanrana. Dom stumbled to the corner and begged off.
Rey tossed Dom into the turnbuckle. His shoulder crashed into the ring post. Rey removed his belt and cracked it over Dom's backside repeatedly. Dominick fell to the outside in horror. He turned his attention to his mother and sister. He took Aliyah's red solo cup and splashed its contents in her face. Rey grew incensed. He jumped to defend Aliyah. This allowed Dom to attack him from behind and retake control. Dom slammed Rey off the ring apron, then tossed him in the ring. He stepped over Mysterio's downed body and posed on the turnbuckle again, soliciting more boos.
The match crossed 5:15 as Dominick applied an abdominal stretch to his father in the center of the ring. Cole wondered what will happen if Dominick wins. Mysterio fought out of the hold and hit the ropes, dropping under Dom's feet and tying his arms up. Mysterio leapt to the top rope, but Dom held on and gave him an arm drag. He pulled his father into a sit-out driver for a cover and two count. Dom guillotined Rey across the top rope, leaping to the floor himself. He dragged Rey to the floor and blew his nose on him. Dom returned to his family at ringside, this time focusing on his mother. He told her to shut up again. Angie slapped him in the face. Rey returned to slam Dom into the ring post. He gave Angie a kiss, then tossed his son into the ring.
Mysterio caught Dom with a seated Senton off the top rope. He followed up with a standing cross-body for a cover and two count just as the match passed 8:00. Dom recovered enough to whip Rey to the ropes. Mysterio leapt over him and rolled him into a cover for a two count. Rey played to the crowd and willed Dominick to his feet. He gave him a kick to the gut and set up for the Three Amigos. Dominick blocked it and shoved him toward the corner. Damian Priest and Finn Balor appeared at ringside.
Rey charged at his son, but Dom flipped him up into Powerbomb position and tossed him over his head. Rey hit the top turnbuckle hard and collapsed. Dom set up for his own iteration of the Three Amigos. He hit the first, but Rey slid down the back on the second. He tripped Dom into position for the 619. Rey hit it. He climbed to the top rope. Finn Balor leapt onto the apron, grabbing the referee's attention. Meanwhile, Damian Priest held Rey's leg and tripped him off the ropes. Rey and Dom struggled to their feet at 11:15. Dom whipped Rey chest first into the turnbuckle. Rey stumbled backward and Dom tossed him to the floor. Judgment Day surrounded Mysterio.
Legado Del Fantasma exploded onto the screen, attacking Judgment Day. Santos Escobar dove through the middle rope, taking out Damian Priest. After a flurry of action, Dom and Rey were left alone in the ring again. Dom catapulted Mysterio into 619 position. He hit the move, then climbed to the top rope. Dom straightened out on the top rope as the camera pulled back. He hit a massive frog splash for a cover and very near fall.
While Rey writhed on the mat, Dominick removed a turnbuckle pad. The referee admonished him and went to replace it. Dom used the distraction to retrieve a chain. He wrapped it around his fist and cocked it back, but Bad Bunny ripped it from his hand. Dom was spun around by the momentum. Rey kicked him in the back, draping him over the middle rope. He hit another 619, then a splash from the top rope for a cover and three count.
WINNER: Rey Mysterio in 14:30
(LeClair's Analysis: It felt like some of the seriousness of this match was undermined by the advertisements all over the LED boards, but, ultimately, I thought it rose to a level good enough to overcome that. No surprise that this contained a multitude of shenanigans from the Judgment Day, Legado Del Fantasma, and the Mysterio family. Aliyah and Angie's moments were small, but hugely beneficial to the story of the match. Dominick was delectably awful, as he's been throughout this entire run. The entrance was so ridiculously corny and absolutely perfect for his character. Rey's homage to Eddie Guerrero on the heels of an emotional Hall of Fame speech was an excellent touch. The presentation certainly helped this match feel like a big deal. I think the finish is certainly important to note, given Bad Bunny's involvement in next month's Backlash Premium Live Event. It seems likely now that he'll be involved with the Judgment Day in some way at that event in Puerto Rico. This match didn't need to be well-wrestled or technically sound to be a success. It was predicated entirely on selling Dominick's despicable, low-life and completely out-of-touch with reality character and seeing his father deliver him some serious comeuppance. Both men were up to the task and delivered in spades.)
-Cole showed reaction of fans watching live in Germany. He then threw to a commercial for regular Peacock users, and a video package for the Smackdown Women's title for Premium users.
-The camera showed San Francisco 49er's tight end George Kittle in the front row.
-Rhea Ripley entered first to a star reaction. Fire shot from the expansive stage as she stomped her foot. Graves said Ripley is much different than the first time she faced Flair. He said she's "laser-focused on dethroning the Queen." Charlotte Flair's music hit and she strolled onto the stage, captured by a wide shot that brought her slowly into focus. Flair stopped halfway down the ramp to pose for a large fireworks display. Cole noted that no woman in history has more WrestleMania wins than Charlotte Flair.
Ripley was undeterred by Flair's lavish entrance. She begged her to get into the ring quickly. Samantha Irvin delivered championship match introductions.
Michael Cole noted that everyone involved in the match is female, for the first time in WrestleMania history. Joining Ripley and Flair were ring announcer Samantha Irvin, and referee Jessika Carr.
(6) CHARLOTTE FLAIR (c) vs. RHEA RIPLEY – Smackdown Women's Championship match
Charlotte Flair and Rhea Ripley circled one another with hesitation. They locked up for the first time over one minute into the match. After trading quick rope bounces and drop downs, Rhea dropped Flair with a shoulder tackle. She mimed "suck it" at the champion. Flair kipped up and the two hit the ropes again. Flair tossed Rhea to the floor. The camera closed in for a close up on Ripley's face. She showed a little frustration before sliding back into the ring to stand face-to-face with the champ.
"You think you're the Queen, huh?" Ripley poked at Flair's chest. She punched her into the corner. Charlotte quickly fought out. She flipped to the apron and caught Ripley with a boot to the face. Charlotte climbed to the top turnbuckle and hit Ripley with a high cross-body. The two women stumbled to their feet and battled into the corner. Flair folded Ripley's leg and hooked her ankle on the middle rope. She looked like she planned to stomp it, but Ripley broke free and dropped Charlotte violently onto the turnbuckle. Referee Jessika Carr checked on the champion while Ripley shrugged off Flair's offense.
The two traded quick punches again. Ripley tossed Flair into the middle turnbuckle, creating whiplash on contact. Ripley wrapped her legs around Flair's waist and squeezed the breath out of her. She drove her elbow into Charlotte's upper back. Graves noted that, while the champion isn't in any real danger of losing the match at the very moment, she is being forced to use crucial energy to pull oxygen, thus weakening her for Ripley later. Ripley continued to pound on Flair. Charlotte missed wildly with a chop. Ripley used the open stance to hit a quick release German Suplex. She sat up and looked around.
A wide shot crawled slowly around the stadium as Ripley talked trash and the match approached 7:30. Flair fought to her feet and caught a spinning back elbow. She pulled Rhea's face into the top turnbuckle then called for her to stand. Charlotte dropped her with two quick clotheslines. The crowd booed her. She began chopping the challenger. Rhea collapsed against the ropes, chest open for more damage. Rhea backed into the corner and slumped over to protect herself. Flair pushed open and chopped her again. She draped Ripley's leg on the bottom rope and jumped on it. Rhea grabbed at the leg. Graves said she's setting her up for the Figure 8 later.
Dueling chants broke out in the stadium as Flair climbed to the top rope again. She went for another cross body. Rhea rolled through it, holding on and hoisting Flair into Powerslam position. Flair elbowed herself free. Ripley wasn't fooled. She hooked Flair into position for Riptide. Rhea got her up, but Flair spun out of it and pulled Ripley into a spike DDT, popping the crowd. Flair began to show serious frustration. She rolled Ripley up for a two count.
Both women rose to their feet quickly and charged, thinking (and landing) simultaneous big boots. With both women down, the camera pulled back again long enough for Cole to tout the crowd and reset the stage. Flair and Ripley traded punches again at 11:30. Ripley stepped on Flair's foot, then slammed her face into her knee. Flair shook it off and hit Ripley with a capture Suplex. She kipped up and raised her arms, eliciting boos.
"This is what Charlotte Flair lives for," Graves proclaimed as Flair stepped on Rhea en route to the top rope. She was poised for a Moonsault, but Rhea leapt to the ropes to meet her. Flair elbowed her to the mat. Ripley wouldn't go away. She leapt to the ropes again, this time capturing Flair by the waist and delivering a release German Suplex off the middle rope. Flair rotated completely, landing on her stomach. Ripley covered for a near fall.
The champion rose her feet. She stomped on the back of Ripley's leg and hit a quick Natural Selection. Ripley smartly rolled to the floor to avoid a cover. Referee Carr counted to five before Flair went out to retrieve Ripley. She charged at the challenger, but Rhea side stepped and sent Flair crashing into the ring steps. Rhea tossed Charlotte back in the ring and hoisted her up for a back drop. At the last moment, she flipped Flair forward and dropped her on her stomach.
Ripley dragged Flair to her feet by her hair. She set up for Riptide again. Flair blocked it and hit a German Suplex. Rhea stumbled into the corner. Flair grabbed her waist again. Ripley tried to hold onto the turnbuckle to block, but Flair powered her free and hit a second German Suplex. They traded standing switches. Ripley got the upper hand and hit another German Suplex. This time, Flair landed right on her face in a nasty-looking spill. Flair still powered to her feet and dropped the challenger with a big boot. She covered for a near fall.
The bridge of Flair's nose was scraped and bleeding just a little. She wiped at it, then went to apply the Figure Four. Ripley kicked her away. Flair still shoved Ripley to the floor. She climbed out onto the apron, a sinister look in her eye. Flair climbed the turnbuckle and the crowd rose to their feet. Flair hit her signature Moonsault to the floor, mostly missing Ripley. The champion tossed Ripley into the ring and went for the Figure Four again. Ripley kicked her away. Flair stumbled, nearly toppling into Jessika Carr. Ripley used the misstep to crack Flair with a massive headbutt. She pulled her in and hit Riptide, folding her up for a pin and believable near fall.
Champion and challenger fought to their feet slowly. Flair rolled up Ripley for a two count. Ripley held on on the break and hoisted Flair into the air for the inverted Cloverleaf. Flair screamed in agony. She extended her arms fully, using her reach to grab on and break the hold. Ripley let go. Flair exploded out of the corner with a Spear. She hooked the leg for another believable near fall. Charlotte sat up, utterly confused. She took a moment to herself before turning back to Rhea and giving her a hard elbow. Rhea delivered one of her own. The two began slugging it out. Ripley broke the stalemate with a side kick to the head. Charlotte responded with a big boot.
Flair quickly applied the Figure Four. Before she could bridge, Ripley reached out and grabbed the ropes at the 22:00 mark. The challenger rolled to the apron. Flair sat back on her knees, bearing her teeth and breathing hard. She pounced, slamming Ripley into the ring post. She climbed to the middle rope, bringing Ripley with her. Flair dragged her challenger over the ropes. Rhea gained her footing enough to chop Flair and slam her face off the flat top of the ring post.
Ripley climbed the turnbuckle. She hooked Flair and delivered an avalanche Riptide off the top rope, hooking Flair's leg for a definitive three count.
WINNER: Rhea Ripley in 23:34 to win the Smackdown Women's Championship
The camera focused on Charlotte Flair on the floor at ringside. She had a look of pure pride and respect for Ripley. The new champion got a pyro celebration in the ring and massive ovation from the crowd. Flair clapped for her as she posed on the turnbuckle.
(LeClair's Analysis: Brilliant. I'm often critical of the Charlotte Flair character, and I frequently find that her TV matches, in particular, come off feeling a little too formulaic and same-y. This was not only a departure, but a smashing success. My knee jerk reaction is to say it's one of the best performances of her career, but I'm already quite-confident that it's true. It may even be her best. Flair felt like the gritty veteran doing anything she could to survive against the much-improved challenger she'd once bested. Ripley was a clear and obvious star-in-the-making, relying entirely on her own character and incredible in-ring work to tell a main event caliber story without the need of her Judgment Day cohorts. The two women built excellently to a massive crescendo of major offense after beating one another with stiff offense throughout. What felt like a tired crowd at the beginning soon came to life as the stakes rose and the moves got bigger. Unfortunately, WWE's character designation did not jive with the crowd's wishes, which hurt the match's overall reaction. Despite coming alive as the match progressed, it never felt like they were able to evoke the full-throat endorsement of the crowd because interests were misaligned. A better, more concise story and properly aligned babyfaces and heels could've made this a classic women's match. Even as it stands, I wouldn't argue adorning it with such praise. It was truly excellent.)
-Byron Saxton stood backstage to interview Austin Theory. He asked the U.S. Champion where his head is at following his historic win. Theory said he said it, he did it, and he made John Cena believe. "Do you believe in Theory now?" he asked, laughing as he walked off-screen.
-The Miz and Snoop Dogg stood in the ring to announce night one's attendance of 80,497. Snoop said the only thing better than that would be if Miz had a match tonight. Miz agreed. He said he sent out a text, a few emails, a text, a tweet, and posted on MySpace. He said no one responded, because everyone is afraid of him. "Everyone in this stadium knows I'm the toughest man here." He hit his "awesome" line.
Suddenly, Pat McAfee's music hit. Pat skipped onto the stage. Cole exploded with excitement. Graves was enraged. Cole said he and Pat are the only two undefeated announcers in WrestleMania history. He told Cole to go referee the match. McAfee danced in front of Miz and asked for a microphone. He said hello to the crowd and shook hands with Snoop. He greeted Miz. McAfee said he lives on the Internet, and no one saw the open challenge.
"Good news!" McAfee said, "this is my WrestleMania tank top." He offered to give The Miz a match. Miz asked the crowd if they wanted to see it. They cheered. So did Cole. Miz said there's nothing he'd rather do than whip McAfee right now, but he doesn't have the power to make matches official. McAfee initiated a "tiny balls" chant. Pat said someone in the building must be able to make the match official. Snoop Dogg said, as the "Dogfather", he can do it. A referee entered the ring. Snoop told Miz "this is what you do," and left the ring.
(7) THE MIZ vs. PAT McAFEE
The Miz yelled at Snoop Dogg while Pat McAfee stalked in waiting. He dropped Miz with a clothesline, then gave him a big Spinebuster. Miz stumbled into the corner. McAfee hoisted him onto the top turnbuckle. Pat climbed to the top rope, looking for a Superplex. Miz punched himself free, but McAfee flipped off the top and landed on his feet. Miz dove off the top and ate a Superkick from McAfee. Miz rolled to the outside, begging for mercy.
Graves begged Miz to pull himself together. He told him to "think big." Miz thought it through, then decided to leave. He saw George Kittle in the front row and gave him a little shove. Kittle hopped the barricade and gave Miz a big clothesline. Kittle told McAfee to climb the turnbuckle. Pat did it, playing to the crowd before hitting a massive Swanton Bomb onto a standing Miz on the floor. McAfee shared a body-check with Kittle. The duo tossed Miz in the ring.
McAfee willed the crowd to life as Miz slowly rose to his feet. Pat cocked his leg and punted Miz in the head for a cover and three count.
WINNER: Pat McAfee in 3:33
George Kittle rushed into the ring to celebrate with McAfee. Graves said he's petitioning to the board to have the match wiped from the record books.
(LeClair's Analysis: I know a lot of people dislike McAfee shtick, but I'll contend he's a fun addition to things when he's plugged in and focused. If he's not going to be a regular on commentary, I think these small doses at major events are a fun way to keep him involved. Miz certainly doesn't lose anything at this stage of his career by being embarrassed by McAfee, and the crowd enjoyed his surprise appearance. Pat's signature offense is fun, and, like Logan Paul, he's much better at this than he really has any right to be. George Kittle's involvement worked well, too. I'd always prefer to keep this kind of stuff away from talent the company is heavily invested pushing at a major level, but at this stage of his career, this type of fodder is great for Miz and he's an excellent foil for the McAfee types. By this point, the show was running a little long and I don't think this was ultimately necessary, but it was short and inoffensive enough to serve as a breather between the two major matches on the card.)
-A video aired to promote WrestleMania XL in Philadelphia.
-Cole and Graves tossed to a video package for the main event
-Mike Rome introduced Lil Uzi Vert for a musical performance. He served as a lead-in for The Usos music. Jimmy and Jey strutted onto the stage in fresh white gear, clanking their tag team titles and riling up the crowd. The camera cut to an outside shot of SoFi stadium, where the AR statues of Jimmy and Jey were superimposed flanking the SoFi logo.
Kevin Owens entered next. The broadcast cut to several fresh wide-shots showing angled looked as at the entrance as Owens stomped from side to side, soaking in the energy from the crowd. He stood in the center of the stage and looked back to welcome his best friend. Sami Zayn's music hit and the crowd roared to life, singing along as he danced crazily onto the stage. You could feel the anticipation oozing out of both he and Owens as they walked down the ramp with pride and purpose.
Mike Rome delivered a championship introduction to massive reactions from the crowd.
(8) THE USOS (c, Jimmy & Jey) vs. SAMI ZAYN & KEVIN OWENS – Undisputed WWE Tag Team Championship match
Sami Zayn and Jimmy Uso kicked off the match. Jimmy jawed at Sami. He turned his back to his former teammate and talked up his brother, Jey. Jey held out his hand and accepted a tag. He stepped to Sami in the middle of the ring. "I'm right here!" he barked. Jey and Sami locked up. Jey worked Sami to a knee. Sami worked him off the ropes, but got dropped with a quick shoulder tackle.
Zayn and Jey circled one another again. They locked up in the center, then hit the ropes. Sami leapt onto Jey with a press and fired off lefts and rights blindly. Jey covered up, blocking most of the damage. He returned to his feet and backed into the ropes. Jimmy tagged himself in, then pulled the rope to dump Sami over the top on the counter swing. Jimmy leapt to the floor and slammed Zayn into the ring post. He slid in the ring just long enough to tag his brother. Jey got a running start and dove through the ropes onto Zayn. KO leapt down from his corner to ensure the Usos didn't engage in any double team offense on the floor.
The two legal men returned to the ring. Jey draped Sami over the middle rope and clubbed his chin with an open forearm. As the referee pulled Jey away, Jimmy kicked Sami in the face. Jey stretched Sami out with a leg lock. He reached out and tagged Jimmy, who taunted Kevin Owens and continued to work over Sami. Jey tagged back in at the 5:00 mark. He and Jimmy dropped Zayn and Jey covered for a two count.
Sami crawled to the corner, reaching for Owens. Jey stared down Kevin as he applied a chin lock on Zayn and kept him far from a tag. Sami managed to sidestep Jey, sending him over the top rope. He crawled to the corner and reached Owens. KO immediately leapt to the top rope. He hit a rolling Senton off the top onto both Usos on the floor. He tossed Jey in the ring, then climbed to the apron to give Jimmy a big frog splash. Owens immediately jumped back in the ring, climbed to the top turnbuckle, and hit Jey with a frog splash for a cover and near fall.
Owens and Jey battled to their feet. Jey hoisted Owens up for a backdrop, then spun out into a Neckbreaker for a cover and two count. He brought Owens to the corner and set him up on the top turnbuckle. Jimmy tagged himself in, but Owens didn't notice. Owens shoved Jey off the top and caught him with another frog splash. KO was immediately hit with an Uso Splash from Jimmy, who covered for a near fall.
KO retreated to the corner. Jimmy set up for the running hip check, calling to the crowd. Owens moved. He set Jimmy up and hit the rolling Cannonball. Jey leapt onto the apron. Sami met him, delivering a Brainbuster onto the apron. KO hit a Swanton on Jimmy for a cover and near fall. Owens tagged in Zayn. Sami climbed to the top rope and hit an Uso Splash of his own as the match crossed 10:00. He covered for another near fall.
The crowd came to life with an "Ole" serenade. Cole said that El Generico would be proud. Zayn set Jimmy up for a Blue Thunder Bomb. Jimmy blocked it and reached out to tag Jey outside of Sami's view. Zayn pulled him back in and connected with the Blue Thunder Bomb. He sat in the pin, not realizing Jey was legal. Jey caught him with a Superkick to the side of the head. He covered for a two count. Jey called Zayn to his feet. He gave him another Superkick, then ripped his shirt off, tossing it at Sami. Jey tagged Jimmy. Jimmy gave Sami a Superkick. Jey gave Sami a Superkick. The Usos gave Sami tandem stereo Superkicks. Jimmy covered, but Owens broke it up. He ate a Superkick from Jey for his trouble.
The champions helped Sami to his knees, circling their prey. They hit Superkicks to opposing sides of Zayn's head. Jey covered cockily. Zayn barely kicked out. The match ticked past 13:15. Sami reached up to a phantom presence. Jey shoved his hand down viciously. The brothers looked at each other. Jey tagged Jimmy and the duo hit double Superkicks again. Zayn looked rocked. Jey tagged in and the brothers lifted Sami to his feet by his hair. They looked for the 1-D, but Owens tripped up Jimmy as he hit the ropes. Owens pulled Jimmy to the floor and smashed his head on the Spanish announce desk repeatedly. He tossed Jimmy onto it and climbed up to meet him. Owens seemed poised to hit the Pop-Up Powerbomb, but Jey rushed to the outside to save his brother. He grabbed Owens leg and the two pounced. They lifted Owens into the air and slammed him through the adjacent announcers desk.
With Owens down and out, the Usos returned to the ring to stalk Sami Zayn. They hit the 1-D and Jimmy hooked the leg. Sami just managed to kick out. Cole was shocked. "Nobody has ever kicked out of the One and Done, not ever!" he exclaimed. Graves said he can't believe it. They showed a replay so the announcers could further their astonishment. Both Usos looked amazed. Jey tagged in. He shoved Sami into the corner and began yelling at him. "I called you my brother!" he said. Jey delivered violent elbows to Zayn's face. Cole called it "sickening brutality." Graves said the Usos are trained assassins.
Sami collapsed in the corner. He couldn't get his feet under him. Jey looked around at the crowd with contempt, then charged. He hit Sami with a Heluva Kick. Zayn collapsed into Jey's arms. "You should've never left the Bloodline, bruh!" Jey yelled. Zayn sprang to life. He hugged Jey and gave him an Exploder Suplex into the turnbuckle. Just then, KO climbed gingerly onto the apron. Sami leapt to him and tagged in. Owens gave Jimmy a Pop-Up Powerbomb. Jimmy fell into the corner. Sami delivered a Heluva Kick. Jey stumbled into Owens' purview. KO gave him a Stunner and hooked the leg for a believable near fall just before 19:00.
The challengers helped one another to their feet, beaten and battered. Jimmy and Jey rose to meet them. The crowd was in a frenzy. "Let's end it!" Owens yelled. He and Zayn pounced. There was a flurry of punches from both teams. KO Superkicked Jey. Jey fell into the ropes. Jimmy tagged himself in. The Usos caught Owens with tandem Superkicks. Sami jumped to the apron. They Superkicked him to the floor. Jimmy and Jey climbed to opposing turnbuckles and hit Owens with stereo splashes. Jey hooked the leg for the nearest of near falls. The crowd erupted. Jimmy cupped his hands over his mouth in shock.
KO dragged himself to the corner. Jey stretched out his jaw before positioned Owens on his feet. Jey tagged out. The brothers hit two more Superkicks. "It's time for a big one," Jimmy told Jey. They hoisted Owens to the top turnbuckle. They began to climb, but Zayn pulled Jimmy to the floor. Owens used the opportunity to hook Jey and hit a Fisherman Buster from the top rope. Sami returned to his corner. Owens tagged him in.
Sami set up Jey and delivered a massive Heluva Kick. Sami wasn't satisfied. He put Jey back in the corner and hit another Heluva Kick. This time, Jey collapsed into Sami's arms, a reversal of the earlier spot. Jimmy slid in the ring. Owens cut him off and gave him a Stunner. Zayn shoved Jey into the corner one last time. With raw emotion on his face, he let out a primal yell as he connected with a third Heluva Kick. Zayn hooked both legs for a resounding three count.
WINNERS: Sami Zayn & Kevin Owens in 24:15 to win the Undisputed WWE Tag Team Championships
Owens sat in the center of the ring, tears welling. He laid out to let Zayn have a solo moment amongst the joyous, singing crowd. Before long, the team hugged in the center of the ring, clanking titles as pyro shot from the stage. The crowd continued to sing. Zayn danced. The camera cut to select people in the crowd tearing up. Cole bid the audience goodnight as Zayn and Owens held the Tag Team titles high in the air.
-A recap package aired to close out the show.
(LeClair's Analysis: An emotional highlight for the ages. There was only one match that could rightfully main event night one. Though Flair and Ripley vastly exceeded event the loftiest of expectations, it didn't have the emotional weight, the crowd investment, or the year plus long inertia that this saga did. The Usos, Sami Zayn, and Kevin Owens earned this spot, not just through excellent in-ring work, but for being crucial pieces in one of the most significant, emotionally complex stories in wrestling history. The match hit all the necessary beats – The Usos were vicious and violent to start, beating Sami Zayn senselessly and building the crowd's anticipation for the eventual comeback. Zayn delivered another brilliant performance fighting from beneath. He's one of the best to ever work that style, reminiscent in so many ways of Bryan Danielson during his historic rise and eventual coronation at WrestleMania XXX. Kevin Owens, aided by substantial underdog clout of his own, hit all the right notes in playing support for Zayn without feeling underrepresented. Jey and Jimmy not only brought their incredible tag team prowess, but incredible facials and trash talk that always elevate Bloodline matches into multi-layered journeys and emotional roller-coasters. This felt monumental – for tag team wrestling, for the Bloodline story, for the Usos, Kevin Owens, and particularly Sami Zayn. An all around excellent main event from just about every perspective.)
FINAL THOUGHTS: It truly feels as though WWE is riding a creative high they've not reached for many, many years. Tonight felt like a concert where the band plays through its hits with voracious energy, each moment building upon the last and leading the crowd to a frenzied finale where all the peaks hit at just the right times. The card was paced exceptionally well and built to cater to the ebbs and flows of the crowd's energy, culminating with a massive emotional crescendo befitting only a WrestleMania stage. WWE, for all its faults, does spectacle exceptionally well, and the glitz and glamour of Los Angeles seems tailor-made for the pomp and circumstance of wrestling's biggest extravaganza. The incredibly elaborate entrance and entrances lent themselves to contests that felt weighty and important, even when the build on television didn't rise to the occasion. The celebrity-infused moments and skits never felt terribly intrusive. Perhaps most importantly, WWE managed to create a show that felt epic with minimal use of legacy acts to prop up full time talent. The show's final two proper matches, sharing near-equal billing, both featured only full-time men and women and both delivered in spades. I'd consider this a home run in nearly all regards.