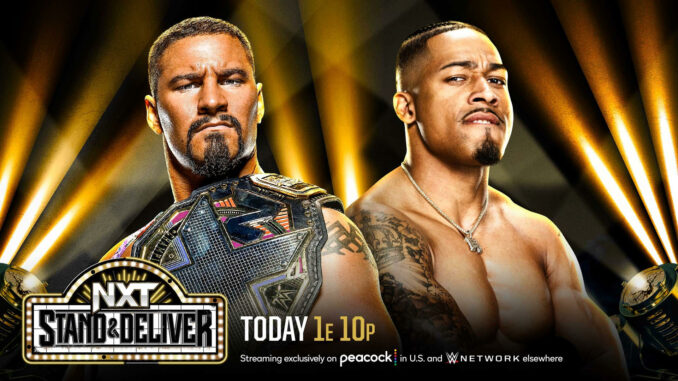 ---
SPOTLIGHTED PODCAST ALERT (YOUR ARTICLE BEGINS A FEW INCHES DOWN)...
---
CHASE U vs. SCHISM
Taking place on the pre-show rather than the show proper, Chase U fought Schism for the fate of Chase University. Whatever that meant. While the feud has been entertaining, they didn't do a bang up job explaining what would happen if Chase U lost this match.
This 8-person tag was unique as it featured six male and two female wrestlers, which meant whenever a member of the opposite gender tagged in then the opposite team needed to switch who the legal person was. They used it to an advantage as a plot device where Ava would immediately tag out, building suspense to see The Rock's daughter wrestle for the first time. But other than that, it wound up interrupting the flow of the match when it happened.
Speaking of Ava, for the brief time that she did wrestle it certainly was a little clunky. I hate to say she looked like a fish out of water, but it seemed like her nerves may have been getting the better of her and she was too focused on getting to the next spot. There's certainly potential there, but I don't blame them for booking her in an 8-person match to start.
The match came to a head when Tyler Bate, Thea Hail and Andre Chase were all down and Duke Hudson looked to take on all four members of Schism. Hudson accepted a T-Shirt from Schism and put it on, making it look like he turned on his friends. Instead, he used it to trick Schism as he and the other three easily picked up the win.
This match was honestly more entertaining than it had any reason to be. Two midcard acts with a somewhat decent build, but they wound up telling stories in the match itself which is what was the icing on the cake for me.
Verdict: HIT
ROXANNE PEREZ vs. GIGI DOLAN vs. ZOEY STARK vs. INDI HARTWELL vs. TIFFANY STRATTON vs LYRA VALKYRIA – NXT Women's Championship Ladder Match
The fighting champion, Roxanne Perez returned from a brief medical hiatus last week. In a heartfelt talk to General Manager, HBK, Perez said she wanted to enter this match and defend her title rather than relinquish it and face the winner of this match later. Frankly, if you think about it logically, it's a dumb move. Why face five other competitors with a 16.7% chance of winning when you could potentially become a "two time champion" a month later with a 50% chance of winning against one competitor? However in the wrestling world, it means that you've got "heart" and "spunk" to be the underdog.
While I could make a case for Dolan, Stark and Stratton to win the match, it seemed like a stretch that Indi or Stratton had any chance of winning. Dolan has arguably been in the main event since the inception of NXT 2.0. Stark has been on an awesome heel run and is the most physically imposing in the match, and Stratton is clearly a star in the making.
However, it made the most sense for Perez to retain. Where there was an actual issue keeping Roxanne Perez from competing, which was turned into a storyline, I almost wonder if this match was thrown together last minute in case Perez couldn't compete? If it was, and the original plan was to keep the belt on Perez then why not have her overcome the odds and triumph over five other members of the women's roster?
The match itself was more or less what you've come to expect with a ladder match in WWE, executed with a solid B grade. A handful of high spots, four wrestlers taking "a nap" while the other two fight, people forgetting how to climb ladders, and the obligatory "my ladder is bigger than yours".
What didn't make sense, however, was Jacy Jayne not grabbing the title after she ran in and threw Gigi off the top of the ladder. She was inches from the belt. She may not have been in the match, but she should have grabbed it and declared herself the champ. Talk about heat!
What I did NOT expect, and also made little sense (though I don't care at all) was InDex to reunite. Dexter Lumis hoisted Indi Hartwell up on his shoulders as he climbed the ladder, giving her just enough height to grab the belt and become champion! While this really came out of left field and seemed like the least possible outcome to all of us over on the PWTorch Dailycast's PWT Talks NXT, I actually jumped out of my seat when she won. Indi has been one of my favorites since her days alongside Theory, Gargano and LaRae in The Way.
Verdict: HIT (and NEEEWWWWWWWWWW)
GALLUS vs. DIAMOND MINE vs. TONY D'ANGELO &  STACKS- NXT Tag Team Championships
Triple Threat Tag Matches bug the hell out of me. It's a NO DISQUALIFICATION match. Why, oh why does everybody bother following the "rules" and tag in and out? Gallus, for example, are these big bad brawling brutes who will do whatever it takes to win, rules be damned. Why don't they both just stay in the ring the entire time? It's not like anyone's going to DQ you.
I don't honestly have a lot to say about this match up. It seemed like a lock that Gallus would retain considering their reign is new, so no surprise come time for the finish.
For the most part, the match was on the better side of fine if I'm looking at it objectively, like I should do as an analyst. But, the stupidity of the rules in a triple threat tag just take me out of it. I feel like it's such a glaring "plot hole", it just makes every single wrestler in the ring seem like they're morons.
Verdict: 50/50 (though I believe most will find it more enjoyable than I)
WES LEE vs. AXIOM vs. ILJA DRAGUNOV vs. JD MCDONAGH vs. DRAGON LEE – North American Championship
Would Wes Lee, the champion who kept putting on open challenges for his title, retain against four other talented competitors? That was the big question going into this fatal five way for the North American title. Especially as this was the debut match of the "International Sensation", Dragon Lee.
This past Tuesday night on PWT Talks NXT, Kelly Wells and I talked about how this match had the potential to be match of the night (afternoon?), and I believe they delivered what they set out to do.
I have a couple of the same nitpicks that I did during the prior two matches. Such as two wrestlers fighting while the rest "take a nap" outside the ring or nobody effectively utilizing the "No DQ" part of Triple Threat and Fatal Four/Five Way matches. But this match was also a hell of a lot slower to get going than I expected. There was a lot of selling caused by very little offense for a good portion of the match — all five competitors guilty. It was done to build suspense, I understand that. However, I think that the audience expected a faster paced and more chaotic match. They were relatively quiet for the majority of the match, only really responding to high spots.
All that said, once the match kicked into gear then it was ripe with action and false finishes galore as "Fight Forever!" chants filled the arena. Everyone in the match got their moment to shine and make it seem like they were just a second away from victory. While everyone came out of this match looking better than they went into it, I personally think Dragunov was the stand out in this match. He didn't get a huge pop during his entrance, and the crowd was pretty dead for his offense at the onset of the match. However, they were totally behind him by the end of it.
Ultimately, Dragunov was the one who wound up staring at the lights as the Cardiac Kid, Wes Lee, retained his title. A predictable finish, however I'm totally fine with it. Wes Lee went from hardly being able to win a match as a singles competitor to overcoming the odds at the biggest stage NXT has to offer. A great feel-good story never hurt anyone.
Verdict: HIT
JOHNNY GARGANO vs. GREYSON WALLER – Unsanctioned Match
A match over a year in the making. Before Gargano took a hiatus from wrestling to focus on his family, Waller's attack on Gargano was used as the reason he was off of TV. When Gargano returned, he was on the main roster. Gargano came back to NXT to settle some unfinished business which lead to Waller stalking Gargano and his wife, making their lives miserable.
Only a match, unsanctioned by NXT yet still given time smack dab in the middle of their biggest show of the year, could settle the score.
Coming into tonight, this was actually the match I was most looking forward to. Johnny Gargano and Tommaso Ciampa secured their spots as two of my favorite wrestlers during their run as DIY and their subsequent feud. Ciampa may not be medically cleared to compete anywhere right now, but seeing Gargano back in NXT has been a treat for me.
I half expected the match to spill into the crowd, backstage area or something like that. All of the other unsanctioned matches that Gargano has had in the past followed that formula. Instead, the match was largely fought either in the ring or directly outside of the ring, in front of Candace LaRae and she and Johnny's baby.
LaRae inserted herself into the match after handing baby Quill to, presumably a family member or random member of the audience, hitting Waller with a kendo stick. Then she stood in Gargano's corner for the remainder of the match up. Both men beat the crap out of one another with chairs and kendo sticks before Gargano picked up the win via Gargano Escape submission.
While I won't complain, I'm surprised. Gargano is a main roster talent, I expected him to put over a younger talent here. With him winning, I wonder (and hope!) if Gargano is going to stick around and continue this feud with Waller for awhile longer?
Verdict: HIT
ISLA DAWN & ALBA FYRE vs. FALLON HENLEY & KIANA JAMES – NXT Women's Tag Championship
After the events of this past Tuesday it was clear that the champions, James and Henley, weren't on the same page. Dawn and Fyre immediately capitalized on this, attacking while the champs made their entrance.
That kind of set the pace for the rest of this match, Fyre and Dawn outsmarting the champions while their minds were elsewhere. I don't know if it was just the fact that we were approaching three and a half hours of wrestling or what, but admittedly it was hard for this match to hold my attention. I think I'm just starting to grow tired of the Henley/Fallon/Briggs/Jensen storyline.
Isla Dawn and Alba Fyre have made a great and menacing tag team over the last few months since joining forces. With their eyes so focused on the tag gold and with the champions a bit distracted, it seemed like a lock for new champions even before the match started.
At one point in the match, Kiana asked Brooks to hand over her purse because she "needed it". This caused a bit of confusion with Henley, James, Brooks and Jensen and allowed the challengers to capitalize and pick up the win.
Verdict: 50/50
CARMELO HAYES vs. BRON BREAKKER – NXT Championship
Arguably, these two men have been the pillars of the NXT men's division since the inception of NXT 2.0. Bron Breakker as the dominant, albeit lackluster, NXT Champion and Carmelo Hayes as the popular, cool heel who made the North American championship feel like the biggest thing on the brand. Now, they clash to see who really is superior.
I haven't been shy at voicing my displeasure in Bron Breakker's NXT title reign. Well, two reigns. I always forget that he lost it to Dolph Ziggler of all people. Both of his reigns have been lackluster and grew stale incredibly fast. While I can't deny that Breakker has a boatload of talent, his gimmick is what's holding him back right now. He needs to add some depth to his character and perhaps turn heel in order for the majority of fans to get behind him, similar to Roman Reigns.
There isn't anyone else on the card that made sense to dethrone Breakker. He's beaten everyone who is a serious contender other than Melo. Their NXT careers ran parallel to one another, the story basically wrote itself.
Trick Williams was obviously a variable in the match, however that variable was taken care of quickly as he was thrown out of the arena as soon as he tried to interfere. This meant if Melo was going to do it, he had to overcome the beast on his own. Of course, that didn't keep Williams from taking advantage of a ref bump later in the match. He grabbed the title and hit Breakker with it, then put Melo on top of Breakker. Once the ref started the count, Breakker was able to kick at two. Melo then climbed to the top and hit Nothing But Net on Breakker to capture the NXT Championship.
Melo don't miss, and I cannot wait to see what the main event scene looks like with Melo as champion.
Verdict: HIT