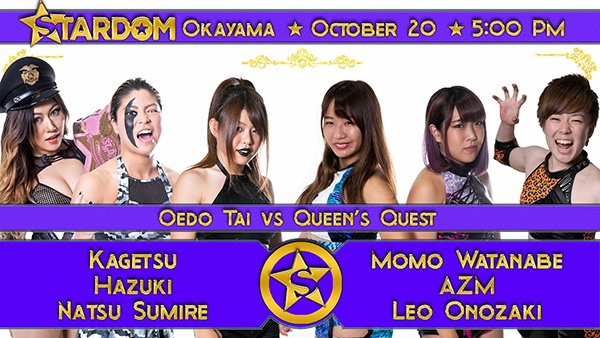 ---
SPOTLIGHTED PODCAST ALERT (YOUR ARTICLE BEGINS A FEW INCHES DOWN)...
---
STARDOM GODDESSES OF STARDOM
OCTOBER 20, 2019
OKAYAMA, JAPAN AT AMAGASAKI CULTURAL CENTER
AIRED ON STARDOM WORLD
REPORT BY HARLEY R. PAGEOT, PWTORCH CONTRIBUTOR
The show opened with Saya Kamitani and another girl in the ring performing a song called "The Future Of Stardom" from the new Stardom album. They were interrupted by Oedo Tai who attacked them both to boos. Kagetsu spoke to the crowd without subtitles. Natsu Sumire spoke next about the Stardom CD then the classic Oedo Tai entrance theme, "Oedo Tai Dance", played. They had a new version with lyrics. Kagetsu, Sumire, Natsuko Tora, and Hazuki took turns trading off on vocals while Jamie Hayter and Session Moth Martina danced with them. Mayu Iwatani eventually crashed the party and grabbed a mic, singing along with them until they chased her off.
-Martina was hungover from partying with Sumire last night. Kamitani said her partner Iida is her enemy in this match. Iida said she couldn't think about that.
(1) SESSION MOTH MARTINA vs. SAYA IIDA vs. SAYA KAMITANI
Martina with a codebreaker to Iida for the win.
WINNER: Session Moth Martina in 4:43.
-Both teams did ther usual shtick of not saying anything.
(2) OEDO TAI (Artist Of Stardom Champion Andras Miyagi & Natsuko Tora) vs. TOKYO CYBER SQUAD (Hana Kimura & Death Yama-San)
Tora hit a frog-splash on Death but Kimura broke up the pin. Miyagi disposed of Kimura and Death rolled up Tora.
WINNERS: Tokyo Cyber Squad in 8:35.
-Kid said it was scary that they were facing the other team on a two-win streak. The Brits said nothing.
(3) TOP GAIJINS (World Of Stardom Champion Bea Priestley & Jamie Hayter) vs. HIGH SPEED CHAMPION & AEW WOMEN'S CHAMPION RIHO & STARLIGHT KID – RED GODDESSES BLOCK
Kid of course took the pin off a Queen's Landing by Priestley.
WINNERS: Top Gaijins in 6:59.
(Pageot's Perspective: It's a minor thing but when the wrestlers say nothing of any consequence during their pre-match promos, like three of the four teams did in the last two matches, it really makes it feel like the match is meaningless and we shouldn't bother investing any time.)
-Lucas made another soccer analogy to Tyler. Tyler blamed Lucas for their last loss but Lucas pointed out that Tyler lost their first match. Nakano confirmed this was their first tag league match. They debated how to shorten their team name.
(4) DREAM*SHiNE (Wonder Of Stardom Champion Arisa Hoshiki & Tam Nakano) vs. TOKYO CYBER SQUAD (Bobbi Tyler & Zoe Lucas) – BLUE GODDESSES BLOCK
Stereo knee strikes from Stars to the Brits. Tiger suplex from Nakano to Tyler for the win.
WINNERS: DREAM*SHiNE in 8:40.
(Pageot's Perspective: It's still early but the question already seems to be who will face Priestley & Hayter in the finals.)
-Kashima said their opponents are the tag champions. They'd try not to go down again today. Kyona said they're the 16th tag champions. They wanted to celebrate with a victory yesterday but it didn't happen. Today would be different.
(5) GODDESS OF STARDOM CHAMPIONS TOKYO CYBER SQUAD (Jungle Kyona & Konami) vs. STARS (Mayu Iwatani & Saki Kashima) – RED GODDESSES BLOCK
Top rope frog-splash from Iwatani to Kyona, followed by a double-stomp from Kashima, but Konami narrowly broke up the pin. Kyona fired up and hit a sliding clothesline on Kashima. Revival stuck but Konami made the save again. Kyona with a suplex to both opponents at the same time. Spinning powerbomb landed on Kashima but she kicked out. Muscle buster to Kashima and she was dead.
WINNERS: Tokyo Cyber Squad in 11:30.
-Kyona said they want to honor the tag titles and win the whole league. She wants them to be champions that aren't just all talk.
(Pageot's Perspective: Good match and an expected win for TCS with Kashima being the obvious weak link in the match.)
-Kagetsu said they were excited to come to Okayama even though they have no local connection. Sumire yelled that she knows nothing! Watanabe said they were going to eradicate some demons.
(6) OEDO TAI (Hazuki & Artist Of Stardom Champions Kagetsu & Natsu Sumire) vs. QUEEN'S QUEST (Momo Watanabe, AZM, & Leo Onozaki w/Utami Hayashishita)
Lots of chaos with things constantly breaking down. In the end Sumire hit Onozaki with a cradle DDT and Kagetsu finisher her off with an Oedo Coaster.
WINNERS: Oedo Tai in 14:26.
-Kagetsu said beating up AZM was hard for her. She asked if the crowd had fun at their first Okayama show in three years. She said they wanted to come back next year so each of them needed to bring ten people with them.
(Pageot's Perspective: If you predicted Onozaki taking the pin, congratulations, you've also seen more than two Stardom shows.)
Blue Goddesses standings after show 4:
DREAM*SHiNE (Arisa Hoshiki & Tam Nakano) – 2
The Drunk Queens (Natsu Sumire & Session Moth Martina) – 2
Oedo Tai (Kagetsu & Andras Miyagi) – 2
Tokyo Cyber Squad (Bobbi Tyler & Zoe Lucas) – 2
Tokyo Death Squad (Death Hana & Death Yama-San) – 2
3838 Tag (Saya Iida & Saya Kamitani) – 0
Red Goddesses standings after show 4:
Top Gaijins (Bea Priestley & Jamie Hayter) – 6
Riho & Starlight Kid – 4
Stars (Mayu Iwatani & Saki Kashima) – 2
Tokyo Cyber Squad (Jungle Kyona & Konami) – 2
Oedo Tai (Hazuki & Natsuko Tora) – 0
Queen's Quest (Momo Watanabe & AZM) – 0