The Pro Wrestling Torch brand began as a paper copy newsletter in 1987. It is still mailed to subscribers every week as of 2023.
---
HOW TO SUBSCRIBE…
You can subscribe today online using your credit card, debit card, or Pay Pal. You can also subscribe by check or money order too!
(Due to postage rates and mailing logistics, we have stopped offering subscriptions to the paper copy outside of the United States, so Canada and other overseas subscribers should opt for an online subscription instead to access the newsletter.)
Current Rates are $10 monthly, $20 every two months, or $99 per year. On average, you'll receive four issues per month and around 50 issues per year.
OR SUBSCRIBE VIA CHECK OR MONEY ORDER…
PRO WRESTLING TORCH
PO BOX  211654
ST. PAUL, MN 55121
Send $20 for 8 weekly issues or send $99 for an annual subscription (around 50 issues per year). Make checks and money orders payable to "Pro Wrestling Torch."
---
ABOUT THE NEWSLETTER TODAY…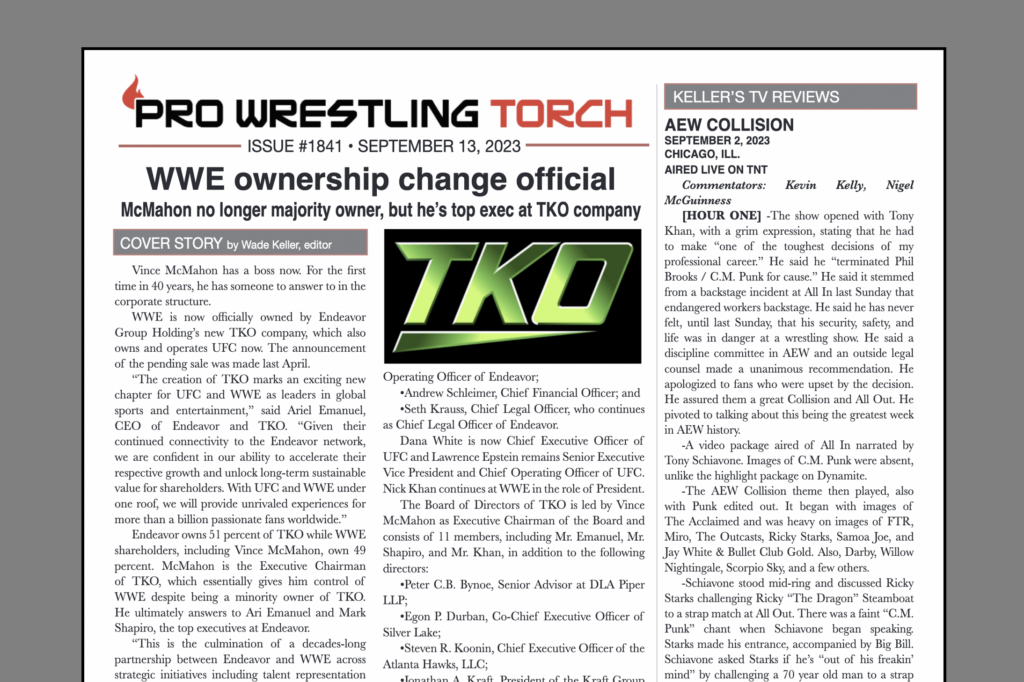 We are the last newsletter to still offer a paper copy with postal delivery as of 2023. Thanks to a great relationship with our local printer, whom we used dating back to the early 1990s, we are able to continue to offer home delivery at a reasonable price. (The newsletter is also available in an all-text and a printable PDF format for those who prefer to access it online instead. That comes with the PWTorch VIP membership.)
The weekly 12-page newsletter includes newsletter-exclusive Wade Keller cover stories on the biggest story of the week, newsletter-exclusive PPV Roundtable Reviews from the team of columnists, newsletter-exclusive columns from Greg Parks (weekly), plus Rich Fann, Sean Radican, and Alan Counihan on a semi-regular basis.
The newsletter also features Wade's in-depth coverage of the major weekly TV shows including WWE Raw, AEW Dynamite, WWE Smackdown, and AEW Collision with added analysis of key matches and segments. Plus, the Torch Newswire with the latest news including exclusive insider tidbits and expanded analysis.
Other special features are included such as reports on major events from New Japan, Impact, and NXT.
---
A BRIEF HISTORY…
I had been reading pro wrestling newsstand magazines since age 11 and obsessively went to the convenience store's newsstand on certain days of the week after school anticipating the latest editions of Pro Wrestling Illustrated, Sports Review Wrestling, Wrestling World, Wrestling Eye, and so many others during the boom period of that format. I saw in the back of Wrestling Eye magazine a section that plugged newsletters and bulletins put out by fans around the country, an evolution of the fan club bulletins of the 1970s.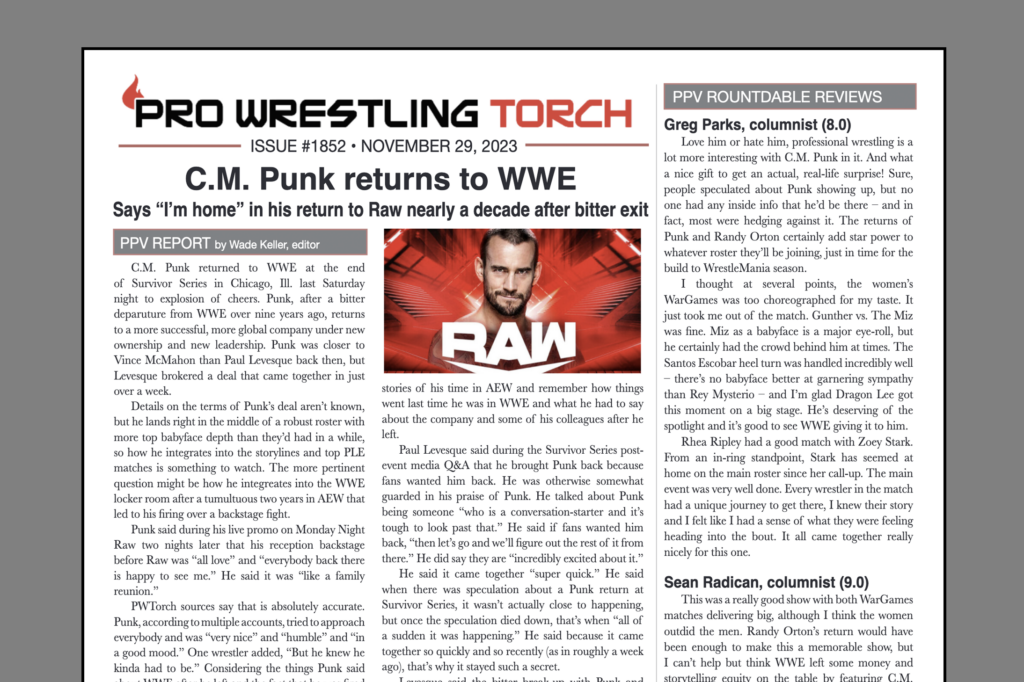 I immediately got hooked and ordered all of the newsletters I could afford and devoured their content and appreciated what by that time's standards was a fast turnaround of news (about a week instead of the 4-8 week delay with magazines). I realized, living in the AWA homebase territory, I could have a niche if I published my own newsletters.
So at the start of my junior year in high school, I began publishing the Pro Wrestling Torch Newsletter, with a mix of news, results, commentary, and interviews. While bringing together a group of great writers was an early niche for the Torch, the "Torch Talk" series of interviews I conducted really put us on the map. It was the first ongoing series of insider interviews where wrestlers, promoters, and announcers spoke openly about the inner-workings of pro wrestling on record. That got us a ton of publicity in various circles since it was practically unheard of for people in wrestling to speak so openly on the record.
We went from a bi-weekly to a weekly schedule a few years later. I was the first newsletter to take out advertising in the newsstand magazines and eventually national sports publications such as The Sporting News and many regional and national newspapers including USA Today. This helped us grow quickly to a sustainable level for it to be my full time job starting in the early 1990s out of college.
By the time I graduated college in 1993, I had enough subscribers to make it my job right out of college and I haven't looked back since. It's a family business that has included my grandma helping on maildays for many years and my mom working full time running the subscription side of the newsletter business behind the scenes for over three decades now. My son is the fourth generation to help behind the scenes, including mailing days since he was six or seven years old, and later helping with editing YouTube videos more recently!
---