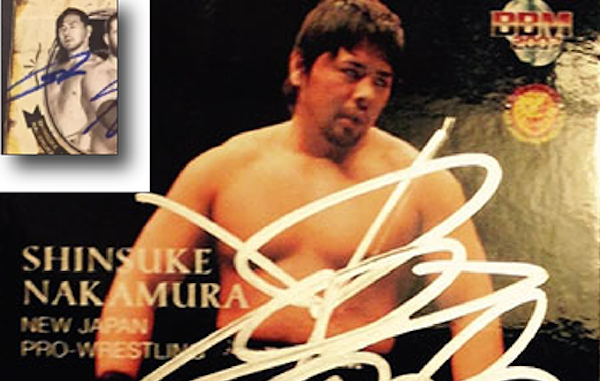 ---
SPOTLIGHTED PODCAST ALERT (YOUR ARTICLE BEGINS A FEW INCHES DOWN)...
---
Collectibles Column – The Fall-out from WrestleMania Weekend
Secondary market values of sports collectibles are often influenced by the outcome of a big fight or a big game. Interest in Von Miller's certified autographs and rookie cards surged after his dominant MVP performance in Super Bowl 50. Miesha Tate's certified Topps UFC autographs have more than tripled since her win over Holly Holm in February.
Pro wrestling collectibles work somewhat differently. Secondary market value of trading cards, action figures, and autographs are often more influenced by a wrestler's WWE main roster debut, a main event push, or potential star power than by a big WrestleMania win or performance. This was the case with C.M. Punk in Summer 2011 and Roman Reigns in early 2014.
Coming out of WrestleMania 32 weekend, the wrestlers who made the most noise with collectors weren't the guys who main-evented WrestleMania, but the guys who made their main roster (or NXT) debuts.
Who's Hot
Shinsuke Nakamura and Sami Zayn stole the show – and the entire weekend – with their incredible match at "NXT Takeover: Dallas." Nakamura has been a favorite of New Japan Pro Wrestling fans for years, and his NXT debut showed a whole new audience what makes him so special. As a result, sales picked up for Nakamura's NJPW items over the last several days.
Nakamura is prominently featured in several King of Pro Wrestling (KinPuro) card game sets from NJPW owner Bushiroad. Most of his cards can be found for around $5, with short prints (SPs) selling in the $10-15 range. In this case, the increase over the last week was more about volume than price. Sale prices remained about the same as before Nakamura's NXT debut; there were just a lot more of them.
However, sale prices increased significantly on a rare Purakako Heroes collectible figure of Nakamura from Japan. This highly detailed figure perfectly captures Nakamura's unique mannerisms. Throughout February and March, sales for this figure were mostly in the $50-$65 range. In the days since Nakamura's NXT debut, however, most figures are selling for $75-85.
Enzo Amore and Colin Cassady have been NXT favorites for a couple years, and they were given a star reaction from the Raw crowd on Monday. Both men were included in Topps's 2015 WWE Undisputed trading card set late last year, and autographs of both have surged in recent days. Prior to Raw, Enzo's autograph from WWE Undisputed could be sound for $7-10; now it's selling in the $20-25 range. Big Cass' sautograph was selling as low as $2 or $3 in March; after his Raw debut, sales increased to $12-15.
Baron Corbin's trading cards also received a bump following his Andre the Giant Memorial Battle Royal win and subsequent Raw debut. Late last month his autograph from 2015 Topps WWE Undisputed was selling for $7-$10. Over the last couple days, sale prices have increased to $20-25. Collectors obviously realize that Corbin has the size that Vince McMahon and company look for, which could elevate his career.
As an aside, while Corbin previously pursued a career in pro football, he never appeared in a licensed NFL trading card set. His WWE trading cards from Topps are his first of any kind, unless any collectors know of any independently produced cards from his high school or college football days.
Sasha Banks and Bayley have been arguably the two most popular wrestlers with collectors over the last several months. Bayley's first action figure was included in Mattel's WWE Basic Series 58, which hit stores earlier this year. If you can find the figure at your local Walmart, you can expect to pay $10 or less. Online they're selling for slightly more, at $13-15. A chase version of the figure, which includes a gold WWE World Heavyweight Championship title belt, usually sells in the $22-25 range.
Sasha's first figure was included in Basic Series 59, which is in stores now. The basic figure is selling in the $15-20 range online, with the gold belt chase variation selling for $30-35.
Both women appeared in the 2014 Topps WWE and 2014 Topps WWE Chrome trading card sets, but their first cards of any real note didn't show up until 2015. Sasha's signature was featured in the 2015 WWE Undisputed and WWE Heritage sets from Topps. Her Undisputed autograph tends to sell in the $50-70 range, while her Heritage autograph is slightly cheaper at $35-50. Serial numbered colored parallels sell higher.
Autographs from Sasha and Bayley also appear in 2016 Topps WWE Road to WrestleMania, which was released in February. Sasha's basic autograph, serial numbered to 99, usually sells for $40-50 and a silver parallel limited to 25 recently sold for $85. Bayley's autographs from this set are even higher, since those are her first certified autograph. Basic autographs numbered to 99 regularly sell for $55-65, and a silver parallel numbered to 25 recently sold for $82.99. A bronze parallel serial numbered to 50 recently sold for $72.
WrestleMania 32 and NXT Takeover Items
Several items that were sold exclusively at WWE events over the weekend have been selling on eBay.
– The Kazuchika Okada-inspired Shane dollars that fell from the ceiling during Shane McMahon's entrance at WrestleMania 32 initially sold for about $50, but have dropped to $20 as more have popped up online.
– Ringside collectors's chairs, which were given to fans who bought tickets that were $1,000 or more are selling for $200-300 on eBay. Plastic collectors cups from the concession stand are selling for $20-25, and new Under Armour shirts of the Rock that were sold at AT&T Stadium are selling anywhere from $65-110.
– The big item among collectors is a signed NXT poster that was available at the merch stand at the Takeover show and sold out within minutes.
The poster is signed by Finn Balor, Samoa Joe, Nakamura, Zayn, Bayley, Asuka, Corbin, Dash and Dawson, American Alpha, Apollo Crews, and Elias Samson (most of the posters listed on eBay appear to be missing Austin Aries' signature). These posters are currently selling in the $170-200 range.
It is worth noting that Nakamura's signature on the poster is considerably different (and much sloppier) than the signature that appears on his licensed NJPW items, such as BBM trading cards.
Michael Moore has been the PWTorch Collectibles specialist since January 2011. Contact him at michaelmoorewriter@gmail.com or follow him on Twitter @MMooreWriter.