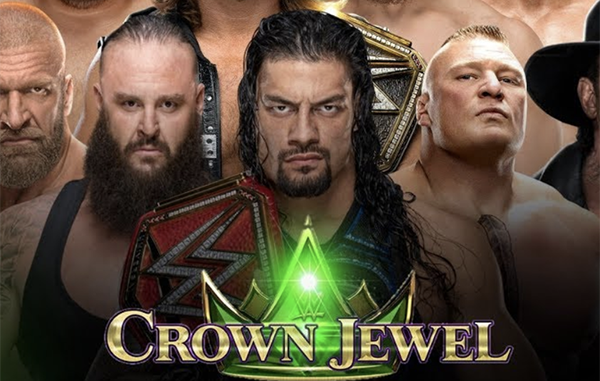 ---
SPOTLIGHTED PODCAST ALERT (YOUR ARTICLE BEGINS A FEW INCHES DOWN)...
---
WWE now lists a ticket on-sale date of Oct. 19 for Crown Jewel on Nov. 2 in Riyadh, Saudi Arabia at the King Said University Stadium. Earlier this week, no location was listed, and all other upcoming events had a location listed.
This would indicate, at least at the moment, WWE is going forward with Crown Jewel in Saudi Arabia despite not mentioning the location of the event on TV this week. This is a "proactive" move that points toward WWE having decided to go forward with the event as originally planned.
Fans at Smackdown 1000 last night booed the Crown Jewel graphic multiple timesand also booed when Undertaker mentioned the name of the event.
Multiple senators have cautioned about U.S. companiesdoing business with Saudi Arabia, some specifically regarding WWE's business partnership with Saudi Arabia in the midst of widespread concern that top government officials allegedly sent a "death squad" to the Saudi consulate in Istanbul, Turkey to kill Saudi dissident and Washington Post writer Jamal Khashoggi earlier this month.
The Hill reportsthat the Washington Post's CEO and publisher Fred Ryan said "it cannot be business as usual" with Saudi Arabia until an explanation in provided.
Hollywood talent agency Endeavor (formerly WME-IMG), which represents Dwayne "The Rock" Johnson, began extracting its $400 million dealwith Saudi Arabia earlier this week, according to the Hollywood Reporter.
An NBC story on Endeavor notes, "If Endeavor returns the money, it will be among the most significant moves yet by a U.S. company distancing itself from Riyadh… Other companies including wrestling entertainment company WWE are now under scrutiny for their ties to Saudi Arabia. WWE had planned to expand operations there."
JBL endorsed WWE running the event as planned in Saudi Arabia and said he believed the plan was to go ahead with Saudi Arabia as the site.
Randy Orton told TMZ in a video posted this morning that he is in favor of going to Saudi Arabia. "I think we should go," Orton said. "I think the only way to help with change is to go and not to cancel the trip… And I think we'll be there eventually with Saudi and Crown Jewel. That's the goal is to make things better everywhere and I think us not going doesn't help. Going helps."