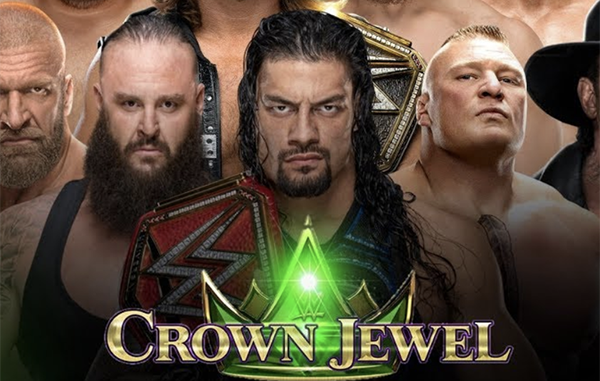 ---
SPOTLIGHTED PODCAST ALERT (YOUR ARTICLE BEGINS A FEW INCHES DOWN)...
---
WWE isn't facing scrutiny from just politicians and journalists, including in today's Hartford Courant (a paper based in Connecticut where WWE is headquartered), for its partnership with Saudi Arabia which includes a planned Nov. 4 show in Saudi Arabia; they are also facing pressure from their very own fans.
While WWE is facing various threats of cancellations from WWE Network subscribers, they didn't know how far those anti-Saudi Arabia-WWE feelings went. The found out on Tuesday night at the WWE Smackdown 1000 TV event.
According to multiple fans in the arena, the crowd booed just about every time the "Crown Jewel" logo appeared on the big screen. They also booed after Undertaker mentioned "Crown Jewel" in his show-closing promo, something audible on the live national broadcast on USA Network.
"At least in my section, there was a lot of booing anytime the graphic came up," said Paul Diem, an on-site correspondent interviewed during The Wade Keller Pro Wrestling Post-show after the event on Tuesday night. "The only time they didn't boo [the Crown Jewel] logo, as best I could tell, is when they showed the Bryan-Styles graphic and Rey Mysterio in the Crown Jewel graphic, but pretty much every other time."
He noted the significance of the location of Smackdown 1000. "We're blocks from the White House, it's notable," he said. "The audience was overwhelmingly adult and people seemed to be aware and already just had a visceral reaction. To me, it just seems like – I don't see how they can run the event in Saudi Arabia. I don't see how they can do it at this point. They have to move it, right? They can't not. I think it's a disaster, but I'm not getting paid 45 million dollars, so maybe I have a different viewpoint on things… I think it's really short-sighted."
A caller to The Wade Keller Pro Wrestling Post-show last night, Lamarcus Cross, also noted that there was more booing after Smackdown ended. "At the end of Undertaker's appearance, they put the Saudi Arabia match on the screen and people started booing," he said. "I don't think a lot of fans are happy about them going to Saudi Arabia."
I was there and can confirm this is accurate.

— Gary Cantrell | Hard Work Always Wins (@GaryCantrell) October 17, 2018
I've niticed that they stopped mentioning where's it's being held. And being at smackdown tonight in person I was shocked that the undertaker got boos when he mentioned it. It's lretty clear what the public perception is.

— Elijah Smith (@sizzlinpapaya88) October 17, 2018
WWE remains silent on the issue other than stating days ago that they are monitoring the situation. They also have stopped mentioning on TV that Crown Jewel is scheduled to take place in Saudi Arabia and they have removed the location from the Crown Jewel preview page and upcoming events page on WWE.com. They have not otherwise stated whether they are leaning toward moving the event or locked in on keeping it in Saudi Arabia as planned.
JBL, a long-time WWE employee and close friend of Vince McMahon over the years, defended WWE still going to Saudi Arabia yesterday on Fox Business Channel. He said WWE is "gonna go there" even though "the official line is they're 'monitoring the situation.'" He added that his personal opinion is they should go there. "I think the only way you promote change, like we did with Cuba, you isolate a country, all you do is impoverish that country. You want to promote change? WWE went to Abu Dhabi, did the first women's match that had ever happened in the Middle East, the crowd was chanting in English 'This is change'."
Prominent conservative commentator Bill Kristol said on MSNBC on Tuesday that he believes the United States government and business world need to react swiftly and strongly against the apparent brazen murder of a Saudi dissident by the Saudi regime. He warned against not doing so. "It's not just a moral question, although it is a moral question, obviously," he said. "What signal does this send to the rest of the world? Dictators everywhere, especially in the Middle East where they watch these things closely, it's very bad for people in those countries and people who are within reach of those dictators, and bad for us, bad for the United States."
Sen. Lindsey Graham said yesterday: "We deal with bad people all the time, but this was in our face. I feel personally offended."
Tuesday night on MSNBC's "Hardball with Chris Matthews," Gov. John Kasich (R – Ohio) congratulated businesses who have put principle ahead of profits. "We gotta say that a lot of these CEOs who thought that they needed to be in Saudi Arabia from many big companies in the United States stood up and said, 'We're not going' and they deserve credit for that," he said. "They need to be held up and we need to say to them they put some principle ahead of profit, which is what is critical for the economic system of our country…. This is unanimous, right? This is a bipartisan outrage… Praise the CEOs who aren't going to the conference [in Saudi Arabia]."
Host Matthews quoted President John F. Kennedy in relation to this situation. Kennedy spoke about tyranny during his 1961 inaugural address: "Those who foolishly sought power by riding the back of the tiger ended up inside."
---
---
NOW CHECK OUT THIS RELATED STORY: KELLER: Change for the better in Saudi Arabia isn't going to come from continuing to run live events in Saudi Arabia after the apparent murder of a Washington Post critic of the regime, despite JBL's stance