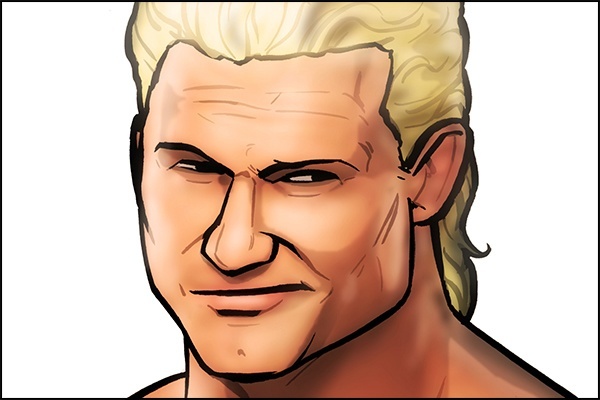 ---
SPOTLIGHTED PODCAST ALERT (YOUR ARTICLE BEGINS A FEW INCHES DOWN)...
---
RAW HITS
Rousey – Jax: Raw was much better this week (although not without its flaws) than last week. It got off to a hot start with the non-match of Ronda Rousey & Natalya vs. Nia Jax & Tamina. The script for this program and the performances from Rousey and Jax were so much stronger than last week. The non-match worked to get heat on the Riott Squad for interrupting the match before it got a chance to start. This nicely furthered the feud between Ruby Riott and Natalya, while setting up a program for the rest of the show. That program played out nicely with Rousey needing to find a partner for the match. Jax was much better in bullying and intimidating Charlie Caruso in the backstage interview than she was in doing anything on the mic last week. That was the direction they need to go with her and Tamina. The main event was a good tag match. Rousey does a few odd things in the ring. Not bad necessarily, but just odd like rolling after a clothesline. Either way, she's fun to watch. I like her striking knees and those side kicks she was throwing. Ember Moon got a nice rub from being in the main event. This was all good.
Ziggler vs. McIntyre: While I didn't like the set up for this match (more later), and I have some mixed feelings about the ending of it. However, the match between Dolph Ziggler and Drew McIntyre was certainly Hit worthy. It was a good match that went 15 minutes. There wasn't much wrestling in the first hour of the show, so it was nice to get a longer quality match here in the second hour. I do question having McIntyre lose to Ziggler. At least he lost due to Finn Balor who needed a boost after getting beat down the last few weeks. Despite that, McIntyre still got the heat back on him after he jumped Balor after his win later in the show.
Ambrose – Rollins: I had some mixed feelings about this too, but it still gets a minor Hit. I wasn't a fan of the swat team or Dean Ambrose wearing a gas mask. I'm not a fan of the part of his character where he is germaphobic and paranoid about breathing the same air as the fans. But, his promo once it really got going was strong. It was a good way to hype his match against Seth Rollins at the TLC PPV. The attack from Rollins worked well. The physicality was well executed and Ambrose got to show that his plan of getting into Rollins' head might be working in the way he got the upper hand in the end. Rollins' fans are really going to want to see him get his revenge by the time they get to the match which is the point. I am getting more and more uncomfortable with Renee Young's role in all of this. And I can't be the only one who finds it odd (not just now, but it was the same before the heel turn) how she always says his full name when referring to him. I could be wrong, but it seems like she never says "Dean" or "Ambrose" but always says "Dean Ambrose."
RAW MISSES
Open Forum: This wasn't as bad as last week's version, but it was still a Miss. The scripting for Bayley in particular is so bad and she delivers the lines like she's saying the most clever thing ever, even though they aren't. It is still unbelievable that WWE would have an open mic for fans in the front row. I'm not sure what the whole point of these segments were supposed to be. I guess they hinted at the idea of a women's tag team division, but that can't be the whole point of this crap. The tag match that followed was fine, but too short to amount to much.
Lucha House Rules: This is not a huge deal because The Revival don't mean much. But that fact is a huge deal. I don't care about Revival getting humiliated by the Lucha House Party and their Lucha House Party Rules, because they aren't a big deal. But, that's a big deal. This is backwards booking and it makes no sense in the storyline why Baron Corbin would allow these 3-on-2 and in this case, 3-on-1 matches. And The Revival should mean more than they do.
McIntyre – Ziggler: While I did enjoy their match, the set up wasn't very good. To me, McIntyre should be above the Gold Medal stuff. That felt beneath him. I always think he should look with more disdain at everything Corbin does. McIntyre's promo was good. I did appreciate the fact that Ziggler came out to address what happened to their team. I was asking about that last week, so it was good that WWE wrapped it up this week. But, launching a babyface run for Ziggler because he was kicked to the curb by McIntyre isn't a great way to go. WWE didn't give the fans a good reason to cheer for Ziggler. All we got was a big impressive looking heel saying that Ziggler is short and isn't good enough to hang out with him any more.
Slater vs. Rhyno: WWE needs good mid card acts. And they need good lower card acts too. I don't mind this storyline involving Heath Slater and Rhyno having to wrestle to keep their jobs. But, you need to have them on as a team here and there in the previous weeks to make it mean more. This came out of the blue. They didn't set the table. They didn't make the fans care recently about their team, so they weren't going to care about one of them getting fired. The story going forward with Slate having to be a referee does have potential for some comedic relief. But, this does feel like a story that would not happen on a 2 hour show.
For another view from the original Hitlist author, compare Jason Powell's views to mine by visiting ProWrestling.net's "Hitlist" section HERE.
Jon Mezzera is PWTorch.com's WWE Hits & Misses Specialist, providing his point of view for Raw and Smackdown each week. Email him at jmezz_torch@yahoo.com. Follow him on Twitter @JonMezzera.
---
CHECK OUT LAST WEEK'S COLUMN: WWE RAW HITS & MISSES 11/26: The Baron Corbin Show, Rollins vs. Ziggler, Bayley & Sasha Fan Forum, Jax vs. Rousey, Ambrose gets Vaccinated, Jax-Rousey