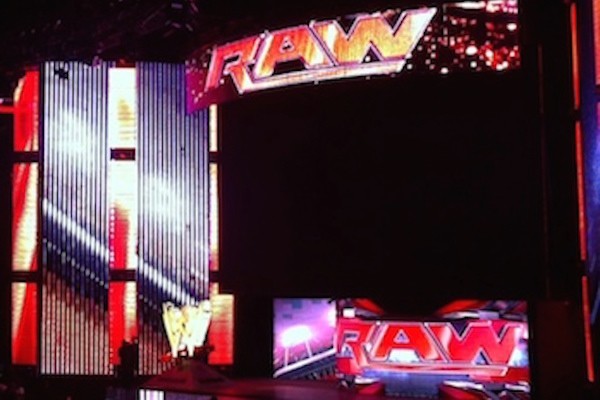 ---
SPOTLIGHTED PODCAST ALERT (YOUR ARTICLE BEGINS A FEW INCHES DOWN)...
---
The Road to TLC continued Monday night on Raw from Pittsburgh with Roman Reigns chasing  WWE World Hvt. champion Sheamus heading into WWE's next PPV. But, first, a major title match on Raw?
WWE Raw TV Report
November 30, 2015 – Episode #1,175
Live in Pittsburgh, Pa.
Report by James Caldwell (@JCTorch), PWTorch assistant editor
On the Raw Pre-Show, WWE announced Rusev on Miz TV to talk about Lana and The Dudleys have a message for the Dudleys.
Live Raw on USA Network
Raw opened with Michael Cole introducing the show from Pittsburgh as light confetti drizzled down from the ceiling. Cole sold not knowing what was going on, then Big E.'s voice was heard over the loudspeaker introducing WWE tag champs New Day. WWE cut back to the unimpressive confetti slowly spilling down from the ceiling.
In the ring, Big E. said he knows what everyone is thinking. Who's birthday is it? But, tonight is not about a birthday. It's about a New Day! Kofi Kingston said tonight is about a celebration. A Festival. A Gala. Xavier Woods said it's a Jubilee. And, Big E. started sweating.
Xavier pulled out a Terrible Towel for the Steelers. Big E. wiped himself down to boos. Xavier then tossed the towel into the crowd as the crowd picked up a "Here We Go Steelers, Here We Go" chant. Kofi noted the Steelers lost yesterday.
Big E. got down to business that tonight marks the beginning of a new champion. So, it's time to put your hands together for … Sheamus. The crowd was indifferent toward Sheamus's arrival. Cole filled in the blanks that the celebration is for Sheamus, who emerged on-stage dressed in a suit. More confetti fell from the ceiling as Sheamus walked down to the ring.
Sheamus did his extended-arms pose with New Day, who embraced him. The four champions stood together in the ring before Sheamus excitedly talked about being four-time WWE champion. The crowd tried to knock Sheamus off his pedestal with a "You look stupid" chant.
Sheamus turned his attention to The Authority, thanking Triple H and Stephanie McMahon for teaching him a lesson about seizing opportunity. Now, he's wearing a fine suit and is WWE champion. He would also like to thank another man, Roman Reigns, whose name was greeted by light cheers and indifference.
Kofi said Reigns's title run was so brief. So brief. Sheamus said if Reigns would have just accepted Hunter's handshake, he might not be wearing this title. Sheamus gloated about wearing the title belt, then New Day posed with Sheamus. Dancing commenced, then Xavier played a few notes on the trombone.
Sheamus bragged again about the short length of Reigns's title reign. "Five minutes and 15 seconds," Sheamus gloated. He closed: "Sheamus 5:15 says I just kicked your arse!" Obviously WWE riffing on the "Roman Reigns 2:16" Twitter punchline from last week's Raw rating.
Sheamus's music played, then fireworks shot off for Sheamus to finish his celebratory introduction. Suddenly, Roman Reigns jumped into the ring out of nowhere to attack Sheamus. Reigns smirked down at Sheamus as some of the crowd cheered and others booed. Reigns picked up the title belt and left the ring with the belt with a smirk on his face. Sheamus woke up and JBL encouraged him to go his title back as Raw cut to break.
[ Reax: One of the worst opening segments of the year, making those never-ending Seth Rollins-Kane arguments sound pretty good right about now. Just a dreadfully long talking segment that lost the audience mis-positioning mid-card acts in the opening segment. Sheamus was too ice-cold before Survivor Series for the audience to care about him as champion. Compound that with Reigns now looking like a thief, even if he's justified in giving Sheamus a receipt and taking the title belt, continues to send mixed signals about a fragile character. ]
[Commercial Break at 8:13]
[Q2] Backstage, babyfaces Dean Ambrose and The Usos joined Roman Reigns in celebrating having possession of the title belt. Triple H and Stephanie McMahon walked up to Reigns to get the belt back as the other babyfaces shrunk back. Reigns said what's the problem when it looks pretty good right here? He played games with Hunter and Steph, then handed the belt over to Stephanie instead of Hunter. Hunter said the funny thing is Sheamus wants to defend the WWE Title against Reigns tonight. And he's agreed to it. Reigns liked that. Steph interjected that Reigns has to win the match in under 5:15, though, to win the title.
THE NEWS: Sheamus vs. Roman Reigns for the WWE Title tonight.
In-ring: Tyler Breeze and Summer Rae were hanging out in the ring back from break. Dolph Ziggler's music played to bring out Breeze's opponent for a re-match from Survivor Series. No pre-match promos or back-story to establish why the match was taking place now.
1 — DOLPH ZIGGLER vs. TYLER BREEZE (w/Summer Rae)
Breeze got the upper-hand, then knocked Ziggler out of the ring before Raw cut to an early break.
[Commercial Break at 8:24]
Ziggler made a comeback back from break. JBL said Ziggler must think he's "wrestling himself" out there. Ziggler warmed up Sweet Chin Music, but Breeze avoided and scored a nearfall on Ziggler. The announcers talked up Breeze having a "mean streak" to him, trying to build him up as more than a "pretty boy wrestler."
[Q3] Ziggler sold a right shoulder injury, but Breeze was unable to take advantage. They went into a sequence of rolling pinfall exchanges, but neither man could get a three. Ziggler suddenly snapped off a superkick, then covered Breeze for the win.
WINNER: Ziggler in 10:30. Ziggler got his win back and Breeze is back to where he was before beating Ziggler at Survivor Series. Classic 50/50 booking with a weak pre-match set-up not really benefiting either guy.
Backstage: Rusev was shown standing in the hallway. And, there was Lana returning to Raw TV wearing an engagement ring. She was back in heel mode with her villainous smile, either re-embracing Rusev or setting him up. Cole said Rusev and Lana are on Miz TV next.
[Commercial Break at 8:33]
Miz TV
Back on Raw, The Miz was already in the ring. Rusev was standing next to him. Miz gave his standard ring introduction and asked the crowd to get up to welcome his guest, Rusev. The crowd was indifferent. Until a "USA" chant started up. Rusev said tonight is not about USA. Rusev growled at Miz to control his show.
Miz said he can only imagine how angry Rusev was watching the WWE Title tournament while home nursing his injuries. Rusev cut off Miz. He said he was sitting at home a month ago unable to lift his — the crowd interrupted with a "We Want Lana" chant. Rusev stood up to shout at the crowd that Lana is his. "She's my wife, so shut up!" he said.
"As I was saying, Michael," Rusev told Miz. "No one sent me a box of chocolates or get-well cards." He said only one person nursed him back to health. And he would like to welcome this person to the ring. The old Russian theme music played to bring out Lana making her return to TV after injuring her wrist a few months ago.
Cole said it appears that things are patched up now between Rusev and Lana. They went to the TMZ photos of their engagement announcement. In the ring, Rusev wrapped his arm around Lana as Miz tried to figure out what's going on here. He said they have been through it all – title wins, WrestleManias, love triangles, love squares, make-ups and break-ups, and now an unexpected engagement.
Lana spoke that it was the happiest day of her life. Miz said this is wild. He said that it's beautiful, but after all of their insults and being with other people – he does not understand how they were brought together. Lana said when Rusev asked her to spend the rest of their lives together, everything was forgiven. "The past was forgotten," she said. "We fight hard, but love even harder." They giggled, then Lana noted their love is only stronger after venturing out with other people. She noted that she did not go all the way with Dolph. "Yes, you did!" chant from the crowd. "No!" she said. "Rusev, my heart belongs only to him."
Lana said Rusev is her Bulgarian sunshine. Rusev added that he did not go all the way with Summer, either. "Yes, you did!" the crowd chanted. Rusev said he might have broken her heart, but that's about it. He said that from now on when he steps into this ring, he will break their spirit and their body! He said when he steps out of this ring, his heart will belong only to Lana. They smooched. Long kiss. Lipstick all over Rusev.
THE NEWS: Rusev and Lana are back together in their original heel form.
Suddenly, Ryback's music played. Ryback marched out on-stage laughing at this situation. Ryback said they've all seen enough of this garbage. And, he heard the Zig-Man went all the way, trying to help out Ziggler. Ryback said they're in Pittsburgh, where they believe in smash-mouth. He said this is Raw, and the Big Guy is hungry. "Feed Me More!" chant from Ryback and the crowd. Cole said they have a scheduled match, and it's Rusev against Ryback next. "Rusev, crush!" Lana declared off-mic as Raw cut to break.
[Q4] [Commercial Break at 8:45]
2 — RYBACK vs. RUSEV (w/Lana)
The match was joined in-progress with Rusev stomping away on Ryback as Lana watched approvingly. The match suddenly moved to the floor where Ryback and Rusev collided near Rusev's flag stand. Lana was knocked over in the process as the ref continued his ten count. Lana sold a thigh injury, prompting Rusev to check on her and allow the ref to hit a ten count. Rusev used Lana's injury as an "out" to avoid continuing the match against Ryback, who was declared the winner.
Post-match, Rusev yelled at Ryback, blaming him for what happened to Rusev. Ryback remained standing in the ring as Rusev slowly walked away from ringside with Lana.
WINNER: Ryback via count-out at 1:43 of what was shown. This non-match will presumably lead to a full match at TLC.
Authority's Office: Triple H was texting away on his phone when Dean Ambrose walked in. Hunter congratulated Ambrose on winning the #1 contender match to the IC Title on Smackdown. Long pause. "That's it?" Dean asked. "You called me in here to congratulate me?" Yep, that's it. Oh wait, here's another thing. If Reigns does not win his title match tonight, then Dean loses his title shot at TLC, too. He told Dean that Reigns needs to realize that his choices affect his friends, too. Dean glared after Hunter as he walked away.
In-ring: The Dudleys's music played to bring out Bubba Ray and Devon Dudley with tables. Cole plugged the Dudleys having some business on the other side of the break.
NXT Video plug: Samoa Joe and Finn Balor's NXT Title feud is heating up. Big spotlight on Joe.
[Commercial Break at 8:55]
Dudleys Promo
Back from break, the Dudleys were in the ring with four tables covered in black cloths. Bubba Ray spoke about the Wyatts beating them up last week on Raw, then again on Smackdown, where the beating was even worse. Why? Because they double-chokeslammed him through one of their own tables. Bubba said the Wyatts has been able to do to him and his brother what most men have not been able to do.
[Q5 — second hour] Bubba said there's only one problem. "You guys didn't get the job done," he said. He said they are ready to fight at any given moment. Bubba and Devon then approached the tables, pulling back the cloths to reveal the name of each Wyatt Family member on the tables. Devon reminded the Wyatts of the Dudleyville Commandments, then Bubba noted they already have the tables, so Bray needs to bring his family down to the ring to settle this right here, right now.
The Wyatts's theme played to bring out Bray, Luke Harper, Erick Rowan, and Brain Strowman on-stage. Bray spoke on behalf of his family that he would like to accept Bubba's little challenge. But, he should be more careful inviting the devil in his backyard because he might just like it and decide to stay. The theme played again and the arena went dark.
Back in the light, Bray said the Wyatts must think they have the upper-hand with a four-on-two advantage, but they have their own family. Suddenly, Tommy Dreamer walked out through the crowd wielding a trashcan full of weapons. The announcers sold shock as Dreamer returned to WWE TV for the first time in years.
Dreamer tossed the items into the ring as the crowd picked up an "ECW" chant. Bubba, Devon, and Dreamer stood their ground in the ring as the Wyatt henchmen approached the ring. The ECW trio used kendo sticks to fend off the henchmen as Bray yelled from a safe distance. Raw cut to break.
[Commercial Break at 9:05]
And, a match was happening back from break, as opposed to the first encounter at TLC.
3 — THE WYATTS (LUKE HARPER & ERICK ROWAN & BRAUN STROWMAN w/Bray Wyatt) vs. THE DUDLEYS (BUBBA RAY & DEVON) & TOMMY DREAMER — six-man tag match
They built to Dreamer tagging in. Dreamer quickly lost the advantage when he walked into a sidewalk slam. The Wyatts roughed up Dreamer with in-and-out tags wearing him down. Rowan predictably lost control, airballing a splash, then Dreamer tagged in Bubba Ray. Ray talked trash as he ran over Harper. Suddenly, the match broke down with all six men in the ring. The ref called for the bell, drawing boos from the crowd.
Post-match, the Wyatts picked apart the Dudleys and Dreamer. Bray called for his henchmen to grab the tables. A blank table with no name taped on it was brought into the ring. Suddenly, Bubba woke up and pushed Bray off the ring apron through a table down below. His henchmen sold shock and checked on their fallen leader as the Dudleys and Dreamer walked up the ramp. The henchmen eventually picked up Bray and helped him away from ringside.
WINNER: No Contest at 3:28 of what was shown. Another abrupt, rushed match not getting much juice out of a quick nostalgia moment. PWTorch specialist Tony Donofrio summed it up live at the building…
After the nostalgia pop for dreamer, most of the crowd here realized it's just 3 old guys and the not-so-over Wyatts in the ring. #Raw

— Tony Donofrio (@TonyDonofrio) December 1, 2015
Earlier Tonight: A suited Sheamus was given a victory celebration by New Day. JBL said it was the championship celebration that Sheamus did not get last week on Raw. But, he was interrupted by Roman Reigns, who also took Sheamus's title belt.
Still to come: Sheamus vs. Reigns in a Beat the 5:15 Clock for the WWE Title.
[Q6] [Commercial Break at 9:15]
Back from break, Goldust's music was playing for something different on the show. Cole said he's in singles action next. Alberto Del Rio's music played to bring out the U.S. champion by himself. No wait, there was Zeb Colter following from a distance on his scooter. The duo stood on the stage, then slowly walked down to the ring as Cole recapped the Del Rio-Jack Swagger feud, even showing clips from Thursday's Smackdown.
That was not a replacement for a promo, as Zeb spoke that the people are too concerned with social media. And, they have too much hate in their hearts. He said Alberto is the only man who can beat the hate out of them. Del Rio took the mic and charged the ring to stand opposite Goldust. "You are out of date," Del Rio said. "And full of hate." Goldust smacked Del Rio across the face to express his feelings. He demanded the bell.
4 — U.S. champion ALBERTO DEL RIO (w/Zeb Colter) vs. GOLDUST — non-title match
As soon as the bell sounded, Alberto reversed momentum and smashed Goldust with hard strikes. Del Rio settled on a reverse chinlock, but Goldust responded with a powerslam for a two count. Del Rio followed right up with his two-foot corner foot stomp for the pin and the win.
Post-match, Alberto tried to inflict more punishment on Goldust, but Jack Swagger's music interrupted. Alberto appreciated the heads-up to bail from the ring before Swagger could get to him. The feud continues.
WINNER: Del Rio at 1:58. Another brief match. Since the opening match, WWE seems to be afraid of any match lasting longer than … 5:15.
Locker Room: Becky Lynch approached Divas champion Charlotte. Becky had an idea to approach The Authority to request a match. A tag match? No, a singles match against each other. Becky said she just wants to have fun, like at NXT. Charlotte did not like the idea, but agreed under one condition not to let Paige get in her head. And for her dad to come down to ringside. Becky was stoked. Ric Flair then walked in for a woo! exchange. Charlotte sold being embarrassed by her dad before woo'ing with him.
In-ring: Lucha Dragons were introduced to the ring. They face The Usos next.
[Q7] [Commercial Break at 9:29. Coincidentally with Raw in Pittsburgh, a commercial for the "Concussion" movie aired.]
Back live, New Day was down at ringside to watch the tag match. Big E. was wearing JBL's cowboy hat. The Usos then made their ring entrance to face the Luchas.
5 — WWE tag champions LUCHA DRAGONS (KALISTO y SIN CARA) vs. THE USOS (JIMMY & JEY USO) — #1 contender match to the WWE Tag Titles
As the match started, New Day spoke over Cole, who tried to get back to the action … by talking about Uso in a turkey suit on Smackdown. Big E. then did a mock play-by-play voice, pretending to call the action in the ring. Cole interrupted by telling them to call the covers. All three stopped and looked at Cole. "You're not my daddy!" Big E. shouted at Cole. More mock commentary as Sin Cara dropkicked Uso out of the ring. Kalisto then flew over the top rope to splash Uso. Another big crash, then a third in front of the announce table. New Day mocked WWE's mantra of performing for the audience, breaking the suspension of disbelief that the wrestlers are competing to win something. Suddenly, New Day dropped the headsets and attacked both teams in the ring. The bell sounded.
Post-match, New Day gloated from the entrance ramp that since neither team won the match, they don't have to defend the Tag Titles against anyone at TLC. WWE left it at that without a resolution.
WINNERS: No Decision at 2:54.
Backstage: Team B.A.D. walked down the hallway. Tamina sold being embarrassed by Naomi and Sasha Banks dancing. Or, something like that playing the big sister thinking her little sisters are immature. They're in action next.
[Commercial Break at 9:39]
Backstage: The Usos and Lucha Dragons argued with Stephanie McMahon about being #1 contender to the Tag Titles. Steph said they seem to be thinking about a triple threat tag match. She said the Luchas are in. And, the Usos are in … if their cousin Roman Reigns beats Sheamus tonight in 5:15. She said Reigns has to learn that his choices don't just impact himself or his friends, but his family.
In-ring: Brie Bella was standing by with Alicia Fox. Cole relayed a "nasty Twitter exchange" between Brie and Sasha Banks. Sasha Banks was out next as the opposition, mocking Nikki Bella's ring entrance. It's unclear who the face is here. In a pre-match inset promo, Team B.A.D. ran down Brie and Nikki, who Cole noted is at home recovering from injuries.
6 — SASHA BANKS (w/Naomi and Tamina) vs. BRIE BELLA (w/Alicia Fox)
Sasha controlled the match early on, then mocked the Bellas's look. Alicia tried to get involved, but Naomi yanked her down and Tamina superkicked her. Sasha resumed control of the match on Brie. Apparently being smaller than Sasha made Brie the default babyface fighting from underneath. Brie's comeback did not last, as Sasha cut her off, then applied the Bank Statement. The only question was whether she could last past 5:15. The answer was no, as Brie quickly tapped to Sasha.
WINNER: Sasha via submission at 4:58. Establishing Sasha as a threat now is good for a future title feud with Charlotte.
Backstage: Roman Reigns was shown warming up in front of the Penguins's logo'ed locker room door. The Usos and Dean Ambrose walked up to Reigns and talked him up before facing Sheamus for the WWE Title. Cole said the title match is next, strategically during the NFL halftime.
[Commercial Break at 9:51]
Back from break, Roman Reigns emerged through the crowd and marched down to the ring to challenge for the WWE Title. JBL said he has the weight of the world on his shoulders. Sheamus was out next sporting a hand-made "Sheamus 5:15" t-shirt in the design of Stone Cold's trademark black & white shirt. Lilian Garcia handled formal ring introductions before the bell sounded right at the top of the hour.
[Q9 — third hour]
6 — WWE World Hvt. champion SHEAMUS vs. ROMAN REIGNS — WWE World Title match — Reigns has 5:15 to win the title
Notably, the verbiage changed to Reigns just has to "win the match," not necessarily win the title. On cue, Sheamus tried to run away several times in the opening minute. Sheamus eventually used Reigns's over-aggressiveness against him, knocking off a good 30-45 seconds by smashing him into the guardrail. 4:00 on the clock.
Sheamus settled on a reverse chinlock back in the ring. The crowd got nervous as Sheamus continued to maintain the hold. 3:00 on the clock.
Reigns broke free and landed a clothesline, then another. Reigns delivered a big-boot for a two count. Sheamus ran out of the ring, so Reigns tackled him on the floor. Back in the ring, Reigns hit a Samoan Drop for a close two count. 2:00 on the clock as Sheamus bailed from the ring again.
On the floor, Sheamus tossed Reigns into the announce table, then into the lap of the announcers. Cole avoided being wiped out, then Reigns stood up behind Sheamus and bashed him into the ring apron. Reigns stopped a ten-count, then dragged Sheamus back into the ring. 1:00 on the clock.
Reigns stalked Sheamus for the big spear, but Rusev showed up ringside, grabbed Reigns's foot, and yanked him down for a DQ. On the other side of the ring, Barrett and Del Rio showed up to help up Sheamus. Lilian announced Reigns as the winner and Sheamus as still the World Hvt. champion.
WINNER: Reigns via DQ at 4:38; Sheamus retained the WWE Title.
Post-match, Sheamus took a seat next to Lilian to gloat about still being champion. He said it looks like Reigns is going to have to wait until TLC to get his title shot. Sheamus then introduced his friends, the League of Nations. He introduced Barrett from the U.K., U.S. champion Alberto Del Rio (no mention of whether he's from Mexico or Mex-America), and Rusev from Bulgaria.
Suddenly, The Usos and Dean Ambrose charged the ring to stand with Reigns. The two teams were a week late for Survivor Series, but squared off for a while trash-talking off-mic. It's awkward having everyone stand around when cliched, pre-programmed WWE TV dictates an authority figure's music interrupts to book a tag match to follow. Sheamus eventually hit the ring apron and Reigns uppercut him down to the floor.
Backstage: Charlotte and Ric Flair were shown walking down the hallway. Charlotte faces Becky Lynch next.
But, first, a WWE Shop plug from heel tag champions New Day plugging a Cyber Monday sale. This would be Mick Foley's Santa Claus spot if not for him kinda thinking about maybe not watching Raw anymore.
[Commercial Break at 10:11]
Ringside: Members of the Pittsburgh Steelers were shown ringside playing to the camera. Lots of Steelers on the front row. No sign of former Raw TV guest host Ben Roethsliberger.
[Q10] Back at ringside, Paige was at the commentary table with the one job to dog Ric Flair. Because she's a heel. Charlotte was introduced with Ric Flair, then Becky Lynch was out next as the opposition. Before the bell sounded, Cole plugged Raw in N. Charleston, S.C. next Monday. That's usually a town that WWE no-sells as being "not big enough to mention where Raw is emanating from," but apparently they need to sell tickets.
7 — Divas champion CHARLOTTE (w/Ric Flair) vs. BECKY LYNCH — non-title match
Friendly, competitive start in the ring as Paige ran down Charlotte on commentary. WWE cut backstage to Team B.A.D. pretending to watch the match on a monitor. Naomi was too busy on the phone to pay attention, though. Back in the ring, Charlotte landed knife-edge chops. Leg trip, then Charlotte sold a leg injury.
Ric hopped on the ring apron pretending to sell concern, then Charlotte rolled up an unsuspecting Becky from behind. Post-match, Charlotte got a cocky look on her face, Ric celebrated ringside, Paige said she told you so at the announce table, and Becky sold shock in the ring. Charlotte strutted up the stage with a celebratory Ric.
WINNER: Charlotte at 4:37. Well, they had to adjust Charlotte's presentation, but they jacked it by making the heel, Paige, the truth-teller, and turning Becky into that poor dupe Sting.
Announcers: Cole announced an eight-man tag match for tonight. Yes, it will be The Usos & Reigns & Ambrose vs. League of Nations.
[Commercial Break at 10:25]
Backstage, Charlotte tried to explain to Becky that she was trying to teach her a lesson. Tough Love. We're still girls, right? Becky wasn't so sure, but the wheels started turning on Charlotte not being there for her the past few weeks. Paige then walked up to Becky,
Announcers: Cole asked the announcers if they remember Adam Rose. Cole said he's undertaking a new adventure called the WWE Minute, like a Hollywood gossip show.
Video: Rose, sporting glasses looking down on life, ran down WWE relationships in front of a black backdrop with some generic TV production graphics in the upper-right. Rose riffed on the Rusev/Lana and Ziggler-Breeze/Summer Rae relationships.
[Q11] Somewhere: Stardust did his outer-space promo routine, then Titus O'Neil popped into the camera shot wearing a Santa suit. Titus yelled at Stardust to get in the Christmas spirit, then he threw am empty box down at him. Stardust sold being hit by a chair, then Titus dog-barked Raw to break.
[Commercial Break at 10:32]
Smackdown plug: Bubba Ray vs. Bray Wyatt in singles action this Thursday night. Tommy Dreamer was included in the graphic.
Back on Raw, Reigns, Ambrose, and The Usos were already in the ring for the main event. This is not an elimination match, so either there will be a post-main event segment or this will be an extra-long tag match. Which makes you wonder where IC champion Kevin Owens is tonight. The League of Nations were out next to face Reigns's Squad.
Before the bell sounded, New Day's music played for their third appearance of the night. Kofi spoke that this is the part where everyone shuts up and listens. He said they have an important announcement to make. Big E. said they have been allowed to join the League of Nations for this match. Xavier Woods said this makes it a seven-on-four match. The crowd was like, okay.
8 — ROMAN REIGNS & DEAN AMBROSE & THE USOS vs. WWE tag champions New Day (KOFI KINGSTON & BIG E. & XAVIER WOODS) & League of Nations (WWE World Hvt. champion SHEAMUS & U.S. champion ALBERTO DEL RIO & RUSEV & KING BARRETT) — handicap match
As the match started, Cole and Co. cleaned up the messy TLC match line-up – Reigns is still facing Sheamus for the WWE Title in a TLC match and New Day will defend the Tag Titles against The Usos and Lucha Dragons in a three-team match. So, the heels still have to defend against two teams despite interfering in the #1 contender match, but there was no follow-up to make it clear to the audience that New Day's tactics back-fired and they're going to get comeuppance in two weeks. Just a mess.
The match started with The Usos dominating Xavier Woods. They did New Day's routine stomping a mudhole in Xavier with in-and-out tags. The two teams had a stare down ringside heading to break.
Mild "We Want Owens" chant, but otherwise a VERY DEAD crowd for a #Raw main event. Just brutal.

— Tony Donofrio (@TonyDonofrio) December 1, 2015
[Commercial Break at 10:41]
[Q12] Back from break, Del Rio literally kicked Jey Uso's butt. Uso sold the left butt cheek before more heels tagged in to wear down Uso. Uso tried to make a comeback, but sold tweaking his knee. Now that the babyfaces cannot be trusted, JBL thought Uso was faking it like Charlotte. There was no rebuttal from the lead announcer, Cole. So, no sympathy for Uso getting worked over by the heels.
Uso made a comeback, big Big E. yanked him down by the hair from the ring apron behind ref Charles Robinson's back. Uso fell down to the floor saying, "My knee, my knee." Raw faded to break with Uso in trouble clutching his knee.
[Commercial Break at 10:50]
Back from break, Cole said the situation is dire for "Roman Reigns and his team." Cole said Uso was taken to the back during the break, so it's seven-on-three. So, the other Uso took his place getting isolated and beat up, which did not look much different than before the break. As Reigns and Ambrose sold frustration watching on the ring apron, Xavier worked the trombone.
Reigns finally took a tag. Xavier also took a tag, creating an instant mis-match. Reigns easily dismantled Xavier, then cockily approached Xavier in the corner for ten consecutive clotheslines. And an illegal right hand. Sheamus told Reigns to come get some, so Reigns chased after him and smashed New Day members in the process, but Reigns got blasted by Del Rio.
Del Rio rolled Reigns back into the ring, where Rusev delivered punishment to Reigns. Meanwhile, Uso sold on the floor after being punished for a while. So, Ambrose was the last lifeline for Reigns standing on the ring apron.
[Q13 — over-run] The heels worked and worked on Reigns heading to the top of the hour as the crowd waited for Dean to get in there to muster a reaction. JBL said Reigns brought this upon himself. The lead announcer, Cole, and the other announcer, Byron Saxton, sat quietly not defending Reigns. So, JBL had to back off his comment by saying Reigns is a good competitor.
Reigns finally tagged in Ambrose, who woke up the crowd teeing off on Sheamus. Ambrose went for Dirty Deeds on Sheamus, but Sheamus pushed him away, only to take a Rebound Lariat. Ambrose climbed to the top turnbuckle, but Xavier yanked him down. So, Ambrose wiped out the heels on the floor. Ambrose then flew through the ropes with a suicide dive to Sheamus.
Back in the ring, Ambrose came off the top with a flying elbow to Sheamus for a two count when Rusev broke up the pin. Jey Uso returned to the action, only to take a standing kick from Del Rio. Superman Punch from Reigns to Del Rio. Chaos everywhere. Barrett, a non-factor in the match, tried to get involved, but Ambrose knocked him off the ring apron. Sheamus then surprised Ambrose with a Brogue Kick and it was good for the pin and the win.
WINNERS: The Seven Mid-Card Heels at 25:10. Long match hammering home the point of the deck stacked against Reigns heading into TLC.
Post-match, Reigns sold frustration down at ringside. He also sold a right forearm/shoulder injury. Ref Robinson checked on him as he winced and nodded as if to say he's selling. Reigns then charged back into the ring when the heels tried to attack Ambrose. But, the numbers advantage caught up to Reigns, who also got beat down. The League of Nations and New Day celebrated with Sheamus to book-end the show. Cole said it's indeed a "dawning of a new day in WWE." Cole signed off five minutes past the top of the hour.
***
LIVECAST ALERT: We're talking your calls on the Raw post-game show at 11:30 p.m. EST at PWTorchLivecast.com breaking down tonight's show.
***
Alert: Follow PWTorch staffer's live, real-time tweets during Raw at Twitter.com/PWTorch/torch-staff.
Reax: We welcome your 0-10 score & comments on this show for a "Raw Reax" feature. To contribute your thoughts on Raw, email to pwtorch@gmail.com.
Shop: Do you shop on Amazon? Support PWTorch by using our ID when shopping. Just click THIS LINK and whatever you buy costs the same, but it gives back to PWTorch!
ARE YOU VISITING OUR SISTER WEBSITE,  PWPODCASTS.COM? 
Written summaries of pro wrestling's most popular celebrity-hosted podcasts. Don't have time to listen? No problem. Keep up on the revealing, newsworthy comments from the hosts and their big-name guests in our detailed reports. Use it as a guide to know what to listen to and use the links to directly stream the shows. CLICK TO VISIT.