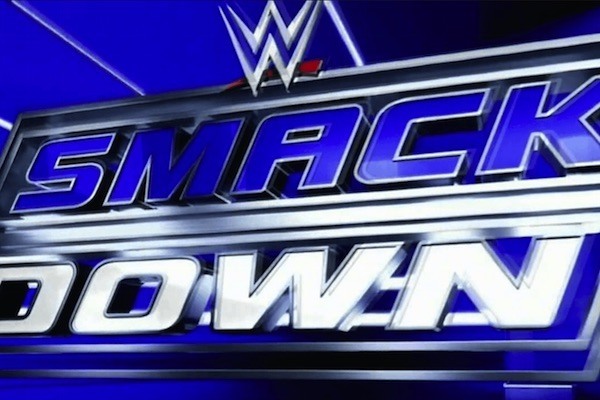 ---
SPOTLIGHTED PODCAST ALERT (YOUR ARTICLE BEGINS A FEW INCHES DOWN)...
---
On the go-home show for Sunday's TLC pay per-view, Smackdown will host the contract signing for the Dean Ambrose vs. Kevin Owens Intercontinental Championship match to take place at that show. Plus, Roman Reigns takes on United States Champion Alberto Del Rio.
WWE Smackdown review
December 10, 2015
Taped 12/8/15 in Jacksonville, Fla.
Aired on SyFy
By Greg Parks, PWTorch Columnist (Twitter: @gregmparks)
– WWE Open.
– Smackdown Open.
– Roman Reigns, Dean Ambrose, and The Usos came out of the crowd to start the show. As they did, Rich Brennan, Booker T., and Jerry Lawler were shown at the commentary desk at ringside, from an odd, lower-than-usual camera angle. Alberto Del Rio followed Roman's entrance, joined by the League of Nations. As he came out, they showed Jack Swagger tapping out Stardust on Raw, followed by Del Rio's attack on Swagger with a chair. Del Rio and Swagger will face off in a Chairs Match on Sunday.
1 – ROMAN REIGNS vs. ALBERTO DEL RIO
The first major spot of the match was Reigns mounting Del Rio in the corner and punching away, the camera at ringside shaking with every fist connection. Del Rio came back with a snap-mare and a dropkick to the back of the head. A minute later, Reigns came back with a clothesline and an overhead suplex. Del Rio came off the ropes out of the corner with a clothesline. Things have been eerily civil at ringside thus far, despite the presence of six others, three each on opposing sides. Reigns kicked Del Rio when Del Rio ducked, then clotheslined him over the top to the outside. The League of Nations stared down Reigns, allowing Del Rio to take over on offense and toss Reigns into the steel steps. The League of Nations was at a stand-off with The Usos and Ambrose as the show went to break at 4:45 of the match.
[Commercial Break]
Back at 7:53 with Del Rio cinching in a chin-lock in mid-ring. While Del Rio was seated on the top rope on the receiving end of Reigns punches, he slid down into the ropes, grabbing Roman's arm, and locking it in an arm-breaker in the ropes. Eventually, Reigns showed off his strength by lifting him up and knocking him to ringside. Back in, Del Rio fell victim to a Samoan drop. The men exchanged haymakers, ending with Reigns clobbering Del Rio with a jumping clothesline. Ten clotheslines in the corner from Reigns. Running boot found the mark. Reigns missed a Superman punch, but Del Rio hit a back-stabber for a near-fall at 11:37. Reigns countered a cross arm-breaker attempt and slammed Del Rio for a two-count. Reigns readied for a spear when Sheamus distracted him by getting on the apron. Enzugiri by Del Rio for two. The men traded counters when Reigns hit the Superman punch. As Reigns crawled to try to make a cover, the League of Nations pulled Del Rio out of the ring. That wasn't enough for a disqualification. However, Roman's family took issue with this move and Reigns joined them in a fight.
WINNER: Double disqualification, at 13:59. This was weird to throw on as the first match with no chance to hype. I thought it would go short, leading to something in the main event. As much as Reigns deserves some blame for his lack of over-ness, the fact that he's only really had lukewarm heels to face (like Del Rio), a problem pervasive throughout WWE, has not helped him.
The brawl continued in the ring as referees came down to break things up. Finally, the babyfaces stood tall after Reigns Superman punched Rusev off the apron.
– Tonight, Ambrose and Kevin Owens will have an Intercontinental Championship Match contract signing.
– Next, Dolph Ziggler takes on Tyler Breeze. Yes, again.
[Commercial Break]
– Ah, here's the rub: Tonight's main event will be Reigns, Ambrose, and The Usos facing The League of Nations in an eight-man tag match.
– Tyler Breeze's entrance was just concluding. He was joined by Summer Rae and a video package showing Ziggler beat Breeze on Raw two weeks ago.
2 – TYLER BREEZE vs. DOLPH ZIGGLER
Ziggler and Breeze did some nice mat wrestling, fighting over an arm-bar and turning that into a pinning combination or two. We got a number of shots of Summer Rae enjoying the advantages of the VIP Lounge at ringside. Ziggler leap-frogged Breeze and came down holding his knee. Breeze went after the knee. Half Boston Crab applied by Breeze. Once Ziggler broke free and got to his feet, Breeze took him down again with a dropkick to that knee. Breeze found himself on the outside while Ziggler recovered. As he re-entered the ring by jumping over the top rope, Ziggler caught him with a superkick for the surprise victory.
WINNER: Ziggler, at 4:43. Despite the loss, Breeze may have gained some credibility with some early mat wrestling and leg-work on Ziggler. He showed to doubters that he has some scientific wrestling ability, which one may not expect from someone who has the "Prince Pretty" gimmick.
The finish of his match was replayed.
– We saw a video package on Rusev and Lana on Miz TV from two weeks ago on Raw, and Ryback's interruption. They also included clips of the ensuing match and the follow-up this past Monday.
– In a 2-on-1 handicap match, Ryback faces The Ascension tonight.
[Commercial Break]
– New Day came out. A graphic was shown for their tag title match at TLC against the Lucha Dragons and the Usos in a Triple-Threat Ladder Match. By the way, JoJo was ring announcer for the evening. Kofi Kingston noted that LeBron James signed a lifetime endorsement deal with Nike. Xavier Woods asked where their endorsement deal was; after all, they're huge stars. Kofi showed off his kicks, which were powered by positivity. The team complained about facing two teams at TLC, and said it's as impossible as trying to return Adele's phone call. They did a "Hello" bit based on her latest song. Big E. said they'll send the other teams back to the kiddie tables to show they don't belong in New Day's league. The Lucha Dragons came out to oppose New Day.
3 – KOFI KINGSTON & XAVIER WOODS vs. THE LUCHA DRAGONS
A stalemate to start with Kofi and Kalisto trying the same moves, including dropkicks at the same time. Sin Cara monkey-flipped Kalisto into Kofi, resulting in a leg-drop. Springboard cross-body try by Cara, but Woods and Kofi caught him and dumped him to ringside. Big E. tried to play the trombone to mock Cara, but was unsuccessful. They cut to break at 1:25 of the match.
[Commercial Break]
Back at 4:53 with Cara getting stomped in the corner by the New Day members of the match. New Day prevented the tag of Cara to Kalisto. Cara made a comeback and both men ended up on the mat. Hot tag was made at 7:12. Kalisto worked over Woods with his innovating offense. Kofi was thrown over the top but Big E. caught him. Sin Cara dove onto both of them. Kalisto rolled up Woods for two, and Woods did the same. Spin kick into a Salida del Sol for the win.
WINNERS: Lucha Dragons, at 8:10. Another big win for the Lucha Dragons. They're worth investing something in. Of course, this win almost guarantees they won't win on Sunday.
Highlights of the match were replayed.
– The announcers were shown on-camera talking about Sunday's tag title match. Then they threw it to Monday night where Ambrose tossed popcorn and soda into the face of Owens. Yes, they even showed the soda toss in slow-mo.
– Next is the I.C. Title match contract signing.
[Commercial Break]
– Michael Cole was in the ring for the contract signing between Dean Ambrose and Kevin Owens. Ambrose entered first. There was also a man in a suit who was yet to be identified. Cole noted he was the attorney of Kevin Owens, Matthew Douglas. Ambrose said the guy looks like a substitute teacher, and he wasn't having this replacement. Cole pulled out a note and read from the Law Offices of Stone and Associates. The note read that Smackdown was not a safe working environment for Owens, and thus he was advised not to attend. He had granted power of attorney to this Douglas fellow, who signed for Owens. Ambrose pounded his head onto the desk. Ambrose said this was such an "adult" moment for him. He figured he'd come out, belittle Owens, flip a table, a fight would occur, he'd win, and the people would cheer. Ambrose said the "suit-and-tie" has no jurisdiction in his ring. Ambrose went ahead and signed, or at least he planned to; but before he could, he spied Owens out of the corner of his eye. Ambrose went after him but Owens got the better of the back-and-forth outside the ring. Owens trash-talked Ambrose while throwing him into the barricade. Ambrose reversed things and tossed Owens into the steps. Owens fled into the ring, where Ambrose followed. Owens pushed his attorney into Ambrose, allowing him to high-tail it while Ambrose pushed away the suit. As Owens watched from the ramp, Douglas was given Dirty Deeds. Owens shouted that Ambrose is a bully. Ambrose officially signed the contract.
– Still to come, an eight-man tag main event.
– Ryback was walking the halls backstage. He's out next, facing The Ascension.
[Commercial Break]
4 – THE ASCENSION vs. RYBACK – 2-ON-1 HANDICAP MATCH
No entrance for The Ascension. Rusev and Lana were on commentary. Ryback vs. Rusev is official for TLC. Ryback was able to fend off Viktor, but not Konnor. That is, until Konnor missed a corner charge. Viktor came in and pounded away on Ryback. That was a mistake, as soon after, he ran into a slam. Meat-Hook clothesline to Viktor. Viktor was knocked into Konnor, who fell off the apron. Shellshock to Viktor to end things.
WINNER: Ryback, at 1:28. The Ascension may have finally reached rock-bottom after that one.
Ryback confronted Rusev and Lana outside the ring after the match. Rusev embraced Lana and kept Lana between himself and Ryback as he walked away.
– Back to the announcers, who showed The Dudleys introducing Rhyno to join them and Tommy Dreamer in their fight against the Wyatt Family. An eight-man tag-team elimination match involving all of those competitors will take place at TLC.
– Speaking of eight-man matches, there's one that's main eventing Smackdown tonight.
– Next, Becky Lynch vs. Paige.
[Commercial Break]
5 – BECKY LYNCH vs. PAIGE
As Paige came to the ring, they showed the end of Miz TV from Monday, with Charlotte, Ric Flair, and Paige. Headlock take-over by Paige began the match. Charlotte was shown awkwardly watching this match on a monitor backstage. Becky's outfit on this evening was certainly unique. Paige delivered a number of knees to the chest and jaw of Lynch. A couple of running knees by Paige barely got a two-count. European uppercuts by Lynch led her comeback. Overhead suplex by Lynch. Lynch missed a charge and both ladies clotheslined each other down. This led to Charlotte's music cuing up. She walked to ringside. Paige knocked Lynch down, then focused on Charlotte. Lynch ended up catching Paige in the Disarmer for the submission win.
WINNER: Lynch, via submission, at 3:21. So we're back to inconsistent and confusing characters among the Divas. I'm not sure how I'm supposed to feel about Charlotte and Paige, specifically. What a Revolution!
– The announcers played with the cue cards, comparing the price of TLC on the WWE Network vs. PPV.
– A TLC Preview, focusing on Roman Reigns vs. Sheamus, is next.
[Commercial Break]
– The exterior of the arena in Jacksonville was shown.
– The announcers did a brief on-camera where Rich Brennan threw it to a video package on the Reigns vs. Sheamus feud.
– Roman Reigns came out for the main event. He came through the crowd again, but unlike in the opening segment, his partners did not join him. The main event match is next.
[Commercial Break]
– The League of Nations made their entrance out of break.
6 – ROMAN REIGNS & THE USOS & DEAN AMBROSE vs. THE LEAGUE OF NATIONS
Del Rio and Jimmy (face-paint on the right, according to Booker T.) began the match. Jey tagged in and worked the arm of Del Rio. Rusev knocked Jey down and went for a pin. Sheamus kicked Jey in the head from the apron, aiding Rusev in his offensive onslaught. More of an assault on Jey once he got outside the ring. The heels posed a bit as they went to break at 2:30 of the match.
[Commercial Break]
Back at 6:32 with Sheamus holding Jey in a chin-lock. Sheamus clobbered Jey with forearms. Ambrose was able to tag in and cleaned house on Sheamus. Eventually, Ambrose was downed, allowing Rusev to tag in and do some damage. Del Rio hit a back-stabber on Ambrose for a two-count at 9:43. Front suplex by Sheamus on Ambrose. The heels continued frequent tags. Rusev grabbed Ambrose and clutched him in a bear-hug. Step-up enzugiri by Del Rio missed and Ambrose took advantage of it with a tornado DDT. Tag made to Reigns at 12:42. Reigns put a hurting on Rusev. Superman punch to Rusev, which Rusev sold like a champ. The pin was broken up by the other heels. The Usos dove onto Del Rio and Sheamus at ringside. Back to Reigns and Rusev. Spear to Rusev for the finish.
WINNERS: Reigns, The Usos, and Ambrose, at 14:18.
The babyfaces stood tall in the ring as Sheamus held his WWE Title high at ringside in defiance. The Usos' dive, as well as Roman's spear, were replayed. The show went off the air with the babyfaces full of smiles, and Sheamus with his arm around his fellow heel champ, Del Rio, both of them holding tight to their belts.
Did you watch Thursday's Smackdown episode? Send your 0-10 score & Reax to pwtorch@gmail.com for our TV Reax feature.
Greg Parks has been covering WWE Smackdown for PWTorch.com since January of 2007. He is the host of "Moonlighting with Greg Parks," a PWTorch VIP-exclusive audio show posted each weekend. Follow him on Twitter @gregmparks for live Tweeting during Raw, Impact, and PPVs, as well as other bits of wisdom. Comments, questions and feedback are welcome, and can be sent to g_man9784@yahoo.com.