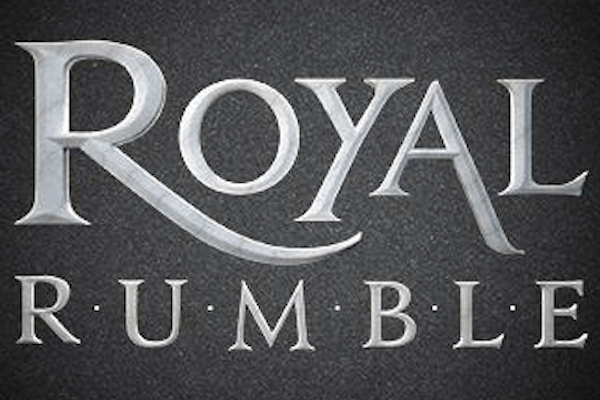 ---
SPOTLIGHTED PODCAST ALERT (YOUR ARTICLE BEGINS A FEW INCHES DOWN)...
---
The winner of the 2016 Royal Rumble match and new WWE champion is …
Triple H.
Hunter entered at #30 in the Rumble and eliminated WWE World Hvt. champion Roman Reigns next-to-last in the Rumble.
Hunter then battled IC champion Dean Ambrose in the final moments of the Rumble, eliminating Ambrose to win the Rumble and the WWE Title.
The PPV ended with Hunter celebrating in the ring with Stephanie McMahon and Mr. McMahon.
Also during the Rumble, Brock Lesnar was eliminated by three eliminated Rumblers, the Wyatt Family henchmen. This gave Lesnar an "out" and potential say in getting a title shot along with Reigns, who is owed a title re-match.
2016 Royal Rumble PPV List
ORDER OF ENTRY
(1) Roman Reigns at 0:00
(2) Rusev at 0:00
(3) A.J. Styles at 1:50
(4) Tyler Breeze at 3:55
(5) Curtis Axel at 5:45
(6) Chris Jericho at 7:25
(7) Kane at 9:15
(8) Goldust at 11:00
(9) Ryback at 12:40
(10) Kofi Kingston at 14:30
(11) Titus O'Neil at 16:05
(12) R-Truth at 17:55
(13) Luke Harper at 20:00
(14) Stardust at 22:15
(15) Big Show at 24:00
(16) Neville at 26:00
(17) Braun Strowman at 27:50
(18) Kevin Owens at 29:50
(19) Dean Ambrose at 31:45
(20) Sami Zayn at 33:45
(21) Erick Rowan at 35:25
(22) Mark Henry at 37:15
(23) Brock Lesnar st 39:05
(24) Jack Swagger at 40:50
(25) The Miz at 42:30
(26) Alberto Del Rio at 44:40
(27) Bray Wyatt at 46:20
(28) Dolph Ziggler at 49:20
(29) Sheamus at 51:00
(30) Triple H at 52:40
ORDER OF EXIT
(1) Rusev by Reigns at 1:30
(2) Breeze by Reigns & Styles at 5:13
(3) Axel by Styles at 7:03
(4) Goldust by O'Neil at 17:15
(5) Truth by Kane at 18:53
(6) Kofi by ??? around 24:00
(7) O'Neil by Show at 25:15
(8) Ryback by Show at 25:20
(9) Kane by Strowman at 28:20
(10) Show by Strowman a 29:10
(11) Styles by Owens at 30:45
(12) Owens by Zayn at 34:37
(13) Neville by Harper at 36:15
(14) Stardust by Harper at 36:25
(15) Henry by Harper & Strowman at 38:00
(16) Zayn by Strowman at 38:38
(17) Rowan by Lesnar at 39:55
(18) Swagger by Lesnar at 41:18
(19) Harper by Lesnar at 44:18
(20) Strowman by Lesnar at 45:45
(21) Lesnar by eliminated Wyatts at 48:35
(22) Miz by Reigns at 51:25
(23) Del Rio by Reigns at 51:35
(24) Ziggler by Hunter at 56:26
(25) Bray Wyatt by Hunter & Sheamus at 57:40
(26) Jericho by Ambrose at 58:40
(27) Sheamus by Reigns at 59:45
(28) Reigns by Hunter at 59:50
(29) Ambrose by Hunter at 1:01:42