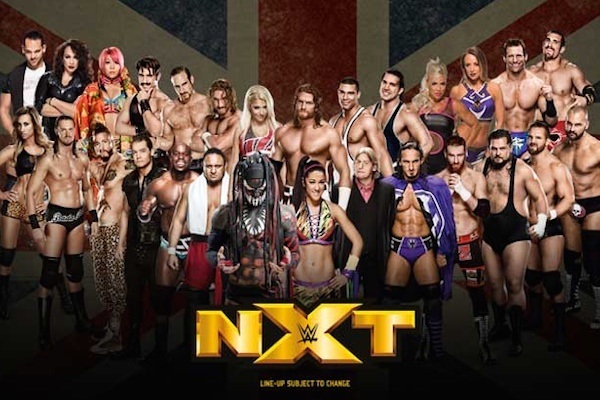 ---
SPOTLIGHTED PODCAST ALERT (YOUR ARTICLE BEGINS A FEW INCHES DOWN)...
---
Hits & Misses – 2/3 WWE NXT on WWE Network
NXT HITS
– Enzo Amore & Colin Cassady vs. two unnamed NXT enhancement wrestlers: This was a minor hit for me as I like seeing Enzo & Cass taking a more serious approach in the past few weeks. It's a side that most regular viewers of NXT haven't seen from those two and it's very refreshing. That match itself was nothing to write home about but the squash did what it needed to in terms of showing off the more serious tone. Couple this with Dash & Dawson's backstage promo and it feels like this feud will be coming to a end in the coming weeks (serious gimmick match to end the feud, e.g. cage match?).
– Asuka vs. Santana Garrett: This was basically a squash match that saw Garrett get a little more offense than I expected but it opened my eyes to another female talent that I'd like to see more of. Starting with Asuka, if this is the type of matches she's going to have in the interim, I'd prefer to not see her take as much offense from her opponent. With that said, I was impressed by the minimal offense I saw from Garrett. NXT seems to have some real gems in waiting with talent like Liv Morgan, Billie Kay, and (to a bit of a lesser extent) Peyton Royce. Santana is a freelancer right now, but she is a talent that should be on Triple H's radar considering her past success in TNA and the indies, as well as being the #4 wrestler in the PWI Female 50.
– NXT champion Finn Balor vs. Apollo Crews (non-title): This was a very good face vs. face match-up. Considering how cocky Balor came off during his interview before the match, I figured we'd see possible hints of a heel turn either during or after the match but that didn't happen. Both guys worked hard and were able to mesh their styles together well to put on a very good TV main event. The pre and post-match handshakes were also cool to see and there were no signs of either guy showing heel-like frustration or tendencies following the match. However, I was hoping to see Finn start to show some more edge and actually did want to see some subtle signs towards a a heel turn as his face run is starting to slowly go sour for this viewer.
– Announcement of new #1 Contender match: I liked the announcement of this match and echo Sami Zayn's sentiment that "in NXT, things get settled in the ring." I don't read NXT spoilers but based on who wins this match, we could see where Finn Balor's character is headed as well. As stated, I'd prefer a Balor heel turn at this point which would make the most sense if he's slotted into a match-up with Zayn. If anything, this sets up what should be another great match with Zayn taking on Samoa Joe one-on-one.
NXT MISSES
– Hype Bros. vs The Vaudevillians: This was a minor, yet significant (if that makes sense!), miss for me to start the show. The match was well worked for the most part and that isn't where my issue lies. In previous weeks, there have been vignettes that teased at The Vaudevillians turning heel with their subtle facial expressions. That story wasn't told here so much during the match or even after the match. Aiden English and Simon Gotch worked the match as heels but it didn't really bleed through as well as it could have. A short post-match attack on the babyface Hype Bros. could have even helped get across that English and Gotch are now heels. I expect this sort of misstep on Raw or Smackdown but not so much on NXT, where the storytelling is usually done very well.
– Carmella vs Emma: Another minor miss here, if only because I'm not sold on Carmella as the #1 contender to Bayley's NXT Women't Title and this match didn't do much to help sell me that she's a real threat. I'm certain that this is a transitional feud for Bayley, much like her feud a few months ago with Alexa Bliss was, but I'm not looking forward to their title match next week. Having said that, Carmella has improved since her debut and there is a decent story in place with her being Bayley's best friend. But, I'm still looking forward to this mini-program ending next week (hopefully). NXT is not short on really good heel women wrestlers and it will be much more interesting to see Bayley interact with them going forward.
Tony Donofrio is a Specialist for PWTorch covering a variety of topics and promotions. You can reach Tony at TonyDonofrio@icloud.com or follow him on Twitter @TonyDonofrio.