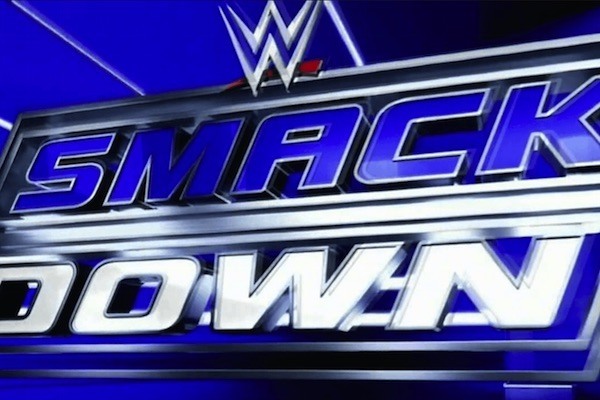 ---
SPOTLIGHTED PODCAST ALERT (YOUR ARTICLE BEGINS A FEW INCHES DOWN)...
---
The heavily-hyped rematch between A.J. Styles and Chris Jericho takes place on this edition of WWE Smackdown. Also, The Dudley Boyz will speak after their attack on The Usos Monday night on Raw.
WWE Smackdown review
February 11, 2016
Taped 2/9/16 in Portland, Oregon
Aired on USA Network
By Greg Parks, PWTorch Columnist (Twitter: @gregmparks)
– WWE Open.
– Smackdown Open.
– Chris Jericho came out to kick off Smackdown with his match against A.J. Styles. During Jericho's entrance, they showed him talking about this match with The Miz on the Highlight Reel/Miz TV on Raw, and Styles saving Jericho from a Miz beat-down…followed by a fight of their own. Jericho took the mic and said he respects Styles, but doesn't like him. He said Styles hasn't earned the right to be called "phenomenal." He reminisced about being in Portland back in 2008, in a World Title Ladder Match against Shawn Michaels. Jericho called himself "the best in the world at what I do" in a throwback to that era.
As Styles came out, Mauro Ranallo on commentary called him "the quintessential Georgia bulldog." Before the bell could ring, the Social Outcasts entered the arena. Heath Slater said they're about to take Smackdown viral. Slater said Styles may be the "phenomenal one" but they're the "phenomenal four" (even though Bo Dallas was absent, still in the studio laying down tracks, according to Slater). The Outcasts entered the ring and busted on Jericho, too. Adam Rose called them the "Social Housecats," then meowed. Curtis Axel didn't like that and wanted them to be called "Axel Rose." Jericho finally told them to shut up. Slater got in Jericho's face and played with his ears, so Jericho nailed him. Axel and Rose went after Jericho, so Styles helped his opponent fend off the Outcasts. Jericho took the mic after clearing the ring and said he and A.J. will fight later, but they're going to team up right now. Things looked to get settled as they cut to break.
[Commercial Break]
1 – CHRIS JERICHO & A.J. STYLES vs. CURTIS AXEL & ADAM ROSE
The match was joined in progress out of break. Styles tagged in after doing some trash talk with his partner. The future opponents played a game of one-upmanship throughout the match. This led to frequent tags and sustained offense. Jericho and Styles ran their mouths at each other long enough for Rose to hit a running knee on Styles from behind. Slater also got involved, illegally, from outside the ring. Styles turned the tide with a Pele kick to Axel. He crawled to make the tag, but Rose ran Jericho away. Jericho tagged himself in soon after, hitting Rose from the top with a double axe-handle. Lionsault connected. Styles slapped Jericho in the back to tag in. He hit a springboard elbow on Rose for the pinfall.
WINNERS: Styles and Jericho, 5:24 shown. People were already looking forward to a Jericho vs. Styles rematch, but this added more heat to the match later on.
After getting their arms raised in victory, Jericho hit Styles with the Codebreaker.
– Ranallo, Byron Saxton, and Jerry "The King" Lawler were shown at ringside. They discussed Daniel Bryan's career, and how the story began on Monday with Bryan's Tweet of his impending retirement. Brie Bella's Instagram photo and comments were shown as well, along with other Tweets from wrestlers in response to Bryan's announcement. Later tonight, we'll see his "thank you" to the WWE Universe from Raw.
– Next, though, we'll see the contract signing for the Fastlane main event that took place Monday night.
[Commercial Break]
– Ranallo thanked Will Roush for "Watch This," the official Fastlane theme.
– Back to the announcers, who talked about Roman Reigns vs. Dean Ambrose vs. Brock Lesnar at Fastlane. They pitched it to the Raw Rebound.
– A graphic aired for the Fastlane main event.
– A graphic also aired for Brock Lesnar's Smackdown return, slated for next week.
– Tables were shown set up all around ringside. The Dudley Boyz then made their entrance. They did not play to the crowd. They'll speak, next.
[Commercial Break]
– Bubba had the mic. He said on Monday night, they made a statement. But all the fans want to talk about is Daniel Bryan. That was greeted with a "Yes!" chant. Bubba said they're tired of hearing about Bryan. D-Von said since they came back, the fans have looked at them as a nostalgia act. He said they're the baddest tag team on the planet. Bubba said they returned to WWE to add to their legacy. They turned their attention to the tables at ringside. Bubba told the fans to take a good look at them, because it's the last time the fans will see the tables again. He asked for the stagehands to take the tables away. They did so. That's a good way to make sure they garner heel heat. Bubba said the fans only want to chant for tables, but instead, they should be chanting for the men themselves. "What about us? What about the Dudley Boyz?" Whoa, thought they were going to re-introduce Raven there for a second.
There was one table left in the ring, and Bubba said this is the last time the fans will hear it. "D-Von…get the…" But before finishing, the Dudleys dropped their mics, folded up the table, and took it backstage. I guess they can be besties with New Day now. Bubba showed a glimpse of what got him over as a singles heel in TNA, and if WWE lets him work the mic more, he may show them he can be valuable in that role.
– Jericho vs. Styles is still to come tonight.
– Next up was Becky Lynch making her entrance. She joins commentary for the upcoming Sasha Banks vs. Naomi match.
[Commercial Break]
2 – SASHA BANKS vs. NAOMI
As Banks came out, they showed the end of Tamina vs. Lynch, with Naomi and Banks getting into it outside. Sounds like Naomi has new theme music. Thesz Press by Banks, followed by some right hands. With Naomi seated, Banks hit the ropes and stopped to slap Naomi across the face. Banks seems to be playing more the heel here. Double-knees into the ribs of Naomi in the corner from Banks. Tamina pulled Naomi out of the ring and out of harm's way. The match continued into the break, at 1:54.
[Commercial Break]
Back at 6:16 with the two doing some chain wrestling. Small package by Banks for a near-fall. They continued to trade pin attempts until Naomi took over with a kick and dropkick. Naomi was thrown out of the ring and was supposed to take out Tamina too, but Banks didn't throw her near enough to Tamina and Naomi didn't redirect herself close enough, so Tamina basically had to bump herself. Banks came onto the apron, but Naomi tripped her up, which caused Banks to fall back-first into the edge of the apron. Back suplex by Naomi. Banks tried to fight back, but Naomi peppered her with kicks before finishing the sequence with an enzugiri. That was pretty cool. Banks fired back with flying clotheslines and a dropkick. Tamina tripped up Banks as the ref wasn't looking. Headscissors driver by Naomi for a two-count. Lynch left commentary to deal with Tamina, but Tamina decked her. Banks ran out to make the save and knocked Tamina over the chair Lynch was sitting in. Back in the ring, a roll-up by Naomi turned into a Bank Statement and a tap-out win for Banks.
WINNER: Banks, at 13:25. That match didn't do a whole lot for me. There wasn't a sense of urgency from either woman, and it didn't really get interesting until the final two minutes or so.
– JoJo was backstage with A.J. Styles. She asked Styles what the message Jericho was trying to send could be. Styles said he was called a "redneck rookie" on Raw. He's a redneck and proud of it, but a rookie he isn't. He said Jericho is trying to anger Styles so that he'll make a mistake that'll cost him. He said he'll show Jericho, and the world, why he's called The Phenomenal One. Thankfully, they allowed Styles to look a good bit taller than JoJo.
– Backstage were the Wyatts. "Smackdown, we're here," said Bray before blowing out his lantern.
[Commercial Break]
– The Wyatt Family entered the arena. As they came out, a video package aired on the Wyatts themselves, focusing on their recent attacks on Kane, Big Show, and Ryback. Bray took the mic and spoke about the War of the Titans in Greek mythology, with Zeus conquering all. Bray said that mythology has become their reality, as he is king of the gods. He called Braun Strowman, Luke Harper, and Erick Rowan his "army." Bray said he has his sights set on eliminating all of the titans from WWE, hence the attacks on the larger-than-life Ryback, Kane, and Big Show. Harper said in their presence, even the largest titans turn to mere mortals. Rowan spoke, imploring people to bow their heads and accept their fate. Strowman said the earth will shake and oceans will boil while darkness consumes all. Bray said the gods of today are ready to take their rightful place. He called himself the "angel of the dirt" and the eater of worlds. He said the war against our gods has only just begun. They posed and Bray asked us to "follow the buzzards."
– A six-man tag match is next: Neville & The Lucha Dragons vs. The Ascension & Stardust. We're revisiting THIS feud?
[Commercial Break]
– WWE's montage of Black wrestlers aired in honor of Black History Month.
3 – THE ASCENSION & STARDUST vs. NEVILLE & LUCHA DRAGONS
The heels attacked the babyfaces before the bell. Referee Mike Chioda finally got control and called for the bell with Stardust and Neville as the legal men. Kalisto hot-tagged in and did some damage, with help from his Lucha Dragons tag partner. Kalisto and Cara were not color coordinated this week, for what it's worth. Cara made the blind tag without Konnor seeing it. Salida del Sol by Kalisto and Cara hit the Swanton. Neville made the tag and delivered the Red Arrow for the win.
WINNERS: Neville and the Lucha Dragons, at 2:36. This was like getting in a time machine and going back to last summer. I thought they could've done more with this feud and storyline, but I don't know if revisiting it now is the best idea.
The finishing sequence was replayed.
– Chris Jericho vs. A.J. Styles II is tonight.
– Next however, we'll look at Daniel Bryan's retirement announcement from Raw.
[Commercial Break]
– The exterior of the Moda Center in Portland was shown.
– More Tweets from peers and colleagues to Daniel Bryan on Monday.
– The announcers talked about Bryan, then showed a video package on Bryan's announcement, the mainstream media coverage it received, and finally his speech on Raw, interspersed with the music video on his career that aired Monday night. Back in the arena, the Smackdown crowd joined in on the "Yes!" chant. The announcers plugged WWE Network's "Daniel Bryan: Greatest Moments," available tomorrow.
– Chris Jericho came out for the main event. A.J. Styles did as well, both men getting a second full entrance on the evening. The match takes place after the break.
[Commercial Break]
4 – CHRIS JERICHO vs. A.J. STYLES
Styles felled Jericho with a dropkick in the early going. Ranallo talked about Styles being a former IWGP Heavyweight Champion and NWA Heavyweight Champion (during his time in TNA). Jericho took over with a chop and kicks after a few minutes of Styles offense. More chops from Jericho in the corner. Styles missed a clothesline from the apron and Jericho retaliated with a springboard dropkick that knocked Styles to ringside. They cut to break at 4:02 of the match.
[Commercial Break]
Back at 7:04 with Jericho holding Styles in a rear chinlock. Styles pushed Jericho into the corner on a Jericho bulldog attempt. Flying forearm to a seated Jericho for a one-count. Butterfly suplex into a back-breaker from Y2J. He set up for the Walls of Jericho, but Styles countered. Enzugiri from Jericho for two. Lawler predicted that Styles' hair in his eyes will eventually cost him the match. Jericho came off the top but Styles met him with a dropkick on the way down. Lionsault for two at 11:37. Jericho kicked out of a pin following a neck-breaker. Styles Clash was avoided and Jericho locked in the Walls. The fans were visibly into this one. Styles punched his way out and tried the Calf Crusher. He managed to apply it successfully. Jericho made the ropes after very nearly tapping. Styles with a baseball slide that sent Jericho to the floor. Styles leveraged himself over the top, slingshot style, onto Jericho. Jericho tripped Styles up on a springboard attempt and caught him with a Codebreaker for the three-count. Boy, it's a good thing producer Brian James went on Twitter and said wins and losses don't matter in WWE…otherwise some fans may be upset with this result!
WINNER: Jericho, at 15:20.
Highlights of the match were replayed.
– Next Thursday, Brock Lesnar returns to Smackdown for the first time in 12 years.
Did you watch Thursday's Smackdown episode? Send your 0-10 score & Reax to pwtorch@gmail.com for our TV Reax feature.
Greg Parks has been covering WWE Smackdown for PWTorch.com since January of 2007. He is the host of "Moonlighting with Greg Parks," a PWTorch VIP-exclusive audio show posted each weekend. Follow him on Twitter @gregmparks for live Tweeting during Raw, Impact, and PPVs, as well as other bits of wisdom. Comments, questions and feedback are welcome, and can be sent to g_man9784@yahoo.com.