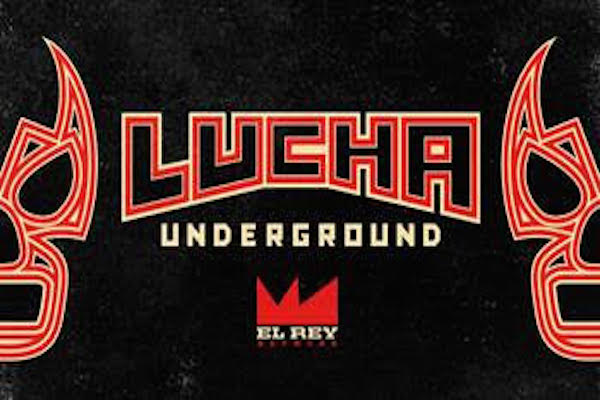 ---
SPOTLIGHTED PODCAST ALERT (YOUR ARTICLE BEGINS A FEW INCHES DOWN)...
---
Lucha Underground Report
February 24, 2016
Taped in Los Angeles, Calif.
Season 2, Episode #5 on El Rey Network
Report by Joel Dehnel, PWTorch contributor
The show opened with a video recap of the Mundo-Cage and Texano-Chavo feuds.
Backstage: Pentagon called for his master. Vampiro talked in third person and talked about how he made Pentagon his apprentice. Vampiro told Pentagon to let nothing get in his way.
Announcers: Matt Striker welcomed the audience to the show. He hyped the main event of Mundo and Cage. Vampiro said there would be four matches tonight in the ring.
In-ring: Jack Evans took the mic from Melissa Santos. After a lot of boos Evans introduced himself and said he would make Drago his little b—-. Santos introduced his opponent P.J. Black (formerly Justin Gabriel).
1 – JACK EVANS vs. 'THE DAREWOLF' P.J. BLACK (Justin Gabriel)
Evans went to shake hands, then kicked Black. Black kicked back and knocked over Evans. Evans knocked Black off the top rope, then Black hit an eye poke in the corner. Black landed a German Suplex for a nearfall.
Evans threw Black to the mat, then Black countered Evans for a suplex. Evans hit a springboard missile dropkick. Meanwhile, Drago watched the match from the rafters of the temple.
Evans left the ring and grabbed a water bottle and chair. He threw the water bottle at Drago. Black grabbed Evans and hit a Black Diamond for a near fall. Drago spit his mist into Black on accident and Evans got a back slide victory.
WINNER: Jack Evans at 3:51. Nice match to start off the show, but P.J. is now 0-2. Not a great start to one of the newest additions to LU.
[Break]
In-ring: Santos introduced King Cuerno and Killshot. Both were already in the ring.
2 – Gift of the Gods champion KING CUERNO vs. KILLSHOT – non-title match
Killshot dropkicked Cuerno and Cuerno rolled to the outside. Killshot leaped onto Cuerno then they brawled on the outside. Killshot hit another dropkick on the outside then went for a dive, but Cuerno countered with a super kick. Cuerno got in the ring then hit a suicide dive onto Killshot. Cuerno kicked Killshot on the apron then Killshot went for a superplex, but Cuerno reversed it.
They traded blows back in the ring, then Cuerno hit a big dropkick. Cuerno missed a kick, then went for a Tombstone, but Killshot countered and drove his knees into Cuerno. But, he missed a move off the top. Cuerno capitalized and hit Thrill of the Hunt.
WINNER: King Cuerno at 5:29 with Thrill of the Hunt.
Post-match: Cuerno stomped on Killshot, then Fenix came in for the save and Cuerno bailed to the outside.
[Break]
In-ring: Santos introduced the next contest – a three-on-one gauntlet match. First in the ring was Texano. Next out was Chavo Guerrero and The Crew.
3 — TEXANO vs. CHAVO GUERRERO, JR. & THE CREW (MR. CISCO & CORTEZ CASTRO) – three-on-one gauntlet match
(a) Texano vs. Mr. Cisco
Texano superkicked Mr. Cisco for the pin in eight seconds.
(b) Texano vs. Cortez Castro
Castro got in some offense with a neckbreaker. Texano lifted Castro and drove him into the corner. Castro dropped Texano, but Texano countered and went for a pin. Texano hit a leg drop off the top. Castro landed a few elbows, then Texano hit a powerbomb pin around 3:07.
(c) Texano vs. Chavo Guerrero, Jr.
Chavo attacked Texano from behind after the second fall. Chavo beat down Texano in the corner. Texano began to fight back and landed a clothesline and a superkick. Texano drove an elbow into Chavo then stomped on him. Texano landed a back body drop then Chavo rolled to the outside. Texano grabbed Chavo and went for a suplex but Castro tripped Texano with the bull rope and held his legs down so Chavo Gould get the pin.
WINNERS: Chavo Guerrero, Jr. and The Crew at 5:45.
375 miles from Boyle Heights: Screams were heard from inside the new temple. Dario Cuerto reminded Black Lotus of how she started the war. Dario said his brother saved his life. He said his mother was like El Diablo. One day he stood up to his mother and his mother was very angry. His brother grabbed a bull statue which was in Dario's hand and his brother beat down his mother. Dario said it was a happy memory because it reminded him of how much he loved violence.
Backstage: Catrina was walking through the back and Pentagon yelled out to her and said Prince Puma tried to humiliate him and he demanded a match. Catrina said how does he think she will give what he wants after he broke Mil Mascaras's arm. Mil then tried to break Catrina's arm then she disappeared and teleported to the other side of the ring then the outside. She granted Pentagon his match then said putting his hands on her was the worst decision he ever made.
[Break]
In-ring: Santos introduced Johnny Mundo to the ring for the main event. Next out was Cage.
4 – JOHNNY MUNDO vs. CAGE
Mundo struck Cage early, then Cage pounded on Mundo and they rolled around on the mat. Mundo kicked Cage, who responded with a backbreaker. Cage powerslammed Mundo, then went for a superplex. Mundo crawled down the post. He kicked off Cage, then hit a corkscrew move to the outside. Mundo threw Cage into the barricade. Mundo continued to dominate in the ring. Cage escaped and hit a back body drop followed by some shoulderblocks and a sit-down Alabama Slam.
Mundo went for a few quick pins, then kicked down Cage. Cage hit the Destroyer, but Mundo placed his leg on the rope to avoid a pin. Cage went for a suplex, but Mundo countered with a kick and missed End of the World. Cage hit a huge clothesline then hit Weapon X. Suddenly, a very colorful woman named Taya placed a lead pipe on the ring apron and distracted the referee. Mundo whacked Cage over the head for the victory.
WINNER: Johnny Mundo at 7:54.
Post-match: Mundo and Taya beat down Cage, then Mundo hit End of the World and they celebrated in the ring.
Backstage: Cuerno entered Catrina's office and said Fenix won't die. He demanded to face Mil next week. Catrina said he has a match against Fenix next week already for the gods championship. Catrina said next week it would be a ladder match.
FINAL THOUGHTS: A much faster-paced show this week. Not a lot of vingettes, but still got in quite a few signature backstage moments. I'm not sure how to feel about Catrina's teleportation that they've alluded to because I'm not a huge fan of a lot of supernatural things can't be done in front of the audience. One thing that I do hope happens is that the gods are pissed at Catrina for not following the rules and they banish her and bring back Dario. Which brings me to the highlight of the night which was Dario explaining his childhood. Dario is the absolute best character on this show because he fits the environment. He feels real and authentic, no magical mumbo jumbo. He's just a slimeball promoter with a past who is incredibly intriguing.
SUMMARY RESULTS: (1) Jack Evans pinned P.J. Black… (2) King Cuerno beat Killshot… (3) Chavo Guerrero & The Crew defeated Texano… (4) Johnny Mundo beat Cage in the main event.