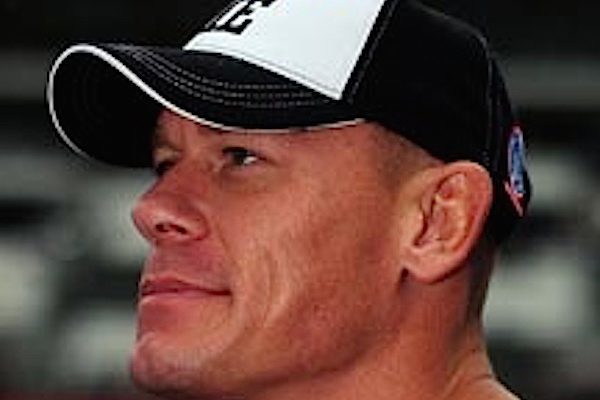 ---
SPOTLIGHTED PODCAST ALERT (YOUR ARTICLE BEGINS A FEW INCHES DOWN)...
---
WWE top star John Cena said Tuesday that he will not be wrestling at WrestleMania 32.
Cena made the announcement during the WrestleMania 33 press conference Tuesday morning in Orlando, Florida.
Cena said he has been working hard to get back in the ring for WM32, but he will be unable to compete. Cena is currently rehabbing a shoulder injury.
Update: Following Cena's announcement, WWE CEO Vince McMahon commented to Brian Fritz for the Orlando Sentinel about Cena missing WrestleMania.
"John Cena has been on the sidelines for a while. It's so difficult for him. Obviously, he's one of our premier performers. Watching on the sidelines, it's brutal. When your passion is to be in the ring and performing, it's killing him that he's not going to be in one of the main events this year. It's really killing him. I felt so badly for him," McMahon said.
"John is Babe Ruth, he's everything to us. And a real warrior. I don't know how long he's going to pursue this. I don't know if it's going to be 70 like me, but he'll try. It's just in him and he loves it so much, even when he was a little kid."
McMahon also talked about Cena's absence making WrestleMania plans more challenging. "Every year you have to outdo yourself. This year was difficult because John Cena was not a part of it," McMahon said. "We have to reach way down and try and come up with things you haven't done before and also hold back surprises that the audience does not know. They expect that from us."
***
This will mark the first WrestleMania without Cena in a match since WM19 in 2003, ending his streak at 12 straight Manias.
.@JohnCena confirms at #WWE #WrestleMania presser that while he's working hard, he won't compete at #WM32 pic.twitter.com/vYbZ9wTrwI

— Brian Fritz (@BrianFritz) March 8, 2016
Cena at WrestleMania Through the Years
– WM20 (2004) – Won U.S. Title from Big Show at MSG in NYC
– WM21 (2005) – Won WWE Title from JBL at Staples Center in Los Angeles
– WM22 (2006) – Beat Triple H to retain WWE Title at Allstate Arena in Chicago
– WM23 (2007) – Beat Shawn Michaels to retain WWE Title at Ford Field in Detroit
– WM24 (2008) – Lost to Randy Orton and Triple H in WWE Title match at Citrus Bowl in Orlando
– WM25 (2009) – Beat Edge and Big Show to win WWE Hvt. Title at Reliant Stadium in Houston
– WM26 (2010) – Won WWE Title from Batista at Univ. of Phoenix Stadium in Arizona
– WM27 (2011) – Lost to The Miz for the WWE Title at the Georgia Dome in Atlanta
– WM28 (2012) – Lost to The Rock in the "Once in a Lifetime" match at Sun Life Stadium in Miami
– WM29 (2013) – Beat The Rock for the WWE Title in the re-match at MetLife Stadium in New York/New Jersey
– WM30 (2014) – Beat Bray Wyatt at the Superdome in New Orleans
– WM31 (2015) – Won U.S. Title from Rusev at Levi's Stadium in California