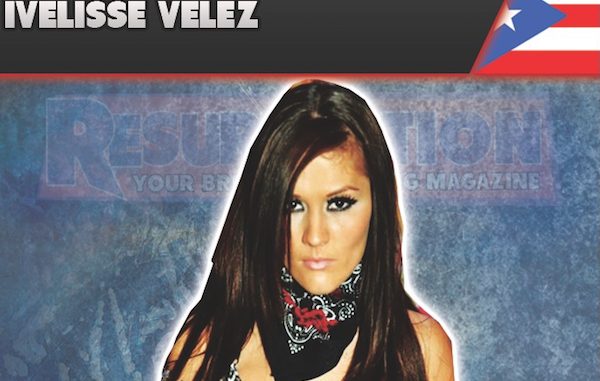 ---
SPOTLIGHTED PODCAST ALERT (YOUR ARTICLE BEGINS A FEW INCHES DOWN)...
---
Ivelisse was a break-out character during the first season of Lucha Underground, thanks in large part to her unorthodox partnership with Son of Havoc and Angelico. She's been just as big of a part of the show's second season, challenging Mil Muertes for the Lucha Underground Championship on the season premiere and later regaining the Trios Titles with Son of Havoc and Angelico.
But, for the real life Ivelisse Velez, finding success in the wrestling business has been a long, hard road – one she's still traveling today, always looking to improve. She began training as a teenager, and since 2011 has competed on WWE Tough Enough, NXT, TNA, AAA, and SHINE, among others.
"I've always been an athlete, ever since I was pretty much around eight-years-old," Ivelisse said during an exclusive interview with PWTorch. "I've always been attracted to the entertainment business as well, but first and foremost an athlete – anything I could get myself into."
Ivelisse grew up in a family that loved pro wrestling – particularly her brother, who she described as a "superfan."
"My family was very into wrestling, specifically my brother, so I was exposed to it from a very early age," Ivelisse said. "…I remember that (Steve) Austin was a big character that I was really into. He pretty much had every video game system that's been created with all the wrestling games. (My brother) had a bunch of figures and a little ring, all that."
As a teenager, Ivelisse chose to pursue a career in professional wrestling.
"I didn't start thinking it was something I could actually possibly due until I was a teenager," she said. "So once I turned 15, I started looking for ways to get myself into it innocently, not knowing how difficult it would be, especially without any ties to wrestling whatsoever. I'm not a second generation wrestler or anything; nobody in my family has come close to doing anything like that. I pretty much just went out on a limb and embarked upon that journey."
Action Figure and Trading Card Debuts
Ivelisse has seen a few different custom action figures that fans have made over the years. She often shares those pictures on Twitter and Instagram.
"To me it doesn't matter if it looks like a work of art or whatever," she said. "Just the simple fact that someone took the time to try to create something in my likeness like that is pretty cool to me."
Fans of Ivelisse will soon be able to pick up her first official action figure. Ivelisse and Chris DePetrillo of Figures Toy Co. confirmed exclusively to the Torch that an Ivelisse figure will be included in Figures Toy Co.'s upcoming Rising Stars line of action figures.
"They contacted me and I thought it was an awesome idea," Ivelisse said. "It's something I've been wanting to do, and the opportunity was there. I've seen a lot of fan created figures and stuff like that, and it's pretty cool. People will see those and say, 'I want one, where can I get it?' Now anybody who does want one for their daughter or whatever, finally they can have it. I'm pretty excited to see what the product looks like."
Trading card collectors can also chase Ivelisse's lone certified trading card, which was included in issue number 7 of the British wrestling magazine Revolution in September 2015. Those cards can be very tough to find, so collectors will need to be patient.
Connecting with Fans
Ivelisse sells autographed photos, DVDs, wristbands, and occasionally ring-worn gear directly on eBay under the username "ivelissev." One $20 package, for example, includes a personalized signed 11×14-inch photo of her battling with Mil Muertes, along with an 8×10 and 5×9 Lucha Underground card. Fans can also buy her officially licensed shirts from Pro Wrestling Tees at ProWrestlingTees.com.
"I'm one that I don't like having extra bulk of stuff when I travel, so that's pretty much why I do most of my selling of my merchandise on eBay," Ivelisse said. "It's a lot easier to do it out of my home; I prepare the package and send it. I know the traditional way in wrestling is to take your merchandise with you and (fans) can buy it then and there. Obviously, that's a more attractive way for people, but I'm not a big fan of traveling with that much, and then I get afraid that it might damage the product."
Ivelisse enjoys connecting with fans, especially younger girls who attend wrestling shows.
"That is something that is very, very fulfilling for me as a woman, and I'm sure for a lot of other female wrestlers, especially the ones that take their work seriously," she said. "It doesn't matter what situation we're put in, whether it's a guy or a girl or whatever, hopefully through my craft I can inspire them to be strong somehow."
The Road to Stardom
Ivelisse has been rehabbing an injury over the last several weeks, one that resulted in several missed opportunities, including wrestling shows in different parts of the world and an appearance WrestleCon.
"I should be back on my feet this week from my second injury. I'm definitely cursed," she said with a slight laugh. "Thankfully I learned a lot from the first injury, and the recovery from this one has been quite rapid. I've done everything in my power and my knowledge to make sure it didn't hinder me like the last one did.
"Some very important projects got derailed because of this, unfortunately. I lost a chance to challenge for the SHINE championship, which is something that I've been wanting to attempt to get back. Also, I had a chance to make my debut in Chile and wrestle for their women's championship and become the first one, but that also got derailed."
While she's rehabbing her injury, Ivelisse has her sights set on one very specific goal. In June, she'll travel to Japan for the first time to wrestle for the World Wonder Ring Stardom promotion, which has become a destination for female wrestlers and their fans.
"I have a lot of time to bounce back and do my thing," Ivelisse said. "That's something that's really important to me and I want to make sure that when I go to Japan, I'm in honorable shape. I'm not gonna overbook myself anyway in that time. I want to make sure that when I go to Japan, I'm ready."
Ivelisse noted that Stardom is a promotion with "amazing talent, and everybody knows that Japan is a very good milestone in your career. It's not like I haven't had chances before, but a lot of other things prevented that. But I'm ecstatic to go. It's such an honorable art form over there in Japan. The style is something I really, really enjoy and I'm really looking forward for the opportunity to learn more."
Follow Ivelisse on Twitter @RealIvelisse, and on Instagram @IvelisseVelez.
PWTorch Collectibles specialist Michael Moore can be reached at michaelmoorewriter@gmail.com. Follow him on Twitter @MMooreWriter.