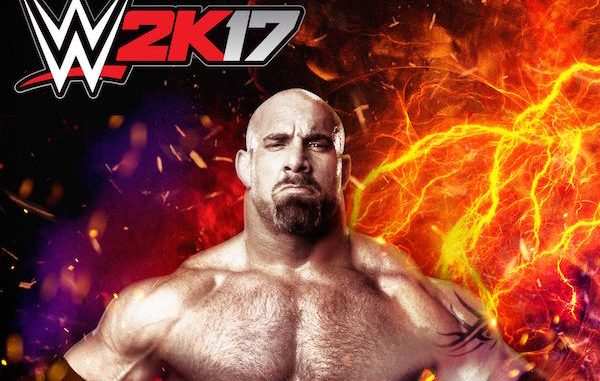 ---
SPOTLIGHTED PODCAST ALERT (YOUR ARTICLE BEGINS A FEW INCHES DOWN)...
---
Former WWE/WCW Hvt. champion Bill Goldberg says he would like to wrestle again for WWE if the details are worked out to his satisfaction.
Goldberg softened the language on not getting along with WWE management and Creative in an interview on WWE's website promoting the "WWE 2K17" video game.
"I've got 50 more (matches) in me," Goldberg declared. "It just depends on the ability to keep it up to my standards. I love everybody to death and I greatly appreciate their opinions, but none of it matters except for mine, because I hold myself to such high standards."
Goldberg, who turns 50 in December, said he's much leaner than at the peak of his wrestling career, but he believes he could return to form as the "Goldberg" of his heyday.
"The reality is, you've got movies, TV appearances, a kid, you're 49-years-old –  things aren't like they used to be. It's a completely different day," Goldberg said. "I'm 20 to 30 pounds less than what I was because I just don't need to be that dude with traps from his ears to his shoulders. Would I like to be that guy again? Absolutely. He's still in there."
Goldberg is taking a similar path as Sting and Ultimate Warrior by first jumping into the video game world through 2K Sports before working out a potential real-life WWE return. Goldberg said the deal with 2K was recently worked out to take Step 1.
"I just got the phone call. It was something that we had been in talks off and on over a number of years," Goldberg said. "As a father and an ex-wrestler, it's a dream come true. To be able to come back and be included in WWE 2K17, it's a huge honor. That the people would even want me back after such a long hiatus is another honor."
Asked about wrestling fans still remembering him 12 years after he left WWE, Goldberg said, "Nothing I say can scratch the surface of how appreciative I am that people would even remember who the hell I am. I'm kind of speechless, and for Goldberg, that's almost impossible. It has been 12 years, man. I don't do a lot of wrestling interviews because it's nostalgic. But, you know, I had a wonderful time. As a competitor, I really enjoyed it. It allowed me to put a lot of smiles on a lot of kids's faces and change a lot of lives in a positive way."
Goldberg even relayed positive thoughts about his WWE run ended, with the fans in New York City booing Brock Lesnar and him out of MSG at WrestleMania 20. After all, he won the match.
"We were behind the eight ball from the beginning. What could have been arguably the most vicious and intense match that WWE or any wrestling ring has ever seen, bar none, the potential for that match was not reached by any question. People knew that we were both leaving, so what do you expect? I may have acted the same way as the fans. I don't blame them one bit," Goldberg said.
"There were some good moments from [the match]. Any time I get in the ring with Brock Lesnar and go toe-to-toe and have some fun – I'm an athlete, bro. I'm a competitor; that's what I do till the day I die. I'm going to be that guy… At the end of the day, leaving WrestleMania, having my hand raised, beating Brock Lesnar, I'd say it was a pretty successful tenure."
Overall, despite his well-documented issues with WWE management that have lingered for more than 12 years, Goldberg said he considers his WWE tenure a success. "I got paid and I put smiles on people's faces, so I don't think you can say that it wasn't a success by any stretch of the imagination."
Goldberg also identified the tough locker room environment and philosophical differences with WWE management when he joined the company in March 2003, even two years after WWE bought out WCW.
"It was a big jump and it was very strange for me. I mean, I was the bad guy, man. Everybody from WCW, we were the enemy. It was a very tenuous, strenuous, very weird situation because both entities had wanted nothing more than to destroy the other. Once we came together, there was still a bit of that dynamic. It was so engrained in us; I don't think you could have snapped your fingers and had it go away. There was a transition period," Goldberg said.
"For myself, I only knew WCW. I only knew the experiences I had in WCW. That was the wrestling business. When I was presented with different situations, different philosophies or ideals, or outlooks, it was foreign to me."
Goldberg also talked about his wrestling training influences, respect for Sting, playable characters in the video game, Brock Lesnar, and more topics on WWE's website. There was no discussion of Ryback, who indirectly kept Goldberg's memory alive by looking and wrestling similar to Goldberg, producing regular "Goldberg" chants in WWE arenas.