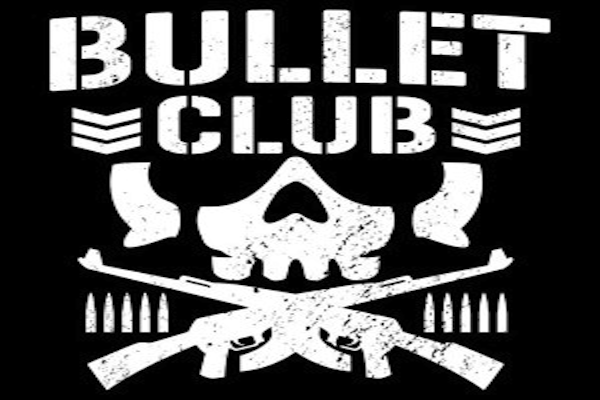 ---
SPOTLIGHTED PODCAST ALERT (YOUR ARTICLE BEGINS A FEW INCHES DOWN)...
---
The marketed reason why WWE has dropped "Bullet" from "Bullet Club" is because WWE programming is kid-friendly.
"We were being edgy in Japan (with The Bullet Club), and there's a bit of a language barrier. The WWE is all about family friendly entertainment. My son and I watch the WWE Network at home all the time. Going with The Club was the way we needed to go to come here and be in this environment, where your kids are watching," said Luke Gallows in an interview with NOLA.com promoting Monday's Raw in New Orleans.
The main reason is New Japan owns the copyright to "Bullet Club" in the U.S. market. New Japan was approved as the owner/registrant a few weeks ago on May 31. The Tokyo-based company filed the trademark in June 2015 and published the trademark for opposition on March 15 of this year.
WWE has been using similar imagery for Finn Balor's "Balor Club" ring entrance at NXT live events, which targets an older demographic.
Also in the interview, Gallows played up the idea of adding more members down the road.
"That I can't really talk about right now. That's Club business. I can tell you this, though: The Club is all about sending messages, putting everybody in this New Era on high alert. We're here, we're here to stay, and we're here to be the top dogs," Gallows said.
"Monday night when we get into New Orleans, we plan on sending a message there as well. That's going to be a great place to do it, it's one of my favorite towns. So WWE Universe New Orleans get ready, The Club is coming, and we're just two sweet."
Gallows also talked about original NWO members giving The Club their blessing to continue with the "Too Sweet" and black & white-themed heel faction.
"We have the blessing of Scott Hall and Kevin Nash," said Gallows. "They dig it, too. They feel like it's a passing of the torch. Hopefully, we're capturing that cool that they captured all those years ago that captivated us as kids and made us fall in love with sports entertainment."
Other topics covered with Gallows in the interview were working with A.J. Styles and Karl Anderson, The Club's Tag Title shot at the Money in the Bank PPV, and returning to WWE after finding himself in Japan.