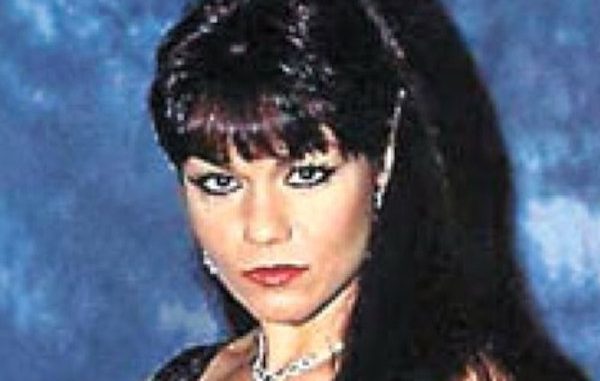 ---
SPOTLIGHTED PODCAST ALERT (YOUR ARTICLE BEGINS A FEW INCHES DOWN)...
---
The summer of 2007 was a terrible time for professional wrestling. The stench of the Benoit family double murder-suicide permeated the entire sport for the rest of the year; some fans went away and never came back.
Some fans have moved on and can separate Chris Benoit the murderer from Chris Benoit the wrestler; many more can't or won't do that. Despite how much time has passed, every June wrestling fans can't help but to look back on that awful summer and wonder why.
Sandra Toffoloni, the sister of Nancy Benoit, recently spoke with Chris Jericho; the very personal, touching, heart wrenching interview was made available on the "Talk is Jericho" podcast on June 24. Sandra spoke of a real pain that no one from the outside can really relate to when it comes to the Benoit family.
During that interview, one statement that Sandra made really stood out to me.
"It's been the bane of my existence for, again, almost nine years," she told Jericho. "I can't stand that my sister is mentioned as an afterthought in everything. … My sister was a huge contributor to the wrestling business for decades."
It's an undeniable statement, and I don't know how many of us have actually thought of the tragedy in those terms. Yes, Nancy Benoit was a wife and a mother. But, she was a big part of several different wrestling promotions for about 20 years. Many less significant wrestling personalities than Nancy are still in the public eye because they travel the convention circuit, appear on WWE Network specials, interact with fans on social media, are featured in trading card sets and toy lines, and have their likenesses sold on licensed and unlicensed t-shirts. Yet somehow, Woman and Fallen Angel have in many ways become largely forgotten.
The ninth anniversary of Nancy's death seemed like a great time to write a retrospective column on Fallen Angel trading cards, "Woman" t-shirts, action figures, and other collectibles. But here's the problem: there aren't any.
Somehow, from her days in Florida in the early-1980s through her run with WCW in the late-1990s, Nancy Benoit never appeared on a trading card or in an action figure line. Wrestling nostalgia became marketable in the early-2000s, and wrestlers from the past began appearing on merchandise. But, not Nancy.
How great would a two-pack of Kevin Sullivan and Fallen Angel been as part of Jakks Pacific's Classic WWE Superstars line that launched in 2004? Sullivan got his own figure, but Nancy did not. How about a three-pack of Woman with the masked version of Doom? Shockmaster, Bastion Booger, and Abe "Knuckleball" Schwartz were all part of the Jakks toy line. But Nancy was not.
Nancy also somehow never appeared on a single trading card, due mostly to timing. The landmark Wrestling All-Stars sets by Pro Wrestling Enterprises were released in 1982 and 1983, just prior to her arrival on the Florida wrestling scene.
Nancy's best bet to be featured on a wrestling trading card was probably the unlicensed 1986 Monty Gum Wrestling Stars set. This notorious set took pictures straight out of wrestling magazines and books. It's pretty surprising that Sullivan and Fallen Angel weren't featured in this set.
The NWA released a set of trading cards in 1988, and there were two sets of WCW trading cards released in 1991. Those products happen to wrap around Nancy's run in that territory as Robin Green/Woman from 1989 to 1990. WCW cards were also released in 1995, followed by the much heralded Topps WCW sets in 1998 and 1999 – again, wrapping around Nancy's time with the Four Horsemen and others in 1996 and 1997.
Nostalgia-themed wrestling card products have been around for several years, but obviously, WWE has chosen to omit Nancy from any of those products. Many of those have featured non-WWE talent from the 1980s and '90s, such as Bruiser Brody and the Fabulous Freebirds.
Topps continued to include cards of Jimmy Snuka as recently as 2015, and refused to comment on their decision not to pull Hulk Hogan's cards even after WWE all but scrubbed him from their history. Topps even found room for a card of 1980s jobber Mr. X in one of its 2016 products.
It seems unlikely that WWE will ever include Nancy's image on a trading card, but it would be great to see one of the smaller, independent companies produce a card or two of Woman and Fallen Angel, assuming her family would be on board.
If you search for memorabilia of Nancy Benoit today, the only things you'll find are vintage wrestling magazines and the occasional 8×10 picture. Fallen Angel was a regular fixture of the newsstand magazines in the mid-'80s. Even fans who had never even heard of Florida wrestling were at least somewhat familiar with Sullivan and Fallen Angel.
I'll never forget the first wrestling magazine I ever bought as a kid in late 1985. It wasn't one of the Apter mags, but one of the lower caliber magazines full of misspellings and ads for apartment wrestling. But in it were wild, bloody pictures of characters like Bruiser Brody, the Sheepherders, and Abdullah the Butcher. The most captivating picture of all was a full-page color shot of Kevin Sullivan and Nancy Benoit.
As a 10-year-old, I was fascinated by the picture of this incredibly beautiful woman covered up with demonic face paint and standing next to a guy who looked like the devil incarnate. Fallen Angel was one of the first wrestling characters to ever really leap off the pages of a wrestling magazine and capture my attention.
Nancy Benoit is unfortunately remembered mostly today as the victim of a tragic, brutal murder. It's too bad. Fallen Angel and Woman meant so much to the wrestling industry, and deserve so much better.
PWTorch Collectibles specialist Michael Moore can be reached at michaelmoorewriter@gmail.com. Follow him on Twitter @MMooreWriter.