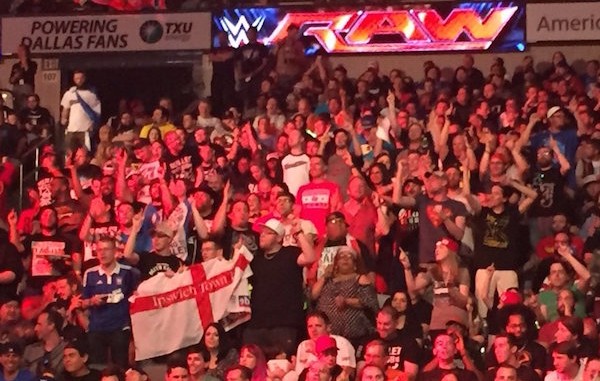 ---
SPOTLIGHTED PODCAST ALERT (YOUR ARTICLE BEGINS A FEW INCHES DOWN)...
---
Last night's Raw, coming the day after Survivor Series and the stunning conclusion to the Goldberg vs. Brock Lesnar main event, drew a larger than average rating – 2.14.
The average rating this fall until this week was 1.95, so this is well above that average number. Since the start of September, Raw has topped 2.0 three times – on Sept. 5, Oct. 17, and Oct. 24. The Oct. 17, featuring Goldberg's first return appearance on Raw, drew a 2.17 rating.
The current ten week rolling average rating for Raw is 1.97.
Hourly viewership was 3.137 million first hour, 3.097 million second hour, and 2.772 million third hour.
One year ago, Raw drew a 2.16 rating, barely above this week's 2.14. It's a rare instance of this year's Raw rating being near the previous year's number.
Keller's Analysis: This is about what should have been expected. The day after Survivor Series, with a buzz-generating conclusion to the main event, it was almost certain the rating would top last week's 1.98. Landing around the same rating as for the first return appearance of Goldberg seems about right, all things considered. The steep decline in the viewership numbers each hour continues to indicate (a) three hours is too long; (b) the full-time top acts in WWE are so overexposed and titles so devalued that a rare world title match on Raw with special no-DQ stips wasn't enough to hold the audience until the end.
NOW CHECK OUT OUR PREVIOUS UPDATE: NEWS ITEMS: Bellas talk about goal of their new YouTube Channel, DVR viewership for Raw, SD, Impact, Lucha last week
FOR EVEN MORE NEWS & FEATURES, CHECK OUT OUR AFFILIATE SITE: PROWRESTLING.NET
---
WHEN YOU SHOP AMAZON, PLEASE START AT OUR AMAZON LAUNCH PAGE. WE LINK TO THE MAIN AMAZON PAGE AND YOU PAY SAME GREAT PRICES, BUT WE GET A COMMISSION ON YOUR PURCHASES! PLUS CHECK OUT OUR SELECTION OF RECOMMENDED PRO WRESTLING MERCHANDISE ON OUR AMAZON PAGE: START HERE
---
Please send any news tips and results to: pwtorch@gmail.com. For instance, let us know if you hear a pro wrestling reference on a popular talk show, see a pro wrestling related Tweet or Instagram from celebrity, hear an ad for matches advertised for an upcoming WWE event, or anything else pro wrestling related that'd be of interest to our readers. If you attend a live event, please send results. We don't set up correspondents ahead of time and count on readers like you to send an email with a report on live events you attend – not just WWE, but also ROH, NXT, international groups. and anything else.