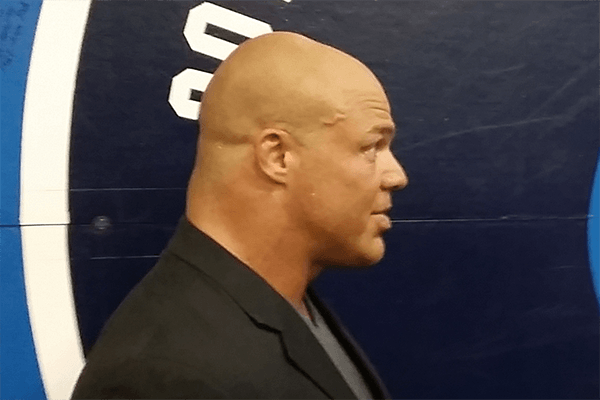 ---
SPOTLIGHTED PODCAST ALERT (YOUR ARTICLE BEGINS A FEW INCHES DOWN)...
---
RAW PREVIEW
APRIL 17, 2017
COLUMBUS, OHIO AT SCHOTTENSTEIN CENTER
By Joey Galizia (@RamJam89), PWTorch contributor
"NOT WITH A WHIMPER…BUT WITH A BANG."
The purpose of a good backstage assault segment is to clearly establish one Superstar effectively destroying another. We've seen this spot, thousands of times, especially on Monday Night Raw. Last week, again this spot would be repeated with the likes of Braun Strowman and Roman Reigns. THIS WAS DIFFERENT. This was possibly the greatest backstage beat-down since I destroyed Mojo Rawley in WWE 2K17. (I was Braun in that scenario as well.) As if that glorious stretcher spot wasn't enough, Strowman would stamp an exclamation mark on his destruction by flipping the ambulance that Roman was being taken away in. Reports indicated that the Big Dawg suffered a shoulder injury and could possibly miss tonight's show in Columbus. Honestly, that sounds like the perfect scenario for him to return and OVERCOME THE ODDS. WWE.com meanwhile asks if Braun will continue his path of blood. I sure hope so.
"SWIPE LEFT ON JINDER"
The biggest reason to tune in to tonight's show is the status on Finn Balor. Balor most likely suffered a concussion at the hands of Jinder Mahal (ROIDS) who threw an elbow that would have knocked down a building let alone the head of a small  Irish-dude. After only being back a week from his previous injury that shelved him for 6 months should we be worried about Finn no longer receiving a push? I'm not. The man carried NXT for so long without any problems, he just had two unlucky incidents in a very short period of time. Fingers crossed that good news is delivered tonight.
"INTENSITY, INTEGRITY, INTELLIGENCE."
-Curious to see how new GM Kurt Angle will reprimand Braun Strowman for his cheap attack, if he reprimands him at all. Angle may be distracted by trying to relearn his roster after the Superstar Shake-up left him with a slew of new athletes.
-Two of those new stars is Alexa Bliss and Mickie James. Both made waves on SD Live, and are looking to capture that same spotlight on the flagship show. Bayley however, is probably looking passed them and right at Nia Jax, who has been a thorn in Bayley's side for quite a while, and considering Jax defeated Charlotte as clean as humanly possible, Jax is on the warpath.
-Austin Aries is #1 contender once again, but now he may have to worry about playing the numbers game since Neville has recruited Mr. Dab-man T.J. Perkins. Perkins scored an upset victory over A.A. last week, will a rematch be in store?
-What of Broken Matt and Brother Nero? Sorry I mean the Hardyz, what of the Hardyz? On Twitter they seem to be having a dilemma of which characters they are, but on-screen they've been the same solid faction we've come to love for so many years. Last week they teamed up with their Payback opponents Cesaro and Sheamus and earned a victory where they all stood tall. But how long with this show of good sport last?
-Dean Ambrose has moved back to Monday Nights. (Shield reunion imminent.) With all the teases of a new feud I wonder if it's the other SD Superstar Mr. Mike Miz-whatever who he feuds with first.
-Bray Wyatt has also come to Raw. He still wants Randy Orton's title, but he also wants to challenge Finn Balor. Also, a House of Horrors match. I'm starting to lose my train of though but yeah sure make all this happen.
Another week of endless questions. I'll be watching, will you? #prayFORbalor
---
NOW CHECK OUT LAST WEEK'S COLUMN: RAW PRIMER: Superstar Shake-up is here, who will be first to move? Plus Braun-Lesnar, Hardy Boyz, Sami, Owens