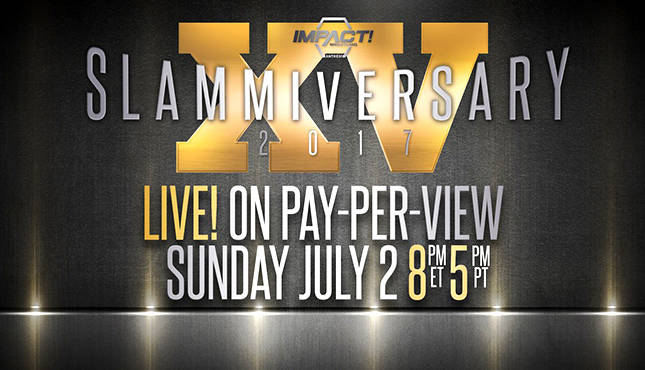 ---
SPOTLIGHTED PODCAST ALERT (YOUR ARTICLE BEGINS A FEW INCHES DOWN)...
---
Scott Steiner took part in a media conference call on Wednesday afternoon to promote Slammiversary, which takes place this Sunday on pay-per-view. Steiner is scheduled to team with Josh Mathews against Jeremy Borash and Joseph Park.
Click here to hear audio of the entire conference call.
– Jeff Jarrett opened the call welcoming the media and said he was surprised when Steiner said he wanted to do media prior to Slammiversary.
"Scott had just one caveat, he wanted to do it his way," Jarrett said. "So I'm going to bow out, and as you know, sometimes he goes off the rails."
— Steiner opened the call complaining to Impact Wrestling media relations head Ross Forman that it took him a while to call in to the conference call, and it had him agitated from the start.
— Steiner was asked to give comments on his match this Sunday.
"Somebody is going to get punched (on Sunday). Maybe all three of them," he said.
"I hate fat asses, and Jeremy has put on weight. It's disturbing. … It's a bitch slap for Jeremy."
— Steiner was asked about the differences between Jeff Jarrett running the company and Dixie Carter.
"She's a joke," Steiner said of Dixie.
"Dixie was a mark who wanted to be on TV. It's night and day (with Jarrett in charge). People are excited. It's totally different."
— Steiner said his favorite moments in TNA had to do with the Main Event Mafia.
— Joseph Park called in and posed as a media member. Steiner yelled and threatened him a few times before he bowed out. Park was asking if Steiner was considering just canceling the match. Steiner said he would make Park scream for his brother, who everyone knows is the tougher wrestler.
Steiner said that all Mathews was going to have to do on Sunday was, "cover the guy when he's unconscious."
— Steiner was asked about what needs to change in wrestling today, and if he thought he would enter the WWE Hall of Fame.
"First change wrestling needs is to get rid of Stephanie McMahon and Hunter McMahon, they're two idiots running things up there," he said.
"People always bring up the Hall of Fame, and I'm not going into the WWE Hall of Fame. I'm not going somewhere if there's nowhere to go.
"GPS the WWE Hall of Fame. … It's in Parts Unknown. It's a joke. It's non-existent. Put it on the moon. The WWE Hall of Fame doesn't exist.
"The WWE Hall of Fame only exists in the minds of people up there, it's a joke."
Steiner then asked where the statues are? Where's the statue of Ric Flair or Mach Man? He then added, "The statue of the Macho Man will never leave Stephanie's bedroom."
— Steiner on Hulk Hogan:
"He tried to get me arrested for assault and said I threatened his life. And of course, WWE takes the word of a racist.
"Hogan showed what a coward he really is. Luckily it happened at an airport, because it was easy to prove my innocence."
— Steiner was asked if he had any dates scheduled past Slammiversary on Sunday:
"I haven't had any talks on anything past Slammiversary. But if someone wants to hire me again to beat someone up …"
— Steiner on his favorite tag teams today:
"I don't watch a lot of wrestling now, it's hard to watch. But I like the Usos, I wrestled their dad & uncles."
Steiner said he's also a fan of Bray Wyatt, and he used to mess around with him when he was a kid. "To watch him now, he's awesome."
"It's hard to watch (wrestling) now. I feel bad for the wrestlers. They don't let people be themselves."
— Another follow-up on the Hall of Fame was asked:
"I'm in the Michigan HOF, I'm in the Dan Gable HOF," Steiner said. "It was nice to be remembered by (Gable)."
— Steiner on Triple H:
"To my face, he's great. … That punk ass set up (their Royal Rumble match). We practiced that match. He sabotaged me.
"(HHH) did what he did, and then he tried to dog me for it. He's nothing but a punk-ass nothing."
— Steiner on change in body styles in wrestling: "When you go to the circus, you want to see the freaks, ya know?
"Wrestling has evolved. A lot of people like it, a lot of people don't. I feel bad for the guys trying to break in now."
"Thank God we have guys like Jeff trying to give guys opportunities to wrestle."