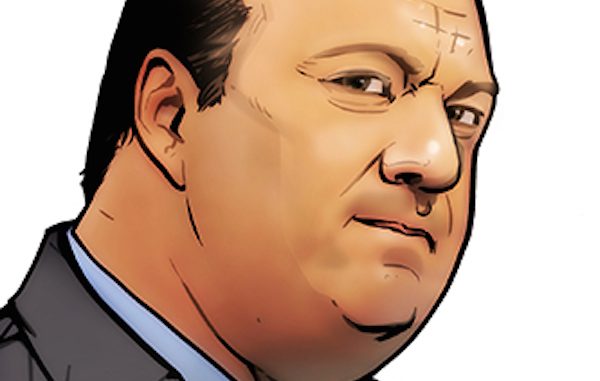 ---
SPOTLIGHTED PODCAST ALERT (YOUR ARTICLE BEGINS A FEW INCHES DOWN)...
---
RAW HITS
Opening Segment: This opening segment was good, but would have been so much more effective if Roman Reigns was actually over with the fans as a huge babyface. Instead, he still comes across like a jerk and the fans treat him as one. The concept was good, but the roles are miscast. But, the physicality once Braun Strowman jumped Reigns from behind at the back of the ambulance was very well done. And Strowman throwing Reigns off of the stage and right into the ambulance was such a strong moment and so memorable that I have to get the opening a Hit. That's something that will be replayed and remembered for a long time.
Balor & The Hardys vs. Sampson & Sheamus & Cesaro: This was a good six man tag match. I enjoyed it from start to right before the finish. The ending was a bit off as Finn Balor was waiting on the top rope for too long as the Hardys were doing their thing outside of the ring before jumping off with the Coup De Gras onto Cesaro for the win. That was a bit awkward. But, otherwise this was a very strong match. Elias Sampson is looking better and more deserving of a push on Raw than he ever did on NXT. This was six good acts who can wrestle putting on a good 17 minute match.
Enzo & Cass: As bad as the show closing angle was on last week's Raw, this segment was very good. This has been an up and down storyline. This week was certainly up. In other words, it was a big Hit. This was the best that Enzo Amore has ever been. He was so far beyond his normal annoying self, not relying on his silly schtick and dumb ass catch phrases where he misspells easily spelled words. He was earnest. He was honest. He was moving in his plea to Big Cass to not throw away their friendship which is more like a brotherhood. Cass was good in just standing there listening to Enzo. He played being conflicted very well. His response was equally good. I knew it was all an act, but he was so good that he had me doubting myself. That's what it was supposed to do and it worked very well. The beating at the end with the exclamation point of Cass throwing Enzo down the ramp was almost as memorable as Strowman throwing Reigns into the ambulance.
Joe, Heyman, Lesnar: This was another good week in the build towards Samoa Joe vs. Brock Lesnar for the Universal Championship at the next PPV. It started off with Paul Heyman doing an interview with Joe sneaking up on him and teasing a Coquina Clutch and threatening to do it to Lesnar later in the show. Then, after Lesnar arrived and started coming to the ring, Joe jumped him from behind and got the Clutch on him and showed that he can put Lesnar to sleep with it in their match. That was a strong physical statement from Joe. Later on, we heard from Heyman responding to it with an outstanding backstage promo where he hyped the hell out of this match. He is selling it in a huge way. I loved how he said this was not going to be a quick trip to suplex city followed by an F5. This is going to be a long fight. But in the end, Joe will still take that trip to suplex city and still get that F5. I continue to look forward to it in a big way.
Banks vs. Jax: I'm not giving the entire Gauntlet match to determine a #1 contender for Alexa Bliss' Women's Championship a Hit. Parts of it were good, but I don't like seeing any wrestler take one move like a Samoan Drop, even from Nia Jax, and lose. I'm not sure where WWE is going with Bayley, so I am taking a wait and see attitude towards here putting up a good fight but still losing in the first match of the Gauntlet. The rest of the Gauntlet served to make Jax look like an unstoppable monster while giving her an out to lose to Sasha Banks in the end. That is all fine. But the real Hit is for the final round of the Gauntlet once it came down to Jax vs. Banks. This was a good stand alone match. It worked well as the ending of the Gauntlet. Banks showed great fire in her comebacks and her ability to hang in the match despite the beating from Jax. They both performed well in the match. Jax still needs to improve in the ring, but she was good here. The multiple attempts to get a count out worked well and were actually dramatic. I really liked how Banks escaped a Samoan Drop attempt to transition it into the modified version of the Banks Statement. That was well done and looked cool. Unfortunately, once she had Jax on the mat and had the hold locked in, it didn't look nearly as good. It didn't look painful. But, that was a minor complaint in an otherwise very good end to the Gauntlet to set up Banks vs. Bliss at the PPV.
RAW MISSES
The Tumbler: I wanted to give this a Hit, because I liked the fact that WWE actually showed how the order of entry was determined for the main event Gauntlet. But, it was oddly produced. Kurt Angle looked so bored the first time we saw it, but I wasn't sure if it was the character who was supposed to look bored, or if Angle himself was disengaged by the product. Later on, Angle was spinning the tumbler while talking on the phone, which says to me he was supposed to be bored by the whole deal and distracted by his personal problems or whatever it is that he's dealing with which I still don't care about. And then when it was down to three numbers left, he was spinning the tumbler and the three balls were stationary staying in the same exact position the entire time making the spinning totally meaningless. So, I think this was a good idea, but the execution was strange to me. It isn't a big deal. It certainly didn't ruin an otherwise good show. But, I found it odd enough to point out.
Miz TV: This was terrible. I saw clips of it on ESPN the next day, so I guess WWE got the publicity that it wanted. But they also had to issue an apology for the racial slurs used on camera by the younger Ball kid, so maybe it wasn't really the publicity that they wanted. WWE doesn't always understand that local celebrities might be babyfaces in their home towns, but are heels to the vast majority of their fans watching on tv. I don't know anyone who likes Lavar Ball. He is a heel. He is mocked for the things that he says. There were well respected NBA analysts who said that the Lakers should not draft Lonzo Ball because of his father. They are legit celebrities. We are talking about the #2 pick in the draft by one of the most historically important teams in the NBA, from his home town, in the same city where he played college ball. But, they are heels outside of LA, and based on the response from the fans at Staples Center, they aren't really babyfaces there either. So, this segment didn't work from that standpoint either. It didn't make me want to boo The Miz or cheer Dean Ambrose. It was terrible with the non wrestlers not taking it seriously and smiling too much and laughing their ways through it all.
Titus Brand: Having Titus O'Neil involved in the Cruiserweight Championship picture with him brokering a match between Akira Tozawa and Neville continues to be a Miss. Titus has been defined as a loser. Having the Cruiserweight Champion and his top challenger associated with the Titus Brand defines them down as losers also.
---
NOW CHECK OUT LAST WEEK'S COLUMN: WWE RAW HITS & MISSES 6/19: Elias Samson, Detective Angle, Samoa Joe vs. Reigns, Miz TV, Bears, Titus Brand
---
For another view from the original Hitlist author, compare Jason Powell's views to mine by visiting ProWrestling.net's "Hitlist" section HERE.
---
Jon Mezzera is PWTorch.com's WWE Hits & Misses Specialist, providing his point of view for Raw and Smackdown each week. Email him at jmezz_torch@yahoo.com. Act now and become my 68th Twitter follower@JonMezzera (pretty clever handle right?). Just be aware that I don't live tweet Raw, I don't tweet much about wrestling, and I don't tweet much at all.