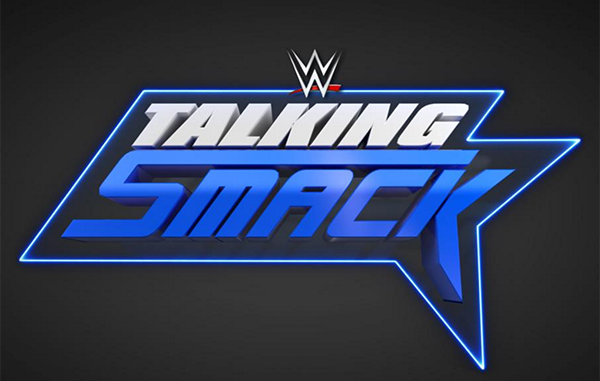 ---
SPOTLIGHTED PODCAST ALERT (YOUR ARTICLE BEGINS A FEW INCHES DOWN)...
---
TALKING SMACK REVIEW
JUNE 27, 2017
AIRED ON WWE NETWORK
BY CRAIG ELBE (@CraigElbe), PWTORCH CONTRIBUTOR
Duration; 25 minutes, 6 seconds
Renee Young, joined by Daniel Bryan, went right to Carmella as Miss Money in the Bank. Despite Ellsworth finding a way to attempt assistance to her, Bryan was nonchalantly happy Carmella won the proper way this time. Way to uphold your strip and stip!
Instead, he bashed WWE security that never seems to withhold banned people from matches; "We're a billion-dollar company!" Bryan exclaimed. Renee used rebellion logic for the banned folk who never stay away. Bryan expanded, that any fan, sans a ticket, can't get in to a WWE show.
Renee thought there was a communication problem, thrusting Bryan into a brief "more alerters!" chant and added "if you see something, say something," directed to all alerters who and should be may be watching. Renee promised to talk to Carmella later in the show about Bryan's "buddy" James Ellsworth's banned appearance.
Next week will see John Cena's return for the 4th of July Smackdown, and right on cue the first guest walked right in front of the camera, and to the desk.
First Guest: Kevin Owens
Water bottle and United States title in tow, Owens went "Dat, dat na na na na na na" in advance of next week's American festivities. Bryan harmonized while Renee did Cena's "You can't see me" gesture. Owens silenced them all as he is a solo act, but didn't say how much better he is than Aiden English. Bryan asked him how excited Owens is for the Independence Day Battle Royal next week. Owens grabbed Bryan's mug and told Bryan he's not excited. And that's why he's there. Renee added it's the Fourth of July! Owens admonished her interruption as he filled Bryan's mug with his accompanied water. She tried to finish saying her piece, but Owens recalled how interrupting is Renee's thing. Bryan wore gleefulness and sarcasm on his face as he agreed with Owens.
Owens heard Bryan's call for more alerters, but felt better decisions from Bryan are a higher priority. Bryan was dumbfounded and acted confused about what poor decision he made while Owens admired himself in his mug's reflection. He also made sure the Talking Smack logo was camera visible. Owens answered Bryan's second attempt at his question with next week's battle royal. "The WWE Universe has responded exuberantly! They're going to eat it up!" Renee chimed in, "Who doesn't love a battle royal!" Bryan added it's an Independence Day Battle Royal! It was quite the Renee/Bryan riff off.
Owens's face resembled that of a teacher waiting for the class clowns to rid themselves of their energy. Renee thought Will Smith would be a great addition to the Independence Day Battle Royal. If anybody should be brought in from the Independence Day movie, it should be Jeff Goldblum. Owens contended he stole the show in that movie. Renee approved of Owens's Golden-blum idea, but he pointed his finger at her, not ever needing her approval. Her ear to ear grin didn't quite sell Owens's heat attempt.
Last year's Fourth of July, as Owens had to remind Bryan and Renee, saw a pie thrown in Owens's face. Bryan laughed but Owens did not. Something dropped off camera, and Owens ad-libbed it must have been an idiot who doesn't respect his appearance/saving of the show. Owen did admit Bryan's return has seen improvements, as Renee and Shane was awful.
Owens didn't like the battle royal decision, which the winner will face him in a title match vs him at Battleground. Then he went on a short "battle" tangent about the overuse of the word. Bryan brilliantly said it's better than Great Balls of Fire, with his trademark sarcasm to frame the complete picture. That gave Owens a reason to be grateful to be on Smackdown, that he's not a victim of what Bryan trashes about Raw.
Bryan whipped up more sarcasm and asked Owens what is better- being the champion of the United States or the champion of the Universe? It was obvious to Owens, the Universal Champion. But, the only time being United States Champion is better than being Universal Champion is when he, Owens, is United States Champion. It's also clear to him he is a better champion than the current Universal Champion (seeds planted!) Bryan thought it was a good point. Owens asked Renee for her input. She had none.
Owens stayed on Bryan and his perceived terrible idea for the battle royal. He didn't care what A.J. Styles thinks, that Styles doesn't know what a good decision is and gave two pieces of evidence: Styles's haircut and his cute Ron Burgundy joke that he was informed of afterward on Twitter. Bryan just had to make sure Owens was informed correctly. Parts of Owens's next sentence were silenced, but we heard the word vagina and lots of laughter. Owens pivoted, that Styles was being classless and asked Bryan if he wanted a classless individual as United States Champion. Bryan wasn't sure, because Styles is really good.
Owens continued, saying there are heroes and bullies. And Styles is a bully. Owens contended Styles called him what he did because Owens honestly called him a loser for losing to him at Backlash. Bryan stepped in and basically told Owens he also has lost matches. Then, he hit a sore spot and mentioned how Owens lost the Universal Title to Goldberg by getting distracted by music. A long-time veteran, as Bryan light tapped Owens's shoulder, should have known better. Owens hoped WWE officials noticed the "physical abuse" Bryan perpetrated, and at least Shane never physically abused him on Talking Smack. Renee claimed it to be a friendly gesture, but Owens let the unaffected-by-the-accusation Bryan continue.
Bryan repeated Owens's rookie mistake, then Owens took us back to Fastlane. When that "stupid idiot's" music played, the bell hadn't been rung yet, so he decided to see what the commotion was. Then, the idiot referee rang the bell and the coward Goldberg capitalized on it. Renee told Owens he's dwelling on the past. Owens gave Renee more grief, that he and Bryan, then said Daniel Bryan to stay in kayfabe on a (barely anymore) worked shoot show, are having a conversation about a still sore subject.
Bryan repeated his stance that people that lose matches shouldn't be considered losers. Owens agreed, because he lost to Goldberg unfairly and Styles lost to him fair and square. Bryan didn't think Owens was being accurate. Owens begged explanation. Bryan reminded Owens he beat Styles via countout. Owens remembered, as Styles was dumb enough to get his leg stuck in a table. It wouldn't happen to him! He's a fantastic athlete and competitor without an equal. In a total loser's move, the "phenomenal one" got his leg stuck in a little hole.
Bryan made sure that Owens knew that Styles must win next week's Independence Day Battle Royal to face Owens at Battleground. Suddenly, Owens is okay with the battle royal. He objects to Styles being in the battle royal due to already losing to Owens, nor should Chad Gable as he beat him last week. Renee's opinion differed. Owens almost blew his top, then Renee said it's the land of opportunity! Owens hates that phrase; it's just something Shane says that means nothing. Gable and Styles lost their opportunities! Owens wondered why he's the only person who makes any sense in the place.
Bryan was quiet long enough to whip up another batch of sarcasm, then declared, "you get repeat opportunities here! This is the land of repeat opportunities!" Owens went face for a bit, saying that winning and losing must not matter; that Shane and Bryan will always be there to give you opportunity after opportunity after opportunity; because they like you; because they want you to succeed no matter how many times you lose. He scolded Bryan for not setting a better example as a new father. Figuratively talking to Bryan's infant, Owens quipped, "Birdie Joe, you can lose but daddy will give you another chance; you can lose a toy but daddy will buy you a new toy." Owens got so riled up he took a sip of mug water.
Renee and Bryan felt Owens gave a very excessive reference. Bryan gave an example of the Seahawks not winning the Super Bowl this past season, but they'll get another chance when the next season starts. Owens took the sports reference as his cue to leave. The only thing he knows about sports is the Boston Bruins, (his French-Canadian accent was obvious as he pronounced it Broons) and Cam Neely used to play for them. He doesn't know football or care about the Seattle Seahawks, or the New York Giants to the point of not being sure if they were even called the New York Giants.
Owens lost interest in what they were saying, took the mug water and his title, dropped the microphone, and left the show.
Renee picked on Owens's pronunciation of the Bruins, but he was still in earshot. He stormed back, asked her the correct way to say Bruins. She told him, he repeated. He asked her if she'd feel better if he called the Toronto NHL team the Toronto Maple LEAFS. He grabbed her legal pad, scribbled something angrily, tore all the pages out, and threw them all over the place.
Renee thought Owens was out of control and deserves repercussions. Bryan sly said "somebody" needs to give Owens repercussions. Owens stood in front of the desk, then stood on the descending pane of glass in front of the desk and held his title up to Renee and said, "Sliding backwards, your United States Champion."
Renee thought Owens was being too dangerous. So that means she never saw any pre-WWE Steen ladder matches, or any of his WWE high-risks. Her line was quite of place and probably fed to her for those reasons. Owens did say something as he walked away off camera but it that nobody watching on TV could hear.
Bryan wasn't sure they should have a United States Champion that doesn't like American football, and especially the Seahawks. Renee excused and understood Bryan's homer comment about the Seahawks. Owens returned, only to slide the now empty mug back to Bryan. Renee was grateful Owens isn't a thief. She noted that every time he's on the show, Owens is always wild. To her chagrin, Owens came back and took her full mug of whatever she was sipping on. In the process, her new phone got wet. Even though it's water resistant, Renee promised Owens would somehow have it billed to his account.
Selling a state of mild bewilderment, she plugged next week's Independence Day Battle Royal for next week; the winner of which will face Kevin Owens for the United States Title at Battleground.
She transitioned to another match announced for Battleground; Randy Orton vs Jinder Mahal for the WWE Championship in a Punjabi Prison. Bryan explained it's two structures that uses steel enforced bamboo. To win the match, you must escape the smaller Punjabi prison, then escape the larger Punjabi prison. The last match was Batista vs Great Khali 10 years ago. The same footage that was shown on Smackdown was aired again as the backdrop of Bryan and Renee talking about the match.
Back to the desk, Renee mentioned Jinder has been consistently rising to the occasion since his Smackdown arrival. Bryan added that Orton let it up to Shane, Shane made the match, then let Jinder pick the stipulation. Jinder could have gone the safer and easier route by choosing something like a blindfold match for more Singh Brother interference, but he didn't. Now, we have this Punjabi Prison match, and it shows what kind of champion Jinder is.
Renee still thinks Jinder is operating on the premise of having to prove people wrong and he's a deserving WWE Champion. Bryan agreed, and added his memories of the Singh Brothers last year when he was color commentator for the Cruiserweight Classic. As the Bollywood Boys, they played by the rules, were well-liked, and were entertaining. Then, they got singed to NXT but weren't being used. Frustration begat them, and Jinder, so they joined forces to make an impact. To do so, sometimes you must do things people don't like. Orton may not like being in a Punjabi prison, but Jinder is out to earn some respect.
Through all the different sides we've seen of Orton, Renee knows he has to "put up" against Jinder.
She gave more hype to the match along with the graphic, then promoted some new NXT action figures, available only at Target.
With that, she introduced the next guests.
Second Guests: The Usos
Already seated, Jimmy and Jey hammed it up with Bryan, their long lost pal and were happy to see Renee too. Bryan told them he had a child and was congratulated by the tag champs. Renee was happy they and their energy were there instead of the hell raising and water spilling Kevin Owens that preceded them. Jimmy suggested she wear a wetsuit.
She solicited a chit-chat about their rapping abilities they displayed earlier on Smackdown. She wanted to know why they haven't shown that side of themselves before. Jey spoke of their many talents, and basically announced they're going to have a rap battle with New Day next week. Speaking for them both, Jimmy said they lean more toward poetry. Renee thought rap and poetry were the same. Bryan told Renee not to go there, so Jimmy decided to elaborate and went into this routine of sorts: "Ok, check it. We not rappers. We found ourselves more in the poetry. Everybody moving so damn fast, but Usos is in slow motion see. You been seeing what we doin in the ring, standing em up, kicking their leg out like a kickstand, joints dislocated, tendons torn, where he can't stand. Now it's easy to be New Day. Shakin their hips, drop them one-liners. But we like to hit real hard. I like to call my Us, MMMM-JBL." Jimmy threw an air punch as Jey said, "that was a clotheliner!" Jimmy finished, "nailed it on Talking Smack!" Jey gave some well-appointed "oooms" along the way to Jimmy's medium paced spiel.
Renee cheered as Jey joined her, saying sweet beats is back, pointing to Bryan. Bryan indicated he's their man for rap battle back-up. Jimmy put his hat on Bryan, front bill facing forward, which is the wrong way according to Jey. Jimmy corrected the hat's placement, giving the term oxymoron a literal image to the definition. Renee wondered what Bryan can bring to a rap battle. Bryan proved her waaay wrong, and said, while establishing tempo with his two hands, "my name is Daniel Bryan and I am the GM. When the Usos came on Talking Smack we became best friends. Ever since then, they invite me to their barbeques. And they know I don't eat meat so they cook me tofu! When I say sweet, ya'll say beats" They exchanged the sweet beats and the U-sos chants a few times, then settled down. Jimmy called Bryan something that sounded like man-child but I doubt it. Renee bowed down to them all. It was much better than she thought!
Jimmy wats Bryan as their third person for next week's rap battle to make them even with the New Day. Bryan imagined how cool he'd be to the kids if he joined the Usos in a rap battle, and years later when Birdie Joe watches back. Jimmy joked she'd say he's lame.
Renee gave final hype to the rap battle I'll be glad to fast forward through on my DVR. Sorry to folks who may enjoy stale bread. No matter how you toast it, butter it, or bake it, stale is stale and needs to get tossed.
Renee asked the Usos what they think the New Day will bring to the rap battle. Jimmy guessed a whole lotta hip shaking, sweating, trombone playing and is curious on what else.
Jey guessed the best rapper of the trio is the PhD holding Xavier Woods, that he may be smart and articulate. Jimmy thought the quick witted Kofi Kingston could be the best of the three New Day guys.
Renee wanted to know their favorite rappers. Jey chose Tupac, while Jimmy didn't pick one. He likes to slow it down. Sounded like he's not a fan enough of rap to have a favorite artist.
While Bryan knows how important the rap battle is next week, at Battleground the Usos are defending their tag titles against the New Day, who are the longest reigning WWE tag team champions of all time. He asked their concerns about that match, if any. Jimmy isn't worried, that record won't be in the ring with them. But they have a new strategy, which they employed at Money in the Bank by just leaving and retaining by countout.
Bryan is apprehensive to lend his support to them in the rap battle if that's what they plan on doing at Battleground. They are trying to put on a show fans want to see. He thought their match at Money in the Bank was awesome until they up and left. Jimmy wondered what was wrong with that. Bryan cited Fans' disappointment. Jimmy said it's chess, not checkers. Bryan reminded Jimmy you can't just leave during chess either. If you leave you lose. Jimmy insisted it's a mind strategy, not just physical but mental. He thinks getting counted out is the best strategy.
Renee implored that they're better than that! Jimmy then promised to not leave the match at Battleground if Bryan promised to be their third in next week's rap battle, to which Bryan promptly did in his own comical fashion. Jimmy hoops he doesn't look and sound like Bryan when he's out there, and wondered if that's Bryan's impression of him. Hat still on his head, Bryan asked if he looked cool. Renee assured him he looks fresh. Bryan wants his "sweet beats" nickname to be spelled like beets, the vegetable. Renee had visions of the album cover.
She thanked the Usos for being on the show and wished all of three of them apparently, or at least the Usos, good luck next week. Jimmy took his hat back and told Bryan it's nice to have him back.
Renee broke the news to Bryan the Usos are probably on the fence. Bryan pretended he thought he looked cool. Renee told him he did with hesitation but gave the camera a look of not believing what she's saying.
As Renee plugged next week's rap battle again for some reason, we heard the laughter of the final guest.
Third Guest: Carmella
Carmella made her way to the desk, beaming with pride as she held her newly won MITB briefcase. She greeted Bryan that the briefcase is back where it belongs after he took it away from her. He said, "yes you do."
Renee noticed Carmella's victory glow. It was a hard fought battle and wasn't easy, said Carmella, and she got back what she said is rightfully hers. Bryan congratulated her, that she did it without James Ellsworth (I think Bryan was focused on his modified wrestling style post WWE instead of logic here.)
She tried to procure an apology from Bryan, who was confused by solicitation. Carmella offered him making her cry and doubting her as reasons. Bryan corrected her, that it was fake crying. Carmella swore they were real tears, she doesn't fake cry. But now, her frown is turned upside down!
Bryan maintained not apologizing, but was proud that Carmella got the briefcase down herself this time. Somehow, Ellsworth found his way back in the arena, but he got what he deserved in the form of a destroyed Big Hog.
All that matters is that she's Miss Money in the Bank, declared Carmella, and is also the first ever two time winner of the MITB ladder match. Oh, I DARE her to say that to ANY crowd in ANY city. C.M. Punk chants will happen. I bet Bryan's tongue is bleeding from being bitten by the forbidden nature of the unnamed man WWE seems to be trying to erase and sabotage. And there's also that lawsuit…….
Renee said Carmella sure made history as the first ever Miss Money in the Bank, keeping a shred of some of her diminishing on screen credibility intact. She asked her how it feels to win it the right way and has a year to cash it in. She forgave Bryan for finding a "loophole" but she won it twice, and now the contract is in the hands of the fabulous Princess from Staten Island, showing off her spelling skills in the process. No matter what, it guarantees her a shot at the Smackdown Women's Championship, and when she cashes it in, she'll be a fabulous champion. More spelling was shown off.
Carmella saw Naomi's quick win vs Lana tonight. She knows Naomi is very good at what she does, but Naomi is no Princess of Staten Island. She made history and decided it was time for some celebration. Renee asked how she's going to celebrate. She left Renee in suspense and left the show. Good, she was getting repetitive.
Renee congratulated Carmella for winning fair and square. Bryan said she did what he had should have the very first time. Renee mentioned there would always be an asterisk, but didn't quite clarify for what exactly. Oh wait, it's because she still got help from a banned Ellsworth! But nobody said anything!
Renee singed off as she lamented a wet phone is need of repair.
Craig's Conclusion
Why WWE do you make it so hard to be a fan?
This show's enjoyment will depend on what a person wants in their wrestling product. If you just want something to laugh at and not take seriously while having your common sense intelligence insulted, then this was for you. Everybody else, I'm right there with you.
Daniel Bryan is the heralded returning hero the Talking Smack that was diluted and ruined by Shane McMahon's bland personality. He also showed terrible JBL and Booker T levels of not discerning between heels and faces and who to shine up and who to put heat on. JBL's appearances were at least more entertaining, but still fell way short of the potential he has to offer.
We got more of the same, for the most, part with Bryan on this show. At the very least, he does it with a wink and a nod, tongue in cheek sort of way that displays those invisible handcuffs. It's further proof that if you get yourself over when WWE doesn't want you to, you will be subject to many cemetery plots. Renee and Bryan are two of the most notable examples.
Somehow, the longer Raw has improved while Smackdown has become insufferable, and so has Talking Smack. I am convinced because the best co-host is back and the shows still sucks. Even with the Ball family debacle on this week's Raw, on a whole Raw was still better than this week's Smackdown (my opinion, of course). Good thing Ring of Honor and New Japan are giving us a great alternative. WWE is just too big to fail no matter how horrible the product becomes. Sure, there's always at least one or two great things happening during the many hours of programming between Monday and Tuesday, it's usually inevitable. I feel like the enjoyment of the WWE product is being stretched too thin and we are taken for granted. It's been a broken record for too long, and I'm merely one of the latest to put a needle on it.
Every guest was way shy of their usual and expected level of performance, but Kevin Owens shill was the best. I hate to say it, but the tension he creates with Shane is much better. Bryan and Owens are clearly longtime friends, or at least mutually respecting longtime co-workers through many companies.
This show is best when is forwards more heated rivalries and storylines, not freaking rap battles. So, while the Usos were mildly entertaining, their appearance was very much out of place. Then, it was made worse with Bryan's co-rap. I liked how he and Renee put at least some heat on them for their past a future countout plans, but it was only a tiny slice of the totality. It should have been the other way around, and no Bryan co-opting of any kind.
Carmella was wonderfully quick on the show. However, she got way too gimmicky too quickly. She obviously memorized her lines, went out there, spit them out, and left. She sold nothing of the brutality of the match and looked too perfect and put together.
Lastly, I'd like to congratulate the word "battle" for being Vince McMahon's latest fetish.
---
NOW CHECK OUT LAST WEEK'S COLUMN: 6/20 WWE Talking Smack Review: Daniel Bryan rejoins Renee to talk fatherhood, interview New Day, Styles, Carmella & Ellsworth