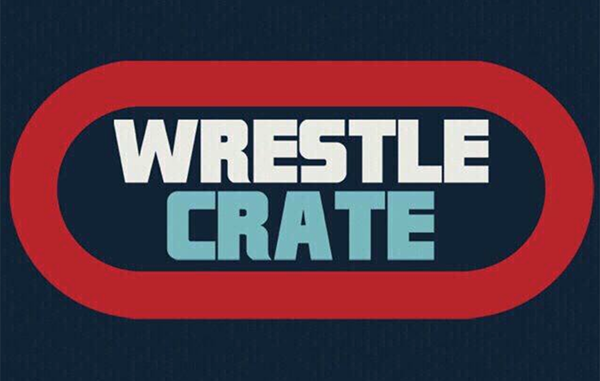 ---
SPOTLIGHTED PODCAST ALERT (YOUR ARTICLE BEGINS A FEW INCHES DOWN)...
---
The latest unboxing video for features an unboxing of the October 2017 Wrestle Crate. Wrestle Crate is under new ownership and they have done a nice job so far of carving out a niche for themselves in a very competitive market for mystery wrestling boxes
There are two options when signing up that allow you to choose between Wrestle Crate and Wrestle Crate Light. The only difference between the two boxes is that there are less items in Wrestle Crate Light. Wrestle Crate costs 29.99 plus shipping and Wrestling Crate Light Costs $14.99 plus shipping.
***
The October 2017 WrestleCrate naturally had a halloween theme and they knocked it out of the park. This crate came with a box full of cool wrestling items that were tied into the halloween theme for the month.
WrestleCrate continues to remain competitive with PWCrate when it comes to shirt designs. This months crate featured a fantastic Scott Steiner "Frankensteiner" shirt. There wasn't a DVD in the box this month, but WrestleCrate made up for that by hooking subscribers up with a Mattel WWE Zombie A.J. Styles figure. I had seen pictures of this line of WWE figures online before, but to see one in person was crazy. I don't know why WWE made zombie versions of their superstars, but they did and the A.J. Styles figure will make for a great conversation piece in your house.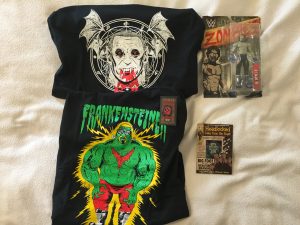 The other items in the crate were fine. This box would have been a homerun with one more really cool item I feel. Subscribers that prepaid for a three month subscription got a bonus Gangrel shirt, which features a slick design. I like the wooden magnets and the pins WresteCrate USA has been using. This month the magnet featured Bray Wyatt's head and Kane was featured for the pin.
Headlocked comics from Michael Kingston are fantastic and WrestleCrate has been including a Headlock mini comic in their crates each month. Each Headlocked Mini comic features a collaboration between Michael Kingston and a wrestler. It was recently announced that these comics won't be a regular feature anymore, but I've really enjoyed them so far. This month featured a collaboration between Kingston and Gangrel.
I'm impressed with the direction WrestleCrate is headed. It's difficult to stand out in the wrestling crate market, but this box offered a lot of value given the cost of the box. You get your money back between the Styles zombie figure and the Steiner t shirt, but I think one more cool item would have made this box a grandslam.
And now here's the unboxing video!
You can purchase a subscription to Wrestle Crate by visiting WRESTLECRATE.COM. You can also follow them on Twitter @WrestleCrateUSA
Act fast, as the deadline to order the latest crate is August 18. Each crate normally ships during the third week of the month so it arrives at the end of the month or no later than the beginning of the next month. This service is also available to customers in Europe by visiting Wrestlecrate.co.uk.
COUPON CODE: To save 10 percent off your first crate, enter the code PWTORCH at checkout!
ATTENTION: Wrestle Crate ships once per month. The cutoff date for signing up each month is 5 p.m. PST on the 18th. The crates are delivered between the 20th and 30th of each month.
Contact Sean at pwtorchsean@gmail.com. Follow Sean on twitter HERE. Follow and like Radican's Wrestling Community Facebook.com HERE