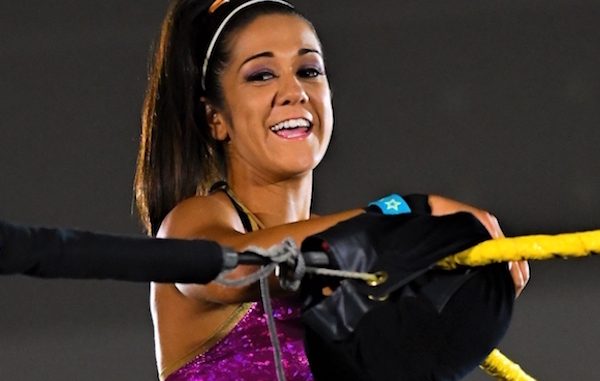 ---
SPOTLIGHTED PODCAST ALERT (YOUR ARTICLE BEGINS A FEW INCHES DOWN)...
---
WWE SMACKDOWN PRIMER
APRIL 30, 2019
COLUMBUS, OH. AT THE VALUE CITY ARENA IN THE SCHOTTENSTEIN CENTER
AIRS ON USA NETWORK, 8:00PM EST
BY FRANK PETEANI (@FrankPeteani), PWTORCH CONTRIBUTOR
Announcers: Tom Phillips, Corey Graves, Byron Saxton
Arena and Items Advertised by WWE
WWE returns to the Value City Arena in the Schottenstein Center in Columbus, OH. after Raw appeared just last September. The arena opened for business in 1998 and has hosted a handful of WWE events and even hosted a WCW Monday Nitro back in 2000. There was long break after that, and it wasn't until February of 2015 where WWE returned with an episode of Raw. This will be the first time the arena has hosted Smackdown.
Here's what's advertised by WWE.com for tonight:
Matches & Segments:
Which Smackdown Live Superstars will compete in the men's and women's Money in the Bank ladder matches?
Becky Lynch and Bayley to square off for the first time ever in WWE
What will Kofi Kingston have to say in an exclusive interview after Kevin Owens shocking betrayal?
Storyline Follow-Up
How will Roman Reigns deal with Shane McMahon & Elias?
Money in the Bank Participants
Last night on Raw, it was revealed by Alexa Bliss in separate "A Moment of Bliss" segments that the following Raw wrestlers will partake in the men's and women's Money in the Bank ladder matches at the aforementioned PPV on May 19, 2019:
Men's: Braun Strowman, Ricochet, Drew McIntyre, and Baron Corbin
Women's: Dana Brooke, Natalya, Naomi, and Alexa Bliss
Baron Corbin and Braun Strowman are previous Money in the Bank winners on the men's side (2017 and 2018 respectively). Alexa Bliss won last year's women's match and cashed in on the same night to win the Raw Women's Championship from Nia Jax. Corbin cashed in unsuccessfully on Jinder Mahal (yikes) for the WWE Championship and Strowman was also unsuccessful on Roman Reigns for the Universal Championship. The last man to cash in successfully was Dean Ambrose on Seth Rollins for the WWE World Heavyweight Championship in 2016 on the night of the MITB PPV. All women have cashed in successfully (Carmella and Bliss).
Tonight, we reveal the participants from Smackdown.
Frank's Analysis: I regret giving credence in yesterday's primer to the leaked photos of the potential participants I saw on Twitter as they were completely inaccurate. I'll do you a favor going forward by not paying attention to that stuff. Let's find out the way we're supposed to find out, and that's on the show tonight. Some people want to get the inside scoop ahead of time for whatever reason and speculate. Be my guest if you want to do that; I'll do it the right way. With that said, once we get the Smackdown participants, we can start thinking about potential winners. McIntyre does stand out initially as potential for the men's side. Natalya has an outside chance for the women. Again, let's round it out tonight and go from there.
Non-Title Match: Raw & Smackdown Women's Champion Becky Lynch vs. Bayley
Last week, Becky Lynch & Charlotte Flair had a face-to-face promo for the first time since the triple threat match at WrestleMania. Charlotte complained about not having her title even though she wasn't beat while Becky questioned her understanding of the "winner take all" stipulation (I'm sure everyone rolled their eyes along with me). Eventually Bayley would come out and talk about seeing a rerun in regard to Charlotte and Becky in the same ring (I'm right there with you Bayley). She got face to face with Charlotte when Charlotte told her to get in the back of the line.
They would go on to have a match to determine the #1 contender to the Smackdown Women's Championship. They went back and forth including Bayley hitting a super-plex and Charlotte attempting a moon-sault (groan). Charlotte would eventually win with a spear in 11 minutes.
Following the match in a backstage interview, Becky told Kayla Braxton she would not only defend her Raw Women's Championship against Lacey Evans at Money in the Bank but would defend the Smackdown title in the same night against Charlotte. Tonight however, Becky goes one-on-one against Bayley for the first time on main roster TV. They worked matches against each other in NXT in 2014 and '15.
Bayley, Charlotte, and Becky are three fourths of the Four Horsewomen of NXT which included the currently estranged Sasha Banks. By the way, you didn't think I'd let you down and not include a little trash talking on Twitter, did you? Here's Bayley and Becky:
https://twitter.com/itsbayleywwe/status/1122546977735172097?s=21
Frank's Analysis: I like seeing Bayley more serious. I've been hoping for an edgier side to her, and it looks like we're finally getting it. The question is does WWE follow through and give her a chance, for example, to win Money in the Bank and cash in on whomever is holding the Smackdown title. For all intents and purposes, they could have the women's ladder match first, have Bayley win, have Charlotte defeat Becky for the title, and have Bayley cash in right then and there. MITB cash-ins are cheered anyway so may as well flip the script and have a babyface do it for a change. An edgier Bayley against a heel Charlotte is a program that could work. That could get Becky to stay on Raw and separate her and Charlotte which is desperately needed.
WWE Champion Kofi Kingston Interview
Last week, Kofi Kingston took on Shinsuke Nakamura in a non-title match. Xavier Woods and honorary New Day member Kevin Owens were doing commentary at the "New Day" table. Rusev & Lana were in Nakamura's corner. The match ended in a DQ when Rusev attacked Kofi.
It appeared Owens was going to help Kofi when in fact he super-kicked him instead. He would go on a vicious attack and take off his New Day shirt. As Owens was going to give Kofi his signature Pop-Up Powerbomb, Woods made the save only to get treated to the move himself. Owens walked off to boos bearing a new KO Show shirt.
Tonight, Kofi will be an exclusive interview discussing Owens' actions from last week. Big E and Kofi have expressed their displeasure on Twitter:
KO is the parasite in the system that desperately clings on to its host for life. Once its sucked all of the nutrients it can out of its host, it seeks another. I only take pleasure in knowing the virus has been detected & @TrueKofi & @XavierWoodsPhD will stomp out the organism.

— Florida Man (@WWEBigE) April 24, 2019
Sometimes you feel compelled believe in someone and give them a chance, even when no one else will. As unpopular a decision as it may seem at the time, you give them the benefit of the doubt…And Then that person proves everyone right. Mark my words, there will be Hell to pay.

— KOFI (@TrueKofi) April 24, 2019
It's a bit odd that these were retweeted by Owens, but if it's part of the storyline he likely wanted a reminder of what these guys said to fuel his anger. Who knows.
Frank's Analysis: One part of the discussion with Owens and Woods that may have been a tell was when Woods pointed out Owens is a former WWE Champion. Owens corrected him and said he was a Universal Champion and not the WWE Champion citing "details details." I almost felt like that was a pre-cursor telling us he was going to go after Kofi for the title. With that said, this turn happened too early, but I can understand the circumstances. Daniel Bryan is out with an undisclosed injury (boy oh boy what's going on there by the way). Owens generally works better as a heel, although I'd have liked to have seen a babyface run. Looking at the Smackdown roster he's probably the best heel opponent for Kofi at the moment. (That's what happens when you don't build anybody up as credible.). It still made the turn feel less impactful because he hadn't quite ingratiated himself into the New Day group and it feels like they've turned people back and forth a lot in the past six months (Strowman, Ambrose, Elias, Rusev, etc.). With that said, if Owens is the Owens he was after turning on Chris Jericho heading into the match with Goldberg in 2017, meaning the serious "killer" version, this should work fine.
Roman Reigns's Job is Safe
Duh.
For those that were worried, Roman Reigns was not fired by Shane McMahon who I suppose was speaking on behalf of his father Vince in the opening segment last week. Instead, he and Roman had a mic-dropping stare down which lead to Elias coming out and a double team on Roman. Later on, Roman accepted Elias' challenge to a match at Money in the Bank.
This will be the second straight year Roman has a straight-up one-on-one match with an opponent at the aforementioned PPV that is unlikable and doesn't wrestle all that well. Last year, he took on Jinder Mahal.
Frank's Analysis: I'm sure Elias is cueing up a song for Roman tonight. One thing is for sure, and that's by announcing this match for the PPV three weeks from now, they're making it feel important. As has been discussed for a long time, Roman is one guy that is protected by management. You could say they may be high on Elias for putting him in this program with Roman, but we'll wait and see what happens afterwards. My inclination is that he's fed to Roman and will go back to low level stuff once the feud is over.
Continued Roster Shakeup
Are we sure the rosters are set now? The Good Brothers (Karl Anderson & Luke Gallows) showed up on Raw last night. Jinder Mahal arrived inexplicably with the Singh Brothers last week and was scheduled to have a match with Chad Gable. It was announced after the show that The B-Team (Curtis Axel and Bo Dallas) are headed to Smackdown as well. According to multiple reports, Jeff Hardy is dealing with a potential knee injury. If true, and they have to drop the Smackdown Tag Team titles, look for the B-Team to be involved in the picture. They are former Raw Tag Team champs and looking at the Smackdown tag division, they stand a good chance of winning. I could understand this move but then why move the Good Brothers to Raw? I understand they weren't being used much, but with the Smackdown depth chart as galvanized as it is right now, they could have been elevated.
Andrade arrived on Smackdown with Zelina Vega to pursue Intercontinental Champion Finn Balor, whom Andrade beat on Raw in a non-title match during his one-week stint. Balor returned the favor last week.
Aleister Black cut a promo in his Smackdown "debut:"
From Last Week Not Advertised for Follow-Up:
Kairi Sane def. Peyton Royce (one half of the WWE Women's Tag Team Champions the IIconics).
Lars Sullivan interrupted a match between Jinder Mahal and Chad Gable, and later put down R-Truth who had come out to pay Lars back for his attack the week prior.
Mandy Rose & Sonya Deville told Paige she'd regret her getting behind Asuka & Kairi Sane. They came out "applauding" Kairi's defeat of Peyton.
The debut segment of Bray Wyatt's Firefly Fun House was repeated on Smackdown. The second one aired on Raw last night. Bray is listed as a Raw wrestler.
Start Time & Matches Advertised on the Arena Website
The Value City Arena's website advertises a start time of 7:45 p.m. local time. They advertise no specific matches or wrestlers appearing.
205 Live will follow the main show.
---
Follow Frank on Twitter @FrankPeteani. Questions and discussion are welcome. Thank you for reading!