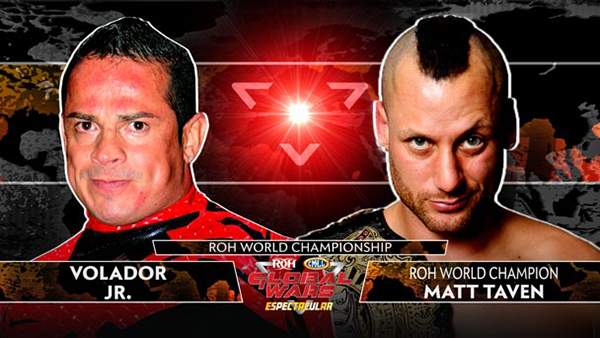 ---
SPOTLIGHTED PODCAST ALERT (YOUR ARTICLE BEGINS A FEW INCHES DOWN)...
---
ROH/CMLL GLOBAL WARS ESPECTACULAR
SEPTEMBER 7, 2019
VILLA PARK, IL AT ODEUM EXPO CENTER
AIRED ON ROH HONOR CLUB
REPORT BY HARLEY R. PAGEOT, PWTORCH CONTRIBUTOR
Commentary: Ian Riccaboni, Caprice Coleman
We opened with our commentators running down the card and, like last night, went right into the 2019 Top Prospect tournament.  Dante Caballero defeated Joe Keys in the opening round while Austin Gunn (son of Billy Gun) defeated Brian Johnson.
(1) AUSTIN GUNN vs. DANTE CABALLERO – 2019 TOP PROSPECT TOURNAMENT SEMI-FINAL MATCH
Brian Johnson made his way to commentary two minutes in and pulled a Shane Thorne, complaining about this tournament full of rookies who don't deserve the spotlight.  Production cut his mic after 10 seconds.  Caballero drank from a flask at 7:00.  He tried to spit it Gunn's face but Gunn moved and the ref was blinded.  Gunn got a roll-up for three but the ref missed it.  Fameasser for the win.
WINNER: Austin Gunn in 7:38 to advance to the finals.
(Pageot's Perspective:  Gunn winning was obvious.  He was the biggest name in the tournament, obviously due to his father's career but also due to his appearance in the battle royal at All In last year.  He now faces Dak Draper in the finals at Death Before Dishonor: Fallout on September 28.  The winner earns an ROH contract and a match for Shane Taylor's TV title.)
-The Bouncers joined commentary for the next match.  Josh Woods slapped hands with fans, which annoyed his mentor.
(2) "DAREWOLF" PJ BLACK & OKUMURA vs. "THE LAST REAL MAN" SILAS YOUNG & JOSH "THE GOODS" WOODS
Beer City Bruiser wondered if Woods' sportsmanship was rubbing off on Young.  He pointed out that Young didn't cheat last night and he accepted a beer from The Bouncers post-match, even if he left to drink it alone.  Woods wrestled face while Young was his usual self and spent much of Woods' offense jawing and shouting instructions.  Things broke down and Woods made Okumura tap to a leglock.
WINNERS: Woods & Young in 7:56.
-Woods shook hands joyfully with Black.  To the commentators' surprise Young shook hands as well.  The Bouncers made their way to the ring and congratulated the victors.  Woods accepted a beer but Young bailed.  The three in the ring toasted while Young looked on disconcertingly.  Bruiser threw a beer to Young, who took it and left.
(Pageot's Perspective:  Woods vs. Black is a singles match I'd like to see.  Woods has always shown potential since arriving in ROH but his schooling and other things have prevented him from getting a lot of seasoning to this point.  Longer matches against veterans like Black and Lethal could go a long way.  The little details and twists in what initially seemed like a straightforward Young vs. Woods feud has really brought me around on this one.  I'm intrigued to see where this goes, whether Young will turn face, and how his former friends The Bouncers tie into things.)
-The Allure made their entrance for an unadvertised match.  Sumie Sakai's music hit and she and Jenny Rose jumped the guardrail and attacked the mean girls from behind.
(3) SUMIE SAKAI & JENNY ROSE vs. THE ALLURE (Angelina Love & Mandy Leon)
Rose faced off with her former mentor, Leon.  Love pulled Sakai off the apron and chucked her into the guardrail.  Rose locked Leon in a submission so Love sprayed her in the face with hairspray for the DQ.
WINNERS: Rose & Sakai in 2:58 via disqualification.
-Sakai attacked but fell to a Botox Injection.  The Allure brought a table into the ring to cheers.  The lights went out.  After a long delay Maria Manic's music hit.  She appeared in the ring.  Leon ran away.  Manic set up Love for a powerbomb.  A male security guard jumped in the ring for no good reason.  She threw him up, beat up two others, and put a fourth through the table with a chokeslam.
(Pageot's Perspective:  Two nights, less than three minutes of women's wrestling.  I can't even LOL at this anymore.  Women Of Honor is a joke.  For those keeping track, Manic debuted for ROH on June 28 and has yet to wrestle a single match in the 72 days since then.)
(4) ROH WORLD TELEVISION CHAMPION SHANE TAYLOR vs. "THE PRESTIGIOUS ONE" JOE HENRY – PROVING GROUND MATCH
If Hendry could defeat Taylor or last to the 15-minute time limit he would earn a future TV title match.  They fought to ringside at 6:00.  Taylor was in control as we passed the 12:00 mark.  Twisting powerslam from Hendry for a two-count.  They traded forearms for European uppercuts.  Hendry clubbed Taylor to the mat with one minute left.  Headbutt from Taylor.  They traded chops.  Taylor told him to bring it on but the bell rang.
DECISION: Time limit draw in 15:00.  Hendry earns a future TV title match.
-Taylor said they're not done.
(Pageot's Perspective:  For Hendry's first singles match since signing with ROH it did its job.  He's undeniably charismatic and his entrance video is so goofy that it stands out in a great way.  So far I haven't seen anything in the ring that differentiates him from the six to eight other guys on the roster who look similar to him and wrestle a lot like him but maybe his inevitable singles match with Dalton Castle will provide that.  Smart money says Hendry gets his title shot at the end of October on the Honor United tour of the UK.)
(5) ROH WORLD TAG TEAM CHAMPIONS THE BRISCOES (Jay Briscoe & Mark Briscoe) vs. REY BUCANERO & HECHICERO vs. THE BOUNCERS (Beer City Bruiser & Brawler Milonas) – NON-TITLE MATCH
The Bouncers sent to the floor and the Briscoes battled with the CMLL stars.  Milonas dumped Bruiser over the top rope onto the luchadors at ringside.  Mark followed with a leap of his own onto Bruiser.  Hechicero took down Milonas in the ring.  Bruiser and Mark traded chops.  Ura nage from Mark.  Milonas with a crossbody to both Briscoes.  Riccaboni acknowledged that the referee gave up altogether on tag rules and the concept of "legal men" by this point.  Froggy-bow from Mark to Bucanero and both Briscoes covered for the pin.
WINNERS: The Briscoes in 8:52.
-The Briscoes were babyfaces post-match, slapping hands with all their opponents and nodding respectfully when the luchadors implied they'd like a shot at the tag titles down the line.  The other four men left and The Bouncers remained in the ring for a suspiciously long time.  Sure enough, Vincent Marseglia appeared and hit them both with a steel chair.  He choked Bruiser.  (TK O'Ryan must have been unavailable this weekend.)  Young and Woods ran out and chased him off.  There was a bit of confusion from Milonas at first who wasn't certain why Woods and Young were there.  After talking it out all four men raised each other's hands
(Pageot's Perspective:  Like I said earlier, I'm all in on this story.  There were zero hints of deceit from Young here and this was completely out of character for him.  Is this the final step of the story?  Young is full babyface now and we've got the makings of a four-man stable?  Or are there more twists to come?  Is another betrayal fated?  If so, from whom?)
(6) "EL TORO BLANCO" RUSH vs. BÁRBARO CAVERNARIO
After some action on the outside Rush came up bleeding from the shoulder at 5:45.  He hit The Bull's Horns for the win.
WINNER: Rush in 8:45.
(7) JAY LETHAL, "THE OCTOPUS" JONATHAN GRESHAM, & "THE HAWAIIAN JUGGERNAUT" JEFF COBB vs. TEAM CMLL (Caristico, Stuka Jr., & Triton)
Triton vs. Gresham to start.  Tags to Lethal and Caristico.  Tags to Cobb and Stuka.  Cobb hit a much-delayed vertical suplex on Stuka, keeping him upside down for a solid minute.  Stuka hit a series of tilt-a-whirl backbreakers on all three opponents.  The luchadors isolated Gresham.  Cobb lifted all three opponents simultaneously.  Lethal carted Triton away and Cobb hit a Samoan drop/fallaway slam to the other two.  Stuka ducked and Cobb took out Lethal with a clothesline.  Torpedo plancha from Stuka to Lethal.  Tilt-a-whirl DDT from Caristico to Cobb.  Lethal Injection blocked with a kick.  Powerslam from Lethal to Stuka.  Figure four.  Triton powerbombed Gresham onto Lethal to break it up.  Gresham and Triton traded slaps.  Everybody took out everybody.  Triton avoided a Tour Of The Islands.  Keller Cutter to Triton and Gresham covered for the win.
WINNERS: Gresham, Lethal, & Cobb in 14:37.
(Pageot's Perspective:  Match of the night so far, which shouldn't surprise anyone with the talent involved.  Two nights in a row with no real issues between Lethal & Gresham and they won both times.  This seems to poke a lot of holes in Gresham's theory that they need to cheat to win.  I guess that story is finished?  Or will Gresham keep cheating in singles competition?)
-Kenny King made his entrance with Amy Rose.  His head was wrapped in bandages.  He reminded us that The Great Muta blinded him with mist back at G1 Supercard in April.  He threw to footage from last night's show.  After stealing a victory over Tracy Williams in a three-way King rolled out of the ring and ran face-first into a ringside camera.  He claimed the cameraman was working for Muta.  He turned his attention to PCO (King's first-round opponent in the ROH world title #1 contender's tournament) and pointed out that PCO was pulled from action at Honor For All after getting injured the night before but King would still compete here, thus making him better than PCO.
(8) ROH WORLD SIX-MAN TAG TEAM CHAMPION "THE VILLAIN" MARTY SCURLL vs. COLT CABANA vs. DALTON CASTLE vs. KENNY KING (w/Amy Rose)
These four men make up half of the field in that #1 contender's tournament that kicks off at Death Before Dishonor with King vs. PCO and Cabana vs. Scurll taking place that night, while Castle takes on Mark Haskins the next night at Death Before Dishonor: Fallout.
Cabana accidentally poked King in the eye and King went down.  Scurll followed with a kick from off the apron.  King staggered blindly into some showboating from the other three.  More "King can't see" hijinks.  The other three were set up for a tower of doom spot but King climbed to the wrong corner.  Rose tried to help by calling out to him.  King suddenly fired up at 6:45 and took out all three men without issue.  He ripped off the bandage to reveal he was faking!  So Cabana poked him in the eye, blinding him for real.  King rolled up the referee but the ref kicked out.  Cabana was crotched on the top rope.  Scurll called for the chicken-wing on King but he took half an hour to actually apply it so Castle interrupted.  Cabana landed a moonsault on Castle for the pin.
WINNER: Colt Cabana in 8:32.
-Cabana extended the code of honor but everyone left in a huff so he shook the ref's hand.
(Pageot's Perspective:  I'll never complain about a Cabana win.  He's been used more as a wrestler by ROH this year than in the recent past but I'll always maintain that they could do even more.  I firmly believe that he should be in a similar slot to Randy Orton in WWE or Christopher Daniels in the past couple years of ROH, maybe not holding a top title but protected as an upper card veteran name and used regularly to elevate younger talent.  Fingers crossed that this #1 contender's tournament is the start of that.)
-The commentators sent to our world title match.  Apparently Villain Enterprises (PCO, Brody King, & Flip Gordon) vs. Lifeblood (Mark Haskins, Tracy Williams, & Bandido) was stricken from the lineup.  This is likely due to the fact that King & PCO instead faced Royce Isaacs & Thomas Latimer in a pre-show dark match, losing the NWA World Tag Team Championship to them in their first defense of the titles they won at Crockett Cup four months ago.
(9) MATT TAVEN vs. VOLADOR JR. – ROH WORLD CHAMPIONSHIP
Even back and forth between both men through the first section of the match.  Volador hit a hurricanrana to Taven, who was standing on the top rope.  Taven kicked out just before 10:00.  The champ got his boots up on a moonsault attempt.  He hung up Volador on the top rope and hit a draping Climax for the pin.
WINNER: Matt Taven in 11:55 to retain the world title.
(Pageot's Perspective: A house show main event but at least we wrapped things up after two and a half hours.  That's an improvement over last night and —
Um…  as I was in the middle of typing that sentence a graphic suddenly appeared saying that the Lifeblood vs. Villain Enterprises match was still happening after all.  Why is a non-title six-man tag headlining over your world championship?  Why did the commentators introduce the last match as "our main event" when it started?  Who knows?  Here we go…)
-Lifeblood entered first.  As they posed for the cameras Flip Gordon jumped them from behind with a steel chair.  Lifeblood were infuriated and suggested they make it a street fight.
(10) VILLAIN ENTERPRISES (Flip Gordon & ROH World Six-Man Tag Team Champions PCO & Brody King) vs. LIFEBLOOD (Mark Haskins, Tracy Williams, & Bandido) – STREET FIGHT
Gordon brought his black kendo stick into the ring.  Williams got hold of it and choked Gordon.  King broke it up.  Haskins hit a steel chair into another chair into King's crotch.  Chairs and garbage can lids exchanged at ringside.  Death valley driver from Haskins to Gordon onto an open chair.  Haskins laid across a pile of chairs.  PCO looked for a cannonball off the top rope but Haskins moved.  Frog-splash from Williams to King onto a chair.  Kinder Surprise from Gordon to Williams.  Impaler DDT from Williams to Gordon onto a trashcan.  PCO buried Williams under steel chairs and went up top.  Haskins cut him off.  King backdropped him onto the pile but Williams had previously escaped.  Bandido sort of hit a sunset bomb on PCO off the apron and through a table.  Drop toehold from Williams to King into a chair.  Gordon low-blowed Williams and hit the Flip-5 onto the seats of the open chairs.
WINNERS: Villain Enterprises in 16:22.
-Gordon was bleeding from the back of the neck.
(Pageot's Perspective:  ROH's last street fight was seven weeks ago on TV when Lifeblood defeated PCO, King, & Scurll.  ROH has gone gimmick match crazy this year, though, so that turnaround time is actually them showing restraint.  Low blow fever rages on.  Lifeblood are still owed a six-man title match at some point after their last two scheduled title matches were postponed due to injuries to King and PCO.  The players involved are already booked for different matches through the end of the month so maybe that one will happen in October.
Analyzing the ROH-CMLL relationship moving forward is going to be the new armchair hobby.  NJPW is always the bigger brother in their relationship with ROH with their top stars frequently going over ROH's top stars and only guys like Bushi, Rocky Romero, and Chase Owens losing regularly in ROH.  Here on tonight's card CMLL stars took the loss in all five matches that they participated in.)
---
Find Harley on Twitter @yrechoheart and listen to he and Emily Fear talk the best in women's wrestling every Wednesday on the new PWTorch Dailycast "Grit & Glitter."