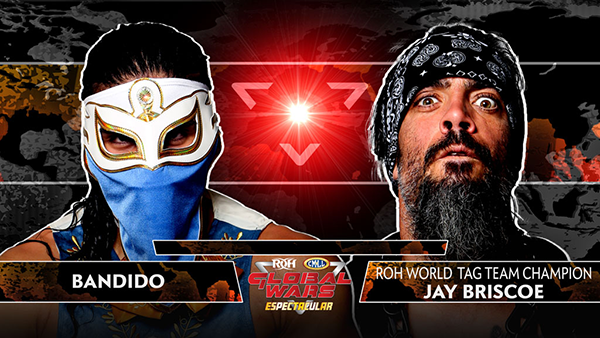 ---
SPOTLIGHTED PODCAST ALERT (YOUR ARTICLE BEGINS A FEW INCHES DOWN)...
---
ROH/CMLL GLOBAL WARS ESPECTACULAR
SETEMBER 6, 2019
DEARBORN, MI AT FORD COMMUNITY CENTER
AIRED ON ROH HONOR CLUB
REPORT BY HARLEY R. PAGEOT, PWTORCH CONTRIBUTOR
Commentary: Ian Riccaboni, Colt Cabana, Caprice Coleman
We opened in the arena with the commentators running down the card. Apparently Stuka Jr. would now be teaming with Volador Jr. against The Kingdom instead of Triton and Triton would now be facing Rush in a singles match instead of Stuka. The change wasn't acknowledged by the commentary team.
-Our first match was a semi-final of the Top Prospect tournament. Dak Draper defeated Makita in the first round while Haitian Sensation defeated Ken Dixon.
(1) HAITIAN SENSATION vs. DAK DRAPER – 2019 TOP PROSPECT TOURNAMENT SEMI-FINAL MATCH
Draper controlled the first five minutes. Sensation got a brief hope spot and hit a scissor kick at 5:20 but Draper kicked out. He put him away moments later with an inverted fallaway slam.
WINNER: Dak Draper in 5:48 to advance to the finals.
(Pageot's Perspective: Draper faces the winner of Austin Gunn vs. Dante Caballero in the finals. Draper is a serviceable heel and one of the few entrants in the tournament who actually looks like he could belong on the ROH roster. Sensation's look is far too over the top for ROH, gaudy purple, green, and yellow gear with colorful braids. He also throws out Mardi Gras beads to the crowd.)
-Code of honor from Woods to The Bouncers, which frustrated his mentor Young.
(2) THE BOUNCERS (Beer City Bruiser & Brawler Milonas) vs. "THE LAST REAL MAN" SILAS YOUNG & JOSH "THE GOODS" WOODS
Young and his former best friend, Bruiser, started things off. Milonas tagged in so Young called for Woods. (Woods defeated Milonas in the semi-finals of the 2017 Top Prospect tournament.) Like in Young's singles match against PJ Black at Honor For All on August 25 he provided opportunities for Woods to cheat but Woods wouldn't bite. Woods was knocked to the floor and The Bouncers double-teamed Young. Boss Man Slam from Milonas. Closing Time landed but Woods broke up the pin. Woods hip-tossed Bruiser off the apron and he bowled over Milonas and Young at ringside. Anklelock to Bruiser. Bridging German suplex. TK O'Ryan and Vincent Marseglia made their way to ringside. Armbar to Bruiser. Milonas broke it up. Milonas went after The Kingdom and Woods rolled up Bruiser.
WINNERS: Woods & Young in 9:29.
-Young nodded his head in approval at Woods' win but walked away from a toast of honor. He took a can of beer from The Bouncers but drank it alone as he walked up the ramp.
(Pageot's Perspective: Logical to follow the 2019 Top Prospect match with Woods, the 2017 Top Prospect winner. It helps to send the message that the winner of the tournament does stick around and get actual storylines in the future. To my recollection this is Young's first time sharing a ring with Bruiser since they faced off in a no disqualification match on January 20 TV. There was never any real closure to Young abandoning The Bouncers and siding with Bully Ray but that alliance with Ray is now ancient history. There's been enough heat on The Bouncers vs. The Kingdom that I have to assume that one's coming to a head at the Death Before Dishonor pay-per-view. Young & Woods are essentially doing an inversion of the same story that Jay Lethal & Jonathan Gresham are doing right now. Gresham and Young believe you have to cheat to win; Lethal and Woods think straight wrestling is enough. Can Gresham turn Lethal heel? Can Woods turn Young face? Stay tuned.)
(3) "EL TORO BLANCO" RUSH vs. TRITON
Triton hit two suicide dives early but Rush avoided a third and Triton crashed. Rush threw him around the ringside area and grabbed a steel chair but referee Todd Sinclair took it away. He hit The Bull's Horns moments later.
WINNER: Rush in 3:50.
(Pageot's Perspective: Rush is now 15-0 in ROH this year and challenges Matt Taven for the world title at Death Before Dishonor in three weeks.)
-Mark Haskins made his entrance. He said he didn't have a scheduled match but came to ROH for competition. He spoke about the world title #1 contender's tournament. (He faces Dalton Castle in the opening round at Death Before Dishonor: Fallout on September 28.)
Rhett Titus interrupted. He put over being an ROH lifer and his new baby boy turning him face. He suggested a match on the spot. Haskins polled the crowd and agreed.
(4) "OVERKILL" MARK HASKINS vs. RHETT TITUS
Titus avoided a top rope double-stomp at 8:30. Titus hit a facebuster but Haskins kicked out. Elevated DDT but Haskins kicked out again. Running boots in the corner. Sharpshooter from Haskins.
WINNER: Mark Haskins in 10:18.
(Pageot's Perspective: Haskins is in the #1 contender's tournament and tapped out Jay Lethal at Summer Supercard so you knew there was no way he was losing here. But the idea was that it put over Titus by being able to hang with him for ten minutes and get a couple near-falls. Titus vs. Kenny King at Death Before Dishonor?)
-The Briscoes had a pre-taped promo in front of a brick wall. Jay addressed Bandido. He said he's an 11-time tag champion and 2-time world champion. Mark asked if Bandido's feeling okay because he's loco if he thinks he stands a chance against Jay.
-The Allure (Angelina Love & Mandy Leon) made their entrance. Love whined about pinning Kelly Klein at Best In The World (off a shoe shot from Leon) but she hasn't received a title match yet.
Klein stormed the ring and got in their faces. She agreed to defend the title on the spot so of course Love backpedaled. Love suggested Death Before Dishonor instead. The Allure started to leave so Klein called her a coward. Love teased a handshake but Leon took a cheap shot. Sumie Sakai ran out. The Allure effortlessly took out both women. Jenny Rose was out next and she was able to clean house.
(Pageot's Perspective: Klein's credibility has plummeted since feuding with The Allure. She used to be portrayed in the same way that Jay Briscoe is, as a tough-as-nails badass that you had to throw everything at in order to get an advantage over. Now a couple weak punches from Leon or being hit in the head with a shoe is enough to lay her out. Sh's barely on Cheeseburger's level at this point.)
-ROH World Television Champion Shane Taylor joined commentary. He defends against Tracy Williams and Flip Gordon in a three-way at Death Before Dishonor.
(5) "THE HAWAIIAN JUGGERNAUT" JEFF COBB vs. KENNY KING (w/Amy Rose) vs. "HOT SAUCE" TRACY WILLIAMS
King used Rose as a shield at ringside and superkicked Williams. Cobb worked over both men simultaneously. Williams hit Cobb with a piledriver at but Flip Gordon ran out and (sort of) pulled him off of the pin. The fans chanted for the heel. King rolled up Williams off the distraction.
WINNER: Kenny King in 11:28.
-King approached the commentary table and seemed to allude to the idea that he's interested in the TV title, even though he's currently booked for the world title #1 contender tournament.
(Pageot's Perspective: We're only an hour and a half in but it feels like it's been three hours already. Maybe because we've still got another four matches to go. We're seriously still doing nine match cards in 2019? There's so much wrestling content in the world and two more shows of this tour the next two nights. Even if you're a big ROH fan, do you really want to watch 27 ROH matches in the span of three days?)
-Dalton Castle made his entrance for a tag match. A Joe Hendry-produced video appeared on the tron, dubbing their team Joe Hendry & Friends. Clips from Hendry's actual entrance video were interspersed with footage making fun of Castle. (This was bad Monday Night Raw-level humor.) Castle and Hendry bickered some more.
(6) JAY LETHAL & "THE OCTOPUS" JONATHAN GRESHAM vs. DALTON CASTLE & "THE PRESTIGIOUS ONE" JOE HENDRY
Gresham brought a steel chair into the ring at 6:45. (In front of the referee and the other three men like this would help him win the match??) Lethal took it and threw it to ringside. Gresham countered a Bang-A-Rang into an octopus. Castle powered out. Hendry lifted Lethal and Gresham at the same time for a fallaway slam. Castle dumped Hendry over the top rope. Keller Cutter to Castle but he blocked it. Castle and Hendry argued some more. Keller Cutter took out Castle on the second try.
WINNERS: Lethal & Gresham in 16:37.
(Pageot's Perspective: Our count for the night of tag teams who are bickering and sort of feuding but also currently teaming together is now up to 3. This Castle-Hendry story would have been a fine second feud for Hendry after signing with ROH but as his introduction to the company it's problematic. The fans need to be well acquainted with Hendry and his personality and entrance theme first before you can then put a spin on it by contrasting it against Castle. I've said this for years now but ROH has to stop assuming that their viewers are already intimately familiar with every wrestler who steps foot through their doors. We'll run into the same problem in our next two matches as six CMLL luchadors appear with a large portion of the crowd being unable to tell them apart and knowing nothing about their characters.)
(7) VILLAIN ENTERPRISES (Flip Gordon & ROH World Six-Man Tag Team Champions Marty Scurll, PCO, & Brody King) vs. TEAM CMLL (Rey Bucanero, Hechicero, Okumura, & Bárbaro Cavernario)
Scurll and Hechicero started. PCO and Cavernario next. Gordon and Okumura for round three. New heel Gordon was put into the role of the sympathetic figure fighting from underneath as the four luchadors worked him over. The referee was made to look like an imbecile by constantly standing in VE's corner and lecturing them while CMLL cheated behind his back. King tagged in at 9:30 and worked over his opponents. Everything broke down.
Quadruple-teaming to King in the ring. Something happened at ringside that the commentators freaked out over but the cameras missed it. King hit his Iwatani springboard armdrag to two of the men. People flipped over the ropes onto other people. In the end Scurll hit a backcracker to Okumura and King followed with a back senton to Okumura laid across Scurll's knees.
WINNERS: Villain Enterprises in 15:50.
(8) THE KINGDOM (ROH World Champion Matt Taven & Vincent Marseglia) vs. VOLADOR JR. & STUKA JR.
Riccaboni recapped the main event from the CMLL 85th Anniversary Show one year ago where Rush & Cavernario defeated Taven & Volador, resulting in the latter two both losing their hair and putting them at odds with each other now. Top rope Spanish fly from Volador to Marseglia for the pin.
WINNERS: Volador & Stuka in 11:09.
(Pageot's Perspective: Volador challenges Taven for the ROH title tomorrow night. Nobody actually buys him as a threat to winning the belt but they have to go through the motions and pretend like they do so having him pin Taven in a tag match in Mexico last week and going over Taven's henchman here is logical.)
-A masked luchador came out and spoke with an American accent. He unmasked to reveal Alex Shelley. The fans chanted "welcome home" as he's from nearby Detroit. He said he took Taven to the limit at Summer Supercard, which isn't bad for a guy who's only had two matches in the past 16 months. It was also his first singles match in three years. He said he's a free agent but there are guys in ROH he wants to wrestle. He named Tracy Williams, Mark Haskins, Matt Taven again, Jay Lethal, and Jonathan Gresham.
Gresham came out. He said Shelley dropped the ball in Toronto. Gresham's been here four years and has never had a world title match. Shelley had one handed to him and blew it. Gresham told him he's disappointed in him. Shelley called him 'Pus (It's short for Octopus.) and said he was making history while Gresham was playing with his action figures and choosing him in video games. He called Gresham a copycat and challenged him to a match… on October 12 in New Orleans? (Not at Death By Dishonor, the pay-per-view in three weeks?) Fans chanted Octopussy as Gresham left.
-PJ Black joined commentary for the main event.
(9) ROH WORLD TAG TEAM CHAMPION JAY BRISCOE (w/Mark Briscoe) vs. BANDIDO
Mark Haskins made his way to ringside at 5:00 and got in Mark Briscoe's face. Jay threw Bandido around the ringside area as the fans chanted "one more time." Mark Briscoe jumped on commentary to explain what was happening and why Bandido was getting whupped so badly. The two men in the match squared off with steel chairs at 11:00. Bandido countered a Jay Driller into a roll-up for two. Pop-up cutter at 16:30 but Bandido was too tired to make the cover. Jay Driller but Bandido kicked out. Briscoe looked for a Jay Driller from the second rope but Bandido fought out. Fallaway slam moonsault landed but Briscoe kicked out at one. Hurricanrana driver from Briscoe. Lariat. Bandido kicked out. 21plex for the win.
WINNER: Bandido in 21:43.
(Pageot's Perspective: One of the many factors hurting ROH this year has been their washing away of the line between heels and faces. The Briscoes go back and forth week to week whenever ROH feels like it. Jay was obviously supposed to be the heel here against the babyface Bandido but just a couple weeks ago ROH told us to back and support The Briscoes in their feud against the ROH-disrespecting Guerrillas Of Destiny. Also Jay was hurling Bandido aroung ringside in the same way that the apparently-babyface Rush did earlier in the show. So we should cheer that action when Rush does it but boo when Jay does?
Overall too many shenanigans to be the memorable, classic match you were probably hoping for but there were enough glimpses of what could have been to entertain. Bandido's in the world title #1 contender's tournament, facing Jay Lethal at Death Before Dishonor: Fallout on September 28, so he needed the win here. Briscoe has the two world title reigns in his past, which makes a win over him meaningful, but he's principally a tag wrestler these days so the loss doesn't hurt him. Trim half an hour and two or three matches off the card and this main event would have had much more impact.)
-Briscoe exchanged the code of honor with Bandido. Matt Taven ran out and attacked both men with the world title. Rush ran out and attacked Taven. He looked for The Bull's Horns but Taven scampered out of the ring while Rush held up the world title.
(Pageot's Perspective: That was completely superfluous.)
---
Find Harley on Twitter @yrechoheart and listen to he and Emily Fear talk the best in women's wrestling every Wednesday on the new PWTorch Dailycast "Grit & Glitter."