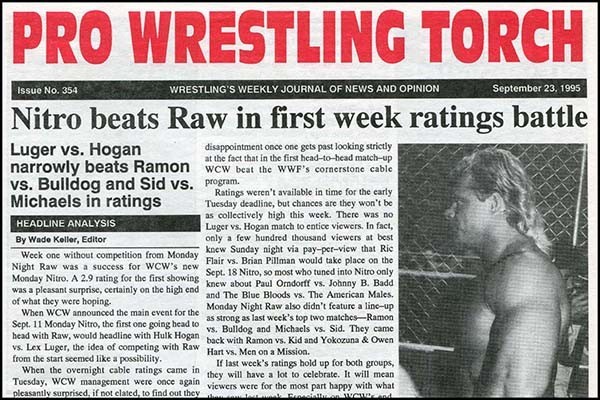 ---
SPOTLIGHTED PODCAST ALERT (YOUR ARTICLE BEGINS A FEW INCHES DOWN)...
---
We are now posting PWTorch Digital Newsletter PDFs for the year 1995 for the first time ever. These issues from 1995 have never been made available in their original format since their original printing press run 20 years ago.
SUMMARY of #354 cover-dated Sept. 23, 2015: TThis issue includes a cover story detailing Nitro defeating Raw in the first head-to-head battle between the two shows, a major blow to WWF's pride… WCW Newswire covers the biggest story of the week that would come back to haunt Bischoff years later as Bischoff fired Steve Austin, freeing him up to eventually lead the way in reversing the Nitro winning streak… WWF Newswire includes Shawn Michaels talking about what separates the WWF from "other Mickey Mouse promotions"… Detailed WCW Fall Brawl PPV coverage including Keller's Match Report, Roundtable Reviews, Reader Reax, and Poll Results… More letters from readers reacting to the Raw vs. Nitro battle… A detailed ECW Arena report… Wade Keller's BBL editorial forecasts where WWF would end up come WrestleMania… Plus ETC. Newswire, reports on WWF Raw, WCW Nitro, ECW TV, SMW TV, USWA TV, and more…
–DIRECT LINK PWTORCH NEWSLETTER #354 PDF
–TUTORIAL ON DISPLAYING NEWSLETTER PDFS ON IPAD OR ANDROID TABLET
FULL TEXT OF NEWSLETTER – VIP EXCLUSIVE FEATURE
NOT VIP YET? INTERESTED? CHECK OUT DETAILS HERE:
LINK: http://www.pwtorch.com/govip
-70+ exclusive VIP Audio Shows (Daily Keller Hotline, Mitchell & Keller Audio, Torch Talks, Post-PPV Roundtables, 20 Year Retro Audio Keller Radio Shows, much more! – preview the list here at our RSS feed for members: feed://pwtorch.com/pwtorchvipaudio.xml)
-New PWTorch Newsletter each week including a full color magazine-style PDF Digital edition and an ad-free online text option.
-100s of back issues dating back to 1988 including a new 20 Years Ago Back Issue PDF every Wednesday including vintage early Torch Talks, the first insider pro wrestling interview series ever.
-Ad-Free Access to PWTorch.com Main Listing.
-VIP Forum Access
-VIP Archives Access including 1000s of VIP Audio Shows and Torch Talks dating back to late 1980s.
VIP SIGN-UP PAGE