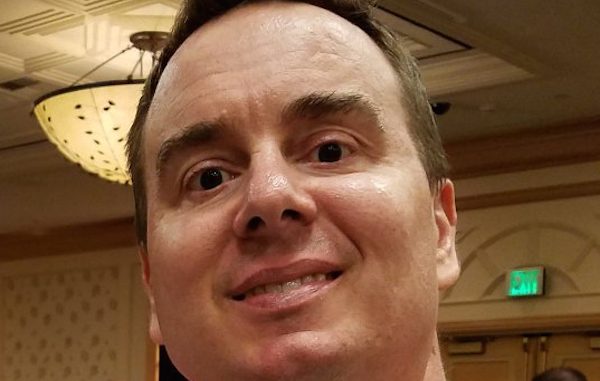 ---
SPOTLIGHTED PODCAST ALERT (YOUR ARTICLE BEGINS A FEW INCHES DOWN)...
---
PWTorch contributor Jim Valley spent the past week in Las Vegas taking part in the annual Cauliflower Alley Club, interacting with wrestling legends such as Jim Ross, Jerry Lawler, Lance Russell, 2016 WWE Hall of Famer The Godfather, and more.
Listen to the first episode of Valley's legends series on the "Saturday Morning Wrestling" Livecast this Saturday at 11:30 a.m. EST at PWTorchLivecast.com.
The following is a photo gallery of Valley's trip to Las Vegas @JimValley on Twitter.
Monday, April 11
Confirmed. I will interview #Memphis wrestling legend Lance Russell @CACReunion @PWTorch @thewadekeller pic.twitter.com/tBHRcivMOf

— Jim Valley (@JimValley) April 11, 2016
With @PatLaprade in line @CACReunion #cac51 pic.twitter.com/lraWXtCGFB

— Jim Valley (@JimValley) April 11, 2016
With author of new Pat Patterson book @HebertBertwre @CACReunion #cac51 pic.twitter.com/bISOBOqtyw

— Jim Valley (@JimValley) April 11, 2016
With the Intelligent, Sensational Destroyer. Japanese legend. @CACReunion @PWTorch @thewadekeller #CAC51 pic.twitter.com/Ei14SGK1mi

— Jim Valley (@JimValley) April 11, 2016
With @DianaHartSmith from the famous Hart Family. @CACReunion @PWTorch @thewadekeller #cac51 #prowrestling #LasVegas pic.twitter.com/qsHueHFpn9

— Jim Valley (@JimValley) April 11, 2016
Nick Bockwinkel in progress by @robschamberger @CACReunion @PWTorch @thewadekeller #cac51 #prowrestling #LasVegas pic.twitter.com/CzEhsEz7ri

— Jim Valley (@JimValley) April 11, 2016
Ata Johnson. Peter Maivia's daughter and mom of @TheRock. @CACReunion @PWTorch @thewadekeller #cac51 #LasVegas pic.twitter.com/V1RfMkpzvU

— Jim Valley (@JimValley) April 11, 2016
I stand here to take a picture & the line is ridiculous!! 😉 @FSELV @chippendales #LasVegas #Freemont #chippendales pic.twitter.com/xsJAUYPift

— Jim Valley (@JimValley) April 12, 2016
LIVE on #Periscope: 37 man Battle Royal @CACReunion #cac51 w/ @bertwre https://t.co/sszkHpwQyH

— Jim Valley (@JimValley) April 12, 2016
#Periscope: 37 man Battle Royal @CACReunion #cac51 w/ @bertwre @PWTorch @periscope @realpatmcneil #RAW https://t.co/gsPeljVlht

— Jim Valley (@JimValley) April 12, 2016
.@shirai_io in action @CACReunion #cac51 @HebertBertwre @PatLaprade @Fumihikodayo #LasVegas #prowrestling #japan pic.twitter.com/DmcLxNNskR

— Jim Valley (@JimValley) April 12, 2016
Brawling in the crowd. @shirai_io @CACReunion #CAC51 @goldcoastcasino #LasVegas #prowrestling #japan pic.twitter.com/9tOXJ2wVOD

— Jim Valley (@JimValley) April 12, 2016
Mexican wrestling legend Mil Mascaras. One of the biggest stars ever. Great uncle of @VivaDelRio. @PWTorch #CAC51 pic.twitter.com/Ug1tgKPbWm

— Jim Valley (@JimValley) April 12, 2016
The widow of Bruiser Brody, Barbara Goodish. @CACReunion @PWTorch @thewadekeller @KatieVickAlive #cac51 #LasVegas pic.twitter.com/lKnBvc0uJR

— Jim Valley (@JimValley) April 14, 2016
Tuesday, April 12
LIVE on https://t.co/JwjYoQsago with @thewadekeller talking #RAW, #BulletClub, Cesaro, #CAC51 & more. @CACReunion pic.twitter.com/lmH7zgDBaM

— Jim Valley (@JimValley) April 12, 2016
2016 @CACReunion belt with @trishstratuscom made by @DaveMillican #cac51 #prowrestling #LasVegas pic.twitter.com/pVYd22S9X5

— Jim Valley (@JimValley) April 12, 2016
2016 @CACReunion Raffle Belt. @DaveMillican @PWTorch @thewadekeller #cac51 pic.twitter.com/Qt5XbX4SbZ

— Jim Valley (@JimValley) April 12, 2016
With @wwe Hall of Famer Sgt. Slaughter. @CACReunion @PWTorch @thewadekeller #cac51 #prowrestling #LasVegas pic.twitter.com/61nymqUJWd

— Jim Valley (@JimValley) April 12, 2016
.@apter1wrestling putting the figure four leglock on Sam Houston. @CACReunion @PWTorch #prowrestling #LasVegas pic.twitter.com/nC4bVazjof

— Jim Valley (@JimValley) April 12, 2016
Great stories w Fidel Sierra & @GrapplerBook "Grappler's All Stars" @HarveyComedyPDX @PWTorch @thewadekeller #CAC51 pic.twitter.com/xi3FT1B3Cm

— Jim Valley (@JimValley) April 12, 2016
Looking forward to the upcoming Pat Patterson book by my friend @HebertBertwre. @CACReunion @PWTorch @thewadekeller pic.twitter.com/q7yAOnNPK7

— Jim Valley (@JimValley) April 13, 2016
I think I would trust the masked man more. The Destroyer playing @PatLaprade @CACReunion @HebertBertwre #CAC51 pic.twitter.com/IoTvcp0PqP

— Jim Valley (@JimValley) April 13, 2016
Wednesday, April 13
This Sat. Memphis w Lance Russell https://t.co/JwjYoQsago 11:30a E/8:30a P. @PWTorch @thewadekeller @markjames99 pic.twitter.com/2nSqlv8Mv3

— Jim Valley (@JimValley) April 13, 2016
Sat on https://t.co/JwjYoQsago @GrapplerBook & @HarveyComedyPDX w road stories. @PWTorch @thewadekeller @JoeVFox12 pic.twitter.com/yjFnvL50wA

— Jim Valley (@JimValley) April 13, 2016
Larry Hennig, Greg Gagne & Jim Brunzell talk history of Minnesota wrestling. @CACReunion @thewadekeller pic.twitter.com/YUcNXfDqRt

— Jim Valley (@JimValley) April 13, 2016
Larry Hennig's phone keeps ringing. It's grandson @RealCurtisAxel. Hilarious. @CACReunion @thewadekeller #CAC51 pic.twitter.com/2rJeFA2RJX

— Jim Valley (@JimValley) April 13, 2016
Strong info & life lessons in wrestling seminar from Vance Nevada, @gmstarr & Kevin Jeffries @CACReunion #cac51 pic.twitter.com/WL5J6TvJj1

— Jim Valley (@JimValley) April 13, 2016
.@TheGeneOkerlund Lance Russell & @JRsBBQ talking announcing @CACReunion @PWTorch @thewadekeller #cac51 pic.twitter.com/CiIWEYNuza

— Jim Valley (@JimValley) April 13, 2016
Lance Russell @JRsBBQ @JerryLawler @CACReunion @PWTorch @thewadekeller https://t.co/JwjYoQsago Sat 11:30a E/8:30a pic.twitter.com/ZOO0bxmwmu

— Jim Valley (@JimValley) April 13, 2016
.@JRsBBQ @JerryLawler @TheGeneOkerlund & Lance Russell @CACReunion @markjames99 @PWTorch @thewadekeller #cac51 pic.twitter.com/9W7Er9JgoR

— Jim Valley (@JimValley) April 13, 2016
.@thewadekeller Mick Karsch says get here to @CACReunion!!! @PWTorch #CAC51 pic.twitter.com/40Fm5EjHSv

— Jim Valley (@JimValley) April 14, 2016
Charles Wright aka Godfather, Kama, Papa Shango, Soultaker… @CACReunion @PWTorch @thewadekeller #cac51 #WWE pic.twitter.com/u96IAeR2ml

— Jim Valley (@JimValley) April 14, 2016
The greatest announcer ever. Lance Russell inducted by @JerryLawler @CACReunion @markjames99 @PWTorch #CAC51 pic.twitter.com/OTA28jE1yT

— Jim Valley (@JimValley) April 14, 2016
Ken Patera such a character. Brother 1st @Seahawks coach Jack Patera. @CACReunion @sportwithswartz @PWTorch #CAC51 pic.twitter.com/HfKe8vWLAN

— Jim Valley (@JimValley) April 14, 2016
.@JCLayfield eloquently inducting James Beard @CACReunion. #CAC51 @PWTorch @thewadekeller pic.twitter.com/Vh1BwxXjj7

— Jim Valley (@JimValley) April 14, 2016
Arn Anderson & JJ Dillon in tears as they hug after an emotional induction speech @CACReunion @PWTorch #cac51 pic.twitter.com/1mj4YCLMhq

— Jim Valley (@JimValley) April 14, 2016
"I am a woman's wrestler." 1st ever woman to win Mike Mazurki Award winner @trishstratuscom @CACReunion #CAC51 pic.twitter.com/OFYriH1dxx

— Jim Valley (@JimValley) April 14, 2016
"Worry more about glass ceilings than glass slippers." @trishstratuscom @CACReunion @PWTorch @thewadekeller #CAC51 pic.twitter.com/nnDjpbyB0K

— Jim Valley (@JimValley) April 14, 2016
Thanking @LanceStorm & @therock @trishstratuscom 1st female Iron Mike Mazurki Award Winner @CACReunion #CAC51 pic.twitter.com/pVUPqFbpYG

— Jim Valley (@JimValley) April 14, 2016
An emotional Paul Orndorff. Men's Award Winner @CACReunion @PWTorch @thewadekeller #CAC51 #LasVegas #prowrestling pic.twitter.com/JNZztG45hp

— Jim Valley (@JimValley) April 14, 2016
Arn Anderson Lou Thesz Lifetime Achievement Award Winner @CACReunion @PWTorch @thewadekeller #CAC51 pic.twitter.com/TGoMLX3SSX

— Jim Valley (@JimValley) April 14, 2016
Award winner Ken Patera w @TheGeneOkerlund @CACReunion @PWTorch @thewadekeller #CAC51 pic.twitter.com/xk02420ryB

— Jim Valley (@JimValley) April 14, 2016
.@davemeltzerWON in #LasVegas @CACReunion #CAC51 pic.twitter.com/irsZhPWmY4

— Jim Valley (@JimValley) April 14, 2016
.@apter1wrestling @CACReunion #CAC51 pic.twitter.com/kvfFuyiHkA

— Jim Valley (@JimValley) April 14, 2016
From GLOW @LittleEgypt @CACReunion The documentary on GLOW is a must watch. pic.twitter.com/lYSOWJb99X

— Jim Valley (@JimValley) April 14, 2016
Thank you for the pic, @JRsBBQ. Loved your stories @CACReunion #respect #cac51 pic.twitter.com/eqJG56ursM

— Jim Valley (@JimValley) April 14, 2016
Report @CACReunion Sat https://t.co/JwjYoQJLEY 11:30a E/8:30a P. @PWTorch @thewadekeller #SaturdayMorningWrestling pic.twitter.com/hrM3cxzVN3

— Jim Valley (@JimValley) April 14, 2016
Back home, but keeping my memories of @CACReunion with me. @markjames99 @Memphishistory @PWTorch #CAC51 pic.twitter.com/LwEFp5P7tt

— Jim Valley (@JimValley) April 14, 2016