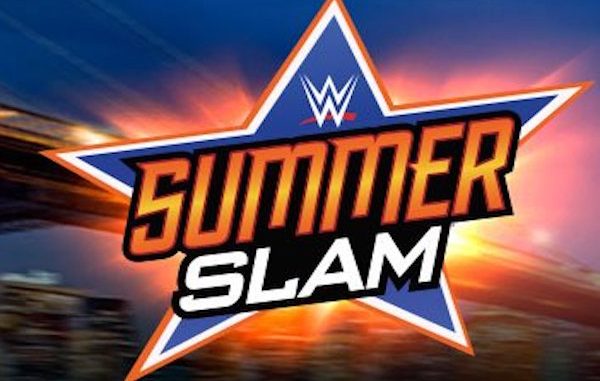 ---
SPOTLIGHTED PODCAST ALERT (YOUR ARTICLE BEGINS A FEW INCHES DOWN)...
---
Instant Reaction – WWE Summerslam
Report by Ben Tucker, live at ringside @BTuckerTorch
From a live perspective, Summerslam was one of the weirdest shows I've been to in a long time, and for the life of me I can't quite pinpoint where the nucleus of that feeling comes from. Potentially the pacing, potentially a series of underwhelming matches, potentially a crowd that vacillated between not caring and being like the day after WrestleMania audience. All I can say for sure is that Summerslam did not live up to the hype.
– Sasha-Charlotte was the gift that keeps on botching. After Charlotte dropped Sasha on her head, the two proceeded to have one of the most bizarre, disjointed matches I've seen. It felt like it was modeled like wrestling figures in action, featuring random high spots with no sense of fluidity, a complete lack of in-ring story, and move combinations that are too complex and overly ornate to reach their desired effect. Both women seemed to be trying way too hard to impress, with Sasha nearly breaking her neck on half a dozen spots and reversals looking more like a choreographed fight scene than a wrestling match. They need to dial it back because it's clear they're too far out of their comfort zone.
– After weeks of arguing he wasn't all talk, Dolph Ziggler got walked all over by Dean Ambrose in one of the flattest matches of the night. I'm shocked at how tame the match was. This was a big chance for Dolph and yet he and Ambrose delivered a performance you would expect to see on Main Event; uninspired, seemingly going through the motions, safe. A very safe match. The crowd did not buy into Ziggler and didn't seem impressed by Ambrose's grandstanding. This was a dud from the moment it got going and no amount of effort could change that.
– Never before has a championship match been ruined by the mere appearance of the championship itself. Seth Rollins and Finn Balor had a solid match absolutely marred by a crowd obsessing over the new Universal Championship which, despite looking like an oversized Fruit Gusher, isn't that bad. Balor does look like a star, but judging by the crowd, he needs to continue working on establishing the key maneuvers of his move set (particularly his Slingblade,  Bloody Sunday. and 1916. The match itself had several interesting spots and I can tell Balor and Rollins have the opportunity to deliver some real match of the year contenders. Still, for what should've been a major moment, the crowd seemed grumpy and restless.
– Congrats to Nikki Bella for returning, but I sure wish she could've used her nine months off to figure out how not to play to the crowd when working as a heel.
– I'm so glad the New Day's tag title reign didn't end with Jon Stewart hitting them with a chair to a dead silent Barclay's Center. Seriously, how was this the same arena that featured NXT last night? I guess it goes to show the true difference in demographics across the two products.
– Brock Lesnar delivered a second subpar performance in a row, this time featuring a couple German duplexes and a strange TKO finish with hard-way drawn blood. Whether it ended as it should've or not, Randy Orton came across looking like a complete chump to Lesnar, who now continues to spin his wheels until Roman Reigns can finally conquer the Beast. A truly forgettable effort by Lesnar, arguably more disappointing than his WrestleMania farce against Dean Ambrose.
– The night's highlight was easily Apollo Crews… all right, fine, it was Cena vs. Styles. The two gelled much better tonight and delivered a wonderful story of one-upsmanship. Cena continues his Summerslam losing streak, but Styles is officially made after apparently winning the feud. He consistently gets the same emotional reactions that the likes of Cena and Kevin Owens get, and that's a fantastic place to be.
– Overall, I wasn't mad about the show. Just disappointed. Cena-Styles is the sole memorable match coming out of a show that could have had four contenders for match of the year. Smackdown has already firmly taken a back seat to Raw, and crowds continue to not be on their A game, but those LED ringposts are so freaking awesome.