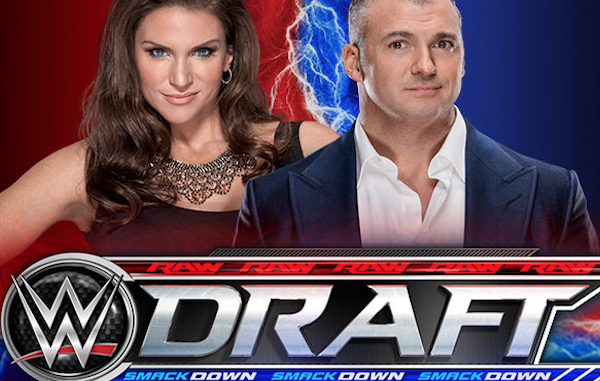 ---
SPOTLIGHTED PODCAST ALERT (YOUR ARTICLE BEGINS A FEW INCHES DOWN)...
---
By James Caldwell, PWTorch assistant editor
Accounting for DVR viewing, the first WWE Raw episode of the "new era" widened its margin over Smackdown in total viewership.
Raw vs. Smackdown Final Viewership Tally
July 25 Raw vs. July 26 Smackdown
Raw added an average of 306,000 viewers in each of its three hours, compared to Smackdown adding 293,000 DVR viewers.
This pushed out Raw to a margin of about 600,000 viewers over Smackdown Live.
For Smackdown, it was an above-average viewership tally. The show averaged 223,000 and 210,000 DVR viewers in the first two quarters of 2016 on Thursday nights.
For Raw, the individual hours fell from the first to third hour. The third hour had the most DVR views, but the gap in real-time, live viewership was too wide to make up the difference…
First Hour: 3.412 million live / 3.704 million with DVR
Second Hour: 3.350 million live / 3.647 million with DVR
Third Hour: 3.254 million live / 3.582 million with DVR
RAW AVG. SHOW: 3.338 million live / 3.644 million with DVR
SMACKDOWN: 2.743 million live / 3.036 million with DVR
Smackdown's total audience of 3.036 million was down about 400,000 viewers (11 percent) from the Live Smackdown/Draft Special on July 19.
If removing the Draft Special, it was the first time Smackdown topped 3.0 million total viewers this year. A few episodes in January fell just below the 3.0 million mark.
WWE Raw vs. Smackdown - TV Ratings & Viewership
WEEK/
RESULT
DATE
TV
RATING
AVG.
VIEWERS
AVG. DVR
ADDED
AVG. TOTAL
AUDIENCE
RAW (1-0)
SD
7/25/16
7/26/16
2.36
1.92
3,338,667
2,743,000
306,000
293,000
3,664,667
3,036,000
RAW +608,667
RAW (2-0)
SD
8/1/16
8/2/16
2.30
1.86
3,314,333
2,681,000
346,667
275,000
3,661,000
2,956,000
RAW +705,000
RAW (3-0)
SD
8/8/16
8/9/16
2.05
1.69
2,911,000
2,455,000
278,667
336,000
3,189,667
2,791,000
RAW +398,667
RAW (4-0)
SD
8/15/16
8/16/16
2.12
1.72
2,915,333
2,471,000
319,000
265,000
3,234,333
2,736,000
RAW +498,333
RAW (5-0)
SD
8/22/16
8/23/16
2.34
1.92
3,315,000
2,714,000
305,333
339,000
3,620,333
3,053,000
RAW +567,333
RAW (6-0)
SD
8/29/16
8/30/16
2.38
1.95
3,413,000
2,835,000
338,667
312,000
3,751,667
3,153,000
RAW +598,667
RAW (7-0)
SD
9/5/16
9/6/16
2.11
1.76
3,069,333
2,454,000
365,333
312,000
3,434,667
2,766,000
RAW +668,667
RAW (8-0)
SD
9/12/16
9/13/16
1.88
1.86
2,690,000
2,658,000
356,333
336,000
3,046,333
2,994,000
RAW +52,333
RAW (9-0)
SD
9/19/16
9/20/16
1.97
1.70
2,684,333
2,292,000
356,000
299,000
3,040,333
2,591,000
RAW +449,333
WWE Raw Viewership - Brand Split Era (July 25, 2016 Onward)
WEEK
DATE
TV
RTNG
FIRST
HOUR
VIEWERS
SECOND
HOUR
VIEWERS
THIRD
HOUR
VIEWERS
TOTAL
AVG.
VIEWERS
1- 7/25
2.36
3,412,000
292,000 DVR
3,704,000
3,350,000
298,000 DVR
3,648,000
3,254,000
328,000 DVR
3,582,000
3,338,667
306,000 DVR
3,664,667
2- 8/1
2.30
3,463,000
329,000 DVR
3,792,000 (+)
3,339,000
349,000 DVR
3,748,000 (+)
3,081,000
362,000 DVR
3,443,000 (-)
3,314,333
346,667 DVR
3,661,000
(+0.4%)
3 - 8/8
2.05
2,950,000
251,000 DVR
3,201,000 (-)
2,974,000
250,000 DVR
3,224,000 (-)
2,809,000
335,000 DVR
3,144,000 (-)
2,911,000
278,667 DVR
3,198,667
(-12.9%)
4 - 8/15
2.12
2,879,000
290,000 DVR
3,169,000 (-)
3,083,000
331,000 DVR
3,414,000 (+)
2,784,000
336,000 DVR
3,120,000 (-)
2,915,333
319,000 DVR
3,234,333
(+1.4%)
5 - 8/22
Post-SSlam
2.34
3,426,000
267,000 DVR
3,729,000 (+)
3,370,000
293,000
3,663,000 (+)
3,113,000
356,000
3,469,000 (+)
3,315,000
305,333 DVR
3,620,333
(+11.9%)
6 - 8/29
Universal
Title
2.38
3,392,000
306,000 DVR
3,698,000 (-)
3,438,000
311,000 DVR
3,749,000 (+)
3,409,000
399,000 DVR
3,808,000 (+)
3,413,000
338,667 DVR
3,751,667
(+3.6%)
7 - 9/5
Labor
Day
2.11
3,350,000
338,000 DVR
3,688,000 (e)
3,066,000
352,000 DVR
3,418,000 (-)
2,792,000
406,000 DVR
3,198,000 (-)
3,069,333
365,333 DVR
3,434,667
(-8.4%)
8 - 9/12
1.88
2,833,000
333,000 DVR
3,166,000
2,717,000
370,000 DVR
3,087,000
2,520,000
366,000 DVR
2,886,000
2,690,000
356,333 DVR
3,046,333
(-11.3%)
9 - 9/19
1.97
2,734,000
321,000 DVR
3,055,000
2,686,000
351,000
3,037,000
2,633,000
396,000
3,029,000
2,684,333
356,000
3,040,333
(-0.2%; even)
WWE Smackdown Viewership - Brand Split Era (July 26, 2016 Onward)
WEEK
DATE
TV
RATING
LIVE
VIEWERS
DVR
ADDED
TOTAL
AUDIENCE
1 - 7/26
1.92
2,743,000
293,000
3,036,000

2 - 8/2
1.86
2,681,000 (-)
275,000 (-)
2,956,000
(-2.6%)
3 - 8/9
1.69
2,455,000 (-)
336,000 (+)
(#2 - 2016)
2,791,000
(-5.6%)
4 - 8/16
1.72
2,471,000 (+)
265,000 (-)
2,736,000
(-2.0%)
5 - 8/23
Post-SSlam
1.92
2,714,000 (+)
339,000 (+)
3,053,000
(+11.6%)
6 - 8/30
1.95
(High)
2,835,000 (+)
318,000 (-)
3,153,000
(+3.3%) Peak
7 - 9/6
L. Day Week
1.76
2,454,000 (-)
312,000 (-)
2,766,000
(-12.3%)
8 - 9/13
Post-PPV

1.86
2,658,000 (+)
336,000 (+)
2,994,000
(+8.2%)
9 - 9/20
1.70
2,292,000 (-)
299,000 (-)
2,591,000
(-13.5%)