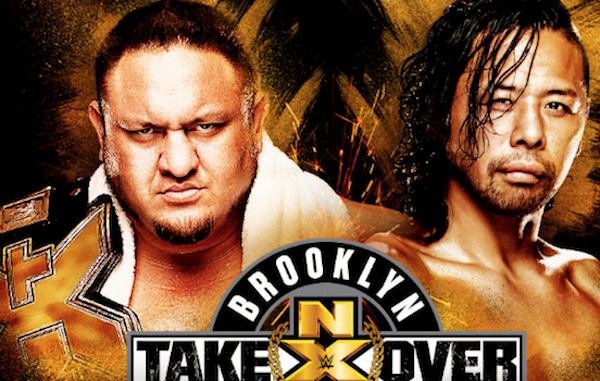 ---
SPOTLIGHTED PODCAST ALERT (YOUR ARTICLE BEGINS A FEW INCHES DOWN)...
---
WWE "NXT Takeover: Brooklyn" Live Report
August 20, 2016
Brooklyn, N.Y. at the Barclays Center
Report by James Caldwell, PWTorch assistant editor (@JCTorch)
Pre-Show Coverage
– The pre-show panel is Renee Young, Lita, and Mauro Ranallo, with Charly Caruso hanging out in the crowd as roving reporter.
– WWE showed backstage footage of Shinsuke Nakamura and NXT champion Samoa Joe arriving at the building ahead of their NXT Title main event.
– Renee, Lita, and Ranallo broke down the top matches of the Takeover special before wrapping up with a hype video on Joe vs. Nakamura.
NXT Takeover Live Report
The Network special opened with a flashback to how last year's Takeover opened with Triple H. Now, one year later, it's Shinsuke Nakamura, Samoa Joe, Bobby Roode, Austin Aries, Asuka, and Bayley. WWE flashed through sit-down interview clips of Roode, Aries, Johnny Gargano, and Tommaso Ciampa discussing where they were one year ago. One year ago, Nakamura watched Takeover (unsaid – after finishing the G1 Climax tournament). Nakamura vowed to take over Brooklyn tonight. Bayley said she will … again.
Live from the Barclays Center, Tom Phillips introduced the show with claimed attendance of 15,671. Phillips and Corey Graves were at a Raw-style announce booth next to the production stage to introduce the show.
No Way Jose's music played first to bring out Jose for the opening match. Jose was joined by random folks doing a conga line around ringside. Long pre-match introduction, then Austin Aries's music interrupted to bring out Aries to a strong reaction. Before the bell sounded, WWE suddenly cut a video recap of how this feud started, sponsored by Jolly Rancher. And, the corporate-ness has invaded NXT's underground vibe.
1 — AUSTIN ARIES vs. NO WAY JOSE
Aries played heel early on trying to avoid Jose. The crowd wasn't playing along, breaking into a loud "Austin Aries" chant. So, Jose slapped Aries, drawing boos. Jose tried to have some fun dancing on Aries's head with a foot stomp, then winding up his baseball punch, but Aries bailed to the outside. Back in the ring, Jose punched Aries in the jaw, rocking Aries to the floor.
Back in the ring again, Jose took Aries to the top turnbuckle, but Aries blocked and dropped Jose neck-first across the top rope. Aries got aggressive lighting up Jose, but he hit the wrong button with right hands to the forehead, prompting Jose to no-sell to "Si, Si, Si!" chants. Jose then dumped Aries over the top rope to the floor.
Suddenly, the crowd went wild with Woo! chants. For some reason, Ric Flair walked down to ringside in the middle of the opening match to take his seat on the front row. WWE did focus on Flair, but there was a glimpse of him walking to his seat on the right side of the ringside area.
Back to live action, the crowd re-focused with a chant for Aries, who walked into a TKO from Jose for a close two count. Aries then knocked Jose to the floor in front of the Ric Flair Row. Aries followed with a suicide dive right in front of Flair, who was not shown on-camera. Aries popped up and woo'ed! in Flair's face as WWE tried to avoid focusing on Flair.
Back in the ring, Aries measured Jose for a brainbuster suplex, but Jose countered with a neckbuster across his knee for a close two count. Jose and Aries got back up and traded bombs, then Jose wanted a Full Nelson Slam, but Aries blocked, then dropped Jose with a crucifix bomb. Aries followed with a corner dropkick for a close two count.
The match moved to the top turnbuckle, where Jose measured Aries for a superplex, but Aries blocked and nailed a sunset flip powerbomb. Aries flowed right into the Last Chancery. Jose had to tap out, giving Aries the win as the crowd popped for the result.
WINNER: Aries via submission at 10:42. Strong opening match. The crowd was more into Aries than Jose, but it's not Jose's time yet to break out as a featured star. NXT needs to get more out of Aries after coming in as a highly-touted free agent signing. And, the post-match provided that… (***)
Post-match, Aries was not done. He attacked Jose and re-applied the Last Chancery as Jose sold losing consciousness. Suddenly, Hideo Itami's music played to a strong reaction. Itami, dressed in a suit, walked down to the ring to confront Aries. Aries delivered a punch to the gut to initially knock down Itami, but Itami responded with rapid-fire strikes and kicks. The crowd fired up, chanting for the GTS. Itami then lifted Aries onto his shoulders and knocked out Aries with the GTS to a huge reaction. Itami got fired up, shouting to the crowd and hard camera, "I'm back!"
Ringside: WWE showed Ric Flair having a great time down at ringside. Now it's official. (Ben Tucker reported from the building that Flair left shortly after being shown on-camera.)
Backstage: WWE showed Samoa Joe warming up for the NXT Title main event. Then, Shinsuke Nakamura to a big reaction. The camera pulled back to reveal Funaki and Kota Ibushi also in the locker room.
In-ring: Billie Kay was introduced to the ring for women's action. Dramatic music and red lighting then produced Ember Moon (Athena) looking like a character from Mortal Kombat. Graves hyped this as part of a re-birth for the NXT Women's division.
2 — EMBER MOON vs. BILLIE KAY
Moon offered an athletic display in the early going, but Kay answered with strong physicality using her height advantage to knock down Moon. Kay then stretched Moon with a standing backbreaker submission, nearly drawing a tap-out. Moon fired back with a handspring corner attack, then she climbed to the top turnbuckle.
Moon delivered something that looked like a leaping, twisting, Stunner. That was super-dangerous-looking, but she pulled it off without breaking Billie's neck. After the crowd popped for the finisher, Moon covered Kay for the win.
WINNER: Moon at 4:35. The finisher was obviously the big spot they were building to after a solid back-and-forth. Billie got enough offense to retain her credibility in defeat. She seemed more ready for the spot. (**)
Earlier Today: Bobby Roode arrived at the building. Roode was approached for his thoughts on NXT Takeover. Roode said Brooklyn is like the armpit of New York City, and he is more Manhattan, but tonight the Takeover audience gets to experience him taking NXT to the next level. It will be … Glorious!
Video Package: Bobby Roode. It's his time. He wears custom-made suits, he is a Superstar. He is Triple Roode.
In-ring: The opening bar of "Glorious" played to a big pop. "Glorious!" blasted over the p.a. system as Roode emerged above the stage dressed in a classic Bobby Roode robe. Roode, standing on a tall platform, extended his arms as he was lowered down to the floor as the crowd sang along to his theme. Roode did the Ric Flair walk down to the ring as the crowd continued to sing his song as it replayed. "Roode, Roode, Roode!" chants from the crowd. Andrade "Cien" Almas's music then brought out Almas dressed in bright-red pants, suspenders, and hat. Almas was going to have to work to win over the crowd in the face role.
3 — BOBBY ROODE vs. ANDRADE "CIEN" ALMAS
After the bell sounded, the crowd broke into a "This Is Glorious" chant to the tune of "This Is Awesome." Roode did a move, then posed. He avoided a move, then posed again. "Glorious, Glorious!" chant from the crowd. Almas did his signature mid-ropes pose to try to respond to Roode's posing, then delivered a double foot dropkick to the chest.
Almas knocked Roode to the outside, then flipped around Roode and posed. Almas tried a top rope move, but Roode grabbed the ropes, crotching Almas. Roode chopped Almas across the chest, but Almas fired back with chops, angering Roode, who slapped him hard across the chest. Roode then hoisted Almas into the air for a delayed vertical suplex resulting in a two count.
Roode tried a top-rope attack, but Almas dropkicked him off the top rope. Almas then flew over the top rope with a springboard corkscrew splash to knock down Roode. Back in the ring, Almas delivered a twisting cross-body for a two count. Almas tried to follow with a corner attack, but Roode charged him with an inside-out lariat for a two count. "Bob-by Roode, Bob-by Roode" chants from the crowd.
The battle moved to the top turnbuckle, where Roode tried a back drop suplex, but Almas impressively landed on his feet and trapped Roode with a straight-jacket bridging German Suplex for a close two count. Almas wanted a springboard move, but Roode got his knees up. Roode tried a Fisherman Suplex, but Almas rolled through into a small package for a close two count.
Roode and Almas came face-to-face on their feet to trade bombs. Boos for Almas and Yays for Roode. Almas won the exchange, then wanted a Hammerlock DDT, but Roode uppercut him. Back-elbow from Roode, big boot from Almas, and Double R spinebuster answer. Roode wanted glory. He tied up Almas to deliver a lift-up slam, trapping Almas's arm to his body as he slammed him to his mat. That was his finisher? The "Glorious Bomb" was good for the win.
WINNER: Roode at 10:22. There's got to be more to the finisher, as it looked like a mid-match transition move. It will be interesting to see how Roode's character plays out over time, as he has the cool music and crowd-engaging act that WWE will keep trying to push forward in heel fashion once the novelty of "oh look, an established star from TNA has come over to NXT' wears off. For this match, Jose really stood no chance without a back-story or strong character to counter Roode's near-term cool factor. (**3/4)
Video Package: War has broken out. It's the open to mid-1990s Raw. Graffiti text of "Sanity" flashed on the screen.
Earlier Today: Triple H was joined by the crew from Orange County Choppers for a trophy teaser for the Cruiserweight tournament winner. The crew pulled off the curtain to reveal the trophy – a silver globe on a very tall black stand, looking like a college football trophy.
Ringside: WWE showed Cruiserweight tournament competitors Brian Kendrick, Noam Dar, Rich Swann, and Kota Ibushi sitting in the Ric Flair Row. Mauro Ranallo joined them.
Locker Room: Johnny Gargano was warming up. Tommaso Ciampa tossed him a t-shirt. They do it DIY style. Do It Yourself.
Video Package: NXT Tag Title feud between The Revival and Gargano & Ciampa.
In-ring: Gargano & Ciampa were out first to challenge for the Tag Titles. The Revival marched to the ring full of anger and contempt for the crowd and the challengers. Greg Hamilton handled formal ring introductions, then Graves heeled on Gargano & Ciampa not being used to a crowd this size.
4 — NXT tag champions THE REVIVAL (DASH & DAWSON) vs. JOHNNY GARGANO & TOMMASO CIAMPA — NXT Tag Title match
Per the formula, Ciampa started the match for the challengers. They built to Gargano tagging in and getting the "Johnny Wrestling" chants. Gargano and Ciampa eventually knocked the tag champs to the floor, then delivered consecutive dives to the outside to knock down Dash and Dawson.
Back in the ring, Ciampa fought both Dash and Dawson by himself until the numbers advantage cost Ciampa. The heel tag champs cut off Ciampa and went to work on him. Dash then did the spot where he intentionally threw himself into the ring, distracting the ref as Ciampa broke free of Dawson and tagged in Gargano. But, the ref disallowed the tag because he didn't see it, drawing boos.
They rebuilt to the hot tag to Gargano, who came in hot on Dawson with a kick to the side of the face into a leaping neckbreaker for a close two count. Gargano followed with a torpedo dive to Dawson's mid-section for a close two count. Dash then ran a distraction and tagged in to deliver a snap DDT to Gargano for a close two count.
At 15:00, The Revival began wearing down Gargano, who then tagged in Ciampa. Ciampa locked Dawson in an armbar submission in the middle of the ring as Gargano held onto Dash, who eventually kicked free of Gargano to break up the submission just in time. After a reset, Ciampa and Dawson came face-to-face for a big mid-ring exchange. A giant slugfest broke out, then Ciampa blasted Dawson with strikes.
Chaos broke out in the ring, then Ciampa and Gargano smashed Dash with a double superkick. Gargano pinned Dash, and got a three count, but ref Drake saw Dash's foot on the bottom rope as he counted to three, calling off the pinfall. The crowd popped, then booed for the false finish. A replay showed Dawson putting Dash's foot on the bottom rope out of view of the ref.
In the confusion of the celebration and non-celebration, The Revival took out Gargano's knee, then Dawson put Gargano in a reverse figure-four leglock in the middle of the ring. The crowd implored Gargano to keep fighting, but he had to tap out.
WINNERS: The Revival at 19:10 to retain the NXT Tag Titles. Classic, effective heel victory for The Revival in the match formula they took around the NXT Road tour before Takeover. It looks like a potential re-match down the road after the near-win for Gargano & Ciampa. (***1/2, **** for first-time viewers)
Post-match, The Revival celebrated out of the ring with the Tag Title belts. WWE cut back to Gargano and Ciampa consoling each other in the ring. Ciampa helped Gargano out of the ring as Gargano sold the leg work for the finish. WWE faded to video.
Ringside: WWE showed Women's champion Sasha Banks down at ringside, joined by Becky Lynch. On the other side of the arena, Charlotte was shown to boos. The fourth Horsewoman, Bayley, is up next.
Video Package: Asuka vs. Bayley for the NXT Women's Title.
In-ring: Bayley was introduced to the ring first as the Women's Title challenger. Happy fun time for the crowd as Bayley emerged with an upgraded Network special-level outfit for the occasion. Asuka's music changed the mood to bring out the Women's champion holding a long banner that extended down the entrance ramp to form a train behind her. Bayley sold a combination of concern and determination as she watched Asuka enter the ring.
5 — NXT Women's champion ASUKA vs. BAYLEY — NXT Women's Title match
Once both women were in the ring, Greg Hamilton handled formal ring introductions as a spotlight came down on the ring to highlight both competitors. They came face-to-face for a mid-ring showdown before the belt was hoisted in the air by the referee. Cue the bell.
After a feeling-out process, Bayley went high-risk with a leap off the second rope, but Asuka intercepted with a knee to the face. Bayley sold intense pain as she rolled to the outside to sell the move. Asuka just laughed, enjoying the attack on Bayley. Asuka continued to assault Bayley as the crowd booed the destruction on their beloved Bayley.
Bayley finally fired back with inspired offense, surprising Asuka. Bayley made a transformation adjusting her kid-friendly ponytail to look more wild and aggressive to match Asuka. They fought against each other from their knees, then Asuka went for a submission. Bayley fought, but Asuka turned it into a standing anklelock. Bayley used her other leg to kick free. But, Asuka pounded her to the mat with the Polish Hammer.
They struggled on the mat, then Bayley lifted Asuka in the air upside down and delivered a Dominator for a two count. But, Asuka responded with a rear-naked choke in the middle of the ring. Bayley broke free, then surprised Asuka with Bayley-to-Belly for a close two count. The crowd badly wanted that fall.
Bayley then walked into a kick strike, but she no-sold and showed fighting spirit. Bayley slapped Asuka across the face, but Asuka kicked her in the head. Bayley fell to the mat, then Asuka nailed the Asuka Kick. It was good for a three count and the win.
WINNER: Asuka at 14:07 to retain the NXT Women's Title. That was really strong storytelling likely finishing out Bayley's run. They continue to build to where no one seems in Asuka's league, but whoever beats Asuka will be an instant star (unless it's a flukey outcome). (***1/2)
Post-match, WWE cut to a shot of Sasha and Becky hanging their heads on the front row over the shoulder of Asuka. They applauded Bayley, then Asuka received the Women's Title belt and caught her breath against the ropes. After a replay of the high points of the match, WWE cut back to a live shot.
Asuka knelt down next to Bayley and showed her respect. Asuka picked up Bayley and put her on her feet, then the two hugged in the middle of the ring. Bayley bowed her head and pointed to Asuka as the rightful champion. Asuka's music played, then she celebrated on the way out of the ring. This left Bayley kneeling down in the ring crying that she just couldn't beat Bayley. She was also emotional over this potentially being her NXT farewell.
Bayley stood up and soaked in a "Thank You, Bayley" chant from the crowd. Bayley thanked the crowd with her arms, then left the ring to hug Sasha and Becky on the front row. Bayley also hugged Charlotte to boos. Bayley hugged her super-fan Izzy, who was crying on the other side of the ringside area. The camera followed Bayley up the entrance ramp to the back.
NXT announcement: NXT is heading to Australia and New Zealand. It's this December. And it's a long tour from December 5-15.
Backstage: WWE went to final behind-the-scenes shots of Samoa Joe angrily walking down the hallway and Shinsuke Nakamura preparing to challenge for the NXT Title.
Video Package: The brewing rivalry between Joe and Nakamura leading to Joe losing his mind.
Ringside: WWE showed Mick Foley & Noelle down at ringside. WWE accidentally cut to Finn Balor watching elsewhere. Big pop. They cut back to Foley & Noelle to a lukewarm pop, then back to Balor to a big pop.
On-stage: They cut to Lee England, Jr., a professional violinist who Triple H highlighted earlier in the day on Twitter, to bring out Shinsuke Nakamura with a live playing of Nakamura's theme. Huge pop for Nakamura emerging on-stage. The lights, the music, the charisma, the red, the greatness all in one package. Nakamura slowly entered the ring, then did his signature pose at the peak of the theme as the crowd continued to sing along. Nakamura finished the ring entrance to a standing ovation as the crowd seemed overwhelmed by the experience.
Suddenly, the mood changed when Samoa Joe's ominous music played to bring out the defending NXT champion. Joe marched out on-stage with the NXT Title belt over his shoulder. Joe was talking smack before he even got to the ring, vowing to bring violence. Nakamura kind of danced along to Joe's theme, just playing it cool like he had nothing to worry about. The ref had to separate Joe and Nakamura, who toyed with Joe to press his buttons before pre-match intros. This is nuts. Absolutely nuts. Things settled down for Hamilton to introduce champ and challenger before getting the heck out of the ring.
6 — NXT champion SAMOA JOE vs. SHINSUKE NAKAMURA — NXT Title match
Joe messed with the wrong man delivering a headbutt early on, so Nakamura tackled him down to the mat. Big ol' scrap in the middle of the ring. They eventually came to their feet before locking up. Joe used his size and strength to control Nakamura, who answered with mind games to lure in Joe. Vibration Boots in the corner, but Joe held onto Nakamura's boot to soften the blows.
The fight moved to the floor, where Nakamura and Joe beat the crap out of each other. They were nearly double counted-out, but Nakamura made it back in at eight and Joe returned at nine. Joe then rocked Nakamura with an enzuguiri kick. The crowd tried to rally behind Nakamura by singing his theme song, then Nakamura caught Joe on the ring ropes.
Nakamura tried to catch Joe with a knee drop across the ring apron, but Joe avoided and Nakamura crashed hard on his knee. Nakamura sold the knee, then Joe delivered a running suicide dive elbow to rock Nakamura. Back in the ring, Joe slowed the pace and worked over Nakamura's left knee.
Suddenly, Joe caught Nakamura with a powerbomb. Joe delivered it sit-out style, scored a two count, and flowed into a Boston Crab. Transition to STF, Joe blocked a rope-break, and transitioned to a Crossface. But, Nakamura escaped to his feet. Nakamura suddenly landed a desperation kick to the head and both men sold on the mat.
At 12:00, Nakamura rocked Joe with kicks and forearms. Corner clothesline, then he hoisted Joe on the top turnbuckle to deliver a charging knee to the gut. Nakamura lifted up Joe looking for a exploder, but Joe blocked. Joe delivered a big boot and tried a running senton, but Nakamura rolled out of the way. Nakamura followed with a leg trip into knee strikes to the head. Nakamura tried a corner charge, but Joe blocked with a frontslam attempt.
Joe then put Nakamura on the top turnbuckle looking for the Musclebuster, but Nakamura blocked and nailed a leaping knee strike to the head. Both men sold on the mat before recovering to their feet. Forearms exchanged, then Joe absolutely blasted Nakamura with a a left-arm lariat, dropping Nakamura on his head.
Joe tried to follow, but Nakamura ducked and rolled into a cross arm-breaker in the middle of the ring. Joe blocked the full application, then Joe transitioned to a triangle lock. Suddenly, Joe powered Nakamura's body into the air and then he sat down on Shinsuke's back with a Texas Cloverleaf. But, Nakamura reached the ropes for a break.
Joe wanted the rear-naked choke, but Nakamura rolled through. Giant knee strike from Joe, but Nakamura kicked out just in time. Joe then put Nakamura on the top turnbuckle, but Nakamura blocked and delivered an impressive-looking German Suplex. Nakamura started feeling it and wanted the Kinshasa, firing up the crowd, but Joe countered with a snap powerslam for a close two count.
Joe wanted the Musclebuster, and this time he connected in the middle of the ring. Joe covered Nakamura, but Nakamura kicked out just in time. Joe was incredulous. Angered. Offended. The crowd rallied by singing Nakamura's theme song as they hit 20:00.
Joe picked up Nakamura trying to silence the singing supporters with a second Musclebuster, but Nakamura slipped out. Joe then slipped down and Nakamura smashed him with the Kinshasa. Nakamura covered, but Joe kicked out just before three. Big exchange and Joe sold an injury to his jaw. Nakamura started feeling it, then he nailed a knee to the back of the head. Joe was in trouble and Nakamura nailed the Kinshasa in the middle of the ring. Nakamura fell on top of Joe and covered him for the pin and the win. New Champ.
WINNER: Nakamura at 21:14 to capture the NXT Title. Right there at the four-star level of a very good main event, but not quite the epic encounter with the slow-down pace and Nakamura selling for the most part. But, Nakamura's offense was terrific and they worked well together to get over the feud leading into the match. Like Asuka, it seems like no one is capable of taking the NXT Title from Nakamura. (****)
Post-match, Nakamura received the NXT Title belt and celebrated in front of an appreciative crowd. Joe was helped out of the ring selling being woozy after the match. Meanwhile, Nakamura celebrated with the title belt as the audience sang along to his theme music. Phillips and Graves signed off as Nakamura continued to stand tall in the ring. Nakamura did his signature pose for the hard camera, like here's where the money is. Takeover signed off at 10:35 EST, a two-and-a-half-hour show, with the Japanese Takeover complete.
***
Twitter: Follow PWTorch tweets live during Takeover tonight HERE.
Reax: After Takeover, we're looking for your Reax, 0-10 Score, and Best Match to pwtorch@gmail.com.