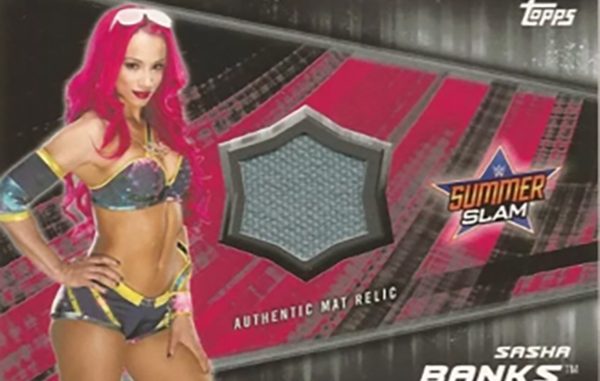 ---
SPOTLIGHTED PODCAST ALERT (YOUR ARTICLE BEGINS A FEW INCHES DOWN)...
---
If you're wandering through your local Walmart looking for gifts for the wrestling fan in your family, make sure to stop by the sports card aisle.
Topps recently released 2016 WWE Divas Revolution (guess they didn't get the memo about them not being Divas anymore), a Walmart-exclusive product with a heavy emphasis on female wrestlers, announcers, prospects, legends and more. This product is unique in that it can only be purchased in $20 blaster boxes; unlike other Topps products, there are no individual packs or hobby boxes. 
What's Inside
Each $20 blaster box includes 51 cards: 50 base and inserts and one "hit," meaning an autograph, relic or kiss card. The basic 43-card set includes 12 legends (everyone from Wendi Richter to Kelly Kelly), 24 current stars (including the Bella Twins, Becky Lynch, Charlotte, Alexa Bliss, Stephanie McMahon and Dasha Fuentes) and seven NXT stars (Aliyah, Asuka, Mandy Rose and others).
The 10-card Power Couples insert set includes pairings such as Stephanie and Triple H (of course), Elizabeth and Randy Savage, Rusev and Lana and even Lita and Kane, recreating that magical angle when Kane abducted Lita and impregnated her against her will, before the heinous actions of Gene Snitsky forced a miscarriage. Yes, in 2016, Topps actually made a trading card of that incident.
The eight-card Rivalries insert set borrows a nice design from 2016 Topps WWE Then Now Forever and highlights classic women's rivalries such as Trish Stratus vs. Lita, Bayle vs. Sasha Banks, Sasha vs. Charlotte and Elizabeth vs. Sensational Sherri. And yes, there are even cards of rivalries that would be better off forgotten, such as Brie vs. Nikki Bella and Stephanie vs. Trish.
Best Matches consists of nine cards that capture moments from classic women's bouts such as Alundra Blayze vs. Bull Nakano, Charlotte and Natalya and Bayley and Sasha. In case you were wondering, Stephanie makes another appearance, this time from her epic match with Brie Bella at SummerSlam 2014 that gave us weeks of "Growing up Bella" skits.
There are also serial numbered parallels of all of the base cards and inserts that are randomly inserted into boxes.
The Hits
The real draw to this product is the hits, especially autographs. Divas Revolution features a very deep checklist of autographs, including top stars like Charlotte, Sasha, Bayley, the Bella Twins and Becky Lynch. There are also autographs of legends like Lita, Beth Phoenix, Kelly Kelly and Torrie Wilson. Most notably, this set features autographs from Alexa Bliss and Mandy Rose, whose signatures have been quite sparse up until now.
There are also Diva Kiss Cards that feature a lip print of a female superstar, serial numbered to just 99 copies; gold parallels are numbered to 10 and red parallels are numbered 1/1. Autographed versions are numbered to 25, with similarly numbered gold and red parallels. The Divas Kiss Cards include Alexa Bliss, Asuka, Charlotte, Mandy Rose, Emma, Billie Kay, Renee Young, Maryse, Nia Jax and more.
The Shirt Relics set features swatches of wrestler-worn T-shirts; these are the first memorabilia cards for many of the women in this product. There are 15 different cards in this set, which is made up of active wrestlers and announcers.
Unfortunately, 2016 Topps WWE Divas Revolution is also flooded with mat relics – 35 different cards in total. There are pieces of mats from just about any event you can imagine, from WrestleMania 28 to SummerSlam 2015. There are also NXT mat relics from a variety of live events and WWE Network specials.
Market Response
Topps has a hit on its hands with 2016 WWE Divas Revolution. The female wrestlers and personalities are often the most popular and valuable in any Topps WWE offering, so giving fans an entire product focusing on the women was a smart idea. Many collectors have reported that their local Walmart stores are selling out of the boxes as soon as they get them in; because of that, some collectors are paying upwards of $40 for one box online.
The Walmart exclusivity also seems to be helping secondary market of the cards. Collectors can't buy these cards at a hobby shop or another retail store like Target, so they simply aren't as plentiful as many of the standard Topps products. Even most mat relics, which typically only sell for a couple bucks on eBay, are selling for at least $10-$15 each. 
The star of the product so far is Bliss, who has also been WWE's breakout star of late-2016. She had very few cards until the release of this product, so collectors are paying top dollar for her autographs, T-shirt relics, mat relics and Divas Kiss cards. Her basic autograph is selling in the $50-$60 range, and even her mat relics tend to sell for $20-$25. An autographed Divas Kiss Card numbered to 25 recently sold for $159.99.
PWTorch Collectibles Specialist Michael Moore can be reached atmichaelmoorewriter@gmail.com. Follow him on Twitter @MMooreWriter.
NOW READ OUR PREVIOUS COLLECTIBLES COLUMN: The Best and Worst Cards of 2016