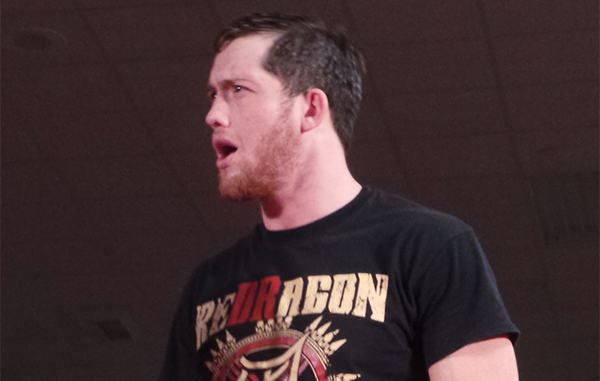 ---
SPOTLIGHTED PODCAST ALERT (YOUR ARTICLE BEGINS A FEW INCHES DOWN)...
---
HITS:
None: This week was not an impressive week for NXT.  The focus was on some feuds that have ran their courses as well as lackluster action from some of the less stellar members of the roster.  Hopefully this is just killing time until some of the action starts to pick up towards WrestleMania weekend, but things have just been mediocre.  True, this is a hard time as it is somewhat just a filler phase, but there are ways that it can be more entertaining.  I would suggest some short-lived feuds that can get the fans excited.  As of right now, this is not the case as they are rehashing of some old battles as well as focusing on performers who are not quite ready for the spotlight.  I am just hoping that it will pick up as it can be rather hard to watch week after week of subpar showcases.  Maybe my palate is too spoiled coming off a great Takeover, but they must keep the party going and not let off the pedal.
MISSES:
Open Segment – Sanity vs. Undisputed Era: From what was supposed to be a tag team title match turned into utter chaos as Sanity attacked Undisputed Era during their ring entrance.  This led William Regal to book a six-man tornado tag match between the factions.  The match itself was what we were used to seeing from these two teams – a hard-hitting no holds barred brawl.  Overall, the match was very entertaining.  One can see that Killian Dain has the making of a star as he was the focal point of this match.  UE showed its cunning ways as usual, but honestly, they need to pick up some more decisive wins.  The whole retreat and blindside attack antics are getting old, but mostly it is beneath them.  These are three decorated wrestlers who have won around the world and they are struggling at times to win in NXT?  Also, how long is this feud going to last?  If anything, it shows the lack of viable teams in the tag team division.  You mean to tell me for a championship tag team that just won War Games and coming off an impressive victory at Takeover: Philadelphia against the almost unstoppable Authors of Pain that they can just get rolled by Sanity?  Don't get me wrong, Sanity is a good team, but there is no way that this match should have been this competitive. The sad fact is that UE has not looked that dominant since the first time they made their appearance at Takeover: Brooklyn III.  Hopefully this will change, but as of this moment, this feud is getting rather old.
Johnny Gargano's Promo: Now, anyone who saw the title match from NXT: Philadelphia knows that it was one of the best matches that NXT has ever produced.  Now leave it at that.  Honestly, I don't believe that anyone is in a hurry to see Johnny Wrestling fight Andrade "Cien" Almas again, or at least not so soon.  I must agree with Zelina Vega when she said what more do they have to do, they already beat him three times.  This storyline is starting to drag on.  It's great to see his wife Candice Lecrae get involved, but it seems too little too late.  Both wrestlers should move on to other opponents and possibly rekindle this feud down the line, but something fresh is needed.  And for Gargano to put his NXT career on the line seems rather desperate.  He should be feuding with Tommaso Ciampa at this point.  It is the battle that everyone wanted to see since Takeover: Chicago when the latter turned his back on his former best friend.  The ship has sailed on the Almas-Gargano feud, time to begin a new chapter.
Heavy Machinery vs. Tino Sabbatelli and Riddick Moss: Overall, this match was decent and somewhat entertaining, but it mostly showcased the issues between Tino Sabbatelli and Riddick Moss.  But really, who cares?  Neither one of them has made an enormous impact in NXT, so for them to be feuding doesn't really catch anyone's attention.  It would be one thing if they were winning as a tag team, possibly in title contention, but they are at the bottom of the totem pole and it just seems rather pointless.  If they feud, it's not going to set off any alarms. The only possible thing that can come out of it is that one of them is propelled into possible stardom as the other will more than likely fizzle out.  Which one will that be? Who knows?  But as a team, they made more sense, and this situation would have had more of an impact if they had been successful. At this point, some sort of revamping would have been better than to have them feud at this point. There is not that much there for anyone to care.
---
NOW CHECK OUT THE PREVIOUS COLUMN: NXT HITS & MISSES 1/31: Strong vs. Bate and analysis of where each wrestler should go from here, TM-61 returns, Evans vs. Cross