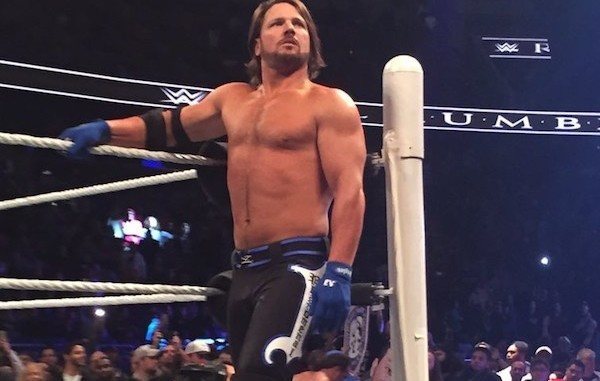 ---
SPOTLIGHTED PODCAST ALERT (YOUR ARTICLE BEGINS A FEW INCHES DOWN)...
---
A.J. Puts Over Nakamura…
Recap: A.J. Styles cut a promo in the ring, referencing Cena's guarantee of victory at Fastlane. AJ appeared irritated at Cena's statement that AJ could exercise his rematch clause for WrestleMania, preserving his place in the main event. AJ stated that a rematch involving John Cena at WrestleMania isn't what he wants, and isn't what the fans want. The fans chanted "no" in agreement with AJ. AJ said he wanted a match at WrestleMania with the best, and that Shinsuke Nakamura was the best. He said he'd win at Fastlane for "us" (he and the fans).
Dolph Ziggler then came out, telling AJ that he'd lose at Fastlane due to his mindset of fighting for the fans. Dolph said that the fans would ultimately turn on AJ. He related his own experience winning the title, mentioning that the fans did nothing for him when he became champion.
Evaluation: AJ totally buried Cena in this segment by openly encouraging fan unrest at the idea of a Triple Threat including Cena at WrestleMania. He also put over Nakamura in a big way by calling him the best. By dismissing the three way as a corruption of the AJ-Shinsuke dream match, AJ did a good job making their WrestleMania match seem like a big deal.
Forecast: Obviously, everyone expects AJ to win on Sunday, preserving the one-on-one match between him and Nakamura at WrestleMania. The choice to use the promo to bury Cena is interesting. It did emphasize the importance of Shinsuke vs. AJ one-on-one, and any negative feelings toward Cena will likely be forgotten as soon as the expected Undertaker feud begins.
Sunday's Match Given Away?
Recap: Early in the show, backstage Sami Zayn reiterated to Kevin Owens that he would lay down for him on Sunday if necessary. Kevin Owens appeared touched.
During the match between AJ Styles and Dolph Ziggler, Sami Zayn and Kevin Owens jumped both men. This led Shane McMahon to restart the match as a Fatal Five-Way between all of Sunday's competitors sans John Cena. The match finished with Sami Zayn giving Kevin Owens the Helluva Kick for the pin.
Evaluation: The Sami Zayn turn on Kevin Owens would've been more interesting if it took place at Fastlane. Giving away five-sixths of the Fastlane match in addition to giving away the Zayn turn on Owens seems to take away some of whatever shine there was on Sunday's match.
Forecast: No one will get along on Sunday, but AJ will leave with the title, preserving his one-on-one match with Shinsuke Nakamura
A Segment without a Finish…
Recap: The show began with an in-ring interview featuring Ruby Riott and Charlotte Flair. Ruby Riott stated that she formed the Riott Squad with the purpose of destroying the myth that Charlotte Flair was the driver of the Women's Revolution.
Charlotte responded by disputing that she had been handed anything, and that due to her family connections she's actually held to a higher standard. She said it isn't enough for her to be good; she has to be transcendent.
Ruby retorted that either way, Charlotte was on a pedestal, and that reality would crumble after Fastlane. The other two members of Riott Squad then approached Charlotte, but before they could attack her Bobby Roode's music hit. The show then cut to commercial, and returned with Roode on commentary for a match between Jinder Mahal and Randy Orton.
Evaluation: Unless I missed something, this segment was bizarre. When Roode interrupted Riott Squad, I thought they were going to do some sort of Mixed Match Challenge angle, since the two are partners. But that never happened. Not only did that not happen, but nothing happened. There was just a commercial, and upon return all the women were gone from the ring.
When Roode came down the ramp, before cutting to commercial, the camera cut to Charlotte who looked absolutely smitten by him. It doesn't seem like that's going to be an angle going forward, so that was also very odd.
Even before the weird Bobby Roode interruption and finish, the crowd was totally dead and disinterested in this segment.
Overall, I don't know what thought process went into this segment.
Forecast: This Ruby Riott feud will end with a Charlotte victory at Fastlane, and Charlotte will then go on to feud with Asuka for a match at WrestleMania. It's doubtful tonight's segment affects that plan at all; I can only guess it was thrown together to kill time.
Random Thoughts…
-There were some last minute matches thrown together for Fastlane tonight: Becky Lynch & Naomi vs Natalya & Carmella, as well as Shinsuke Nakamura vs. Rusev….
---
NOW CHECK OUT THE COLUMN ON RAW: TOP 3 DEVELOPMENTS – RAW 3/5: Ronda's WrestleMania match is set, Cena sounds confident, Symphony of Destruction, Reigns doubles-down