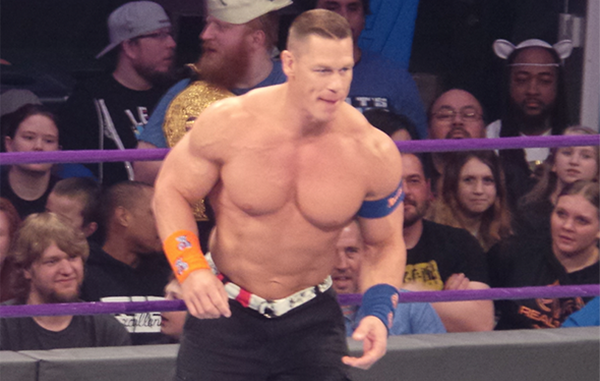 ---
SPOTLIGHTED PODCAST ALERT (YOUR ARTICLE BEGINS A FEW INCHES DOWN)...
---
Ronda's WrestleMania Match is Set…
Recap: The show began with Kurt Angle in the ring calling out Triple H over last week's sucker punch. Instead of Triple H, Stephanie McMahon came to the ring. Stephanie told Kurt that Triple H had not yet arrived. She then reminded Kurt of his financial obligations to his children, wife, and ex-wife. She suggested that Kurt and Triple H should call things even, as the sucker punch was retribution for Kurt's interruption of the contract signing.
Ronda Rousey then came to the ring. She expressed that she'd dealt with bullies as bosses before, and would deal with it now in her own way. Stephanie reminded Ronda that she was under contract, and being under contract would be a good thing, as she could fulfill her childhood dreams to appear at WrestleMania.
Ronda revealed that her current contract allows her to choose her opponent for WrestleMania, so long as that person isn't a champion. As was widely expected, Ronda chose Stephanie as her opponent to a yes chant from the crowd.
Triple H then came to the ring, demanding that Kurt stop the Ronda-Stephanie match from happening. Kurt stated that while Stephanie's contract names her as an executive, she has a second contract as a WWE Superstar. He made the Ronda-Stephanie match official, but as a tag match (Kurt-Ronda vs. Triple H-Stephanie).
Triple H then attempted another sucker punch while Ronda was in Stephanie's face. Kurt anticipated this though. A melee broke out among all four people in the ring, which was eventually punctuated with an Ankle Lock by Kurt on Triple H and a hard Samoan Drop to Stephanie from Ronda.
Evaluation: Ronda has improved on the mic, which is all you can ask for. She still went a little too quickly tonight, particularly when choosing Stephanie has her opponent. She's clearly not a natural like Shayna Baszler, but so long as she continues to improve everything will work out.
As for the angle itself, it's been expected for some time now. Despite that, it seemed to get a great fan reaction, indicating WWE made a good decision here.
Forecast: I enjoy seeing Triple H as a special attraction every year at WrestleMania. Kurt Angle is my all-time favorite wrestler, however I didn't like the way he looked the last time he was in the ring. Hopefully with more time to prepare, he'll look better this time. I'm not thrilled to see Stephanie McMahon in a ring, but I understand why it make sense in this situation. For Ronda's first ever worked fight, it will be good for her to be in a match where she won't have to do much to look strong. The real test will come after WrestleMania, when we see how she adapts to worked fighting in a one-on-one setting.
Cena Sounds Confident…
Recap: John Cena took the ring and declared that he would break Ric Flair's record by becoming champion this Sunday at Fastlane. He encouraged AJ Styles to immediately use his rematch clause after Sunday, creating a John Cena vs. AJ Styles vs. Shinsuke Nakamura main event at WrestleMania.
John Cena was then interrupted by Goldust, who stated he had dreamed of sharing the stage with Cena, and that he would do it by stopping John Cena from going to WrestleMania. He claimed to be Cena's new director, then punched Cena.
This led to a match between Goldust and Cena. The announcers informed us it was their first match ever. Cena ultimately beat Goldust with the AA.
Evaluation: It was odd that this promo took place on Raw. At least Cena did acknowledge this, stating that Kurt Angle recognized the importance of Fastlane in giving him permission to speak on the matter on Raw. He also mentioned that he had to cut this promo on Raw, as on SmackDown his five opponents never would've let him get the whole thing out. I don't imagine many would find either of those explanations believable, but at least WWE tried to offer an explanation.
Setting the Goldust match was odd and I don't really understand its purpose. Goldust's promo to set up the match didn't really make much sense, but I suppose that plays into his character.
I'm not into Goldust's act, and I can't say I'm ever happy to see him, but he actually does seem to have improved as a worker over the length of his career, even in his old age.
Forecast: This seemed to be a one-show angle just to kill some time. Cena's promo before the appearance of Goldust was likely to try to build believability for Cena being in the WrestleMania main event, as unlikely as that seems to be.
The Symphony of Destruction…
Recap: Tonight's gimmick match for Braun Strowman was a Symphony of Destruction match against Elias, where musical instruments could be legally used was weapons. Before the match, Elias displayed his ability to play the piano and drums.
Before the match began, Elias fled the arena and entered his car. Despite pressing the accelerator, the car wouldn't move. The camera panned back to Braun Strowman, who was lifting the car's rear wheels off the ground to ensure Elias couldn't drive away. Elias then fled back into the arena.
The match then began. Not much interesting happened. After some Corey Graves Megadeth puns, Strowman struck Elias with a standup bass again, and then dropped a piano on him before pinning him.
Evaluation: This is sort of a middling feud, made to be such intentionally so that WWE can end it at any time in the event they need Braun to fill in for Brock Lesnar or Roman Reigns at WrestleMania.
Forecast: If Richard Rodriguez turns out to be a problem for Roman Reigns, or if Brock Lesnar's reported contract disputes are real, Braun will be ready to step into the WrestleMania main event at a moment's notice. [The latter seems unlikely considering Paul Heyman announcing Lesnar for Raw next Monday.] If Braun isn't needed as a stand-in they'll need to come up with a new feud in the coming weeks, as it's doubtful this feud with Elias can be stretched for another month while still kept interesting.
Random Thoughts…
-The new heel version of Mickie James had a new wardrobe tonight, matching Alexa with a leather jacket biker look…
I-t was interesting to see Nia Jax get a babyface reaction from the fans after fighting off Asuka's armbar for so long before finally tapping…
-Reigns really doubled down on the "defender of the fans against part-timers" persona again tonight. Considering it got him the best reaction I can remember, this is likely the best choice leading to WrestleMania…
---
NOW CHECK OUT LAST WEEK'S COLUMN: TOP 3 DEVELOPMENTS – RAW 2/26: Cena figures it out, Many possible turns for the women, WrestleMania mixed tag with Rousey takes shape